11 of the Best Byron Bay Winter Activities

Visiting Byron Bay during the colder months won't limit your ability to do anything. In fact, there are a great many Byron Bay activities that are available in the winter, like whale watching, hiking or yoga. We've put together this list of things to do in Byron Bay during the winter to help you plan your time here.
While there are certainly lots to choose from, this guide touches on many of the must-dos. You can always deep dive into each one by checking out our related blog posts, or find other activities by reading through our blog.
1. Whale watching
One of the best places in the country to view migrating whales, Byron Bay gives you a front row seat to catch sight of these magnificent animals during the winter (May to November). There are several excellent vantage points in the area from which to catch the whales in action.
First off, head to the historic Cape Byron Lighthouse—in particular, the Lighthouse or the Captain Cook lookout have the best chances of seeing the whales. Another option for whale watching is right in our Byron Bay holiday park's backyard—the Broken Head Nature Reserve where you can follow the Three Sisters walking trail to a lookout where people often spot whales.
Or turn over the whole experience to the experts by taking a whale watching tour. These guides are so confident that you'll see a whale that many of the tours guarantee a sighting. There are many tour options, but the largest are Whale Watching Byron Bay and Blue Bay Whale Watching. Both Byron Bay activities run about two to three hours.
2. Crystal Castle and Shambhala Gardens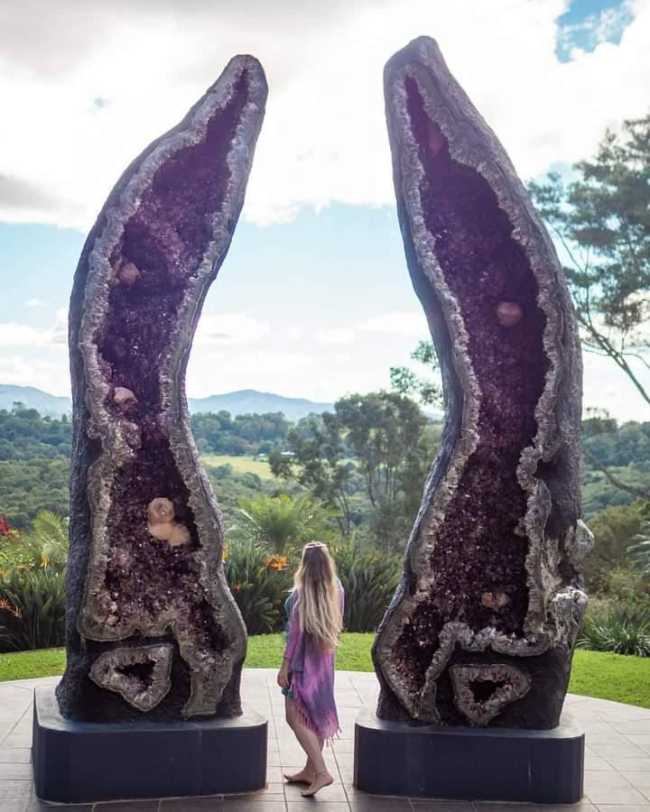 Image source: Facebook
Described as the jewel of Byron, the Crystal Castle is one of the most magical places on earth. It is the home of some of the world's oldest and biggest crystals, like the 10-million-year-old amethyst Crystal Guardians that stand 5.3 metres tall. The Shambhala Gardens are several hectares of lush rainforest, rare plants, and hidden charms such as an ancient labyrinth, walls of crystals and fossils.
Located in Mullumbimby, just 30 minutes from Broken Head Holiday Park, The Crystal Castle and Shambhala Gardens is open from Friday to Tuesday from midday to 3.00 PM, and all week long during the holidays for kid-friendly fun.
There is also a great café and a children's playground, plus a crystal jewellery shop filled with handmade pieces. The Crystal Castle will definitely give you a relaxed, peaceful winter day, whether you are spiritual or not.
3. Take a walk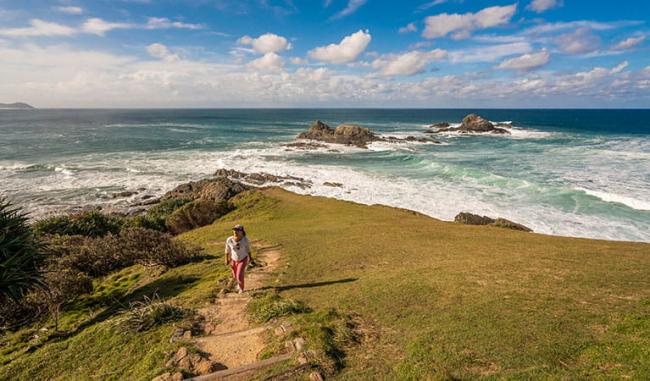 Image source: National Parks NSW
The Three Sisters track goes through a canopied rainforest which opens up to spectacular views of secluded beaches. It is quite a gentle track, so it is great for kids and the elderly too. Enjoy a picnic in the open grassy area along the track, or relax under a tree on the edge of the rainforest. 
If you're looking for a slower pace, the Bangalow Weir Parkland is a lovely place to spend a relaxing winter day. It was once a swimming spot for the locals back in 1924. However, it now hosts the Heritage House Museum with its formidable collection of war records and memorabilia from the Bangalow community. 
The Park behind the Heritage House Museum also lays out the history of Bangalow in a visual way, placing signposts about nature and wildlife native to the wetlands. Walk down to the creek and see if you can spot any fish or platypuses. 
Finally, there are many picnic tables, barbecue amenities, a fully kitted playground and plenty of parking spaces, so drive out to Bangalow for a tranquil winter day.
There are much more in the way of walks and hikes in the Byron Bay area. Check out the following blog posts for more ideas:
4. The Farm Byron Bay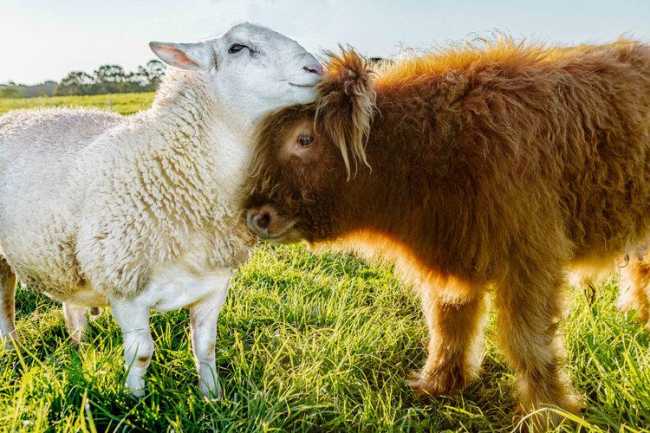 Image source: The Farm
Byron Bay is famous for fresh, homegrown produce, so why not spend a winter day exploring a farm? The Farm in Byron Bay not only grows great food, but it has lots of day tour options that are perfect for the whole family.
It is an 80-acre working farm. So, you will see tractors and machinery, plus chickens, pigs, sheep, cattle and horses, pecan and macadamia trees and lots of seasonal flowers. The friendly team at The Farm are always ready to answer your questions, offer tips and educate you about sustainable living.
The Farm also houses a few local businesses like the Three Blue Ducks restaurant and produce store, the Baylato for gelatos, smoothies, mini pancakes, and the Bread Social for freshly baked sourdough bread and pastries.
Farm Byron Bay has a playground where kids can climb, swing, and slide after meeting the cuddly (and sometimes smelly!) farm animals. Grownups can also sign up for courses in cheesemaking, sourdough breadmaking, flower growing and arrangements, and plenty more. A visit to The Farm Byron Bay will undoubtedly fill your winter day, but you'll be back throughout the year for sure.
5. Try out a yoga class
If you're taking a holiday in Byron Bay, which is considered to be Australia's unofficial yoga capital, then it seems only natural that you should try out this popular activity—whether it's winter or any other time of year.
A great starting point is Byron Yoga Centre, considered one of Byron Bay's best yoga studios. John Ogilivie, considered a top yoga instructor in Australia, opened this studio in 1988, and it is one of the longest running schools in the country. It is located at 6 Byron Street. In addition, the centre now has the Purna Retreat Centre at 50 Skinners Shoot Road where there are additional classes offered and a café where you can grab breakfast, lunch or dinner. Drop-in classes run from $10-18, depending on location, time and teacher.
Another terrific option is to combine Byron Bay activities. If you visit Main Beach during your holiday, then you can stop in for a class at Beachside Yoga & Massage, located above the Byron Bay Surf Club. Here you can drop in for a class without even bringing along a yoga mat as mats are provided. Drop-in classes cost $18.
However, these are just two of the many studios in the Byron Bay area, so check out our guide for more options.
6. Hot air ballooning
Take to the skies to see the area from a unique vantage point—hot air ballooning! This Byron Bay activity really will give you an once-in-a-lifetime memory as you glide through the skies viewing the town from above. Places like Byron Bay Ballooning will take you on a one-hour sunrise tour that includes a gourmet champagne breakfast after the ride. While on the higher end of prices for activities ($350 per adult), you certainly won't soon forget how it felt to be riding high above the world in the open air.
7. Embark on a day trip
There are lots of fun towns to visit in the area that make for great day trips from your Byron Bay caravan park. Set up camp, and then make a plan to hop in the car to visit places like Bangalow, Brunswick Heads or Mullumbimby.
Check out more day trip ideas in our blog post.
8. Indulge in good eats
Bayleaf Café is our best pick for breakfast if you love a good shot of cappuccino along with a hearty breakfast of scrambled eggs, sourdough toast, bacon and a pot of English tea to boot. BayGer has a nice range of healthy options for a gourmet takeaway burger, including artisan buns and grass-fed beef and lamb burgers.
Fundies Whole Foods has delicious vegetarian dishes and a fresh produce market too. We could go on and on about the unbeatable Byron Bay restaurants within reach of Broken Head Holiday Park, but we'll let you choose for yourself. Check out our list of top Byron Bay restaurants below. 
9. Discover the hinterland
Beyond the beach and Cape Byron Lighthouse and city centre, the beautiful green space surrounding Byron Bay offers plenty of opportunity to hike and see waterfalls, wildlife and gorgeous views.
Minyon Falls, part of the World Heritage Nightcap National Park, is a popular choice because of the 100 metre falls. Another beautiful waterfall, one of the tallest in the country, is Protesters Falls. While visiting this waterfall, be sure to look around for the Fleay's barred frog, an endangered animal. Yet another great hinterland destination is the 1,100m high Mt. Warning. Located in Wollumbin National Park, Mt. Warning is about an hour from Broken Head Holiday Park, but many people say it's worth the trip, especially if you do it at dawn so you can be among the first to see the sun in Australia from the top.
10. Sip on a coffee
Part of the fun of a holiday lies in having time to relax and do things at a slower pace. Since we Aussies love our coffee why not try one of the many cafes in the area to combine with relaxing Byron Bay activities?
There are ton many options to list here, so we recommend checking our post devoted to the best coffee shops in Byron Bay for a guide to getting your caffeine fix while on holiday here. You could even turn this activity into a daily adventure, trying out different places each day. At the end of the holiday, you could even rate them so you'll remember which ones to head back to on your next stay.
11. Hang out at the beach?!
Byron Bay is blessed with a climate that keeps it warmer during the winter and thereby making a visit to the beach an option almost anytime of year. If you hit on an unusually cool day or a rainy one, you might try a different time, but otherwise spending time at one of the many gorgeous beaches in the area is a good activity no matter what time of year.
Belongil Beach is perfect for a quiet walk or a picnic since it will have significantly fewer crowds in the winter season. The Fisherman's Lookout in The Pass offers a panoramic view of Byron Bay beaches, along with a nice lunch surrounded by the rainforest on the deck at The Pass Café. 
No matter the weather, you can always hang out on the beach of your choice in Byron Bay. Bring your camera, a picnic basket, and your bathing suit, too, if you're feeling brave enough for a dip in the ocean.
Come stay at Broken Head Holiday Park this winter
Try out any or all of these winter Byron Bay activities while staying at Broken Head Holiday Park. Our accommodation provides the perfect base for you while on holiday—good prices, a variety of places to sleep and excellent facilities. Plus, by saving money on your stay, you'll be able to participate in more of these awesome Byron Bay activities. We look forward to seeing you soon!