Best Coffee Shops in Byron Bay When You Need to Chillax

We Aussies take our coffee seriously, and Byron Bay is no different. A crazy amount of coffee shops exist in the Byron Bay area – too many to count. With numerous coffee farms just behind Byron Bay providing easy access to excellent beans, it's no wonder there are plenty of places to grab a relaxing cuppa in town.
Here are 11 of our favourite Byron Bay coffee shops, and a place to buy coffee beans too so you can a brew a cuppa back at the campground:
1. Byron Beach Café
The setting alone is reason enough to grab your morning coffee at Byron Beach Café, but it also serves up Byron Bay Coffee Company organic 'Beach Blend' coffee. Be sure to either get there early – it opens at 7:30 am – or make a reservation as you will want to enjoy your coffee and meal overlooking the beach.
Where to find Byron Beach Café: Clarkes Beach, Lawson Street, Byron Bay
2. The Top Shop
Also known for burgers, The Top Shop is located along the way to the popular surfing destination The Pass. Almost always busy and a hang out for locals and visitors, grab your flat white or latte and relax on the front lawn. You won't be the only one doing so!
Where to find The Top Shop: 65 Carlyle St., Byron Bay
3. Suffolk Park Bakery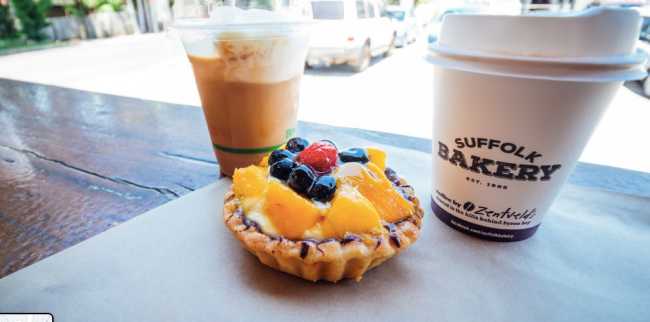 Image source: Google Maps Photos
One of the best parts about this bakery and café is its proximity to our Byron Bay accommodation at Broken Head Holiday Park. Wake up, make the short drive to Suffolk Park Bakery and enjoy the renowned pastries and rolls as well as what many consider some of the best coffee in Byron Bay. It opens at 6am.
Where to find Suffolk Park Bakery: 1/2 Clifford St., Suffolk Park, Byron Bay
4. Bayleaf Café
Considered to serve some of the best coffee in Byron Bay, the Bayleaf Café brews Marvell Street Coffee. Marvell is a popular local coffee bean so that puts Bayleaf as a favourite among residents. The Daily Grind blend is also a top seller since it pairs well with milk, and there are rotating special drinks like the recent Vietnamese Iced Coffee. The café cooks up delicious and healthy breakfast and lunch items as well. Make this a must-stop on any tour of Byron Bay coffee shops!
Where to find Bayleaf Café: 1 Marvell St., Byron Bay
5. Dip Café
Ranked no. 3 of 118 restaurants in Byron Bay on TripAdvisor, Dip is open seven days a week for breakfast and lunch. Reviewers said "coffee to die for," and "it has great coffee, service and ambience," also adding that it was a locals' favourite, which helps amp up its reputation.
Where to find Dip: Shop 1/21-25 Fletcher St., Byron Bay
6. Espressohead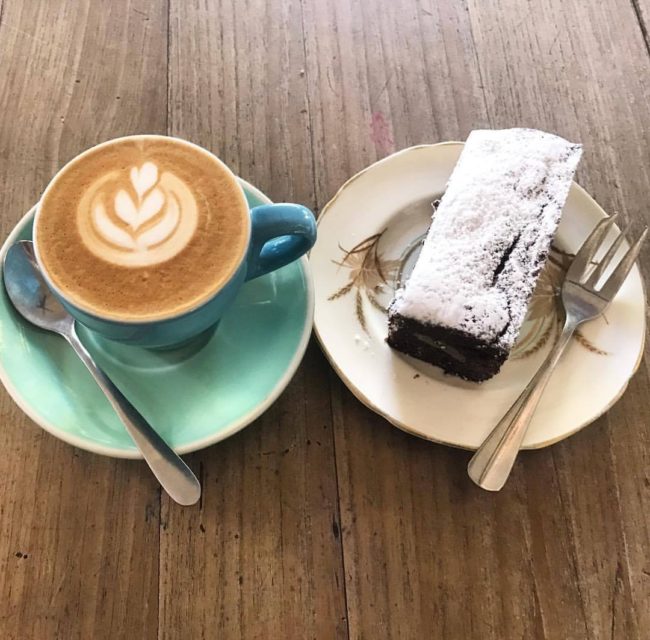 Image source: Espressohead  
Just a short walk from Main Beach, this Byron Bay coffee shop brews Merlo coffee, a popular bean from Brisbane. Espressohead is known around Byron Bay for serving up a great breakfast along with its delicious coffee, but that's probably because it is one of the longest continually running cafes in Byron Bay.
Where to find Espressohead: 7 Middleton St., Byron Bay
7. The Roadhouse

People who used to serve up coffee at Top Shop run another popular coffee shop in Byron Bay. At night, The Roadhouse becomes a whisky bar, but during the day it serves Byron Bay organic coffee among other pick-me-ups.
Where to find The Roadhouse: 6/142 Bangalow Rd., Byron Bay
8. Barefoot Brew Room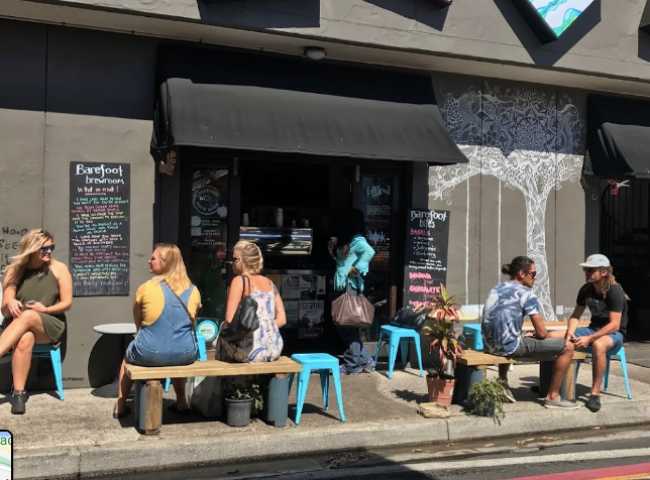 Image source: Google Maps Photos
Who would know that this small, nondescript shop houses fantastic coffee? Tucked away in a little laneway in central Byron, Barefoot Brew Room serves up artisan coffee that they roast and blend themselves. They also have some baked goodies, like bagels and brownies, to pair up with your brew.
Locals and tourists who visit this coffee shop love the fantastic coffee and friendly staff. You can also expand your coffee knowledge, as the barista explains the beans they use in full detail.
While not as cosy as other Byron Bay coffee shops (they only have stools and a few tables right outside their shop), you get rewarded with a fantastic cup every time you visit. Plus, it's in a quiet part of town, so sitting outside sipping a cuppa isn't much of a problem.
Where to find Barefoot Brew Room: 1A Lanteen Lane, Byron Bay
9. Sparrow Coffee
If you're looking for one of the best coffee shops in Byron Bay, look for their unique sparrow signage. Sparrow Coffee is hard to miss – since it's popular with the locals, you'll notice a long line forming, especially in the morning. But if you're willing to wait, you can enjoy a genuinely fantastic cuppa.
Their coffee is robust and balanced, with a flavour profile that makes it an excellent caffeine stop when you're in Byron Bay.
In a hurry? You can download their Sparrow Coffee App and order your coffee ahead of time, so it's ready for pickup when you arrive. 
Where to find Sparrow Coffee: 1/47 Johnson St (in front of ALDI), Byron Bay
10. Folk
Folk is your ideal coffee shop where you can easily spend an entire afternoon. Located in Discovery Park, Folk features homey interiors, comfy chairs, and airy spaces to chill on a quiet afternoon. It's just like lounging around in a summer home.
The coffee shop is a vegan paradise that serves organic bites to go along with your coffee. If you want something a bit more refreshing, try their cold-pressed juices and smoothies. We highly recommend stopping by for a lovely Sunday brunch.
Where to find Folk: 1/399 Ewingsdale Rd, Discovery Parks, Byron Bay
11. Cape Byron Lighthouse Café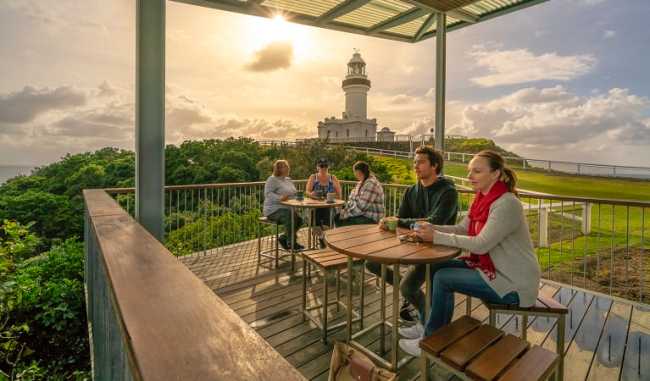 Image source: National Parks NSW
Want a fantastic view to go with your cup? You can't go wrong with Cape Byron Lighthouse Café. The café sits atop a cliff beside the Byron Bay Lighthouse overlooking the magnificent Byron Bay coast, a great stop after a long hike.
For a touristy spot, the café serves surprisingly good coffee. They also have a variety of food items and sweets as you sip and enjoy the sweeping views of the sea.
Where to find Cape Byron Lighthouse Café: 201 Lighthouse Rd, Byron Bay
12. Bun Coffee
Located on a small street just off Ewingsdale Road, Bun Coffee is another must-stop if you're after artisanal coffee beans that are roasted right on the premises. You can't miss it – the row of colourful coffee bean bags will greet you immediately.
The coffee connoisseurs that run Bun Coffee really know their stuff, and it shows in the excellent flavour profile and quality of their brews. You can choose among various single-origin and blends, so you're sure to find the perfect cup. Be sure to buy a bag or two to enjoy the Bun Coffee experience back at Broken Head Holiday Park or at home after your holiday.
Where to find Bun Coffee: 17/1A Banksia Dr., Byron Bay
Love coffee? Then book a stay at Broken Head Holiday Park!
A stay at our affordable holiday park in Broken Head means caffeine lovers can use the extra cash to try out all the fabulous Byron Bay coffee shops nearby. Check out our Byron Bay budget accommodation and book now!
Did we miss any great coffee shops in Byron Bay? Let us know on our Facebook page. We love hearing from you!