10 Camping Coffee Makers: Enjoy Freshly Brewed Coffee on Your Byron Bay Holiday

There is nothing better than the smell of freshly-made coffee in the morning! It gets you out of bed so you can make the most of your day. 
But what if you want to go camping with your friends or family? How can you enjoy your favourite hot beverage and avoid those tasteless instant coffees?
Luckily, there are camping coffee makers that you can take with you and brew your coffee like you do in your kitchen. 
You can have it all! Connect with nature and enjoy the beautiful sunny day and birds chirping while warming yourself up with a nice cup of coffee. Everyone needs an escape from civilisation once in a while. 
But the question is, which camping coffee maker will be best for you? We've prepared a list of 10 coffee makers for camping that are very practical and easy to carry. 
Check out the camping coffee makers on our list to find the perfect one for your next camping trip!
What to look for when choosing a camping coffee maker?
You probably have your favourite coffee, but to brew it outdoors you also need your favourite coffee maker for camping.
To choose between camping coffee makers, you should pay attention to:
Portability 

– The model should be easy to use, pack, and carry. You should be able to simply pull it out of your bag and brew it in a couple of minutes, and then drink your coffee. 

Brew Strength 

– It should be versatile, so you can modulate its brew strength as you wish. 

Clean-up 

– The model should be easy to clean. After you've prepared your coffee with your camping coffee maker, make sure to clean its filter so you can use it again soon.

Versatility –

Besides using coffee grinds, it is also important to use eco-friendly disposable and reusable coffee cups to keep your environment clean. 
Now, let's check out those coffee makers for camping!
The 10 Best Camping Coffee Makers 
We know that everyone's taste preference is unique. Therefore, we've compiled a list of camping coffee makers with different brewing styles, including the most popular French press and pour-over coffee makers, so you can have a better overview of the features that meet your requirements.
1. Stanley Cook + Brew Set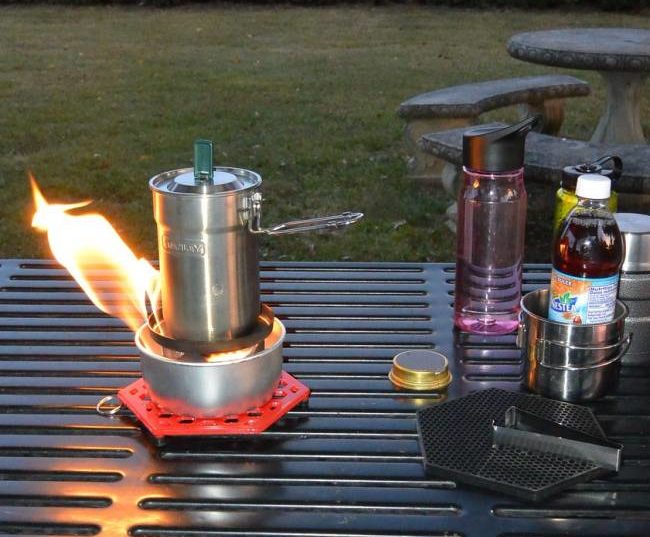 The first on our camping coffee makers list is a Stanley Cook + Brew Set. It is the most versatile model compared to the others here because it has two parts:
a stainless-steel cooking pot and

a melt-resistant, BPA free nylon French press that can be easily removed. 
With this coffee maker for camping, you can save a lot of space in your travel bag as its multifunctional design is all that you need.
Also, its coffee press is very compact and easy to use. It is a classy addition to your kitchen but also rugged enough to be your companion in the campsite.
Most of all, Stanley's coffee maker retails at an affordable price and comes with a limited lifetime warranty.
We only don't like that its handles can be very hot, therefore difficult to pick up without a heatproof mitt.
Pros
BPA free

Multi-functional model

Lifetime warranty

Affordable 
Cons
2. Snow Peak Folding Coffee Drip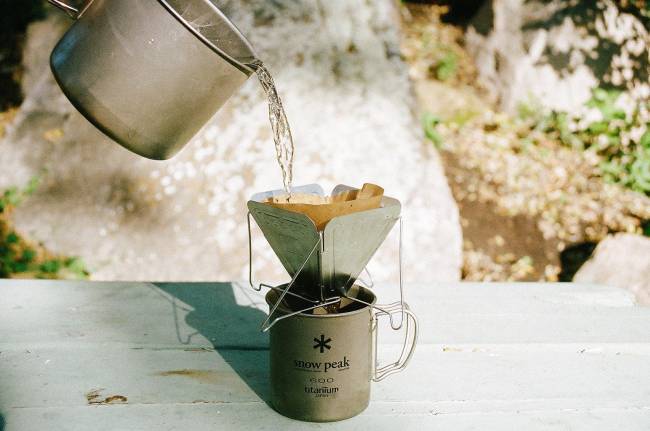 Image source: Snow Peak Coffee Drip
Our next camping coffee maker suggestion is a Snow Peak Coffee Drip. If your aim is to save space in your luggage and also not carry something that heavy, this is the model for you! 
It's light stainless-steel body will not rust, making it very durable. And not just that, it can also fold flat so you can pack it in a second. 
This one of the camping coffee makers that is very easy to use due to its simple pour-over design. With it, you can use any standardised cup and both coarse or fine coffee grind. Sounds pretty handy, right? 
You only need always to remember to bring some paper filters, but that can be also a positive thing, as you won't need to clean it as much. 

Pros
Lightweight

Folds flat

Suitable for any cup

Easy to set up and clean 
Cons
3. Java Press from GSI Outdoors
Image source: Java Press from GSI Outdoors
The Java Press from GSI Outdoors has 3rd place on our camping coffee makers list. This portable coffee maker for camping is made from reinforced BPA free plastic, so it's very robust and long-lasting and a perfect pick for long camping trips. 
Additionally, its nylon-wrapped sleeve provides an extra protective layer, but also heat insulation. 
You can also clean it easily as this sleeve is removable! 
In regard to its functions, the GSI Java Press can be used in the same way as the well-known French press. You just need to add hot water and the coffee grind and use the silicon ring plunger to filter your coffee. 
When your filter is properly cleaned, almost no coffee grains can pass through the mesh! 
But the best thing about this coffee maker for camping is its capacity of 30 fluid ounces. With this capacity and 300 gram weight, it is considered very light and cheap. 
Now you can easily prepare coffee for all your travel mates! 
Pros
Insulating sleeve and lid

Durable design

Affordable price

Good choice for group camping
Cons
Filter must be rinsed every time you use it 
4. MSR MugMate CoffeeTea Filter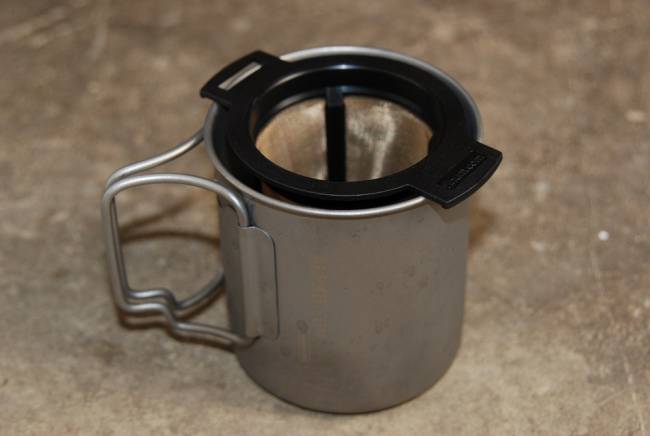 Image source: MugMate Coffee/Tea Filter
Of all the camping coffee makers this is our favourite! The MugMate Coffee/Tea Filter from MSR is the simplest and lightest model on our list. 
With its stainless-steel screen and nylon frame, it weighs just 30 grams. You can use it to brew both coffee and tea.
Its filter is compatible with almost all mugs. Most importantly,  there are two side tabs that help you remove the filter safely without burning your fingers.
MugMate Coffee/Tea Filter has a loose lid on the top that insulates the coffee while steeping it. Additionally, the lid can serve as a coaster where you can place the filter. 
Pros
Extremely lightweight

Can be used for coffee and tea

Fits on top of any cup

Durability
Cons
Finely ground coffee may pass through the mesh

Lid is wobbly and loose
5. AeroPress Coffee and Espresso Maker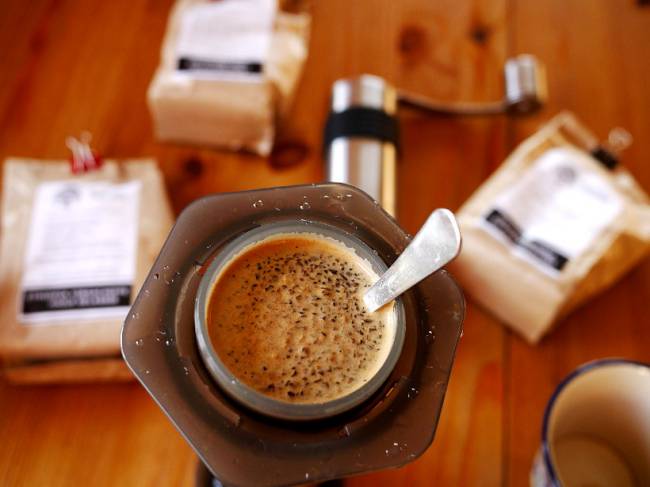 Look at that! You are halfway from knowing all the best camping coffee makers. The fifth on our list is the AeroPress, a portable coffee maker for camping which leaves even the fussiest coffee drinkers impressed. 
You can make up to three high-quality cups of coffee while combining immersion and manual pressure that provide a rich coffee aroma that you can't resist. Finally, you can enjoy a cup of coffee that has no grit and bitter taste. 
A huge bonus is that this coffee maker for camping is made from a BPA free material. And by being so easy to disassemble, you can clean it fully in a few minutes. 
Pros
Flavourful taste

BPA free material

Easy to clean

Practical and lightweight
Cons
Requires paper filters

Tote travel back is not included in the price 

Not durable stainless steel
6. Jetboil Coffee Press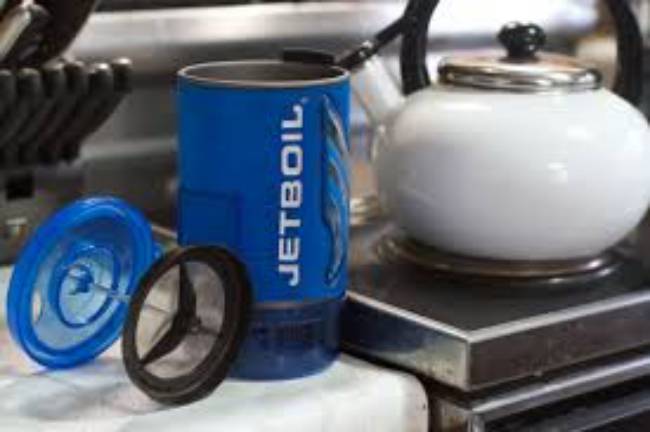 The Jetboil Coffee Press is a very handy addition to your camping equipment. This camping coffee maker works in the same way as the standard French press and is compatible with certain models. 
This press is a product of a lightweight combination of aluminium and plastic. It is admirable that it only weighs a little bit above 3o grams. Observing the overall design, it is very compact. 
Our only complaint would be that you need to buy the flask separately.  
On the other hand, unlike the French Press, Jetboil Coffee Press can be flipped upside down so you can use it as a tray for steaming vegetables as well. 
Pros
Multi-functional

Easy to use

Lightweight and compact
Cons
Will only work with certain sized flasks
7. nCamp Portable Coffee Maker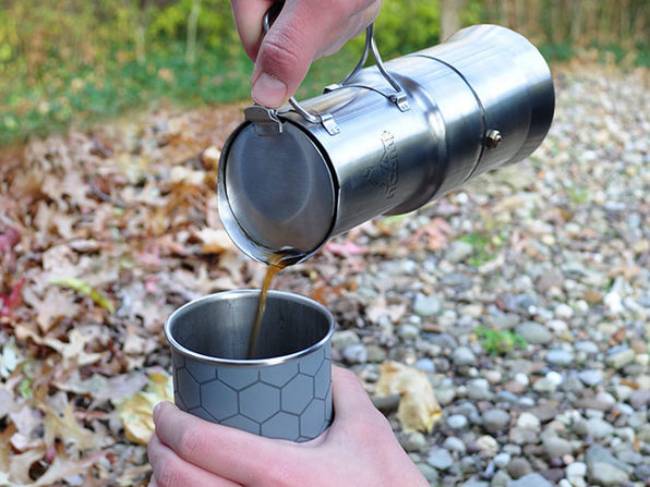 Image source: nCamp 
The camping coffee maker from nCamp will get you on your feet so you can start exploring nature or just relax on a Byron Bay beach. It is one of the top camping espresso makers on the market.
Compared to the traditional Italian mocha pot, nCamp is more compact and significantly more portable due to its folding handles. 
We like that nCamp stands out among the other coffee makers for camping with its all-in one-design. With it, you need to worry about neither cups nor filters.
However, it might be too bulky for backpacking but it is suitable for caravan camping. It has a large serving size of 340ml or four small espresso-style caps. 
Pros
Easy to pack

Big capacity

Has durable stainless-steel body

Makes good quality espresso 
Cons
Too big for backpacking

Handles are loose
8. Bialetti Moka Coffee Maker
This is one of the coffee makers for camping that has a long history. The Bialetti Moka Coffee Maker has been highly appreciated among coffee lovers for decades. 
It has a unique design that originates from Italy, therefore you can be sure you will get a strong and smooth brew. 
The main advantage of this camping coffee maker is that it is available in many colours and sizes. You can make from 1 up to 12 coffees, depending on the trip you would like to take. 
We also like its plastic handle that won't heat up like the metal one. 
But when it comes to packing, Bialetti Moka Coffee Maker can cause you troubles as it was originally designed for the kitchen. Its aluminium body is very light, but its octagon shape doesn't fit easily in a backpack.
Pros
Rich taste

Comes in various sizes and colours

2-year warranty
Cons
Tricky to pack

Small parts are easy to lose
9. Coleman QuikPot Propane Coffee Maker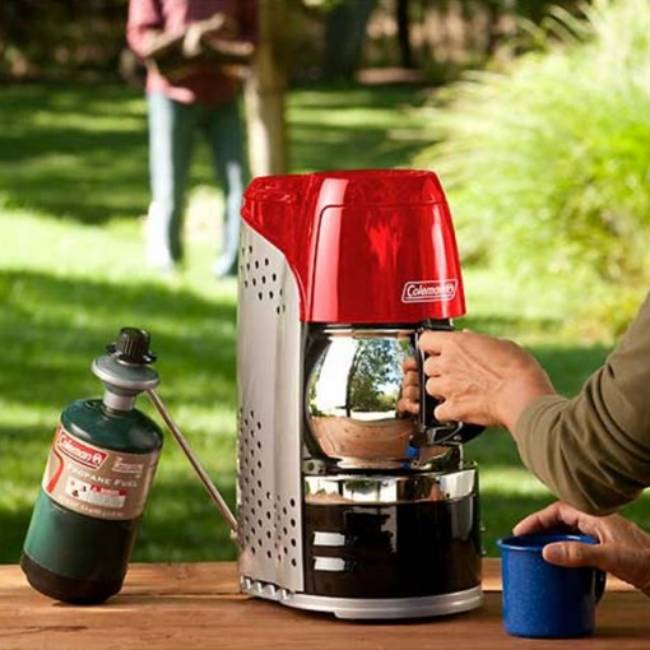 Image source: Coleman QuikPot Propane Coffee Maker 
Coleman QuikPot Propane Coffee Maker is a real outdoors substitute for the coffee machine you have in your house. 
It is one of the portable coffee makers for camping that is ideal for family and groups due to its large 10-cups capacity.
The good thing is that you don't need to pay much attention to brewing. You simply push a button and it will automatically stop working when your coffee is ready. 
Additionally, your coffee will stay hot for long as it has a built-in hotplate. 
However, this is not the fastest model on our camping coffee makers list. It takes 18 minutes to get your coffee, but your waiting will worth the taste. 
Pros
Big capacity

Brewing is automatic

Built-in hot plate

3-year limited warranty
Cons
Expensive

Not the fastest brewing
10. Coleman Stainless Steel Percolator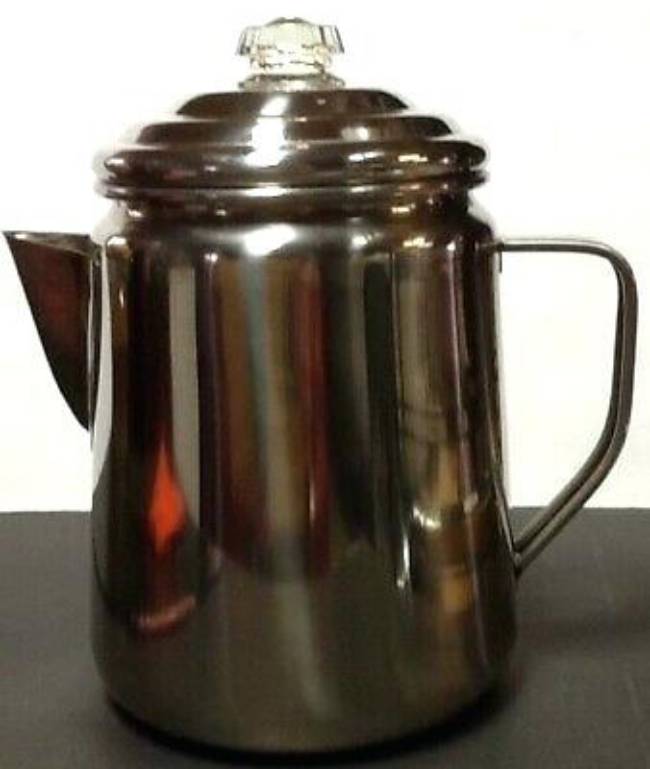 Image source: Coleman QuikPot
If you don't like the price of the Coleman QuikPot, than you will prefer buying a Coleman Stainless Steel Percolator. 
Its features might not be that clever, but his large capacity of 12-cups is quite tempting, especially for a much lower price. 
By being made from sturdy stainless steel, this Coleman camping coffee maker is crack and corrosion resistant. It is also BPA free and quite easy to clean. 
But there is one interesting feature. It has a glass knob on the top of the lid, allowing you to see how your coffee is being made. 
Pros
Easy to clean

Does not require paper filters

Large capacity
Cons
Glass knob can be easily broken
Pick Your New Camping Coffee Maker And Visit Our Campsite
Do you know where the first-morning coffee smells even better? In Byron Bay! Here you can relax on the beach while the sun is shining on your face and enjoy breathtaking beaches and view of the horizon. Now just to find your Byron Bay camping place!
Broken Head Holiday Park offers a wide range of camp facilities, we have a camp kitchen and a large BBQ area. And if you run out of supplies, don't worry, there is a Camp Kiosk for stocking up. Get your camping coffee maker and book your Byron Bay holiday today!
For more information about Byron Bay coffee and cafes you can visit, check out these articles: