15 Christmas Camping Recipes
Camping at Christmastime sounds like a dream: who wouldn't want to spend the holidays in the outdoors?
You can undoubtedly enjoy your Christmas break with some yummy food while you're camping, and here are some super festive camping recipes to get you started.
1. Pigs in a Blanket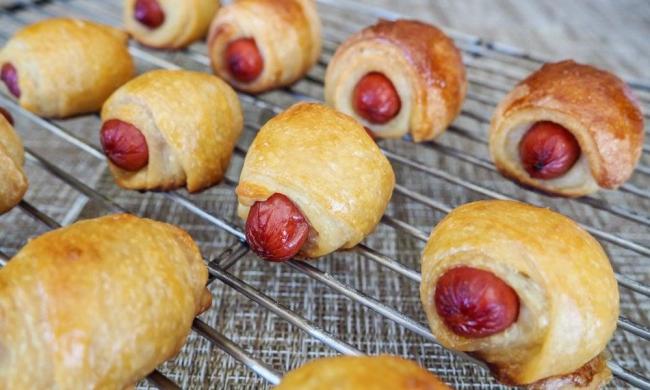 Image source: Campermate
You'll need:
Puff pastry sheets at room temperature
Cocktail frankfurters or hotdogs
Shredded cheese
Condiments of choice
Method:
Cut the puff pastry sheets into quarters.
Place each frankfurter or hotdog horizontally on each pastry sheet.
Sprinkle the shredded cheese on each one and roll the "blanket".
Cook the rolls on a BBQ rack for 15 minutes, turning them to cook evenly until golden brown.
From: Camper Mate 
2. Festive Nacho-style S'mores

Image source: Campermate
You'll need:
1 packet gingerbread men (or your favourite hearty biscuits)
1 packet marshmallows
1 packet Christmas M&Ms (red and green only)
3 candy canes (broken into small pieces)
½ cup chocolate chips
⅓ cup mint chocolates
Method:
Place a layer of gingerbread men at the bottom and sides of your frying pan.
Add the rest of the ingredients layer by layer.
Add the remaining half of the marshmallows on top.
Cook for about 10 minutes until the marshmallows go soft and golden.
Note: Eat this dish like nachos, using the biscuits on the sides of the pan to scoop up the toppings.
From: Camper Mate
3. One-pot Red Wine Chicken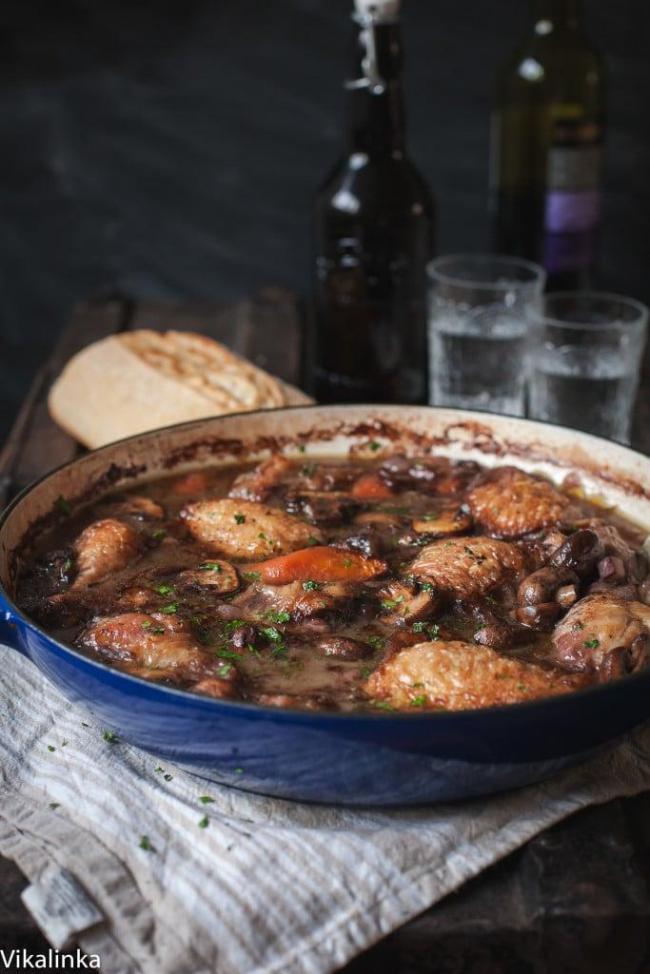 Image source: Vikalinka
You'll need:
8 boneless chicken thighs
12 chopped shallots
4 crushed garlic cloves
8 bacon rashers
2 tablespoons cranberry sauce
½ bottle red wine
1 cup chicken stock
2 tablespoons flour
1 tablespoon fresh rosemary (or 1 teaspoon dried rosemary)
1 tablespoon olive oil
Black pepper to taste
Method:
Fry the bacon in a saucepan until crisp. Set the bacon aside.
Brown the chicken in the bacon fat and set it aside too.
Cook the shallots in the same pan until soft.
Add the garlic and rosemary, cook for a minute or so.
Put the bacon and chicken back into the pot, add the flour, and cook for about 2 minutes.
Add the wine, stock, cranberry sauce and black pepper.
Simmer for 10 minutes with the lid on and another 10 minutes off to reduce the sauce.
Serve with croutons or pita bread.
From: Campsited 
4. Billycan Damper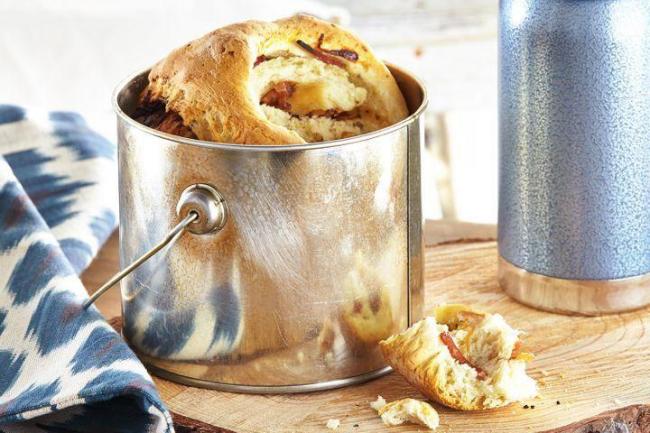 Image source: Taste
You'll need:
2 tablespoons olive oil
1 thinly sliced red onion
2 bacon rashers, cut into matchsticks
1 tablespoon chilli jam of your choice
3 cups self-raising flour
2 teaspoons chopped fresh rosemary
½ teaspoon salt
1 can of beer (at room temperature)
Black pepper to taste
Method:
Heat one tablespoon of olive oil on a frying pan and cook the onion until soft.
Add the bacon and cook until golden.
Add the chilli jam and cook for about 2 minutes until caramelised.
Add in your preferred seasonings and stir.
Mix the flour, salt, rosemary and black pepper in a bowl, then add the beer and remaining olive oil. Knead until smooth, about 5 minutes.
Roll out the dough and spread the onion mixture. Roll again into a sausage shape, then again into a coil.
Line the billycan base with baking paper, then add the dough coil.
Place the can on the BBQ grill and cook for about 40 minutes, or until golden. Serve warm.
From: Taste 
5. Chocolate Banana Boat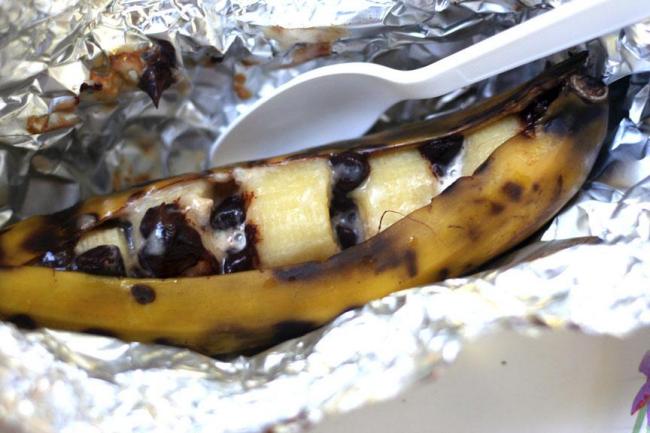 Image source: This Week for Dinner
You'll need:
1 banana per person
Chocolate chips
Mini marshmallows
Crushed peanuts
Whipped cream
Cherries
Method:
Cut the banana down the middle with the peel still on.
Pull the parts gently apart and add the mini marshmallows, chocolate chips and peanuts down the centre.
Wrap the banana in foil and cook on the grill for 3-5 minutes.
Open the foil and serve with whipped cream and cherries.
From: SHAREaCAMPER 
6. Camping Fondue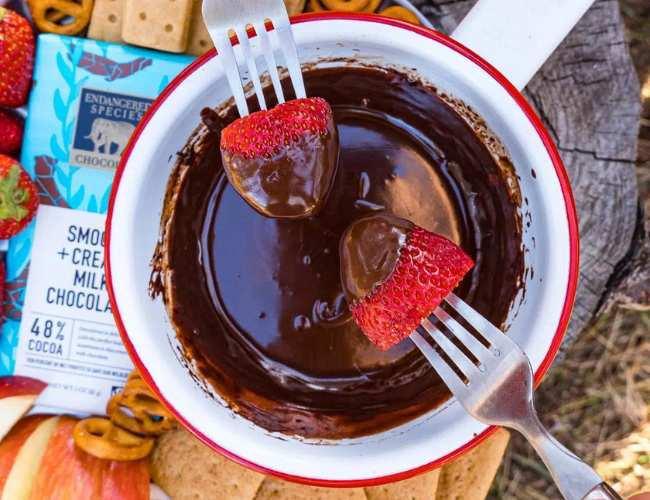 Image Source: Fresh Off The Grid
You don't have to go to an expensive restaurant to enjoy fondue – you can do it camping, too! Whether you're gathering around a cozy camp oven or BBQ, fondue is a delicious treat that everyone can enjoy!
Ingredients:
One 220g block of chocolate (or bag of choc chips)

A dash of longlife milk (add to desired consistency)

Fruit or marshmallows (for dipping)
Method:
Heat the saucepan and add chocolate.

When the chocolate has melted, add milk and mix until combined.

Use skewers, forks or sticks to dip fruit or marshmallows in the chocolate
From: Camps Australia Wide
7. Christmas Kebabs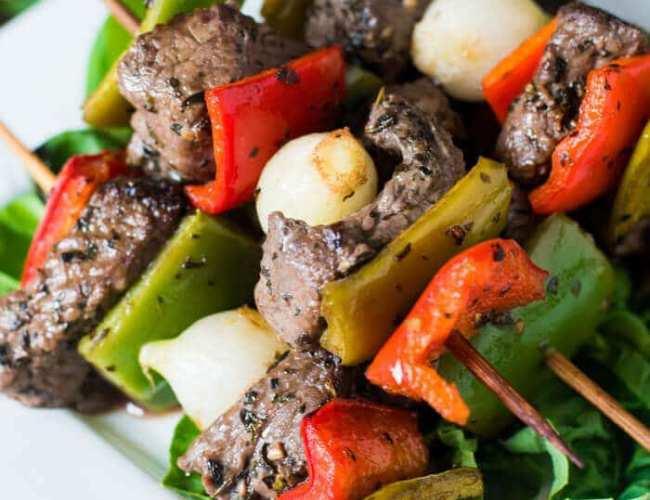 Image Source: Tastes of Lizzy T
Kebabs cooked on skewers make a great camping meal! For an extra festive touch, why not give them a try with some cranberry sauce for dipping.
You'll need:
A metal grate

skewers

Tongs

Ingredients:

Beef

Cherry tomatoes

Mushrooms

Eggplant

Peppers

Onion

Cranberry sauce
Method:
If you are using wooden skewers, wet them to keep them from burning.

Cut beef (or your chosen meat) into cubes.

Cut vegetables into similar sizes and push onto skewers with the meat in between.

Place the kebabs onto a metal grate over the fire and cook for 15-20 minutes. Turn skewers so that each side is cooked.
From: Camps Australia Wide
8. Ham Hock Terrine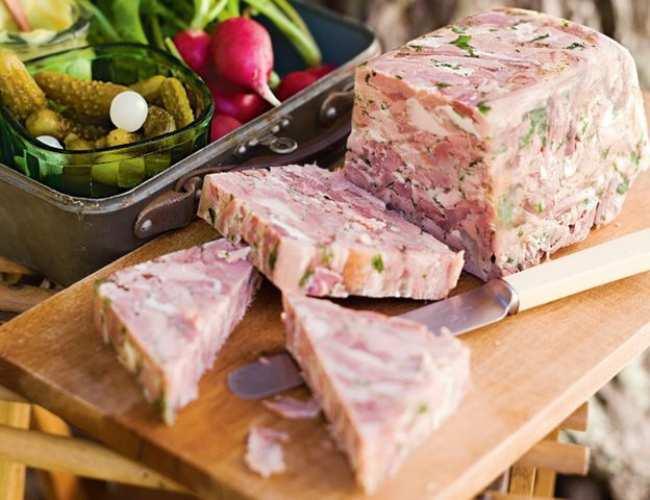 Image Source: Taste AU
This beautiful ham hock terrine will take a bit of preparation and is for the more advanced camper chef, but it'll be a showstopper at any camping picnic!
You'll need:
4 ham hocks

1 onion, chopped

1 carrot, chopped

3-4 thyme sprigs

6 whole black peppercorns

1 cup (250ml) dry white wine

1 cup chopped flat-leaf parsley leaves

4 gold-strength gelatine leaves

Mustard, to serve

Pickles, to serve

Radishes, to serve
Method:
Lightly grease a 1-litre terrine. Line with plastic wrap, leaving a generous overhang.

Place ham, onion, carrot, thyme, pepper and wine in a large saucepan. Cover with cold water and bring to boil. Reduce heat to low, then simmer for 3 hours or until ham is tender. Leave ham to cool in the pan. Remove ham and discard solids and cooking liquid, reserving 1 cup (250ml) liquid. Remove skin from hocks and flake the meat from the bone – you should have about 1kg of meat. Combine with parsley.

Strain reserved liquid into a small pan and warm over low heat. Meanwhile, soak gelatine in cold water for 5 minutes to soften. Squeeze leaves to remove excess water, then add to the pan. Stir to dissolve, then remove from the heat.

Pack the ham into the terrine, then slowly pour over the gelatine mixture to completely cover (you may not need it all). Cool, then fold in the overhanging wrap. Chill for 2 hours, then top with thick cardboard cut to fit and weigh down with cans. Chill overnight until set. Turn out onto a board at the picnic, slice thickly and serve with mustard, pickles and radishes.
From: Taste AU
9. Christmas Coleslaw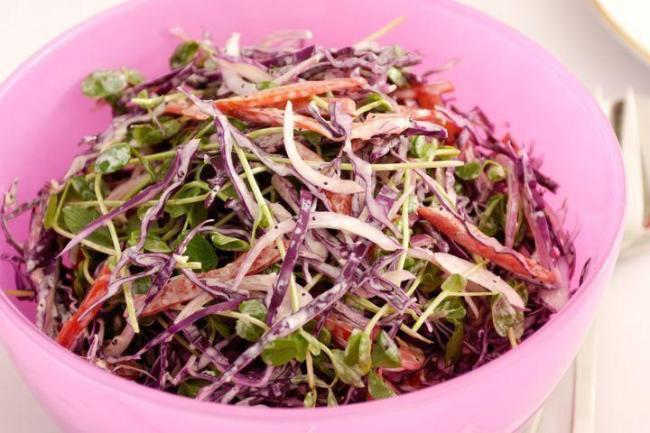 Image Source: Taste AU
This festive coleslaw adds a delicious touch to your Christmas meals with its combination of red and green veggies. Yum!
You'll need:
1/4 (400g) red cabbage, finely shredded

1 large red capsicum, thinly sliced

1 small red onion, halved, thinly sliced

120g snow pea sprouts, trimmed
For the creamy orange poppy seed dressing:
1/2 cup light sour cream

1/2 cup orange juice

2cm piece ginger, peeled, finely grated

2 tsp poppy seeds
Method:
Make dressing: Whisk sour cream, orange juice, ginger and poppy seeds in a bowl until well combined. Season with salt and pepper.

Combine cabbage, capsicum, onion and snow pea sprouts in a large bowl. Add dressing. Toss well to combine.
From: Taste AU
10. Roasted Brussels Sprouts Salad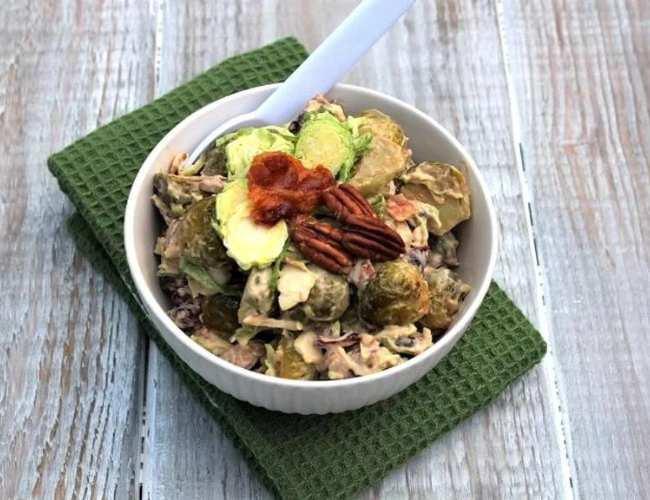 Image Source: Noshing In Nature
It might seem like an odd choice to bring brussels sprouts on a camping trip, but you'd be surprised at how tasty a brussels sprouts salad can be!
You'll need:
500 grms brussels sprout

1 T. avocado oil

Sprinkle of salt

3 slices of bacon

1/2 c. mayo

1 T. olive oil

1 T. balsamic vinegar

1/8 t. salt

1/4 t. garlic powder

1/8 t. onion powder

1/4 c. dried cranberries

1/3 c. chopped pecans
Method:
Trim the bottoms of brussels sprouts and cut them in half.  Save 5 whole brussels sprouts and shave into thin slices using a mandolin, set aside.

Drizzle avocado oil over brussels sprouts and sprinkle on salt.  Wrap in aluminium foil.

Cook brussels sprouts and bacon.

In a bowl mix together mayo and olive oil.  Once well combined, mix in balsamic vinegar and additional spices.

Stir in the pecans, cranberries, and shaved brussels sprouts.

Once bacon is cooked, allow it to cool and crumble into salad.

Once brussels sprouts are cooked until soft stir into salad.

Mix together and enjoy.
From: Noshing In Nature
11. Cast Iron Cheesy Potatoes
Image Source: Noshing In Nature
What could be better than gooey, cheesy potatoes cooked over a BBQ as a side dish to your Christmas camp meal? They're so easy to make with a cast iron pan and they just taste better cooked outdoors!
You'll need:
50 grms goat cheese

4 T. water, broth, or milk

1 c. shredded cheddar cheese

1/8 t. salt

1/4 t. garlic powder

1/8 t. onion powder

1/8 t. paprika

1 T. butter

2 medium or 3 small red potatoes, sliced thin
Method:
Grease your cast iron pan with butter and arrange the sliced potatoes in the pan.

In a saucepan over low heat melt the goat cheese and mix in water (broth or milk).

When the goat cheese mixture is melted and smooth in texture add 3/4 c. of shredded cheddar and mix until smooth. Reserve 1/4 c. cheese to melt on top at the end of cooking.

Once the cheese mixture is smooth and completely melted, pour it over the potatoes.

Cut a piece of aluminium foil to fit the pan and spray with cooking spray so the potatoes won't stick to it.  Cover the pan.  The idea is to cook over low heat for a long period of time.  They should take about 1 hour.   

After approximately 45 minutes, or when potatoes are tender, pull the foil off and add 1/4 c. cheddar to top and cook for about 15 more minutes until cheese is melted.
From: Noshing In Nature
12. Carrot Cake Flapjacks (Prep in Advance)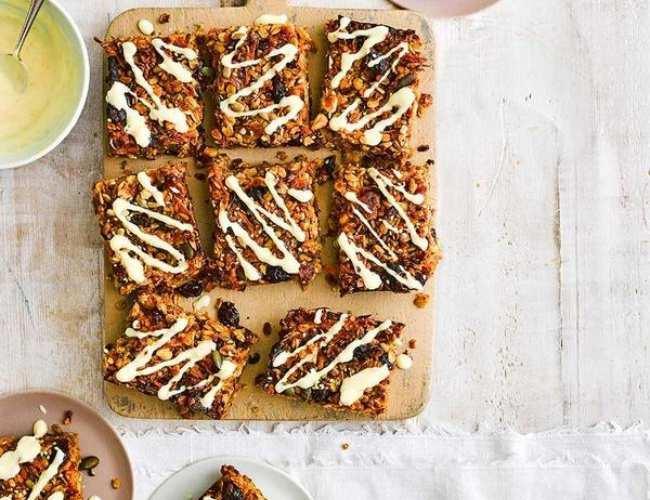 Image Source: BBC Good Food
Treat the family at the Christmas picnic with these delicious carrot cake flapjacks! Packed with nuts, seeds and dried fruit, they're ideal to take with you on a fun family adventure.
You'll need:
170g butter, chopped, plus extra for the tin

200g pitted dates, roughly chopped

250g honey

2 large carrots, coarsely grated

300g rolled oats

100g dried cranberries

150g dried apricots, chopped

70g chopped walnuts

70g mixed seeds

2 tsp mixed spice

2 tsp ground cinnamon
For the icing
1 tbsp soft cheese

2 tbsp icing sugar, sieved

1 small orange, zested, plus 1-2 tbsp orange juice
Method:
Boil the kettle. Heat the oven to 170C/150C fan/gas 3½, butter a 20 x 30cm cake tin and line with baking parchment. Tip the dates into a heatproof bowl and cover with 60ml boiling water from the kettle. Set aside to rehydrate for 10 mins, then tip into a food processor and blitz until smooth.

Melt the butter and honey in a saucepan over a low heat, stirring until smooth. Tip the carrots, oats, cranberries, apricots, chopped walnuts, mixed seeds, mixed spice, cinnamon and a small pinch of salt into a large bowl. Stir the sweetened butter and puréed dates into the dry ingredients until combined, then tip into the prepared tin and press into an even layer using a spatula. Bake for 45-50 mins, covering with foil halfway through if the flapjacks brown too quickly. Cool in the tin. Once completely cool, chill in the fridge for at least 3 hrs.

For the icing, whisk all of the ingredients together until smooth. Drizzle the icing over the flapjacks and cut into 12 bars. Will keep, covered in the fridge, for three days.
From: BBC Good Food
13. Cinnamon & Yoghurt Pancakes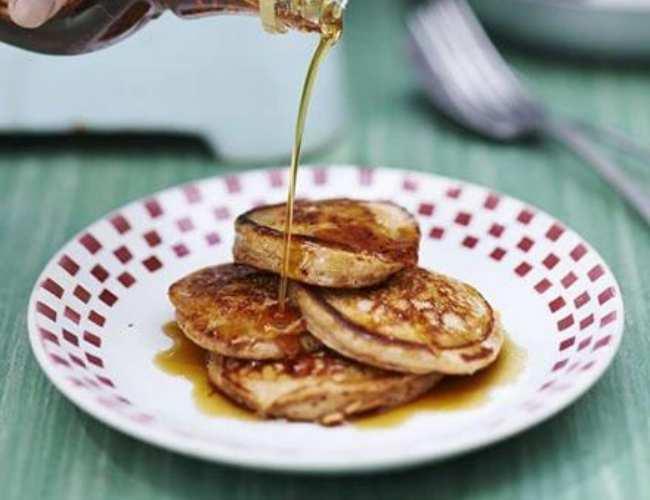 Image Source: BBC Good Food
Love pancakes for breakfast? Then you'll love this easy camping hack – no scales required! Make your holiday extra special with the smell of delicious cinnamon pancakes – sure to bring the Christmas spirit!
You'll need:
500g self raising flour

4 rounded tbsp golden caster sugar

1 rounded tbsp ground cinnamon
To make one batch
125g natural yogurt

1 large egg

1 tbsp milk

a little butter, for frying

maple syrup or Nutella, to serve
Method:
Before you go, tip the flour, sugar and cinnamon into a bowl and mix thoroughly to distribute the cinnamon evenly. Transfer to a rigid container and seal.

To make a batch of pancakes, tip the yogurt into a bowl or jug and add the egg and milk, then mix with a fork. Rinse the yogurt pot and dry well. Measure a scoop of dry mix into a bowl, make a well in the centre, and add the yogurt mixture. Beat together to make a smooth batter.

Heat a frying pan with a knob of butter. Spoon tablespoons of mixture, a little apart, into the pan and cook until bubbles appear on the surface, about 2-3 mins. Flip them over and cook until firm to the touch, then transfer to a plate. Add a little more butter and continue to cook the pancakes until all the batter is used up. Serve with toppings of your choice.
From: BBC Good Food
14. Hot Spiced Buttered Rum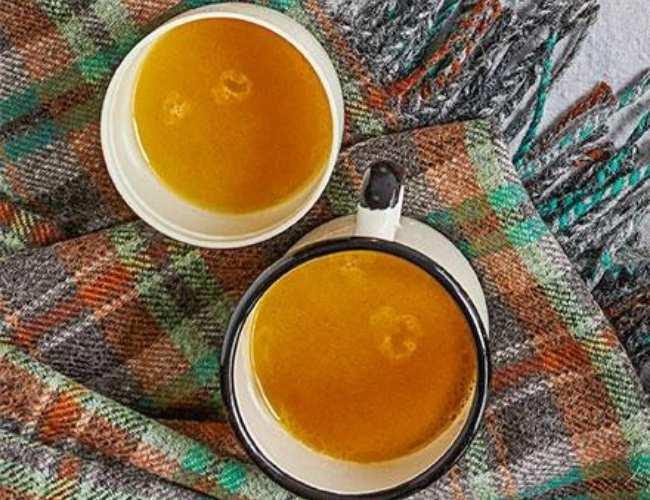 Image Source: BBC Good Food
This delightful buttered rum is perfect for sharing during a camping trip. Its gentle spices, such as cinnamon and star anise, make for a truly delightful Christmas experience.
You'll need:
100ml rum

200ml water

25g butter

1 blood orange, zested and juiced

4 cloves

1 star anise

1 tsp ground cinnamon

1 bay leaf

1 tsp maple syrup
Method:
Heat all the ingredients in a pan until hot but not boiling, while stirring. Let it sit for a few mins, then strain into a flask.

Enjoy!
From: BBC Good Food
Cook up a storm on your Byron Bay camping holiday break
With these festive and delicious BBQ meals, you'll be happy and well-fed during your camping holiday. Just bring a few camp cooking essentials and make full use of our campsite BBQs and camp kitchen. And if you forget any ingredients before heading out, find them at our camp kiosk.
Book your spot at Broken Head Holiday Park and celebrate the holidays in Byron Bay. We're sure you'll be back every year!