5 Easy Summer Camping Food Recipes

Summer camping food gives you the opportunity to get out of your normal cooking routine. That's why we've put together a list of easy and healthy camping recipe ideas for the least amount of fuss and bother. No one wants to muck around with a 3 course meal when you're staying in a tent. But you also want something more interesting than a salad after a fun day out in Byron Bay. 
Here are 5 summer camping food recipe ideas to get you in the mood for alfresco eating.
1. Ham, Egg, Cheese & Bread Bowls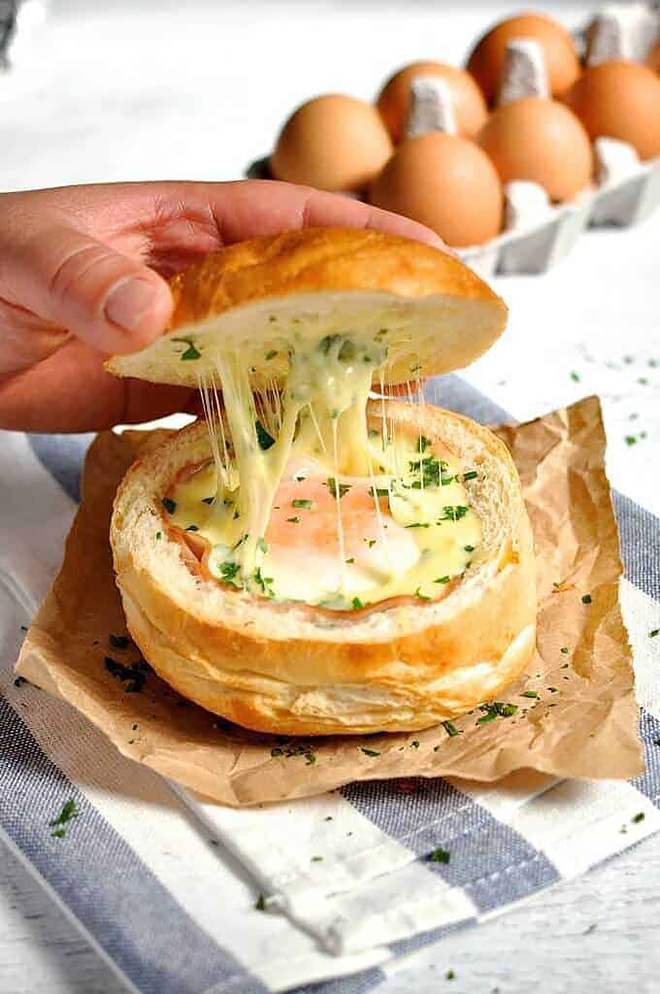 Image source: Recipe Tin Eats
Easy to prepare and quick to make, these bread bowl rolls will be a firm fav with all the family. Just wrap in foil and pop them on the grill until they're toasty and delicious. Great for breakfast or brunch. Best of all? No washing up!
Ingredients
Bread rolls

Slices of ham

Eggs

Mozzarella 

Fresh parsley (optional)
Method
Cut the tops off the bread rolls.

Scoop out the centre. To be neat, use a small knife to cut a round outline before scooping out the centre.

Line the bread bowl with a layer of ham. Try to use one whole piece if you can because then there is less chance of egg seeping through and being soaked up by the bread.

Crack in an egg.

Top each with 2 tbsp of mozzarella cheese and a sprinkle of parsley (optional).

Put the top back on each roll. Wrap with foil and place on BBQ grill or in camp oven. 

Check after 15 minutes, they will need longer if you want your yolk firmer.
Recipe source: Recipe Tin Eats
2. Walking Tacos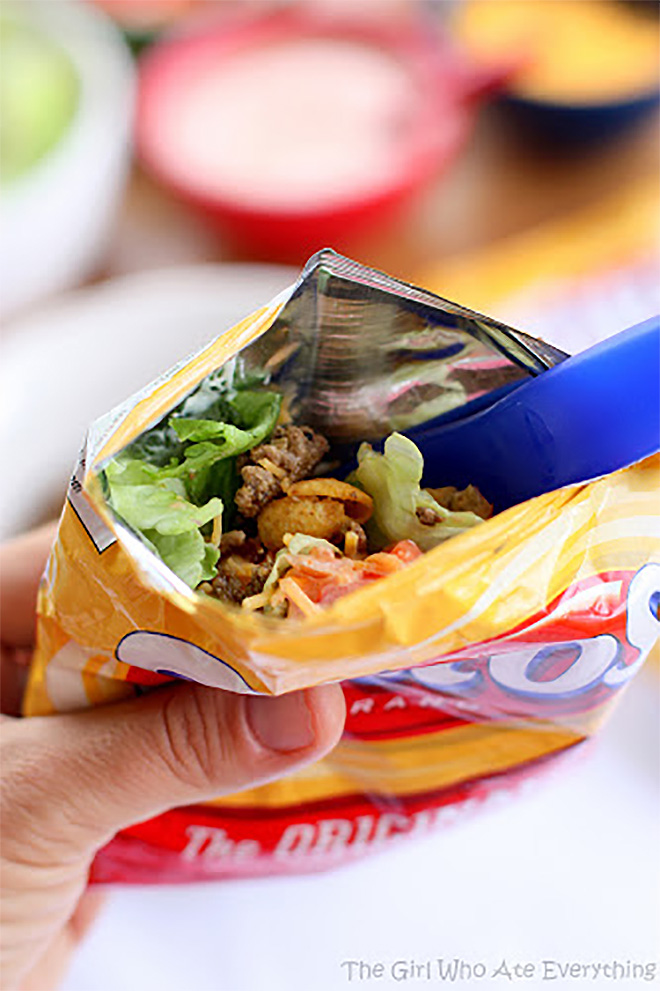 Image source: The Girl Who Ate Everything
Everyone loves nachos, and this is a really easy camping food version. You can up the health factor by using more salad veggie toppings and going easy on the meat and sour cream.
Ingredients
Mince 

Taco seasoning

Beans

Snack sized bags of Doritos

Lettuce

Tomato

Grated cheese

Avocado

Sour cream

Salsa
Method
Brown mince in a frying pan on your camp stove and drain the fat. Add the onion to the meat and sauté a couple of minutes until soft. Add the taco seasoning along with 1/2 cup of water and simmer until water is absorbed. If serving immediate pour in a bowl. You can also combine the meat and black beans if you want and keep them warm in a slow cooker.

Crush your chips with your hands and open your bag. Add whatever toppings you desire and drizzle it with my ranch/salsa mixture. Eat with a fork as you walk around! 
Recipe source: The Girl Who Ate Everything
3. Camping Paella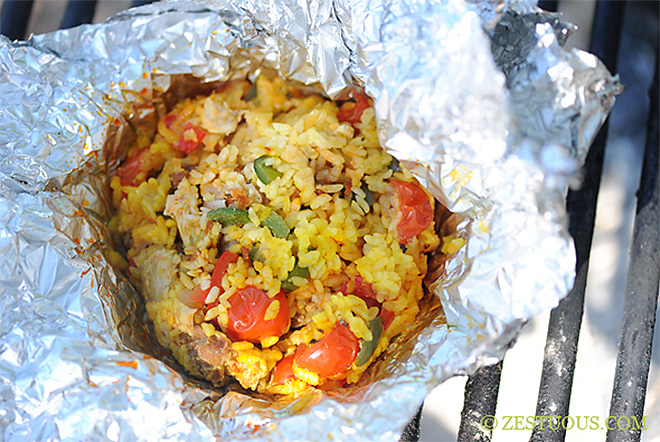 Image source: Zestuous
Everyone in your camping group can be involved in making this yummy foil paella. It takes a little prep work to chop all the ingredients but once all that's done, choose your own ingredients, pop on the BBQ and sit back and relax with the rest of the wine. 
Ingredients
Roasted chicken, shredded (no skin)

Chorizo 

Onion, chopped

Garlic, minced

Capsicum, chopped

Cherry tomatoes

Saffron, salt, pepper

Equal parts uncooked Arborio rice

Equal parts white wine, chicken broth or water
Method
Make foil bowls, using two sheets of non-stick foil (dull side in).

Fill the bowl with as much chorizo, chicken, onion, garlic, capsicum, tomatoes and seasoning that you want.

Add in equal parts rice and wine (or chicken broth or water). Stir everything together.

Bring the edges of the foil to the top and close up the pouch.

Place on the BBQ. Rotate every 10-15 minutes. Cook for about an hour.

Remove from the BBQ and enjoy.
Recipe source: Zestuos
4. Asian Mushroom Ramen Noodle
Image source: Recipe Tin Eats
One pot meals are the best way to go for quick and easy camping food. This flavourful noodle recipe only uses one pan and you can bring all the ingredients with you.
Ingredients
2 packets ramen or other instant noodles, uncooked, discard seasoning

1.5 tbsp vegetable oil (or other neutral flavoured oil)

400g mushrooms, sliced (any type)

2 garlic cloves, minced

2 tsp sesame oil (or more vegetable oil)

5 green spring onion stems 

1 1/4 cups (315 ml) water, plus more as needed
Sauce:
1 tbsp dark soy sauce 

1 tbsp Oyster sauce 

2 tsp Hoisin sauce (or more Oyster sauce)

1 tbsp mirin  
Method
Mix Sauce ingredients in a small bowl.

Cut spring onion into 5cm lengths. Separate white/pale green part from green part.

Heat oil in a frying pan over high heat. Add mushrooms and cook for 3 minutes.

Add the garlic and sesame oil, cook until mushrooms and garlic are golden.

Add Sauce, give it a quick stir. Add white part of green onions. Cook 1 minute until mushrooms are caramelised.

Push mushrooms to the side to make a big well in the centre.

Add water then squidge noodle cakes in.

Cook 45 seconds, then flip. Cook 30 seconds then break up the noodles.

Add green part of green onions and toss well, adding more water if needed to make it saucy.

Serve immediately!
Recipe source: Recipe Tin Eats
5. Sausage, Potato & Green Bean Foil Packets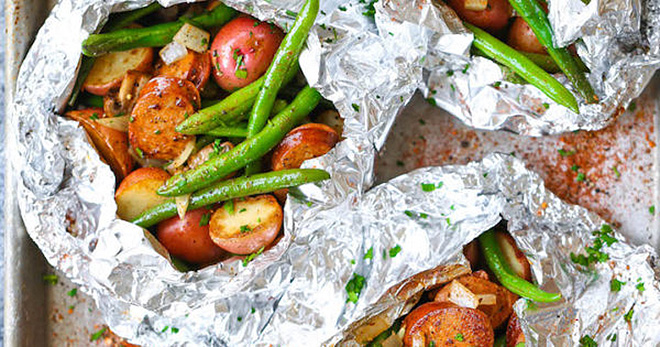 Image source: Damn Delicious
Got leftover BBQ sausages? This easy, meat and veggie foil packet dish is perfect for a quick camping food dinner. Makes 4 packets.
Ingredients
Cooked, thinly sliced sausages

Baby red potatoes, quartered

Green beans, trimmed

Button mushrooms, halved

1 onion, chopped

4 tablespoons unsalted butter, divided

4 teaspoons cajun seasoning, divided

Salt and freshly ground black pepper, to taste

2 tablespoons chopped fresh parsley leaves (optional)
Method 
Preheat a gas or charcoal grill over high heat.

Cut four sheets of foil, about 30 cm long. Divide sausage, potatoes, green beans, mushrooms and onion into 4 equal portions and add to the centre of each foil in a single layer.

Fold up all 4 sides of each foil packet. Add butter, cajun seasoning, salt and pepper, to taste; gently toss to combine. Fold the sides of the foil over the sausage, covering completely and sealing the packets closed.

Place foil packets on the grill and cook until just cooked through, about 12-15 minutes.

Serve immediately, garnished with parsley, if desired.
Recipe source: Damn Delicious
Bring your summer camping food recipes to Broken Head
Now you've got some summer camping recipes up your sleeve, you can book a weekend or longer stay at Broken Head Holiday Park. We've got onsite camp facilities including a spacious camp kitchen and BBQ areas for you to try out all these yummy meals. Don't stress if you forget to buy something for a camping food recipe because we've got a campsite kiosk, too!
Whether you want to stay in a powered or unpowered campsite or a deluxe cabin or beach shack, we've got you covered with a range of accommodation options. We look forward to seeing you soon!