Three Sisters Walking Track Guide

One of the most popular walks in Byron Bay is the Three Sisters Walking Track. It's a relaxing way to spend your morning or afternoon walking through lush rainforest trails that open up to spectacular views of the Pacific Ocean. Three Sisters makes our list of top kid-friendly hikes in Byron Bay. You can take the whole family out for a lovely stroll and a picnic.
Read on to learn about the Three Sisters walking track in Byron Bay.
Where is the Three Sisters Walking Track?
Three Sisters walking track is part of the Broken Head Nature Reserve. The track is about 9 km or a 10-minute drive south of Byron Bay. It begins just near the Broken Head Holiday Park picnic area, so it's super convenient while you stay at our facility. You can also park your car near the track at $4 per vehicle per hour if you're looking for a one-day activity in Byron Bay or buy a parking pass.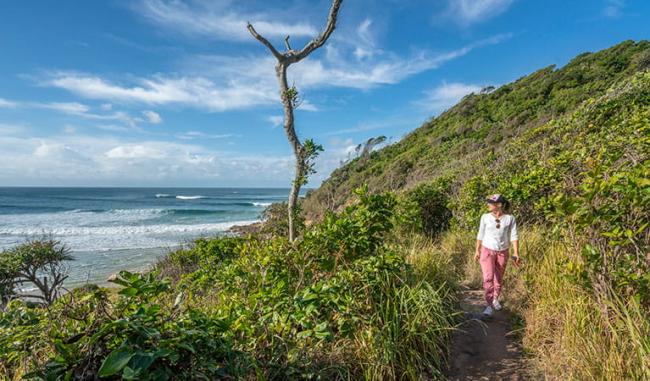 Image source: National Parks NSW
Why is it called Three Sisters?
The Aboriginal Dreamtime story from the Bundjalung people tells of a young girl who went swimming on the headland at Broken Head. She got caught in a dangerous current, and her older sisters swam out to save her. But they too got caught in the current, and all three sisters drowned, turning into the rocky outcrops that now carry their name.
The intention of this story was to warn children against going swimming out in the headland. As beautiful as the ocean might be, if you get caught in the treacherous currents, you might drown and turn into rock, just like the Three Sisters. You can read the story on the signs along the track. When you reach the Three Sisters Lookout platform, enjoy the panoramic views of perfect beaches, rocky outcrops, and rich forest.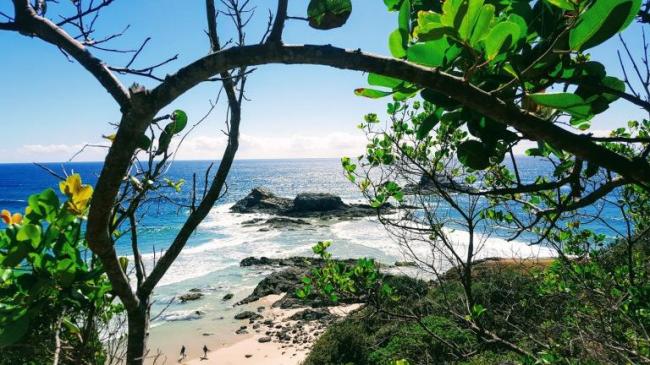 Image source: Byron Dreamer
How long is the Three Sisters Walking Track?
The walking track covers a 1.6 km return, and you can complete it within 30 to 45 minutes. Take all the time you want to admire the trees, birds, and wildlife along the track, and have a fun picnic before walking back. The trail meanders under a canopy of trees, through a gently sloping path with occasional steps and small wooden bridges, so it is very friendly for kids and the elderly.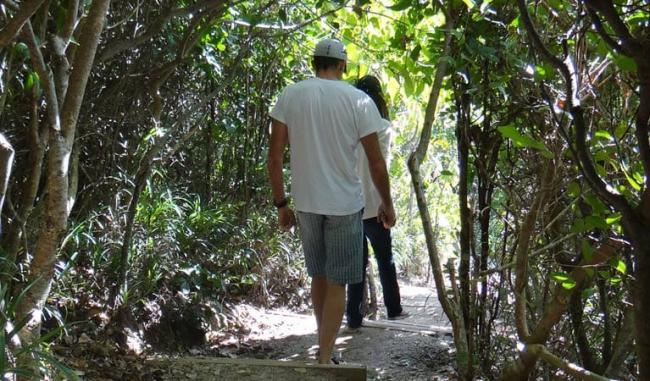 Image source: National Parks NSW
What is the best time to visit the Three Sisters Walking Track?
Spring and winter months bring migrating humpback whales and sea eagles that plunge into the water for their food.  Springtime is also an excellent time to see the burst of vivid wildflowers throughout the track and across the headland. Summer and autumn are perfect for a beach picnic, a relaxing walk through the rainforest with excellent vantage points to admire the stunning coastal scenery.
What should I bring along for my Three Sisters walk?
Binoculars
Hats and sunscreen
Drinking water
Snacks or picnic
Fishing gear if you have a license
What should I wear for the Three Sisters walk?
Depending on the time of year, you may want to dress warmly or bring a raincoat because of the winter rain or opt for light clothing in the summer. Wear your most comfortable walking shoes or sandals so you can dip your feet in the beautiful blue water at the beach. The Three Sisters walking track is not pet-friendly, so leave your furry friends in good care.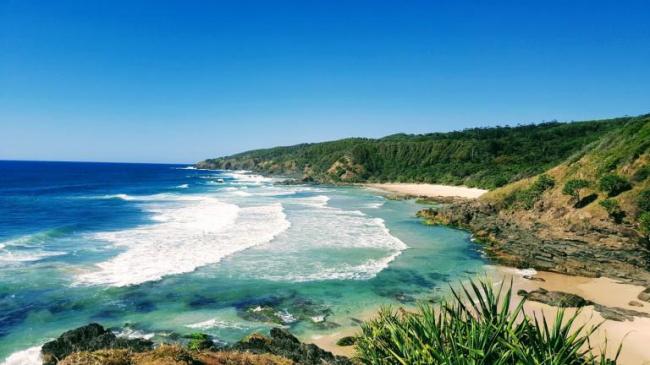 Image source: Byron Dreamer
A day well spent at Broken Head Holiday Park
While you stay with us for your Byron Bay holiday, a walk through Three Sisters is a fantastic way to spend a day out in nature. Head out for your serene walk, learn about Aboriginal culture, bask on the beach, and then head back to your campsite at the Broken Head Holiday Park. Book your getaway with us today.