Top 13 Vegan & Vegetarian Restaurants & Cafes in Byron Bay
Vegans and vegetarians planning holidays to Byron Bay should feel good about picking this location as a destination as there are plenty of excellent Byron Bay restaurants serving up delicious food to please any palate. Whether you need breakfast, lunch or dinner, we've got you covered with this list of nine yummy eateries that provide everything from completely vegan, to just some vegetarian options. No matter what your dietary needs are, Byron Bay restaurants will make sure you don't go hungry!
1. Naked Treaties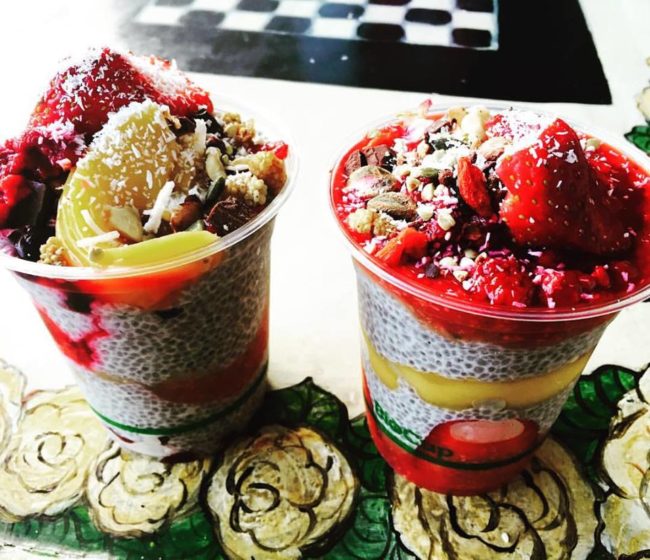 Image source: Naked Treaties Facebook
Come here if you would like your food free from anything. This café only offers raw, vegan and organic food with selections that are gluten, dairy and sugar free. Literally everything in Naked Treaties is good for you. When you walk in, you'll notice the huge menu of juices and smoothies but no need to worry, just ask a friendly staff member for a recommendation. Besides juices and smoothies, there are raw lunches and delicious treats.
Open: everyday from 8am to 4pm
Location: 2/3 Marvell St.
The following video will give you a good understanding of the vibe of the restaurant:
2. Santo's Life Organic & Natural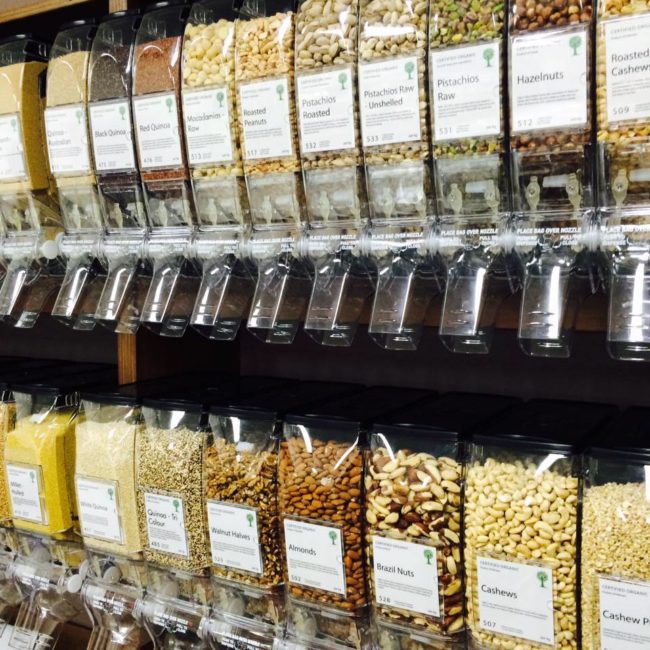 Image source: Santos Organics Facebook
Located across from Woolworth's Plaza on Johnson Street (just down the street from Manna Haven), Santo's Life mainly functions as an organic food store, but it does also have a great juice bar, as well as a selection of lunch options (such as vegan or vegetarian pies, salads, pizza, salads and tarts). A good place to grab cheap eats in Byron Bay along with stocking up on yummy food to take back to your Broken Head campsite.
Open: Monday through Friday from 8:30am to 6pm, Saturday from 9am to 5pm and Sunday, 10am to 4pm
Location: 105 Johnson St.
3. Fundies Whole Foods Café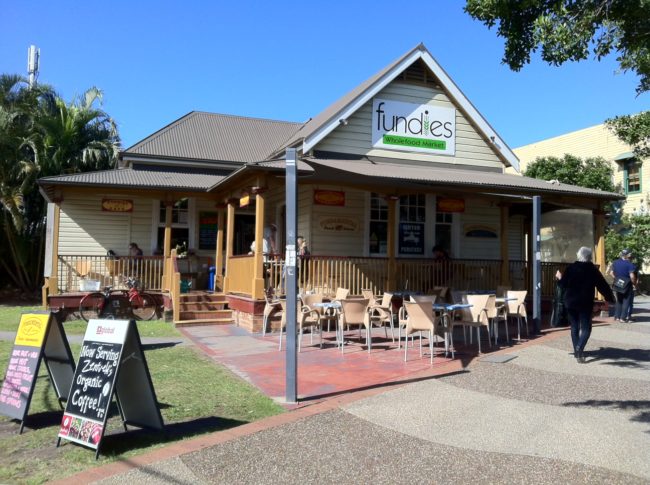 Image source: Fundies
Another food shop and café, Fundies features a juice bar along with fresh salad, vegetarian dishes, organic coffee and more. While you're there, enjoy a cheap lunch and smoothie at the outdoor tables. It's also great place to grab some healthy vegetarian meals to take back to your Byron Bay camping site to make at the camp kitchen or BBQ.
This shop, which used to be Byron Bay's post office, offers customers the chance to purchase organic fruit and vegetables, dried fruits and nuts and much more. If you are looking for a way to grab some organic food in Byron Bay while you're on holiday, you can certainly hit up Fundies, the location is hard to miss on Jonson Street, right next to the Byron Bay Community Centre.
Open: Monday through Friday from 8:30am to 5:30pm, Saturday from 8:30am to 5pm and Sunday, 9am to 4pm
Location: 61 Jonson St.
4. The Cardamom Pod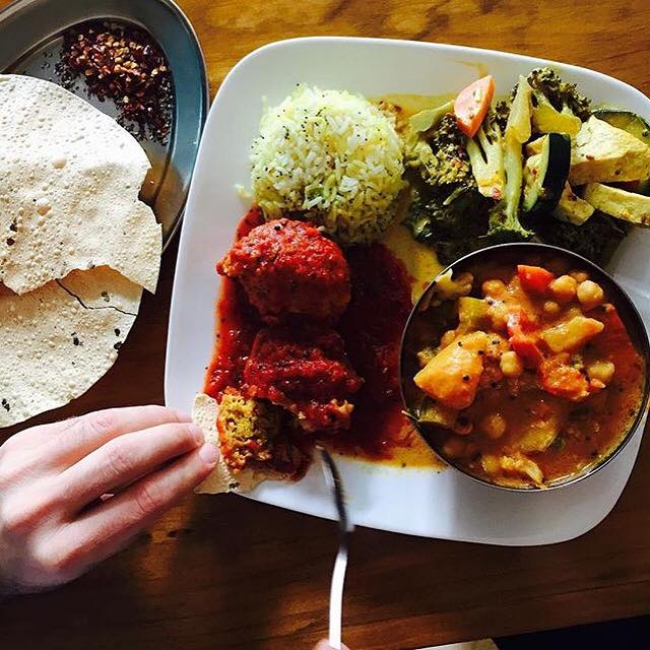 Image source: Cardamom Pod Facebook
With low prices and a menu that caters to both vegetarian and vegan, The Cardamom Pod hits the spot for those who abstain from meat. The menu includes salads, hot dishes, desserts and drinks.
There are excellent choices for salads (like the "famous" tofu and broccoli salad with grilled sesame seeds) and main courses (such as paneer and spinach samosa). But don't overeat because the desserts are worth the calorie expenditure with mouth-watering treats like Byron Bay bliss balls, rhubarb and strawberry tart and pumpkin cheesecake.
This vegan and vegetarian Byron Bay restaurant rates as a win because it also offers cheap eats!
Open: every day from 11:30 a.m to 9 p.m.
Location: inside the Peir Arcade, 7 Lawson St.
5. Legend Pizza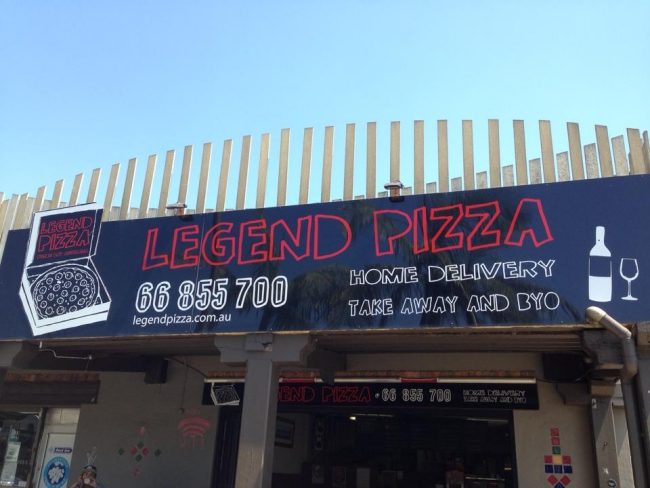 Image source: Legend Pizza Facebook
While it may not be a strictly vegetarian restaurant, this iconic pizza joint devotes a whole area of the menu to vegetarian – instead just offering the traditional one veggie pizza – with yummy sounding combos as garlic mushroom and spinach pumpkin. So if you're with your meat-eating mates and need a reasonable place to fill up on dinner that will please both sides of the eating spectrum, this Byron Bay pizza restaurant might be the perfect place for you. Plus, since it has the take away option, it might be great to pick up on the way back to your Byron Bay holiday park.
Open: every day from 8 a.m to late.
Location: 90-96 Johnson St. (near Woolworth's, across from Quiksilver).
6. Miss Margarita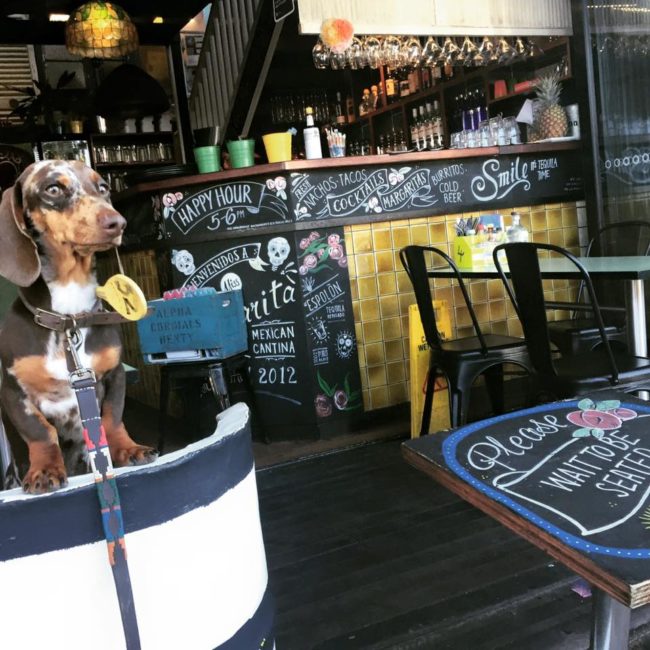 Image source: Miss Margarita Facebook
Despite being a Mexican restaurant, Miss Margarita offers enough vegetarian meals to make the list of best vegetarian restaurants in Byron Bay. Plus, it'll provide a Mexican fix at the same time! Holiday goers might want to take advantage of the happy hour everyday from 5 to 6 pm where you can nab a $10 margarita and other specials.
If you're wondering what offerings this Byron Bay restaurant has in the way of vegetarian, think garlic mushrooms and grilled zucchini burritos or cheese and jalapeno quesadillas. The restaurant, which opened in 2012, sits on the busy main drag of Jonson Street and even has a decked area for great people watching while you nosh on your vegetarian delights.
Open: Monday to Friday from noon 3 pm  and 5 pm till close, Saturday and Sunday, 11:30 am until close.
Location: 2 Jonson Street
7. Traditional Thai

Image source: Traditional Thai Facebook
Yet another option of a place where you could satisfy both vegetarian and meat eaters alike in one Byron Bay restaurant. Traditional Thai only serves dinner or takeaway, but has a menu with a good selection of vegetarian options so you won't feel stuck. There's even a vegan yellow curry if you have a vegan friend along on this holiday. So feel safe in coming here for a great dinner or even to pick up takeaway and have a relaxing picnic dinner at nearby Main Beach.
Open: 5:30-9:30 pm every day
Location: 2 Fletcher Street
8. Asia Joe's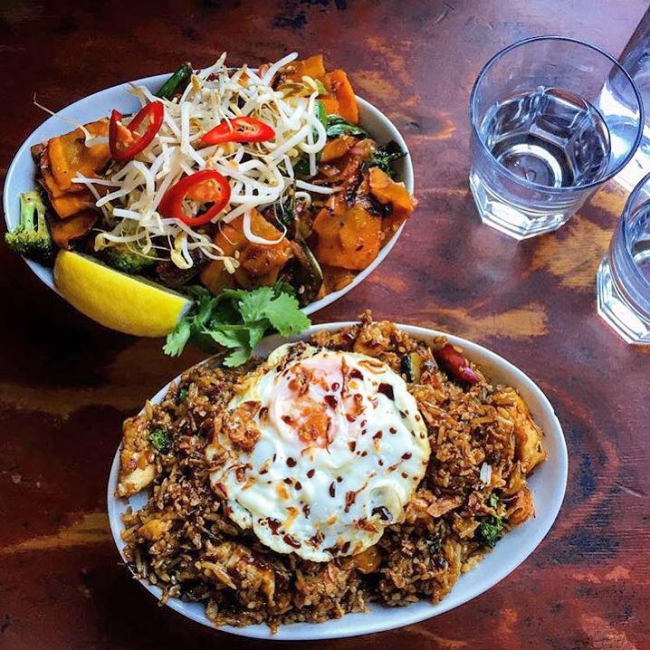 Image source: Asia Joes Facebook
Inspired by food vendors in Asia, Asia Joe's caters not only to vegan food preferences but even offers gluten free options. Asia Joe's, which is according to its website "all about fresh, healthy and colourful food," may not be a solely vegetarian restaurant in Byron Bay, but gives its veggie customers plenty to pick from on its menu, including tofu sang choi bau, pumpkin and mushroom stir fry and Malaysian style coconut laska. Be sure to check out the Byron Bay restaurant's full list of menus to see what's available for the vegetarian in your life.
Location: 4 Bay Lane
Open: noon to 3 pm, 5:30 to 10 pm, every day
9. Manna Haven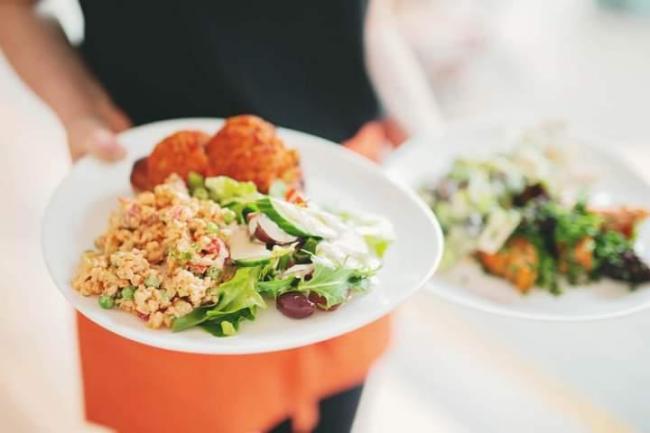 Image source: Facebook
Manna Haven Café is one of the most dynamic, entirely vegetarian and vegan Byron Bay restaurants today. Their menu changes every week according to fresh seasonal produce sourced from Byron Bay. You can "grab and go" or enjoy your meal right under the frangipani tree or on the patio. Manna Haven also has lots of gluten-free, sugar-free or raw options.
But watch out, their servings are quite generous, so bring your full appetite. A crowd-pleaser is their take on Mexican enchiladas made with pumpkin, black beans and corn, or the refreshing raw salad that is simply a rainbow of fresh veggies in a bowl. Also, try their famous home-brewed herbal and spice teas, or design your fruit juice from a choice of fresh fruits.
Location: 97 Jonson Street (opposite Woolworths on the main street)
Open: Monday through Friday from 11.00 am to 3.00 pm.
10. Byron Fresh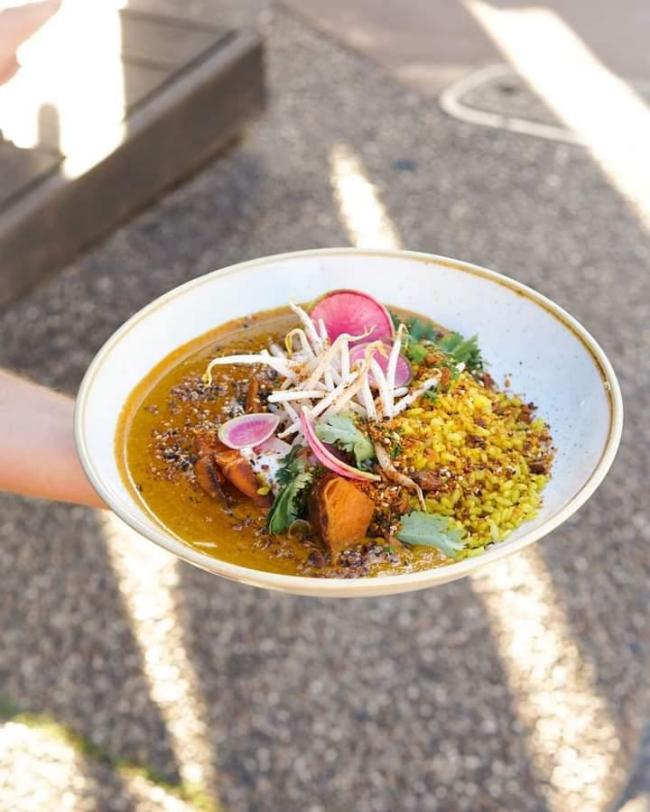 Image source: Facebook
After a day relaxing at the beach, stop by Byron Fresh for a hearty meal, an excellent cup of coffee, or a refreshing cold drink. The Buddha Bowl is probably the most delicious vegetarian dish you'll have during your stay in Byron Bay. It combines sweet potato, avocado, turmeric, brown rice, hemp seeds and broccolini with tasty cashew cream, so each bite is bright and fresh.
Try the golden coconut curry, too, with green beans, chickpeas, bean sprouts, and macadamia served with turmeric rice. Sip on a locally brewed beer or a glass of wine in their outdoor space, or grab a takeaway at their kiosk. Do check their menu for the V (vegetarian), VE (vegan), GF (gluten-free) and DF (dairy-free) labels as you order. You can request a vegetarian substitution for a small fee if you like the sound of their non-vegan menu options.
Location: 7 Jonson Street
Open: every day from 7:30 am to 10.00 pm.
11. Elixiba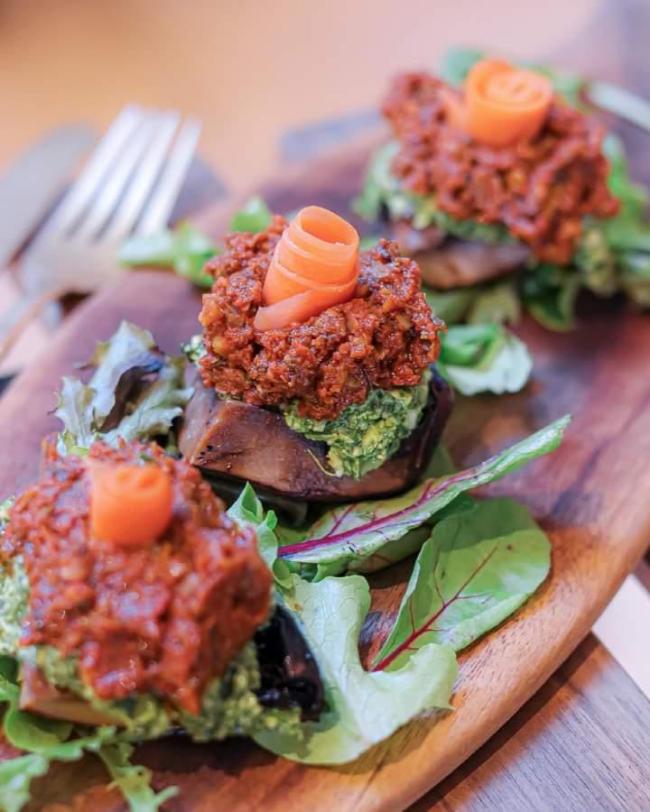 Image source: Facebook
Described as "quirky and enchanted", Elixiba is an entirely plant-based restaurant with a 100% gluten-free menu. It's a magical hidden gem that serves some very creative meals, like the coco-Mari tacos, which is a play on calamari, tea-smoked mushrooms, and their colour-changing chameleon lemonade.
Of all Byron Bay restaurants, Elixiba is quite famous for its chips. They're hand-cut from sweet potatoes and white potatoes, sprinkled with the signature Elixiba spice mix and served with delicious garlic aioli. Try one of their alchemy cocktails as well, like the Jammu elixir, which is a classic Indonesian tonic with the Elixiba touch of gingko and cayenne pepper for a good kick.
Location: Shop 10, Feros Arcade, 23 Jonson Street.
Open: every day from 12.00 pm to 8.00 pm
12. No Bones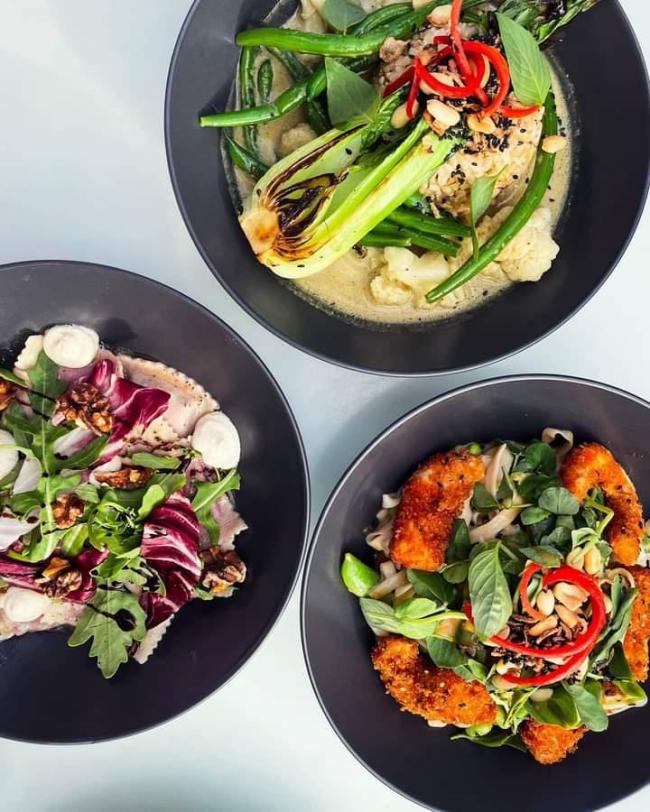 Image source: Facebook
No Bones is a firm believer in changing the world "one brussel sprout at a time", and they certainly make good on their commitment. The No Bones menu is entirely vegan and vegetarian, filled with wholesome meals made from local, fresh ingredients. Their signature gourmet mushroom dish combines Byron Bay's finest mushrooms like king oyster, golden pearl and shitake mushrooms, served with truffle cream and sautéed greens.
The No Bones Organic Tea comprises fresh mint, rosebuds, chamomile, lavender, jasmine, lemon balm or sencha green. Have a taste of their chocolate ganache, brownie cake, cookie crumb, passion fruit and cream dessert, and you'll be back to No Bones in no time.
Location: 11 Fletcher Street.
Open: Monday through Thursday from 5.00 pm to 9.00 pm, Friday and Saturday from 5.00 pm to 10.00 pm, with Happy Hour from 5.00 pm to 6.00 pm.
13. Yulli's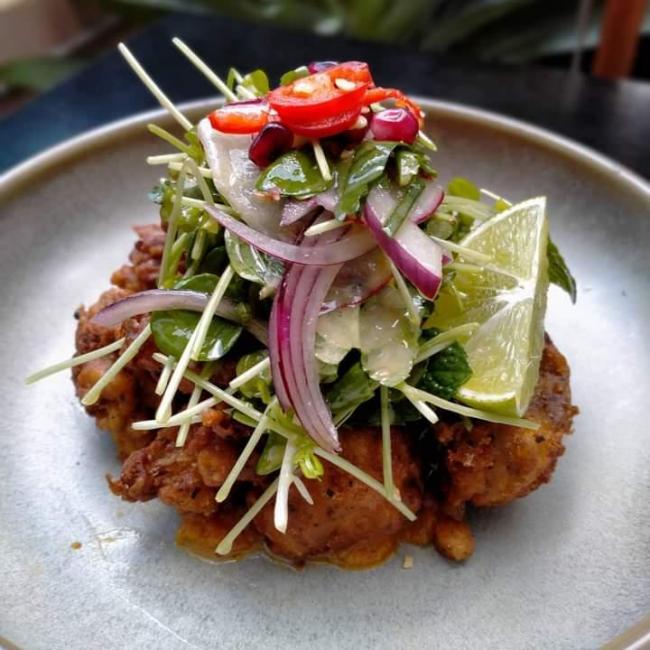 Image source: Facebook
Yulli's menu offers an unbelievable variety of 100% vegan, Asian inspired food. The banquet menu is the best value you'll get from Yulli's, where for $40 per head, you can eat to your fill from a wide range of dishes. It's great for small groups visiting Byron Bay, so you can all try a bit of everything.
The stuffed zucchini flowers and sweet potato doughnuts are simply outstanding, along with a great selection of craft beers, cider or kombucha to satisfy your taste buds. Yulli's is one of the most popular Byron Bay restaurants, so don't expect a quiet dinner. But their super-fast, friendly service makes it a winner every time.
Location: 3/8 Byron Street.
Open: Monday through Thursday from 5.00 pm to late, Friday from noon to late, Saturday and Sunday from 11.30 am to 3.00 pm, then 5.00 pm to late.
Stay at Broken Head Holiday Park on your Byron Bay Holiday
Choosing to stay at Byron Bay budget accommodation like Broken Head Holiday Park while on your holiday provides you with more cash flow for things like eating out at any of the excellent vegetarian Byron Bay restaurants mentioned above. We hope to see you soon!