7 Secrets to a Secluded Romantic Getaway in Byron Bay
Fancy impressing your partner with a romantic getaway she's not going to forget in a while? Well, believe it or not, it's not too difficult when you get a little pre-planning done in advance. In fact it couldn't be easier provided you bear in mind the following tips which involve:
Choosing a secluded location
Ensuring it's comfortable
Bringing along a few little luxuries
Adding a very personal touch
We may be biased but we believe our cosy Beach Shacks at Broken Head Holiday Park are perfect for romantic getaways. How so? Well they certainly tick the first two boxes on our list above – secluded and comfortable – the other two are down to you!
Not only do our popular Beach Shacks come with your own private verandah and king bed (if you so desire) but they're also just a stone throw's from the beach – we're thinking romantic sunset walk with the waves lapping against the shore. Alternatively huddle up in a blanket on the dunes with some olives, chips and a bottle of vino while sharing saucy secrets and watch the sun go down.
Our secrets for a romantic getaway
1. Discover things you never knew about each other by paying a visit to the Crystal Castle and Shambhala Gardens. A spiritual retreat which espouses the caring and peace-loving philosophy of Tibetan Monks. Here you can both receive personal readings and get to know each other a little more by sharing the revealing results afterwards.
Don't stop there, though, as Byron Bay offers tons of fun and romantic ideas for couples. Check out a list of the top 15 secluded spots in Byron Bay. We suggest everything from hot air balloon rides and couples treatment at a spa to snorkelling at Julian Rocks Marine Reserve and picnics at quiet beaches.
2. Relax together and snuggle up in your cosy, heated Beach Shack while listening to the waves lapping the shoreline. Pop on some mellow tunes and open a bottle of red, maybe even a box of chocs. Read her some romantic quotes or poetry too – that always goes down well.

Log some quiet beach time together. Here is a list of some great beaches in Byron Bay to help you in planning out your romantic getaway. You can use these hours together soaking up the sunshine to talk about your dreams, what the future might hold, life after the kids grown up or even just catch up on life! Or, just take the time to allow both of you to read a good book!
Romantic escapes don't have to mean big, grand activities at all times — in fact, cosying up with your other half at a coffee shop to talk, read the paper, do a crossword puzzle together or just, maybe, stare out into the ocean could be a wonderful way to spend a morning or afternoon. One of our top picks for a place to do this very activity is the Byron Beach Cafe. This restaurant offers amazing views!
3. Explore the nearby rainforests and get lost together before you impress her with your navigational skills and wild animal know-how. You might even want to do a little reading up beforehand so you can recognise the calls of the different birds you both encounter (she'll be blown away!).

Byron Bay's hinterland provides lots of great hikes and trails for you and your partner to enjoy while on your romantic getaway. Many of these feature amazing waterfalls, gorgeous views of the area and the chance to see some exotic animals. Pick from our list of the best hikes in Byron Bay and get moving!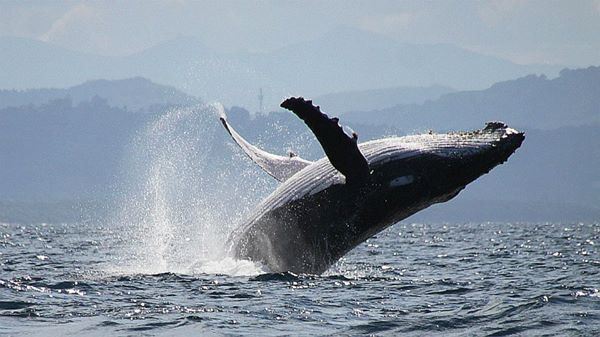 4. Escape from the hustle and bustle of daily life and even Byron Bay by going for a jog together on Broken Head beach where, if you're lucky enough, you may spot some dolphins or even a whale or two. If you're feeling a little more sociable, think about trying out some of these seven romantic activities in and around Byron Bay.

If you're visiting during whale watching season, which generally runs from June to November, you should try to catch a view of these magnificent creatures. Places where you can watch for them include Byron Bay Lighthouse or Broken Head beach early in the morning or just after lunch. Generally they can be spotted around 10km offshore. Other hotspots for whale watching in Byron Bay include Ballina North Wall, Angels Beach viewing platform, Skennars Head, Rocky Point and the Pat Moreton Lookout at Lennox Head.
5. Rejuvenate by treating you and your partner to a spa day and a massage at Reconnect With Yourself with their acclaimed Rejuvenation Package (or then again, maybe she deserves the Goddess Package?). But there are lots of spas in the Byron Bay area that offer a couples treatment, such as these couples packages from Buddha Garden Day Spa or these offerings from Gaia Retreat & Spa.
6. Indulge in some French cuisine (no nation is more romantic than the French after all). At the very friendly, intimate and family-run Petit Snail you will indeed be able to order snails in garlic butter (kissing is fine if you've both been indulging) and other sensual finger foods to put some sexy fun into dinner. Another romantic eating house in the vicinity of Broken Head Holiday Park is the famous Italian at the Pacific run by head chef Willian Ennis. The atmosphere here is cosy and comfortable. Again, there is plenty of finger food to share.
But these aren't the only excellent restaurants in Byron Bay! We have so many–giving you all the options you need for whatever you and your partner are in the mood to eat.
Try out this list: 10 Best Byron Bay Restaurants, Cafes & Bakeries
Or if you or your significant other is vegetarian: Top 7 Vegetarian & Vegan Restaurants & Cafes in Byron Bay
7. Make it affordable. Of course you don't have to spend a fortune to enjoy a romantic escape with your other half (many of the romantic ideas above shouldn't prove too taxing for your wallet for instance). For example, we've got you covered for food options with this round up of the Best Cheap Eats in Byron Bay. Or, heck, don't even take out your wallet when you participate in any of these free things to do in Byron Bay!
But to cut back costs even further for a cheap weekend away, you could consider camping instead of hiring a Beach Shack. Increase the intimacy quotient by buying two sleeping bags of the same make and zipping them together for extra cosiness. When dining, surround the tent with a few mason jars with tea lights to add some atmosphere (forget the plastic here – bring along some posh silver cutlery instead).
If you are looking for fun games to play around the campsite, read this post. Sometimes just the simple act of working together to solve a puzzle or game can bring you closer together and feel romantic. And who doesn't find cloud watching romantic?
15 Camping Games for Adults, Teens & Kids
Book Your Romantic Escape at Broken Head
If you and your partner are due a romantic getaway this winter, then why not book one of our Beach Shacks at Broken Head Holiday Park today? We know this post will get your in the right frame of mind to plan the best weekend you've taken with your partner in a long time!