Want to Try Yoga? Top 11 Yoga Classes in Byron Bay

If you are going on holiday to what is considered to be Australia's unofficial yoga capital, don't you think it's a good idea to try your hand at this popular local activity? Options on class times, types or locations for yoga in Byron Bay is never going to be a problem – in fact, there are so many choices it might be hard to decide which Byron Bay yoga school to try first.
Yoga has been the rage in Byron Bay since the 1980s; in fact, yoga addicts travel here just for the chance to take classes from some of the internationally known teachers. However, you don't have to worry about being intimidated if you're just starting – like much of Byron Bay – the yoga culture embraces the laid-back attitude of the rest of the town, with classes held in places from community halls to parks.
With so many choices for yoga in Byron Bay, it might be challenging to choose which ones might fit into your holiday plans. Don't worry; we've done the homework for you! Below you'll find a whole host of listings for many of the yoga schools in Byron Bay, with weekly classes that a holiday visitor could attend. Pick one or two or three that sound intriguing, and go find out why Byron Bay is considered one of the best places in Australia to practice yoga.
1. Byron Yoga Centre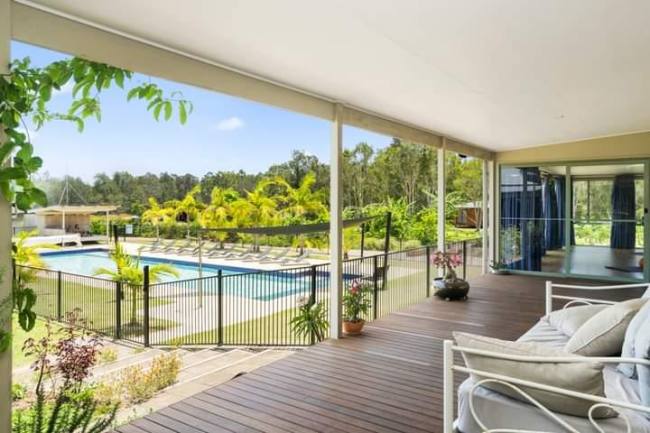 Image source: Byron Yoga Centre
Start with one of the best when you take a class at the Byron Yoga Centre created by John Ogilvie, considered a top yoga instructor in Australia. He started Byron Yoga in 1988, and it is one of the longest running schools in the country. It is located at 6 Byron Street. In addition, the centre now has the Purna Retreat Centre at 50 Skinners Shoot Road where there are additional classes offered and a café where you can grab breakfast, lunch or dinner.
The style of yoga taught at Byron Yoga is purna, which means integrated or complete. The goal is to focus on the physical postures (which range from gentle restorative to dynamic) and the meditation, philosophy, breath control, and code of ethics. It also integrates ashtanga (all eight limbs).
At the Byron Street location, holiday guests can take a class for $18 with choices from 8 am to 6 pm. Each class, which is suitable for all levels, including beginners, runs for 90 minutes. At the Purna Centre, there are options for the hour of power (7 – 8 am) most mornings for $15, or for $10, take one of the 90-minute teacher trainee classes.
Location: 50 Skinners Shoot Road, Byron Bay
Opening hours: 8 am to 6 pm
Class cost: from $5 to $15
2. Flo Fenton's Intouch Yoga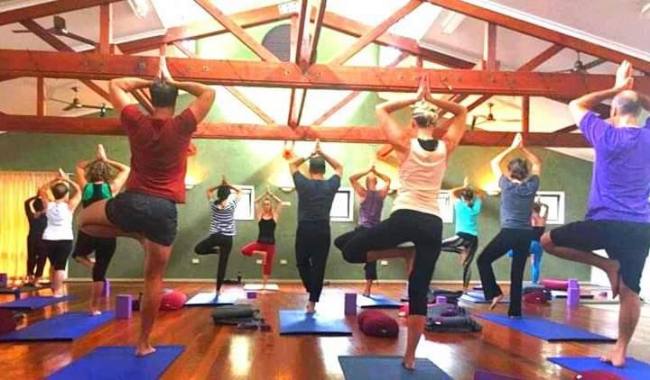 Image source: Intouch Yoga
Another option for casual tourists on holiday who want to experience yoga in Byron Bay firsthand would be Flo Fenton's Intouch Yoga. Three 90 minute classes are offered each week (5 pm Tuesday and Thursday and 10 am Saturday) at the Suffolk Park Community Hall for $16. (Note: If you listen closely, you might hear the ocean or just head out to the beach after class to continue the relaxed mood.)
These classes employ a mix of vinyasa/Hatha techniques, tailored for many levels, including beginners. Be sure to check the website for Flo's schedule as she does travel, so you might get Kathy Quinn, who has trained under Flo for 500 hours and has been working with Flo since 2013.
Location: 161 Alcorn Street, Byron Bay
Opening hours: 9 am to 6 pm
Class cost: From $12 to $20 for 1.5-hour classes
3. Byron Yoga Lounge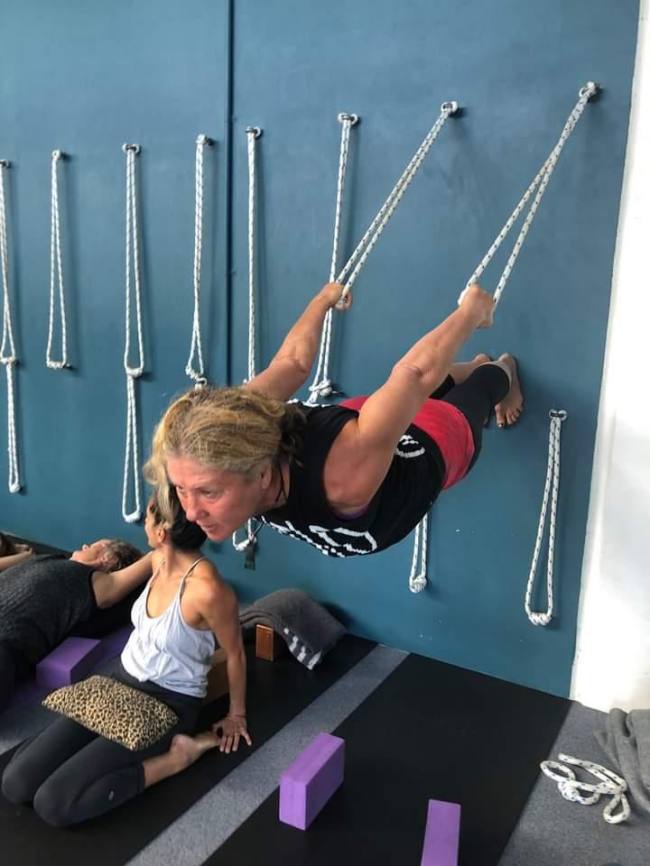 Image source: Byron Yoga Lounge
Offering the Iyengar style of yoga to Byron Bay, the Byron Yoga Lounge provides several levels of classes during the week. This style of yoga is one of the most widely offered methods and is perfect for all ages and levels. This yoga school in Byron Bay has two locations with beginners classes offered at the Byron Bay location (1A Banksia Drive) at 6 pm Mondays, and 8 am Mondays and at the Lennox Head location (on Ross Lane in the Sanctuary Village) at 6 pm Wednesdays. Casual class participation costs $17.
Founder Liz Costigan has trained in the Iyengar style for ten years and has been teaching for 12 years. Several teachers are on staff, all of whom have studied and are certified.
Location: 1A Banksia Drive, Byron Bay
Opening hours: 7 am to 7 pm
Class cost: From $17
4. Shakti Yoga Byron Bay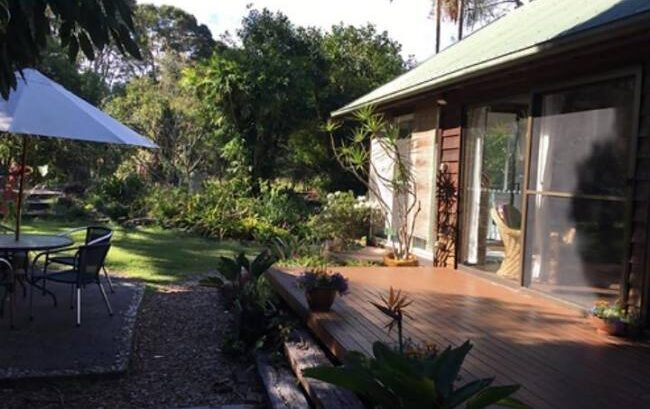 Image source: Shakti Yoga Byron Bay
Shakti Yoga Byron Bay is a one-of-a-kind garden studio. Floor-to-ceiling windows, shaded spots, and the sounds of the ocean will immerse you into nature. Schedule a morning class from as early as 7 am or a restorative yoga session to boost your health goals.
Shakti Yoga also has an outdoor yoga option that includes a power walk, stretches and strength exercises right in the studio's lush garden. If you prefer a yoga session on the beach, the Mermaid yoga glass practices will get you in touch with the ocean.
Shakti Yoga features a range of yoga styles, including yatra, radiance sutras, pranayama, and mantra yoga. Book a retreat for the whole yoga experience, starting with early morning beach walks, spa and massage treatments, and even kayaking with dolphins.
The Shakti retreats are perfect for a small group (max. six people), anywhere from 4 days to 8 days. Check the timetable on the website and look for sessions any day of the week. Drop-in classes cost $20.
Location: 3 Belongil Court, Sunrise Beach, Byron Bay
Opening hours: 7 am to 9 pm
Class cost: $20 for a casual class
5. Red Tent Yoga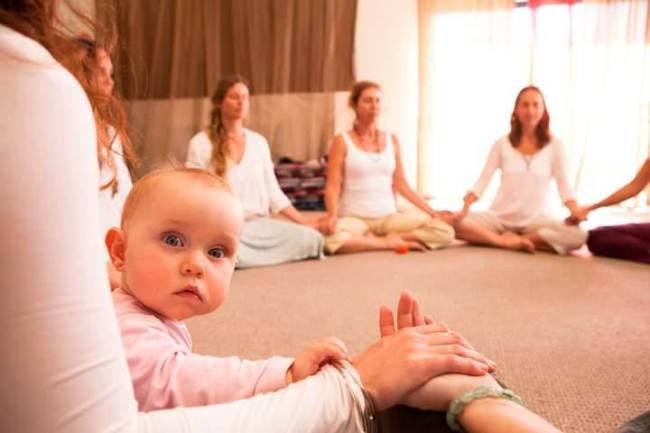 Image source: Red Tent Yoga
Inspired by the book 'The Red Tent' by Anita Diamont, Red Tent Yoga focuses on women by offering women's yoga, prenatal yoga, yoga for new mums, as well as classes with your children. In addition, massages and acupuncture are part of this centre's practice.
This Byron Bay yoga centre will be an excellent space to seek out if you are on holiday with small children as it offers weekly Mums and Bubs Yoga for mums with babies aged ten weeks to 13 months. Or, if you have a toddler (12 months to 4 years old), come here and enjoy the Mums & Toddler yoga class, where you'll both learn poses and do a little singing. Classes are $17 and tailored for all levels.
Location: Childe Street, Byron Bay
Opening hours: 9:30 am to 5 pm
Class cost: $17
6. Heat Yoga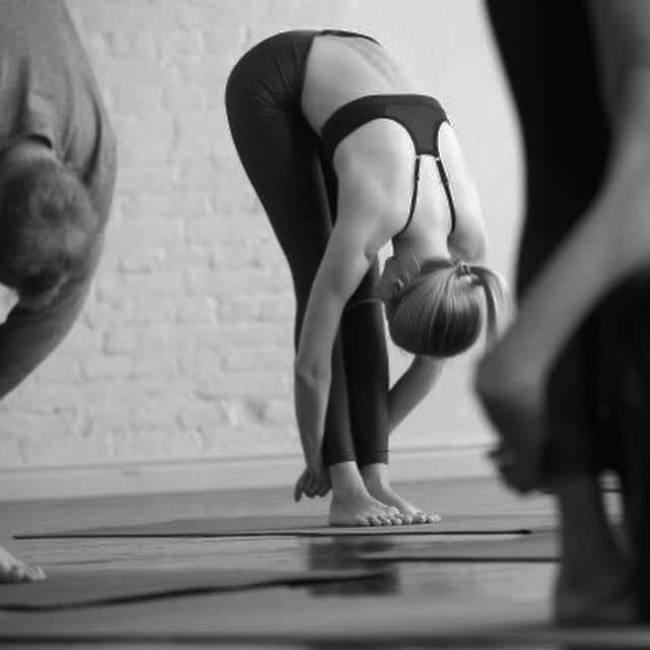 Image source: Heat Yoga
Formerly known as Bikram Yoga Byron Bay, Heat Yoga is the only studio that offers hot yoga in Byron Bay. The Bikram yoga style is practised in a heated room, so keep that in mind if you want to try out a class here. Heat Yoga also offers the vinyasa hot flow practice, yin yoga, and the highly invigorating Inferno Hot Pilates. There are lots of benefits to the heat, including:
It helps to deliver more blood to the muscles.
Speeds up the breakdown of fatty acids and glucose
It makes muscles more elastic
More easily burns fat
Just make sure you hydrate before and after class, come on an empty stomach and wear light, fitted clothes.
Heat Yoga offers classes Monday through Saturday, with two classes held each day (at various times) and one on Sunday, so check the website for times that suit your schedule. Each lesson is 90 minutes, and all are good for beginners, and casual courses cost $20. This studio is located at 8 Grevillea Street in The Arts and Industry Estate.
Location: 8 Grevillea Street, The Arts and Industry Estate, Byron Bay
Opening hours: 6:30 am to 7:30 pm
Class cost: From $10/week
7. Beachside Yoga & Massage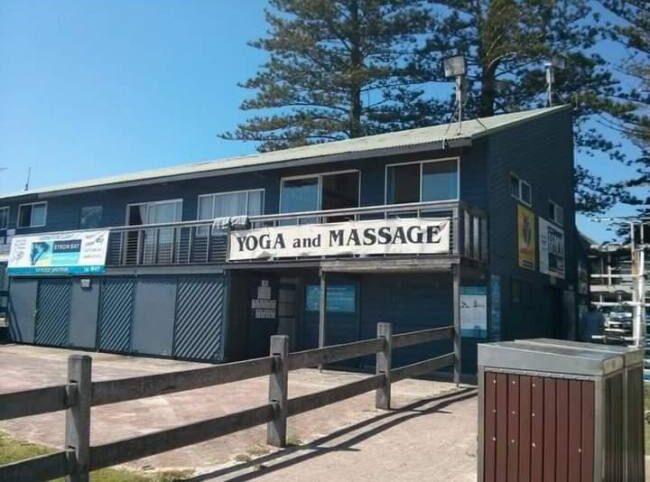 Image source: Beachside Yoga & Massage
If you're looking to enjoy Byron Bay yoga on the beach, head over to Main Beach,  stop by Byron Bay Surf Club's second floor and register for a yoga class at Beachside Yoga & Massage. With ocean views and the sounds of waves, this yoga centre combines two highlights of Byron Bay.
From Hatha Yoga to Free Flow Yoga, Beachside provides a range of classes Monday through Saturday, most at 8 am or 10 am. All levels, including beginners, are welcome to any of the categories. No bookings are required, and yoga mats are provided. Drop-in classes are $18.
If your holiday coincides with a second Friday (typically the second and fourth Fridays), you should check out the "Devotion by the Ocean" class at 6:45 pm, focusing on Kirtan songs and yoga chanting.
Location: Bay Street, Byron Bay
Opening hours: 9 am to 5 pm
Class cost: From $18
8. Jackie Wallin Yoga by Nature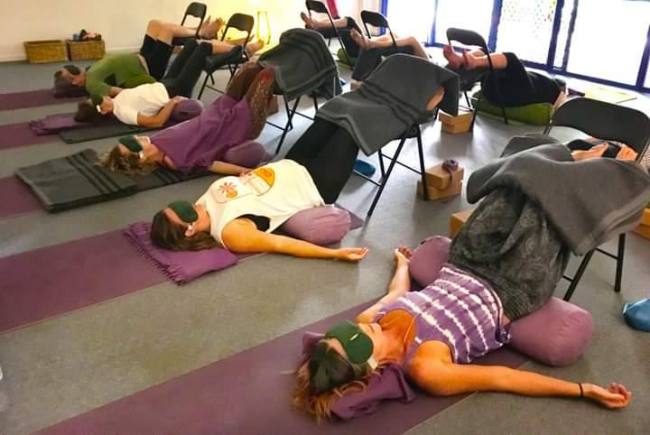 Image source: Yoga By Nature
The Byron yoga craze isn't limited to just the Byron Bay proper. Located in nearby Brunswick Heads, Yoga by Nature features a variety of classes for beginners, including prenatal, Mums and Bubs and children's yoga. Casual lessons go for $15 for hour classes and $17 for 90 minutes.
So, this is a great place to look up if you are on holiday with your family in Byron Bay. You could sign the kids up for YogART 4 Children for ages 5-10 ($15 for the hour class), right now scheduled for Tuesdays at 4 pm. Then grab a coffee and relax for an hour while the kids enjoy fun and creative lessons. Make sure you book this one ahead of time.
You enjoy a holiday in Byron Bay while pregnant on the off chance. There's a prenatal class offered each week at 11:30 am on Wednesdays. Also, Yoga by Nature features a restorative yoga class just for women. With various props, you are placed in supportive positions to rid your body of stress and physical tension. Currently, this class is offered weekly at 4 pm on Thursdays.
Location: Brunswick Heads Community Centre, 42 S Beach Road, Brunswick Heads
Opening hours: 8:30 am to 6 pm
Class cost: From $15
9. The Yellow Church Yoga & Natural Health Centre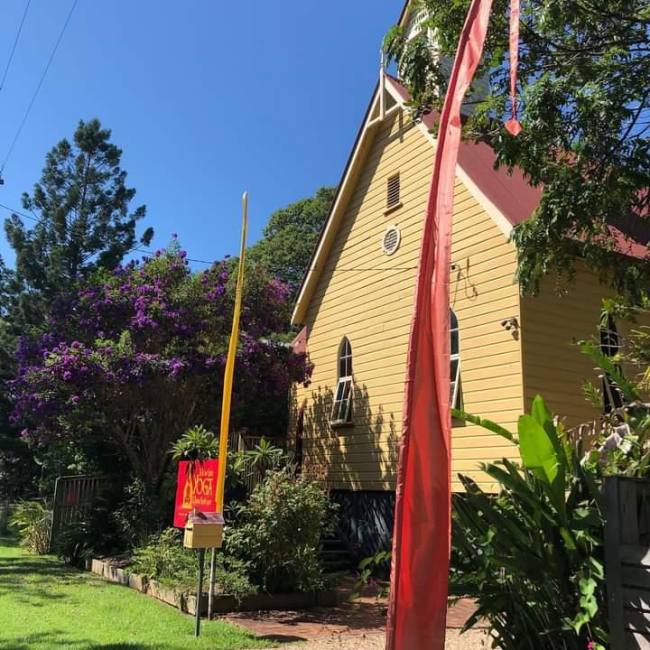 Image source: The Yellow Church Yoga Centre
Mullumbimby is a popular side trip from Byron Bay, and this hip little town keeps the yoga vibe alive by offering classes as well. If you decide to visit this town, you might want to take the time to stop by The Yellow Church Yoga Centre.
The town's oldest church, built-in 1903, houses this yoga centre that opened in 1997. Hatha Yoga classes are the most widely offered style at Yellow Church, with classes on Monday, Wednesday, Thursday and Friday.
The best one for beginners might be the Beginners Level 1 Hatha at 9:30 am on Wednesdays. Casual class attendance costs $15 for 90 minutes $17 for two hours.
Location: 9 Myokum Street, Mullumbimby
Opening hours: 9 am to 5 pm
Class cost: From $15
10. Bamboo Yoga School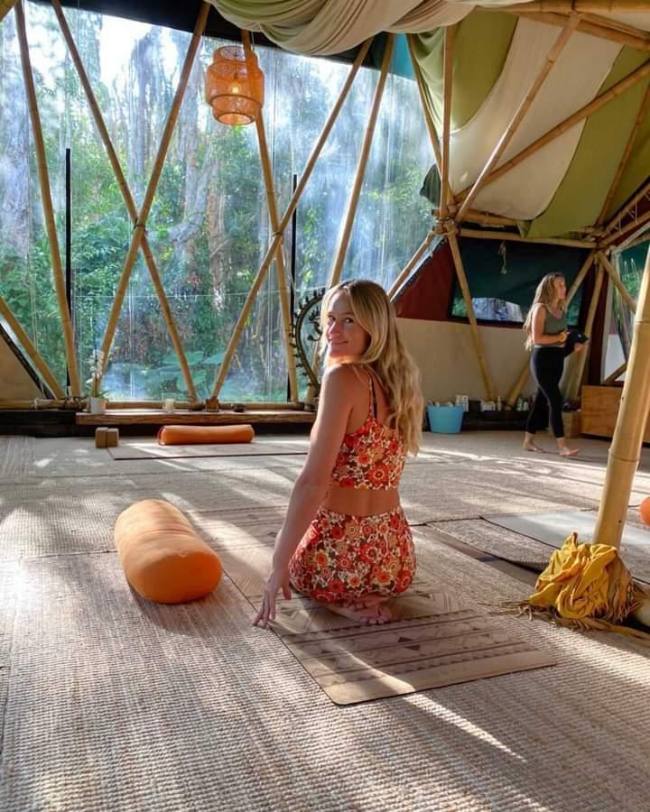 Image source: Bamboo Yoga School
The Bamboo Yoga School is, in their own words, "a short walk, ride, skip, dance or drive" from the heart of Byron Bay. It is in the gorgeous Bamboo Yoga Temple right at the edge of the rainforest. This yoga school teaches a variety of styles, including Hatha, vinyasa, yin and yoga Nidra.
The Bamboo Yoga School is busiest on Mondays and weekends, so it's always best to book your class online and arrive at least 10 minutes before your session begins. And the best part? If you're looking for yoga in Byron Bay but have no yoga gear, the school provides everything you need at no extra cost. Consider buying their super affordable deals, especially if you're passing through Byron Bay for a getaway.
A polite notice about arriving at the yoga school: Enter through the car park and around the back, and park on the street if you're visiting during the day. This frees up the parking space for the Health Lodge clinic, which is in front of the yoga school.
Location: 74-78 Bangalow Road, Byron Bay
Opening hours:
Class cost: $25 for a casual class
11. Creature Yoga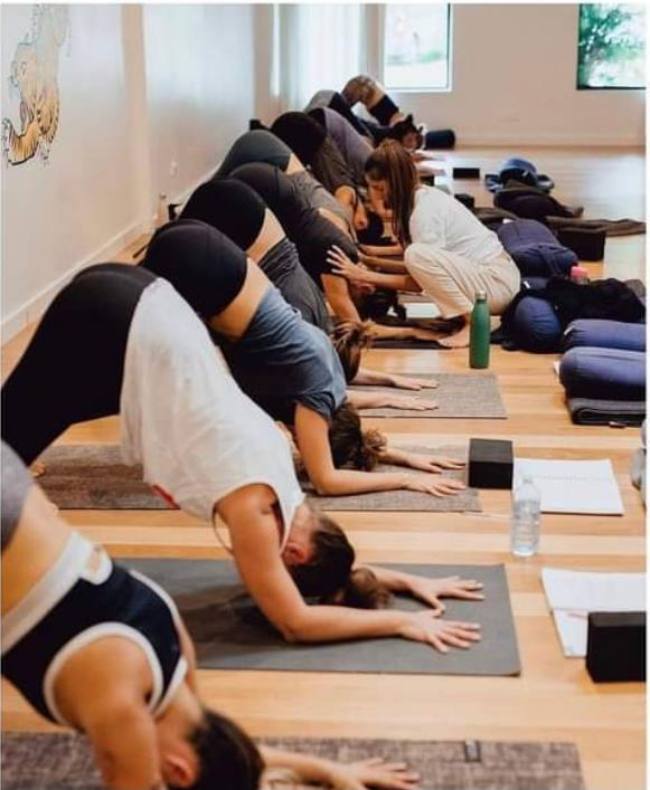 Image source: Creature Yoga
Creature Yoga started in 2015 and brought together the best yoga teachers in Byron Bay. The studio is a minimalistic space, with clean timber floors, plain concrete walls, and plenty of natural light. You'll immediately calm down and relax much easier without distractions. This yoga studio offers almost 25 classes every week, so you'll easily find your place. Creature Yoga also promises to elevate your yoga experience to a very high standard, thanks to their knowledgeable team of instructors.
This studio has a range of passes and offers, but the best value is definitely the $49 intro offer. For two weeks, you get unlimited practice at Creature Yoga, and all you have to do is schedule your classes in chronological order. This deal is perfect for yoga beginners since you can sample all the different yoga practices at your own pace.
Location: Unit 6b, 11 Banksia Drive, Byron Bay
Opening hours: 6:30 am to 7 pm
Class cost: $28 for a casual class
Stay At Broken Head Holiday Park for Your Next Yoga Holiday!
If you plan to visit Byron Bay this summer and want to try out some of the many yoga classes in the area, book your accommodation at Broken Head Holiday Park so you can stay in the Zen zone – peace, quiet and the great outdoors.
Our beach-front location will provide an excellent place to return to after you attend any Byron Bay yoga class – finish the day out with a quiet walk on the beach or have dinner with your partner on the beach to make for a peaceful (and romantic) evening.
We know that part of going on holiday is also enjoying good food. However, if you're interested in yoga, you probably tend to look for a healthy food selection. Check out our post on vegan and vegetarian restaurants in Byron Bay:
Top 13 Vegan & Vegetarian Restaurants & Cafes in Byron Bay
Staying at Byron Bay budget accommodation, such as Broken Head Holiday Park, for your holiday provides access to camp facilities as well. We have powered or unpowered camping sites, plus beach huts and beach shacks that sleep two to four people. Book now to stay at Broken Head Holiday Park and save a few extra bucks for trying out several of these awesome yoga classes!