11 Free Activities (and More) in Byron Bay You'd Be Happy to Pay For

Looking for fun things to do in Byron Bay? And what if the bonus was that all of these activities in Byron Bay were FREE?
The following free things to do in Byron Bay are so much fun we're willing to bet that you would have paid for them. Luckily you don't even have to, so just go out and enjoy these excellent activities on your next Byron Bay holiday.
1. Byron Bay Lighthouse and other walking trails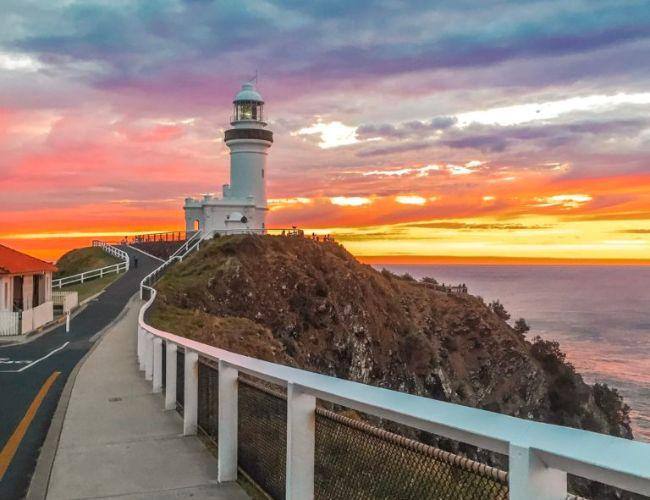 Image source: Eef Explores
Hands down, this activity ranks no. 1 among the suggestions for free things to do in Byron Bay – it's unanimous, everyone says you must visit the lighthouse when on holiday here.
The Byron Bay Lighthouse is located on the most easterly point of Australia, so nothing obstructs the view of the sun rising above the tranquil azure Pacific waters.
While you're there, make plans to stay for awhile and either spend about two hours completing the 3.7km walk or relax on one of the beaches, such as The Pass, Wategos or Tallows.
Keep in mind, this isn't the only excellent walking trail in Bryon Bay. There are quite a few hikes and walking trails worth checking out, and bonus, it's more free things to do in Byron Bay. Follow this link to look over our recommended trails:
Another option, if you don't mind spending a little money, is to hire bikes, or if you've got the room and equipment to bring along your bikes, you could add any of these awesome biking trails to your to-do list for your Byron Bay holiday:
2. Minyon Falls
This one is so great that we needed to call it out from the above walking trails and hikes list. Located within the World Heritage Nightcap National Park, Minyon Falls provides a chance for holiday visitors to take in the Byron Bay hinterland.
Marvel at the beautiful falls and, if it's a clear day, the view all the way out to the coast at the lookout before you head down the trail. The hike, considered hard due to the steep incline, is a 7.5 km round trip.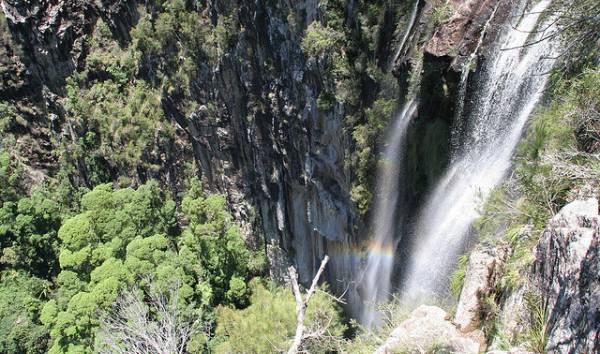 Getting to the bottom is well worth the effort when you feel the cool water and enjoy the view back up the approximately 100 metres tall falls. (Note: No swimming here because it is home to the endangered Fleay's barred frog.) Bring a picnic and refuel before making the hike back up to the top.
We should note that we recommend this hike as part of our 11 Best Byron Bay Winter Activities. Take a look through the list because if you happen to be here during the winter months, there are some great recommended free things to to do in Byron Bay, such as whale watching.
3. Byron Bay Markets
The first Sunday in every month means it's time for the Byron Community market at Butler Street Reserve. It opens at 8am and runs until 3pm.
Wander through the stalls of vendors selling a wide variety of products from jewellery to housewares. If you can avoid purchasing a souvenir, then it will stay a free thing to do in Byron Bay.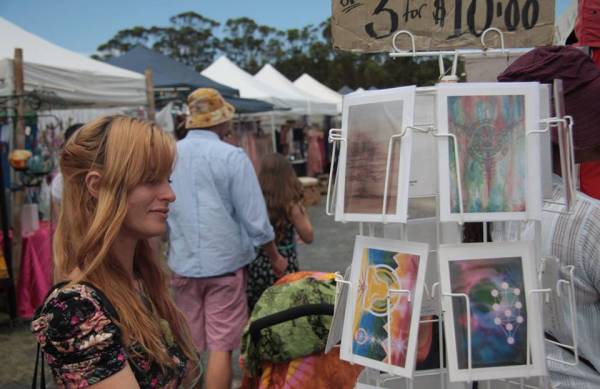 Image source: facebook.com/byron.markets
After checking out the wares, then hang out and listen to the live music while you spend some quality time people watching. It's a fun, free way to relax on a Sunday during your holiday.
If you enjoy markets and even if you just spend your visit "stall" shopping and not buying anything or just listening to the music, these additional markets on our other blog posts are a nice option for spending your time in the Byron Bay area.
4. Hang out at the great beaches (Tip: One is a best kept secret!)
Who doesn't enjoy some sunbathing on a holiday? Byron Bay offers so much more than just sunbathing – head to the beaches to enjoy excellent swimming and surfing as well. Yet another free thing to do in Byron Bay, beaches are a great way to experience the area without spending money.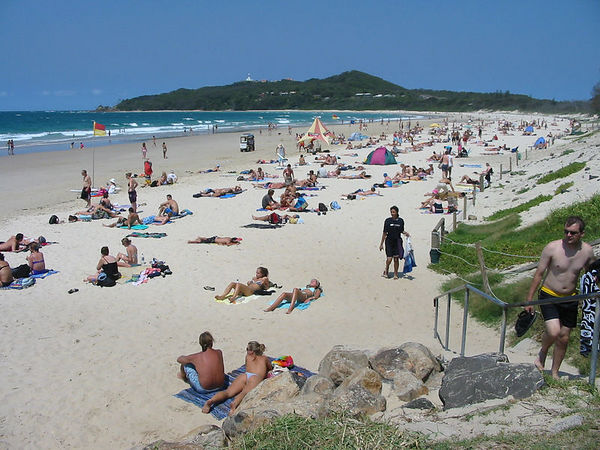 Anyone who has never been to Byron Bay should make a point to visit Main Beach and experience all it has to offer. But then you can head out to other more intimate beach settings during the rest of your stay. We suggest:
White's Beach (located right next to Broken Head Holiday Park!)
Cosy Corner
Brunswick Heads
Tallows
White's Beach ranks as one of our best kept secrets in Byron Bay, so be sure to take the opportunity to visit this amazing beach. Read our list to add many of these best kept secrets in Byron Bay to your holiday plans, because luckily quite a few don't require money to enjoy them!
5. Broken Head Nature Reserve and other great places to picnic

Situated super close to your holiday accommodation in Byron Bay at Broken Head Holiday Park, the Broken Head Nature Reserve is an excellent spot to spend a whole day! It features all the aspects of a beach holiday you desire: swimming, sunbathing and a BBQ for a picnic as well as a walking trail that takes you through the rainforest sitting right next to the beach.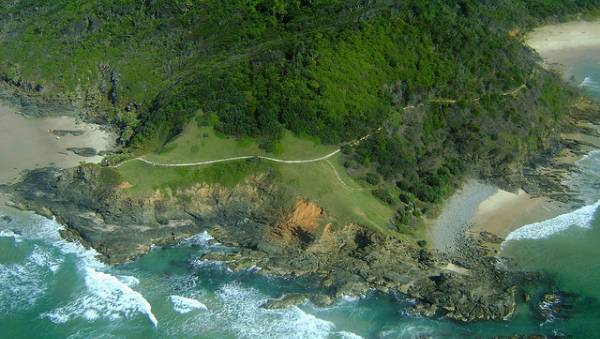 The walking trail, called Three Sisters, is 1.2km one way and takes about 90 minutes to complete, round trip. The view from the lookout provides the perfect place for admiring the natural surroundings from the pristine ocean to the secluded beach. This location is a great place to watch for whales during migration season (May-November). You also may observe white-bellied sea eagles diving into the water for their food.
The Broken Head Reserve is a great spot for a picnic, and if you're looking for other good picnic location ideas, check out our list of the best places for picnics in Byron Bay.
6. Listen to live music

Image source: YouTube
There is fun entertainment everywhere in Byron Bay, and music is integral to the local culture. Whatever type of music you like, there is something for everyone. Live performances are available in many bars and pubs, where you can listen to amazing music most evenings. People gather at sunset to form a drum circle to have fun and dance on the Main beach.
7. Go on a day hike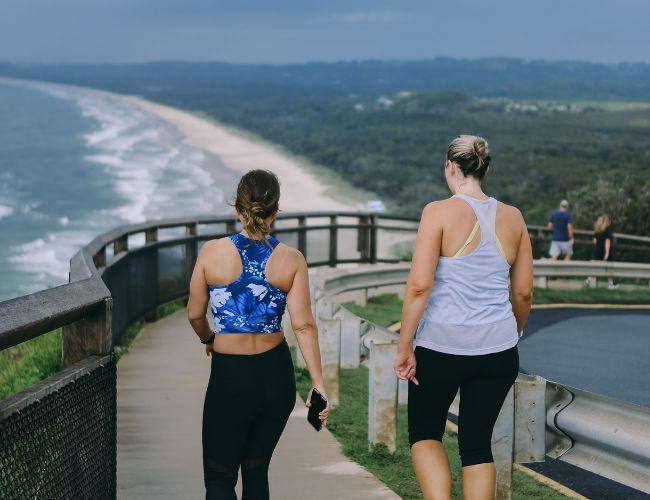 Image source: Unsplash
Byron Bay is an excellent location for scenic hiking with your partner or friends. Regardless of your level or ability, all hikers can find a day hike that takes a minimum of 3 hours to complete. For example, why not take a walk along the Cape Byron Walking Track or challenge yourself on an expedition around the Goorgana Walking Track.
Looking for information on day hikes in Byron Bay? We wrote a blog on it:
8. Take a walk down the Cumbebin Swamp Wetlands Boardwalk

Image Source: travelonline.com
Cumbebin Wetlands is a 10-minute walk from Byron Bay town centre. This small remnant of the swampland that once dominated the area is a great spot to see some of Australia's native wildlife, especially birds and frogs. Be sure to wear insect repellent.
9. Relax in Tea Tree Lake

Images source: Byron Bay Adventure Tours
Tea Tree Lake in Byron Bay is a great destination to visit. The lake's water is known to have healing properties because of the oils produced by the tea trees. These oils are great for the skin and leave you feeling refreshed and invigorated.
While enjoying the lake's water, you can also take in the incredible views of the beautiful landscape that surrounds the area. The mountains and trees provide a scenic backdrop while you are floating in the lake and help you relax and forget about daily life's stress.
10. Go whale watching

Image source: Byronbay.com
If you're lucky enough, you might get to see some whales on your trip to Byron Bay. Australia's east coast is home to magnificent golden beaches, shimmering water, and many excellent spots to see whales. Byron Bay to Ballina is a perfect place to see them during their annual migration in May and November.
11. Visit The Farm

Image source: The Farm
The Farm in Byron Bay is one of the town's more unique landmarks. As well as a tourist attraction, it's also a fully operational working farm. What's remarkable is it includes a community of micro-businesses all sharing a common goal – Grow, Feed, Educate. 
The Farm also provides guided tours of its 80-acre picturesque property. If tours are not your thing and you prefer to explore the grounds at your own pace, you can do that too. Don't forget to stop by for a snack or meal and pick up some of the Farm's products.
12. BONUS: Take a snap with the World's biggest crystal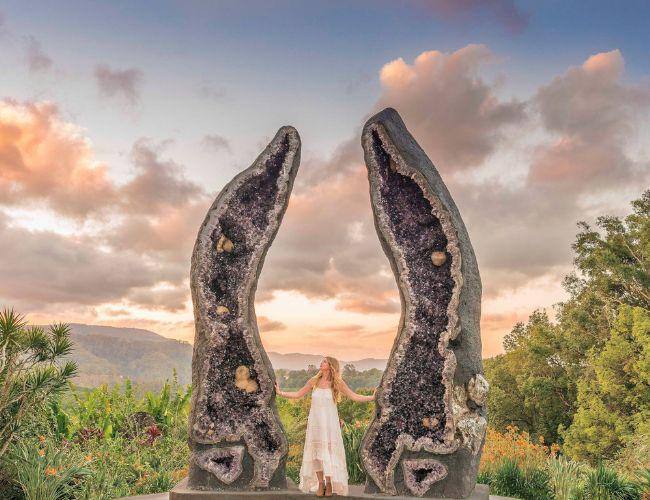 Image source: Visit NSW
The Crystal Castle and Shambhala Gardens have a range of unique experiences, from meditation in the amethyst cave to learning how to use crystals and read tarot cards. Guests can also enjoy organic tea, coffee, and delicious snacks from the Lotus Café. The end of the day can be spent finding out what your aura looks like with a personalised aura photo.
It's not free, but it's 100% worth checking out. 
Make your Byron Bay holiday economical

For affordable holiday accommodation in Byron Bay you can't beat Broken Head Holiday Park – it allows you to stay on budget while providing an excellent base for your holiday. Plus, it's close to several of our suggestions for free things to do in Byron Bay! Check out our accommodation and book now to take advantage of our low season rates for November.