The Best Day Hike Options in Byron Bay
Fancy a scenic hike with your other half or a group of friends? Why not head to stunning Byron Bay, where you can find incredible walks with spectacular scenery. 
If you're thinking about it but not sure where's best to go, we've done the hard work for you, rounding up the best day hike options that take around 3 to 5+ hours in Byron Bay. We've broken down the hikes into three categories (beginner, challenging and expert), so walkers of all levels and abilities can enjoy a stunning hike in Byron Bay. 
Don't forget: To really enjoy your hiking experience, it's important to be prepared and pack the right gear. Read our guide on what to bring on your hiking trip.
Why go to Byron Bay for a day hike?
Byron Bay is the perfect escape to get away from the everyday stresses of modern life. A location that has a lifestyle that emphasises physical and mental well-being. 
You can find an abundance of health food establishments, spas, and resort therapies, but what's most amazing about the area is its outstanding hiking and walking trails. You can walk along the stunning coastline of Byron Bay and the neighbouring towns, which are paved or well-graded. To the west, away from the shimmering coast, hikers can explore the Byron Bay National Park. 
Stay close by: Book your stay at Broken Head Holiday Park. An affordable spot to make your base while you're on your hiking trip.
What are some day hike options in Byron Bay?
Beginner: Cape Byron Walking Track
Challenging: Minyon Falls Walking Track
Expert: Goorgana Walking Track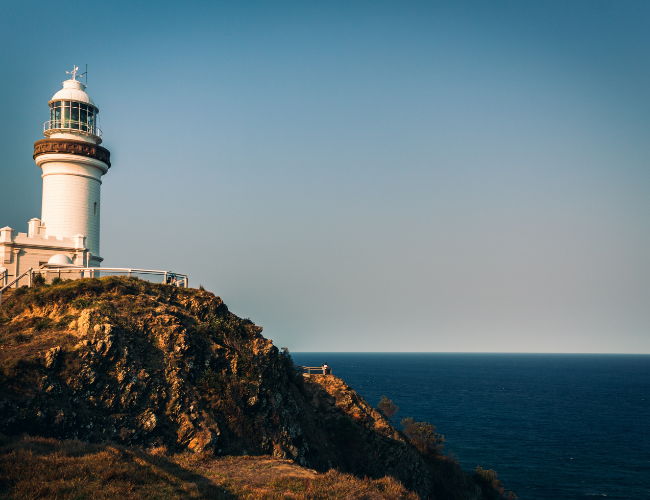 Source: Unsplash
You need at least two to three hours to get the most out of Cape Byron Walking Track. It's one of the best ways to spend time on the state's coast, so don't be astonished if you want to do it all over again after you finish. And that's why it's on our list of day hike options!
The 3.7-kilometre circuit takes you through rainforests and across cliff tops with breathtaking views of the sea and the countryside.
On your journey, you will pass through kangaroo grasslands, picturesque beaches, and Cape Byron Lighthouse.
You might even see sea turtles, dolphins, stingrays, and whales in the water. Rather than taking the entire route, you can access the track at several locations and walk a shorter route if you prefer.
Level
Beginner
Location
Cape Byron State Conservation Area in North Coast
Distance
3.7km loop
Time to walk it
2 – 3hrs
Distance from Broken Head Holiday Park
10.7km – 17 minute drive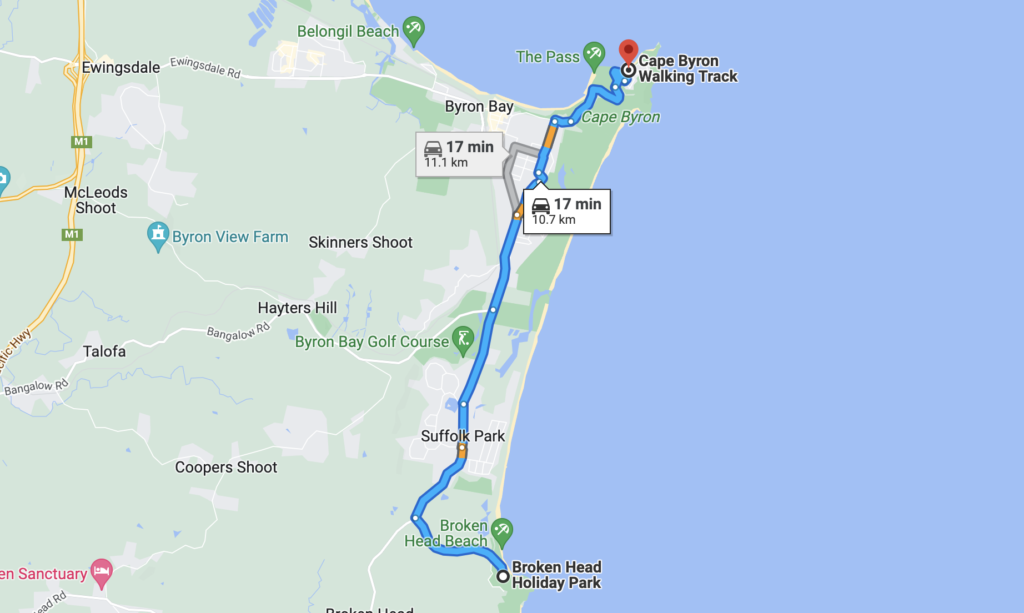 Source: Google Maps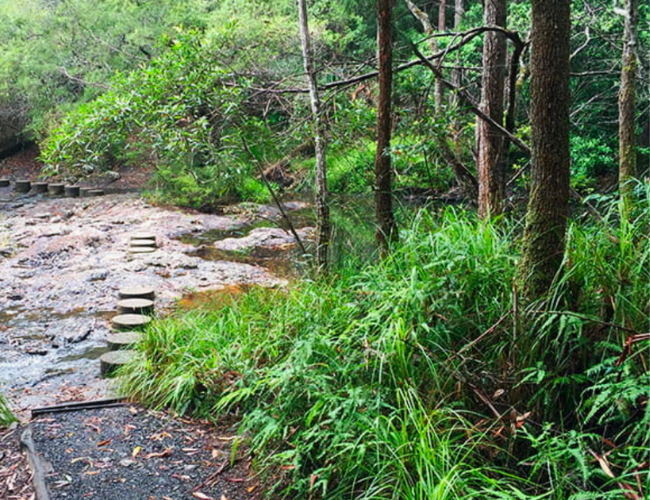 Source: National Parks NSW
The Minyon Walking Track in Nightcap, northern New South Wales, is a 13km stunning day hike option through pristine forest, streams, and a magnificent waterfall. The track connects to the Rummery Park campground in Whian Whian State Conservation Area, which you can reach via the Boggy Creek walk. Picnic tables at the Minyon Grass picnic area provide a lovely setting for a quick lunch break.
Level
Challenging
Location
Nightcap National Park in North Coast
Distance
13km
Time to walk it
3 – 4hrs
Distance from Broken Head Holiday Park
48.8km – 1hr 40min drive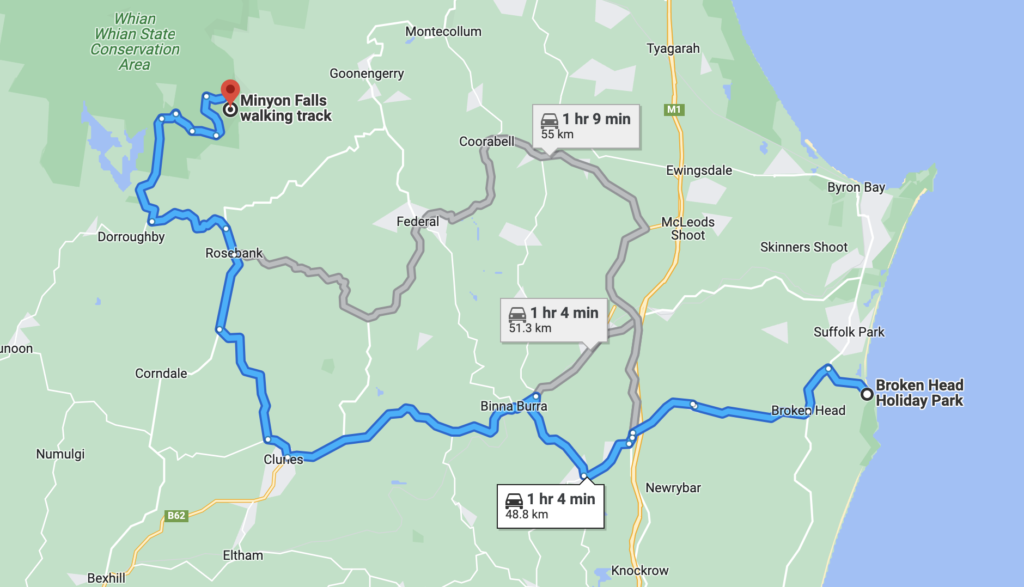 Source: Google Maps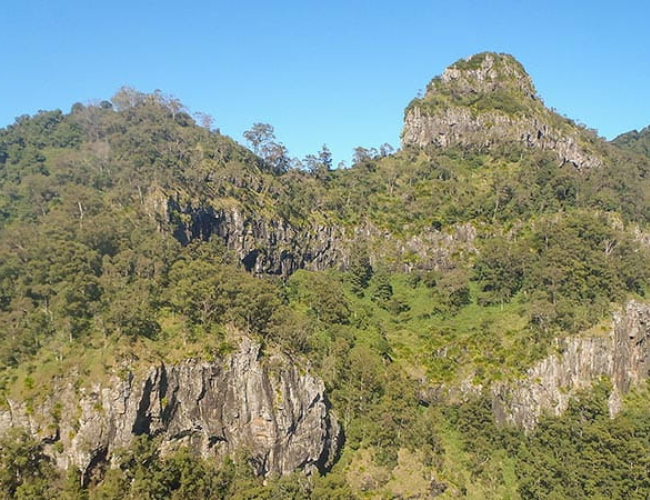 Source: National Parks NSW
The Goorgana walking track is a challenging but thrilling day hike option through Nightcap National Park. However, it is not for inexperienced hikers. The trail has stunning views of Wollumbin Mountain, Mount Warning, and Mount Nardi. There is a variety of wildlife, including peregrine falcons, long-nosed potoroos, and pademelons.
Level
Difficult
Location
Nightcap National Park in North Coast
Distance
18km
Time to walk it
12hrs
Distance from Broken Head Holiday Park
82.7km – 1hr 23min drive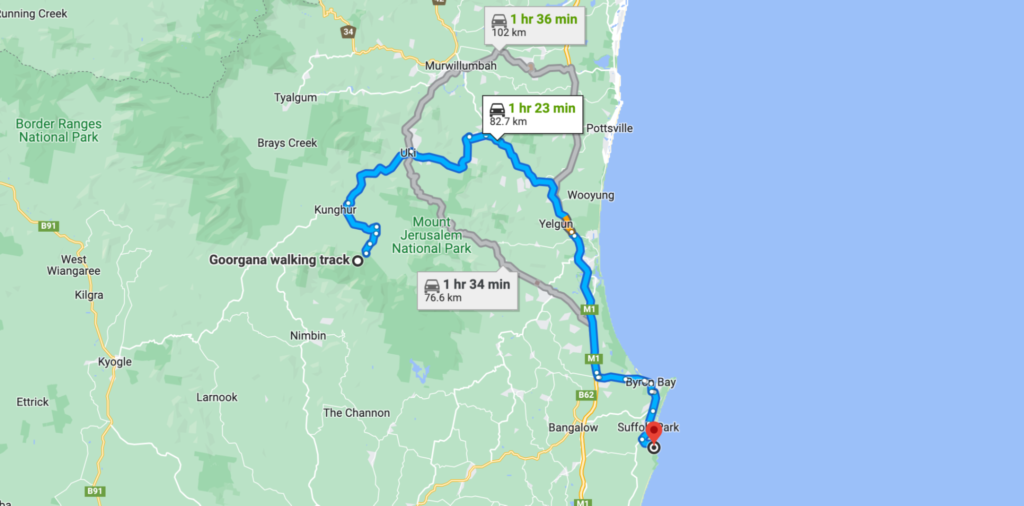 Hike. Sleep. Repeat.
Why not enjoy more than one hike on your trip to Byron Bay? Make Broken Head Holiday Park your hub for your adventure.
Stay in stunning and affordable beach cabins and shacks, or camp on a powered or unpowered campsite. Book your spot today!