Ultimate Guide to Whale Watching in Byron Bay
It's mid May, and that means whale watching season is upon us in Byron Bay—known as one of Australia's best locations to catch a view of the majestic beasts.
From May to November every year, Byron Bay plays host to thousands of humpback whales as they make their 11,000 km migration journey from the Antarctica to breeding grounds off Queensland. Because scientists believe whales use landmarks to navigate, they think that's why whales often swim close to the coastline.
That is good news for anyone who wants to see whales! Bring along a good pair of binoculars and enjoy watching these amazing animals—there's a good chance you'll see one since approximately 17,000 whales migrate past Byron Bay every year.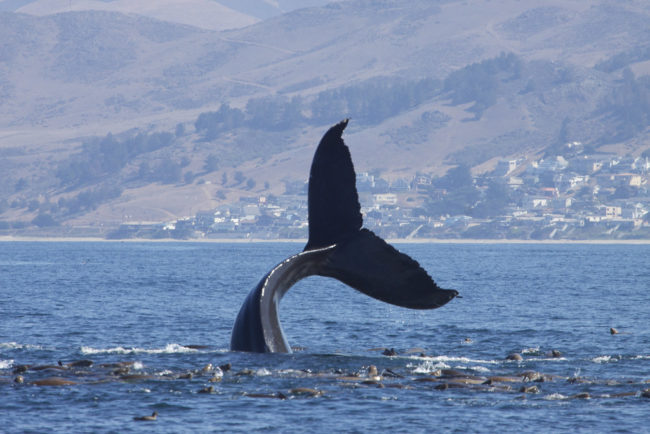 Best whale watching spots in Byron Bay
Cape Byron Lighthouse sits on the most easterly spot in Australia, so naturally this location is easily the best place in Byron Bay to watch for whales. It's a must-do attraction on anyone's holiday to Byron Bay, so if your timing is during migration season, make sure you're not only admiring the gorgeous views but keeping a watchful eye on the ocean for those humpback whales.
Another of the top vantage points for whale viewing is in the Broken Head Holiday Park's own backyard—the Broken Head Nature Reserve. The Three Sisters Walking Trail features a beautiful lookout at the end of trail where you'll have a panoramic view of the coast. That's what it is such a great spot to look for migrating whales.
Other popular vantage points for amazing whale watching include:
Fisherman's Lookout—If you follow the coastal trail from the lighthouse, you'll find this lookout where you can see both  beautiful views of the ocean as well as surfers doing their things at one of Byron Bay's most famous surfing breaks, The Pass.
Tallow Beach—Situated between Cape Byron State Conservation Area and Broken Head Nature Reserve, this beach is not just a great place to hang out and enjoy the sun and ocean, but also is a good place to watch for whales.
Pat Morton Lookout—Located near Lennox Point, an excellent surfing break, the Pat Morton Lookout offers views of nearby Lennox Head up the coast toward the Cape at Byron Bay. You can hang out and watch surfers hanging ten while you wait for a possible whale sighting.
Captain Cook Lookout—Part of the Cape Byron State Conservation Area, the Captain Cook Lookout offers magnificent views of the ocean in addition to being an excellent whale watching location. You can even see out towards Julian Rocks from here, so pack a lunch (yes, there's a picnic area) and make a point to visit here.
North Head Walking Trail—In the Brunswick Head Nature Reserve, this walking trail provides you access to two spots to view whales, the New Brighton Beach and the north wall of the Brunswick River.
If you're serious about your whale watching, then you should download the free Wild About Whales app, which is available on both Apple Store and Google Marketplace.
With the app, you can do things such as publish sightings in real time, check out whale locations on a map and in list view, receive notifications when whale sightings happen, read tips about how to best spot whales and where to see them and much more.

Get up close and personal with the whales
Boat tours
If you'd rather not leave it to chance by visiting one of the excellent vantage points in Byron Bay, then you can turn over your whale watching to the experts.
There are quite a few options but the largest are Whale Watching Byron Bay and Blue Bay Whale Watching. Both Byron Bay activities run about two to three hours and guarantee you'll see a whale. Tickets, which should be obtained in advance, are priced at $89 per person and children 5-15 cost $69 each.
Both tours run from June through October/early November and last about two to three hours, with guides providing commentary and amazing views. The tours only allow for up to 12 people per trip.
One cool aspect of the Whale Watching Byron Bay tours is the ability to use underwater telescopes and hydrophones—you will actually be able to hear the whales.
In the rare case that you don't see a whale during your tour, then you'll receive a voucher for a return trip. But these guides know what they're doing—with more than 10,000 happy customers over the years—so it's much more likely that you'll be completely satisfied and be able to see a whale, maybe even more than one.
Sea kayaking
Another option for viewing whales in Byron Bay is participating in a sea kayaking tour. It's possible you'll end up with a very close encounter with a whale since, like their dolphin friends, they tend to be rather curious creatures.
Two of the largest companies that offer kayaking tours Cape Byron Kayaks and Go Sea Kayak Byron Bay.
The cost is $69 per person ($59 for children up to age 12), and the tours last approximately three hours. The guides are experts not only at kayaking but Byron Bay, so you'll likely experience dolphins, sea turtles and enjoy lively commentary. Be sure to check the websites for exact times as it varies with the seasons.
Snorkelling
The reason this is another great way to see whales is that you're underwater and might catch a real, personal viewing of a whale, plus it's an activity that a wide range of ages and fitness levels can do. If you swim and feel comfortable putting your head underwater and breathing through the tube, you're ready to go snorkelling!
The snorkelling takes place at Julian Rocks Marine, just five minutes from the shore of Cape Byron Bay, provides a home for more than 400 types of tropical fish, three species of sea turtles, rays and many more marine animals. The reserve is rated one of the best places in all of Australia to snorkel and dive so don't miss your chance to visit Julian Rocks while you're in Byron Bay.
The first two options below are $65 per person and take about an hour or so. The third one offers a half-day excursion to Julian Rocks, which runs $95 per person.
It is worth noting that if you like to dive, then all of these places offer diving tours as well. Those typically cost more around $100 per person.
Swimming with whales
If you really want an unforgettable experience, and have the budget to pay $500 per person, then you can go on the Swim with Whales tour through Wild Byron.
The once-in-a-lifetime tour only allow four people maximum along with a guide in order to increase the chance that the whales will interact. The two and a half hour and time frame provides the chance to swim with whales if they appear interested and, if time permits, some diving at Julian Rocks. Masks, fins and wetsuit are provided, but the tour page recommends bringing your own equipment if you have it.
One of the biggest issues with doing swim tours with whales is adhering to the guidelines and regulations of whale watching. According to the tour website, the tour company complies with The Australian National Guidelines for Whale and Dolphin Watching 2017 and Biodiversity Conservation Regulation 2017, which Wild Byron says "are in place to protect and conserve whales and dolphins. We uphold the requirement not to interfere with the humpback whale's migration path. If the whales  are not interested in us, we will not see them underwater nor get in their way."
See more at our previous post for more details. Note: There has been a significant increase in price since the post was first published—from $150 to $500. Visit the tour's site for official details. 
Whale watch and stay at Broken Head Holiday Park
If you are fascinated by these amazing animals like many people are, then it's a must for you to come take a holiday in Byron Bay during migration season. Seeing the whales pass by from the land, even through binoculars, is a sight you'll never forget. And there are plenty of options for getting an even closer look! So don't delay, it's time to book your Byron Bay holiday now while migration season is in full swing.
Plan to stay at an affordable holiday accommodation in Byron Bay like Broken Head Holiday Park – it allows you to stay on budget for your whale watching activities, while providing an excellent base for your holiday.