5 No Fuss Delicious Camping Meals

Camping is meant to be a relaxing escape from the hustle and bustle of everyday life. It's a welcome return to simplicity.
The same should go for camping meals! Keeping dinner simple during your camping trip means less prep, less packing, less clean-up, and more time to enjoy yourself and your surroundings.
These 5 no-fuss, delicious camping recipes are crowd favourites that will ease the burden of meal-planning and satisfy even the pickiest of eaters! If you're not a meat eater, check out our vegetarian camping recipes post here!
1. Easy BBQ Chicken Foil Packs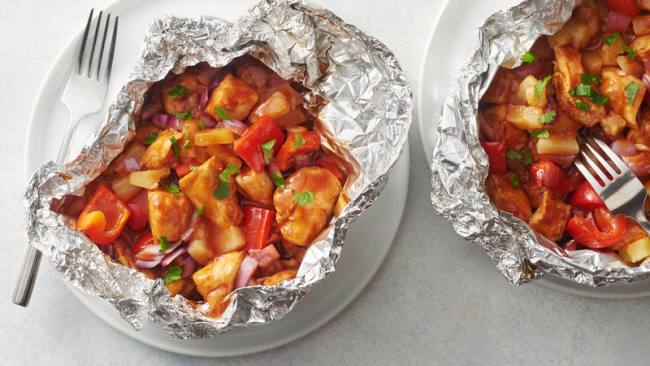 Image source: Pillsbury
Foil packet meals are a wonderful choice if you want to completely avoid a clean-up. These packets are cooked on a BBQ and eaten straight out of the packet, so there's no cleanup involved. This recipe serves 4 adults, so simply double the recipe if you're hoping to feed more people (or if you'd like leftovers for lunch)!

Ingredients:
4 boneless skinless chicken breasts, cut into 2.5 cm pieces
2 cups BBQ sauce
2 cups drained pineapple chunks
1 red capsicum, diced
1 small red onion, diced
Instructions:

1. In medium bowl, toss together chicken breasts and BB sauce until the chicken is fully coated.
2. Divide chicken pieces evenly among sheets of foil. Divide pineapple chunks, capsicum, and red onion, evenly over chicken on foil sheets.
3. Bring up 2 sides of foil over chicken so edges meet. Seal edges, making tight 2.5 cm fold; fold again, allowing space on both sides for heat circulation and expansion. Fold other sides to seal.
4. Place packets on a BBQ for 10 minutes. Turn packs over; cook 10 to 15 minutes longer or until the juice of chicken is clear when the centre of the thickest part is cut.
5. Garnish with spring onions (optional)
Recipe Source: Pillsbury
2. One-Pot Sweet Corn and Chicken Stew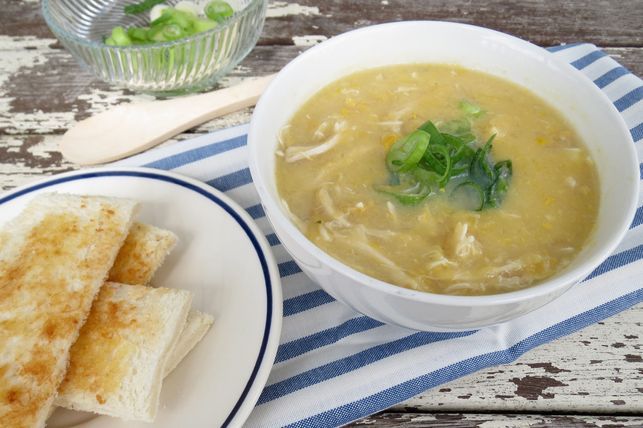 Image source: Best Recipes

Soup is a wonderfully easy, yet hearty and nourishing meal, to enjoy after a busy day of exploring. This one-pot recipe limits the kitchenware you'll need to use and has only 7 simple ingredients.
Ingredients:
1 barbecued cooked chicken broken into pieces with skin-off
45g chicken noodle instant soup
440g cream-style canned corn
6 spring onions chopped
1 tbs soy sauce
3 cups water
2 eggs beaten
Instructions:
1. Place chicken, soup mix, water, soy sauce and corn in a large saucepan. Bring to the boil, then stir.
2. Lower the heat and simmer for 15 minutes.
3. Take off the heat and add eggs. Sprinkle with chopped spring onions before serving.
Recipe Source: Best Recipes
 3. Chicken and Grape Skewers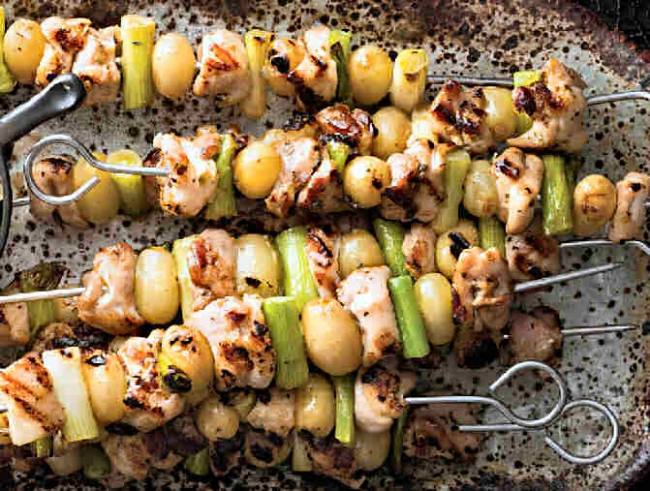 Image source: Aussie Taste
Another great option if you want to utilise the BBQs are these tasty chicken and grape skewers. Chicken and grapes is always a winning combination, but the simple herbs and spices added to these skewers make them an exceptionally mouthwatering choice.
Ingredients:
1 lemon
¼ cup olive oil
2 cloves garlic, crushed
1 tablespoon chopped fresh rosemary leaves
1 teaspoon dried oregano
½ teaspoon chili flakes
600g chicken fillets, cut into 2 cm pieces
1½ cups seedless green grapes
4 spring onions cut into 3 cm lengths
8 metal or bamboo skewers
Instructions:
1. Finely grate lemon rind into a bowl. Add in oil, garlic, rosemary, oregano and chili. Add chicken, stirring well to coat. Marinate for a minimum of 30 minutes.
2. Build the skewers by alternately threading chicken pieces, grapes and spring onion onto eight metal skewers.
3. Preheat a char-grill or barbecue on medium-high heat. Cook skewers for 6-8 minutes, turning until golden and cooked through.
4. Meanwhile, cut grated lemon into wedges. Transfer skewers to a platter and serve with lemon wedges.
Recipe Source: Aussie Taste
4. Sticky Sausages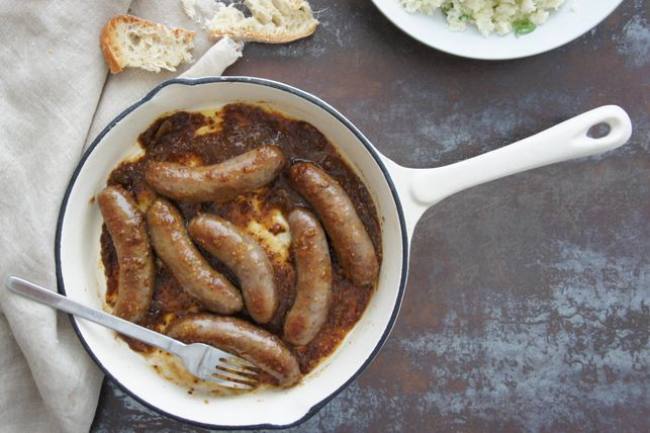 Image source: Best Recipes
A family favourite, sticky sausages are a great camping go-to because they only require 5 ingredients. This recipe can be made in the oven if you're staying in one of our beach cabins or outside on one of the BBQs.
Ingredients:
1 kg sausages
1/2 cup ginger marmalade
3 tbs soy sauce
2 tbs wholegrain mustard
1 garlic clove crushed
Instructions:
1. Place sausages in a baking dish and pour over combined remaining ingredients.
2. Bake at 180C for approximately 45 minutes.
3. Serve with vegetables of choice.
Recipe Source: Best Recipes
5. Camping Nachos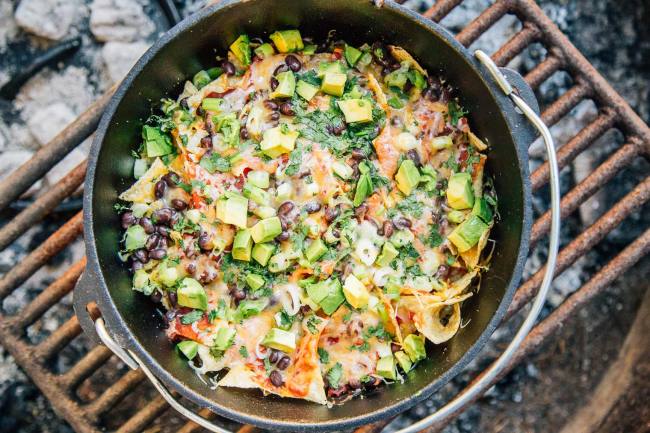 Image source: Fresh off the Grid
Camping nachos are a delicious twist on a favourite snack. These hearty nachos make a nice meal, are easy to prep, and are quite fun to make! They're cooked over the BBQ, which gives them a nice, smoky taste. Enjoy them straight out of the pan for easy clean-up!
Ingredients:
Neutral flavoured oil – 1 tbsp
Tortilla chips – 200g
Hot tomato sauce – 1 can (200g)
Mexican cheese blend – 1 cup, shredded
Black beans – 1 can (400g), drained
Avocado – 1 large, cubed
Green onions – 4-5, sliced
Fresh coriander – a handful, chopped
Lime – 1 small, cut into wedges
Sour cream
Instructions:
1. Lightly oil a large frying pan with a lid or dutch oven to make sure that the nachos don't stick.
2. Spread about 1/3 of the tortilla chips evenly into the pan and top with 1/4 can tomato sauce, 1/4 cup cheese, 1/4 can black beans, coriander, green onions, and a handful of avocado cubes. Do the same for the second layer.
3. For the third layer, use the remaining chips, 1/2 can black beans, 1/2 cup cheese, 1/2 can tomato sauce, and the rest of the onion, cilantro, and avocado.
4. Cover the pan with the lid and set it on a metal BBQ for around 10 minutes or until the cheese has melted. Serve your nachos with the lime wedges and sour cream.
Recipe Source: Fresh off the Grid
Try all of these delicious recipes at Broken Head Holiday Park!
We hope you'll get the chance to come try out these recipes on our convenient on-site BBQs during your stay at Broken Head Holiday Park. Located only about 10 minutes drive from the main street of Byron Bay, our location has fully upgraded facilities to help make your next camping trip a breeze. We look forward to seeing you soon!