How to Go Backyard Camping

Feeling cooped up and unable to visit your favourite holiday park just now? Then backyard camping is a great solution. If your kids have never been camping, then showing them the ropes, i.e. setting up the tent, getting them used to sleeping/eating outdoors, is a good introduction to a real camping trip.
To make it a memorable staycation, we've sourced some backyard camping ideas regarding equipment and activities that will ensure some quality family time!
Backyard Camping Equipment
To get the real experience you need the right tools!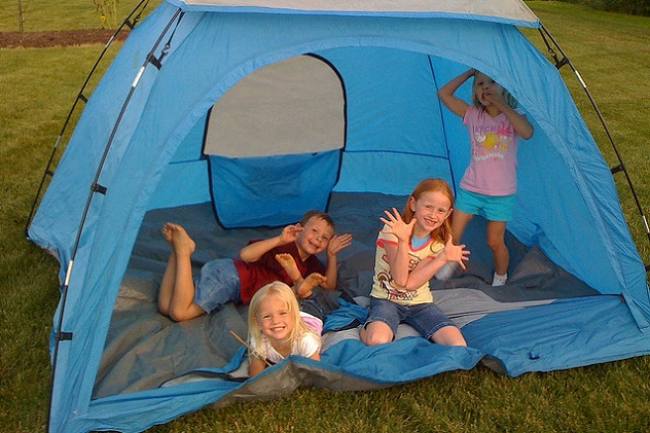 Image source: Froddo.com
1. Tent
A tent is definitely a piece of necessary camping equipment for your backyard adventures. If you have one already, then it's just a case of choosing a suitable spot and setting it up. If you're planning on ordering a new tent or need some guidance then check out our article on buying a family camping tent.
The main things to consider when buying a tent are:
The size – Will it fit in your backyard?
Ease of use – How easy is it to put up and take down?
Quality – How long do you want it to last for?
Price – How much will it cost?
Remember if you're only using the tent for backyard camping once or twice, or for the kids to hang out in during the day, then you may not need to buy a large, quality tent. If you know you enjoy camping though and you'll use it later on a real camping trip, you might want to buy a family-size, quality tent.
2. Lighting
To create the full backyard camping experience you might consider getting a couple of fun torches, a solar power lantern or two or some fairy lights to place around your campsite. These little additions create an authentic atmosphere and they are also useful for games and late-night toilet runs.
Here are some suggestions for some cool lanterns, including solar power options.
3. Airbeds
Backyard camping doesn't have to be uncomfortable. After all you are at home, sort of. A nice comfy air mattress will guarantee that your spine doesn't suffer for the sake of keeping the kids happy. Check out these inflatable camping beds to make sure you get a good night's sleep.
Backyard Camping Activities
What fun stuff can you do in your backyard while camping?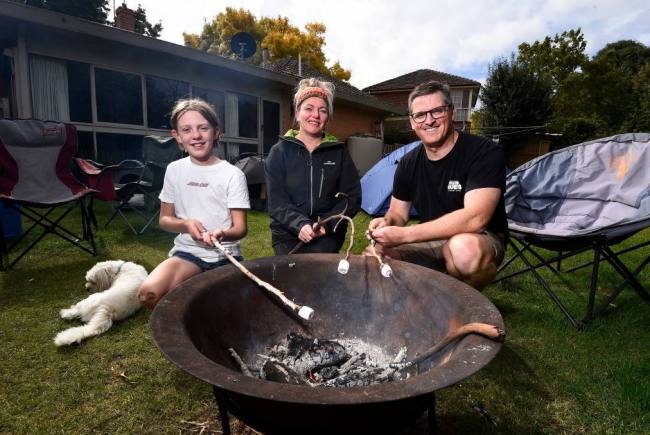 Image source: The Courier
4. Set up the tent together
Erecting the tent is a bonding activity, and teaches kids how to work as a team. Even if your children are very young, find them some easy task that will make them feel like they contributed something. For older kids you can supervise, it doesn't matter if it takes a while, once they get the hang of it they can put it up and take it down themselves (another good reason to get a tent that's easy to handle!).
5. Have campsite family meals
The beauty of backyard camping is that you have a fully stocked fridge inside the house at your disposal, not to mention indoor plumbing. You can make meals on the BBQ (or even inside) and bring them out to eat at your campsite. Depending on fire restrictions, you might consider toasting marshmallows over a small campfire or fire pit. However, be sure to let your neighbours know via phone call or over the fence in case they call the fire department.
Want some easy camping meals to make? Check these out camping dinner recipes and camping desserts.
6. Play some games
There are lots of fun games that you can play that don't involve screen time. With younger kids you can play hide and seek or create a treasure hunt. Older kids will enjoy board games, card games, telling stories, charades, an obstacle course and so on. For ideas check out these camping games ideas and also ones you can play at night.
7. Don't worry about sleeping
It might be a good idea to not be too strict regarding sleep schedules. Backyard camping is all about the fun and enjoying the experience together!