The 10 Best Inflatable Camping Beds on the Market

Getting close to nature and 'roughing' it are part of the appeal of camping. However, that doesn't mean you have to give up all the comforts of home. You can still provide yourself with enough padding to make sure you get a good night's sleep and are ready for the next day's activities.
Here are some of the best inflatable camping beds we've found on the market:
1. Exped Comfort Megamat 10 LXW
Keep in mind, if you're backpacking, this self-inflating pad is not for you. It's heavier (2.55 kg) and doesn't pack up compactly. However, if you're driving somewhere for a fun camping holiday, this is the best self-inflatable bed to bring along. One reviewer went so far as to say it was more comfortable than her home mattress!
It provides a spacious sleeping surface (198 x 76 cm), plus it is 10 cm thick, giving you an ample amount of cushion under you. In addition, keep in mind that there is foam as well as air in the mattress to keep you comfortable, so even if you did experience a leak (very rare!) then you'll still have the foam to keep you from sleeping on the ground. Basically, this is the best bet for a super comfortable night's sleep when camping. As another reviewer said, "We can skip to the chase and confidently declare the Exped MegaMat 10 LXW as the most comfortable sleeping pad we've ever tested." (U.S. Overland Journal review).
The Megamat is available for delivery in Australia for around $270 from several online retailers (including Amazon).
2. Therm-A-Rest NeoAir Dream
Another popular top-rated camping bed, the Therm-A-Rest NeoAir Dream is considered one of the best ways to make sleeping in a tent super comfortable.
The 2.54 cm of memory foam and removable nylon-microfiber cover only add to the luxurious comfort of one of the best air beds. It also can easily be paired with another one by snapping together, giving you the perfect couple bed for camping. Plus, it has an R-value of 6 (meaning it'll keep you warmer on cool nights, allowing you to use a quilt or lighter sleeping bag). The only complaint we have seen about this pad is the microfiber top collects dirt, hair and the like quickly, but since it's removable, you can easily wash it or vacuum it after a camping holiday.
Being comfortable during your camping holiday makes this little quirk totally worth it! Retails for around $236.
3. Black Wolf Mega Deluxe
Recommended by Go Camping Australia as one of the brands they use, this self-inflating pad offers 10 cm of thickness, making it feel less like roughing it and more like a bed that just happens to be in a tent.
The non-slip base means you won't be sliding around during the night, and it also has a fabric top, so it's soft to the touch. A new feature is Velcro straps on the side that allow two pads to be put together to make a bed for a couple, or it also comes in a Mega Deluxe Double. Available online or in camping stores in Australia.
4. Sleeptight Jumbo Single
This bonded self-inflating camping bed features, like most self-inflating beds, a quick and easy inflation. Due to being bonded, you know it will be much stronger than the non-bonded and most likely last for many years. The camping bed has a non-slip micro suede top, and the jumbo size runs L 198cm x W 76cm x D 7cm. The jumbo length gives you the extra space to really feel like you haven't left your home bed completely. No one wants to have feet hanging off the bed!
This self-inflating pad retails for $135, and you can purchase it at Geopickers online.
5. Sandman 4WD
This camping bed offers several sizes from single to queen to suit whatever needs you might have for your camping holiday. The rounded corners should make it less prone to damage, and the soft, velour top makes it comfortable and cosy if you happen to be camping when it's chilly out. And the good news is that they are large enough (especially the queen) that if your partner rolls over in the middle of the night, you won't get pushed off. Even when camping, it's nice to have space and comfort–10 cm of thick foam fill this mattress (8 cm on the single). It retails for $119 and up.
6. Alps Mountaineering Featherlite
A sleeping pad that is comfortable and durable, but also inexpensive? Say no more, and go out and purchase the Alps Mountaineering Featherlite. It only retails for $58. However, there are a few cons that make it not necessarily perfect for all camping holidays — it doesn't have an option for insulation so it might not be great in cold weather (not much of an issue in Byron Bay!), and it weighs a bit more than the average camping bed. But if you're not hiking, then no need to worry, and go ahead, get yourself a reasonably priced camping bed that also happens to be pretty darn comfortable.
7. Therm-A-Rest NeoAir All-Season
If you need a lightweight camping bed, then this might be a good bet for you. The Therm-A-Rest NeoAir All-Season also happens to be comfortable, warm and durable so you don't have to worry that you're skimping on anything by picking the lighter weight sleeping pad. As the name suggests, reviewers felt this pad would work for any season and keep you warm. Plus, the shape of some of these pads changes how it feels for sleeping pad, and the reviews noted that the rectangle is a good one. This camping mat costs about $349.
8. Sea to Summit Comfort Plus Insulated
This camping bed rates as "outrageously comfortable" by reviewers, so if you are looking for a camping bed that feels like you are home, try out the Sea to Summit Comfort Plus Insulated. The self-insulating camping bed provides two sections of air that can be independently inflated, allowing you to adjust for your comfort level. In fact, reviewers mentioned that if the top became slightly deflated, it doesn't feel like you are sleeping on the ground. This camping bed gives you good stability, keeps you away from the cold ground and could make you feel like you are sleeping on your own mattress. The only con is the weight, but for anyone who is driving and coming to a holiday park or the like for a camping holiday, it's perfect for you. It costs about $200.
9. Nemo Astro Insulated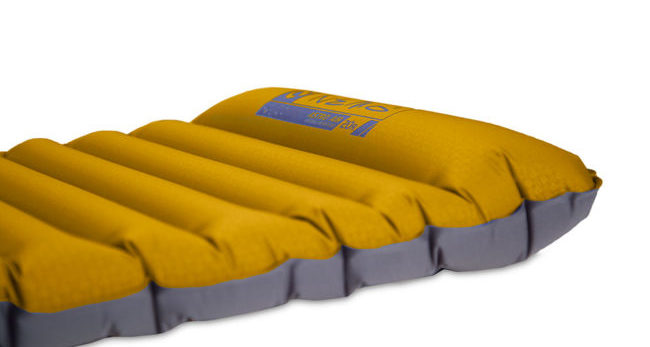 This particular sleeping pad offers not only comfort for camping, but also packs up to a reasonable size and weight so you could easily go backpacking with it. It features a built-in pillow which is handy if you don't want to try to make one out of your sleeping bag's sack.
Like the other pads, it has a layer of foam to increase the level of comfort and provides a warm layer between you and the ground while camping. Inflates and deflates fairly easily as well and, unlike some pads, it is quiet when adjusting in the middle of the night.
This pad retails for about $129.95 and can be purchased through Nemo.
10. Great Option for the Kids: Sleeptight Mat (Large)
This is a budget-friendly, self-inflating pad that offers 5 cm of thickness and a micro suede top. It still makes for a comfortable night's sleep, but might be more geared for kids.
Their lighter weight won't need as much as support and paired together these could easily sleep two kids comfortably for a family camping holiday.
For under $100, these camping mats are a good investment to make sure your kids enjoy the camping experience.
Sleep Tight at Broken Head Holiday Park
Bring your new inflatable camping beds and have a great night's sleep while enjoying a fun camping holiday in Byron Bay at Broken Head Holiday Park. Our camping sites, both powered and unpowered, offer the perfect place to call home while you explore all the fun activities available for a memorable holiday in Byron Bay. For more camping gear suggestions, check out our post on cool camping chairs.