Vegetarian Camping Recipes – 7 Easy-To-Make Meatless Meals

If you don't feel like fussing around with preparing meat meals or want to rely less on your refrigerator when camping, you're in the right place! Going camping when vegetarian doesn't mean being stuck with boring salads. We've sourced 7 vegetarian camping recipes for breakfast, lunch and easy dinners that will keep you energised for your Byron Byron adventures.
These recipes are all:
Cheap, v

ery easy & fast to make

Use ingredients you can bring from home or buy locally.
Scan the meat-free meals below to find the ones which suit you best!
Vegetarian Camping Food Ideas For Breakfast
1. Doughnut Toast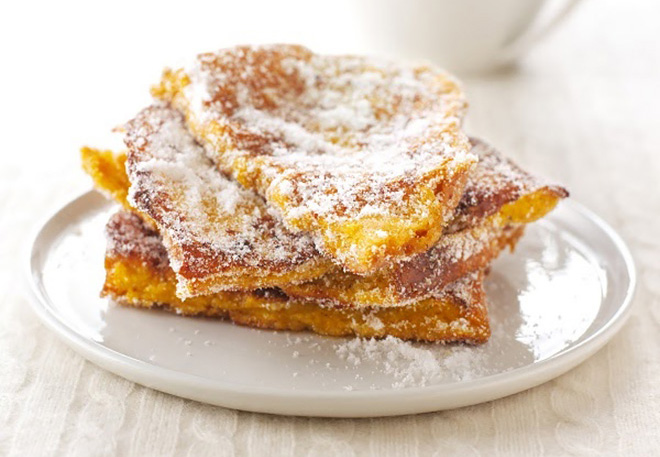 Image Source:  Doughnut French Toast
Doughnut toast is the perfect breakfast food. Serve up these as a hangover cure, as well as the perfect cheeky treat to boost your energy. 
While doughnuts might sound complex to make, toast isn't. It requires only a few ingredients that you probably already have in your home, so just pack them with your other camping gear. 
Ingredients (2 people):
2 large eggs

4 teaspoons vanilla extract

60 mls full-fat milk

4 slices white bread (from a small loaf or 2 slices from large loaf) each slice cut in half

25 grams of butter

1 drop flavourless vegetable oil for frying

50 grams caster sugar
Method:
Crack the eggs in a wide, shallow bowl and mix with the milk and vanilla.

Cut the bread and soak each slice in the blend for about 5 minutes per side. 

Add the oil and butter in a frying pan and fry the egg-soaked bread until both sides get golden.

Dip the cooked bread in the sugar until it looks fully coated like a doughnut. 
Recipe Source: Doughnut French Toast 
2. Chickpea Breakfast Hash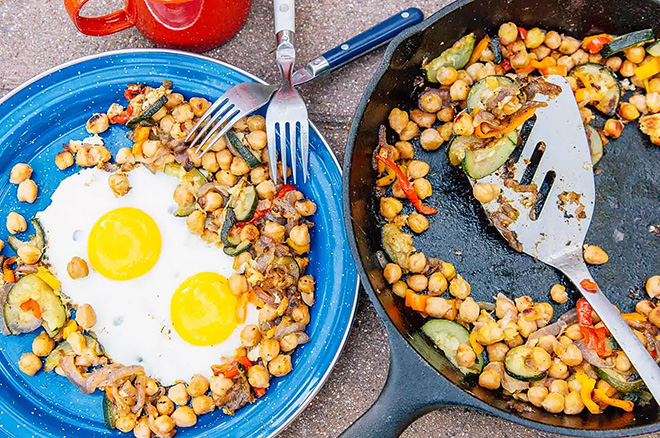 Image Source: Fresh Off The Grid
Loaded with proteins and fresh summer veggies, a Chickpea Breakfast Hash is a perfect way to jumpstart your day. Mmm imagine that smell of grilled vegetables and yummy eggs. Sounds delicious, right?
Ingredients:
1 (15 oz) can chickpeas

1/4 tsp coriander

1 red onion, small

1 summer courgettes

3 mini capsicums

2 eggs

1/8 tsp cinnamon

1/2 tsp salt

1 tbsp oil

Nuts & seeds

1/2 tsp cumin
Method:
Break the eggs in the bowl and whisk for a minute.

Now warm up the pan and add coriander, and chopped red onion, courgettes and capsicums. 

Next add the chickpeas, nuts, and seeds to make your winning mixture. 

Stir the hash until all the veggies look juicy and tasty.

Add the eggs in the middle and cook all together for about 3 minutes. 

Sprinkle salt and cinnamon over the hash and you are ready to pick your seat at the table!
Recipe Source: Chickpea Breakfast Hash 
3. Peanut Butter Overnight Oats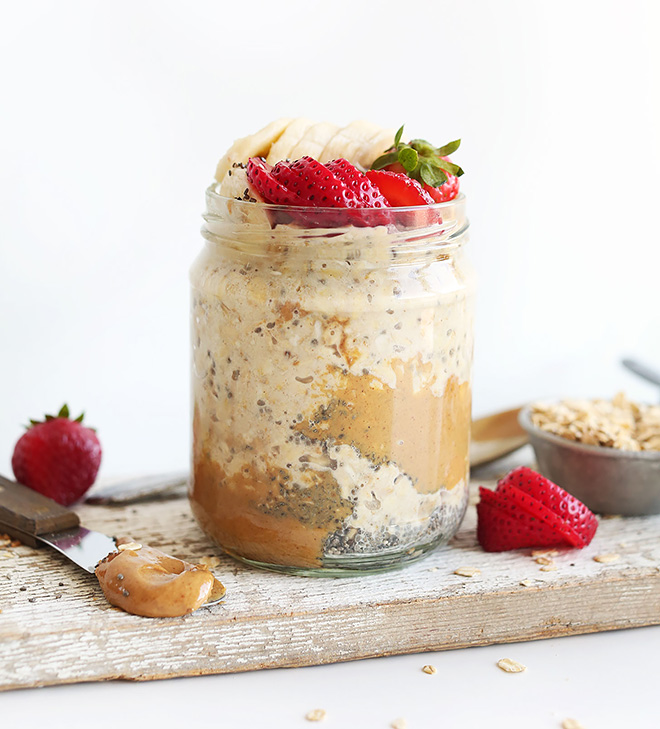 Image Source: Peanut Butter Overnight Oats
Peanut Butter Overnight Oats are the smartest way to start your camping day because you have prepared them the night before. And peanut butter mixed with oats! Oh, sounds just too good to be true!
Ingredients:
1/2 cup unsweetened plain almond milk (or sub other dairy-free milk, such as coconut or soy)

3/4 tbsp chia seeds

2 tbsp natural salted peanut butter or almond butter (creamy or crunchy // or sub other nut or seed butter)

1 tbsp maple syrup (or sub coconut sugar, organic brown sugar, or stevia to taste)

1/2 cup gluten-free rolled oats (rolled oats are best, vs. steel-cut or quick-cooking)

Sliced banana, strawberries, or raspberries (optional)

Flaxseed meal or additional chia seed (optional)

Granola (optional)
Method:
Get a small bowl or a mason jar. It is only important that it has a lid.

Add the almond milk, chia seeds, peanut butter, and maple syrup (or any other sweetener).

Stir with a spoon to mix (don't worry if the peanut butter isn't completely mixed with the almond milk).

Now add oats and keep stirring for a couple of minutes more. 

Make sure that all well-moistened oats are immersed in almond milk. 

Put on the lid to cover the bowl or jar and put it in the refrigerator for the night (at least 6 hours to soak). 

The next morning open up the oats and add your desired toppings.

Additionally, you can heat your oats in the microwave (45-60 seconds). Don't forget to leave room at the top of the bowl to prevent overflow.

Even though they can stay longer in the fridge, keep in mind that outs are not freezer friendly.
Recipe Source: Peanut Butter Overnight Oats
Vegetarian Camping Food Ideas For Lunch
4. BBQ Baked Sweet Potatoes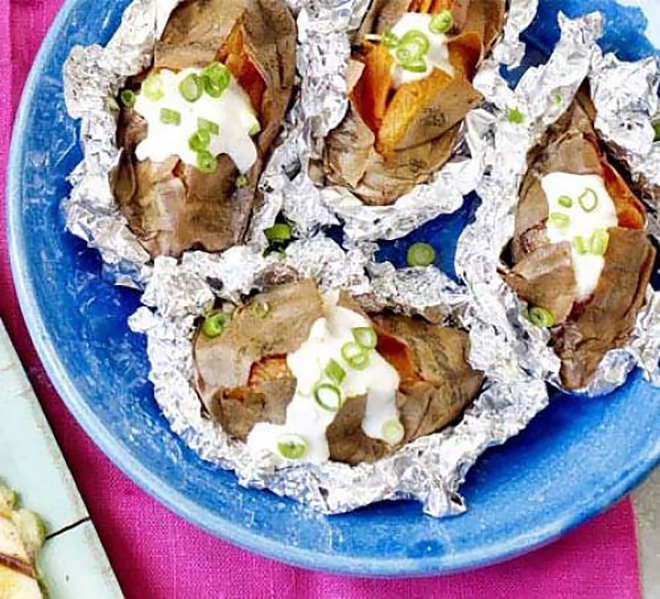 Image Source: BBQ Baked Sweet Potatoes
This recipe from our vegetarian camping food list is to DIE FOR! Enjoy mouthwatering sweet potatoes right from our campsite BBQ. 
Ingredients:
8 medium sweet potatoes

4 tsp olive oil

4 tbsp Greek yogurt

1 spring onion, sliced

Grated cheese
Cooking Method:
Dip each potato in a little oil and sprinkle with salt, then double wrap in foil.
Place the potatoes directly on the grill.

Cook for about 15 minutes each. 

Take off the top of the foil of the sweet potatoes and spice them up with onion,  grated cheese and your favourite Greek yogurt.
5. Easy Veggie Quesadillas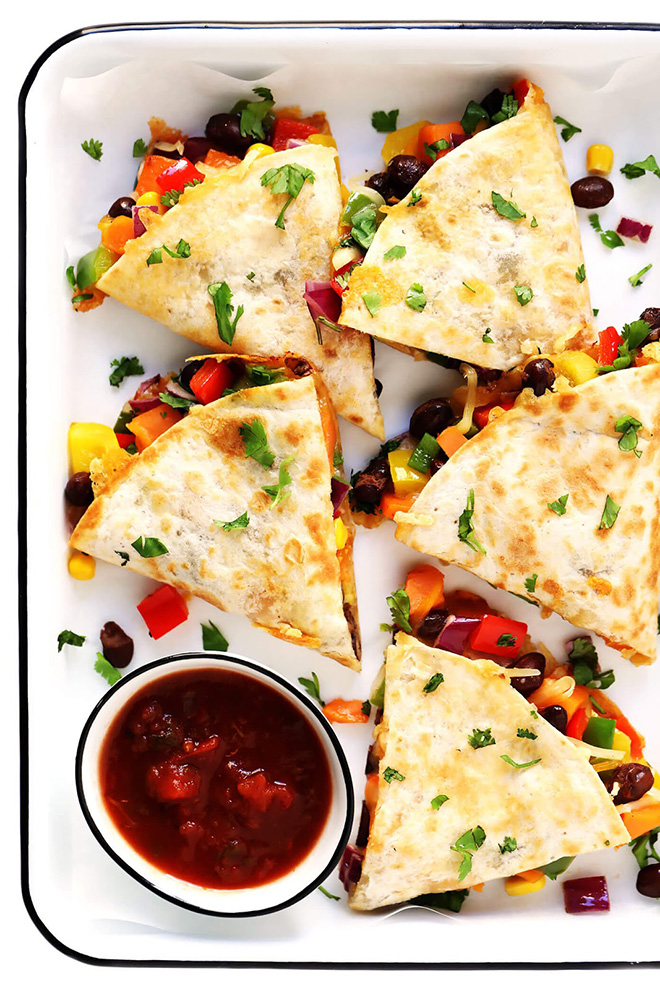 Image Source: Easy Veggie Quesadillas
For this vegetarian camping food, you can bring a few staples from your pantry and pick up some fresh veggies at the Byron Bay Markets or local store. Easy Veggie Quesadillas are a good choice for our vegetarian camping food list as they're fast to make as well as delicious.
Ingredients:
2 tablespoons olive oil, divided

1 small sweet potato, peeled and diced into 1-cm cubes

2–3 cups chopped veggies (I used capsicum, red onion and corn)

1 small chili pepper cored and finely diced

1 can red or black kidney beans, rinsed and drained

1 teaspoon ground cumin

1/2 teaspoon chilli powder (optional if you like it hot!)

fine sea salt and freshly-cracked black pepper, to taste

4–6 large flour tortillas

3–4 cups grated cheese cheese

1 cup chopped fresh coriander

dipping options: your favourite salsa, guacamole and/or sour cream
Method:
Prepare a large non-stick frypan, put your cooker on medium heat, and heat one tablespoon of olive oil. 

Put the sweet potato in the pan and fry it for about 5-6 minutes. Stir it occasionally so they don't burn. When cooked, place them on a separate plate and leave them there for later. 

Take the remaining 1 tablespoon oil and add it to the pan. Add the vegetables and chili, and fry them all together quickly for 4-5 minutes.  

Then add in the cooked sweet potato, black beans, cumin, chilli powder, a little bit of salt and black pepper (top of the finger is good, and fry the whole skillet for 2 more minutes.  

If you prefer, you can always add more salt and pepper. 

Put this mixture in a bowl and set aside. 

Now it is time to prepare your quesadillas. Place one in the pan and immediately add cheese. When it is melted and tasty, add the veggies on top and wrap it all up. 

Cook that all together for about 30 seconds more and then, start eating! 

Serve them warm with guacamole, salsa or another favourite dipping sauce. 
Recipe Source: Easy Veggie Quesadillas
Vegetarian Camping Food Ideas For Dinner
6. One-Pot Protein Pasta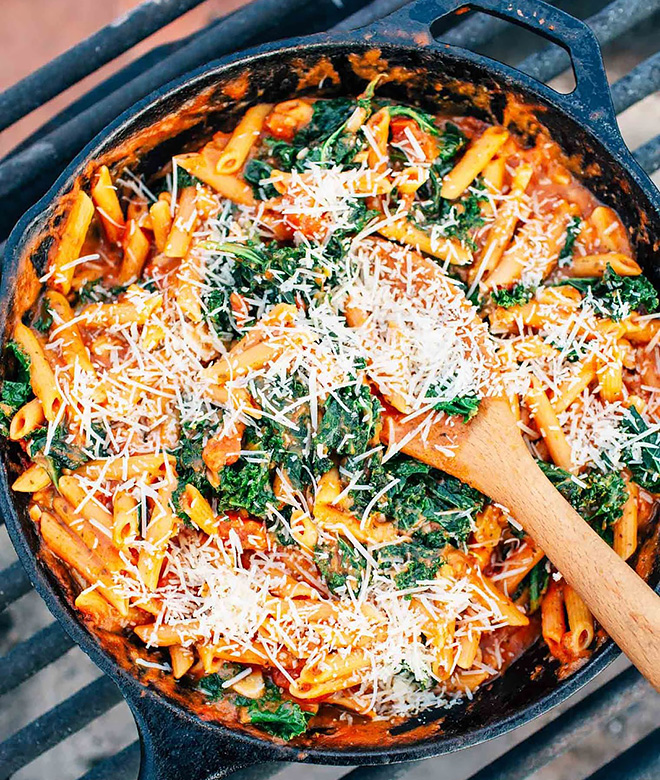 Image Source: One Pot Pasta
Who doesn't like pasta? This pasta meal is healthy, quick to make and tastes delicious! 
Ingredients (4 people):
2 cloves garlic

1 head kale

1 (23 oz) jar tomato sauce

200 grms penne pasta

1 pinch red pepper flakes

1/2 tsp salt

1 tbsp olive oil

1/4 cup cheese
Cooking Method:
Take a big pot and pour enough water in it to cover your pasta. 

Cut garlic in slices and kale.

When the water is boiled add pasta and leave it on the heat for about 10 minutes.

Now add garlic and pepper flakes to the pan and cook with the olive oil. 

Drain cooked pasta and add to the pan.

Pour over tomato sauce and stir for a couple of minutes. 

Sprinkle on your desired amount of cheese and enjoy!
Recipe Source: One Pot Pasta
7. Chilli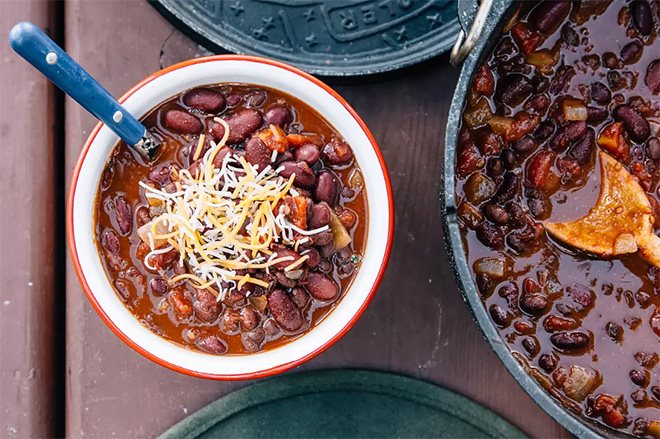 Image Source: Fresh Off The Grid
Spice up your night with some delicious hot chilli, this vegetarian camping recipe will keep you warm when the sun goes down.
Ingredients:
1 medium onion, chopped

1 tablespoon olive oil

1 can black beans, drained

1 can red kidney beans, drained

1 can diced tomatoes, with their juices

1 fresh chilli pepper

1 can beer, preferably lager

2 teaspoons sea salt

1 teaspoon garlic powder

1 teaspoon cumin
Cooking Method:
Heat the olive oil until shimmering. 

Add the onions and saute until they begin to soften and turn translucent. Add the drained kidney and black beans, tomatoes and their juices, chopped chilli, beer, salt and spices. (Most of the heat in the pepper is housed in the seeds and ribs, so we strongly recommend scraping out all of the seeds before adding to the chilli.)

Stir the whole blend and cook until thickened to your liking.

Cook for about 20 minutes and serve with all your desired toppings (avocado or cheese). 
Recipe Source:  Fresh Off The Grid
Where to camp to try out these veggie recipes? 
A camping holiday at Broken Head Holiday Park in Byron Bay ensures quality time with friends and family. Check out our beach shacks, beach house, and beach cabins to see if we can accommodate your needs. We also have powered and non-powered beach camp sites. We look forward to welcoming you to our friendly and well-equipped campsite to try out some of these meatless meals!