12 Easy Tips to Glamp Up Your Camping
When people think of camping, not many would associate the word fancy with this particular activity. In fact, most people might think it is the complete opposite. But that's why glamping is becoming popular. Camping doesn't have to mean dirty hair, sweaty clothes and sleeping on the ground.
With a few easy steps, you can turn your camping holiday into a full-on glamping holiday you won't soon forget.
1. Put the sparkle in your sheets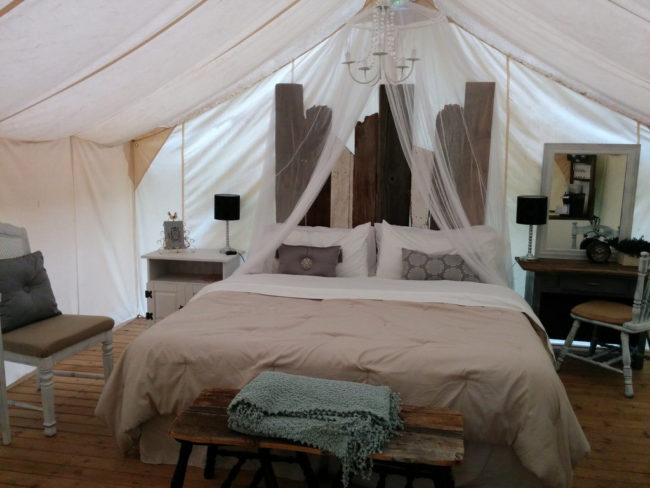 Image source: Flickr
Just because you are camping doesn't mean you need to sleep on the cold ground. Glamp it up and get a good quality air mattress that pumps on its own. And we're not talking about a simple low-level air mattress — no, we mean the double height queen sized air mattress that makes you feel pretty darn close to a bed.
Bring along good sheets and blankets (like a fluffy down duvet) and don't forget to pack the extra comfortable pillows.
2. Go big on lights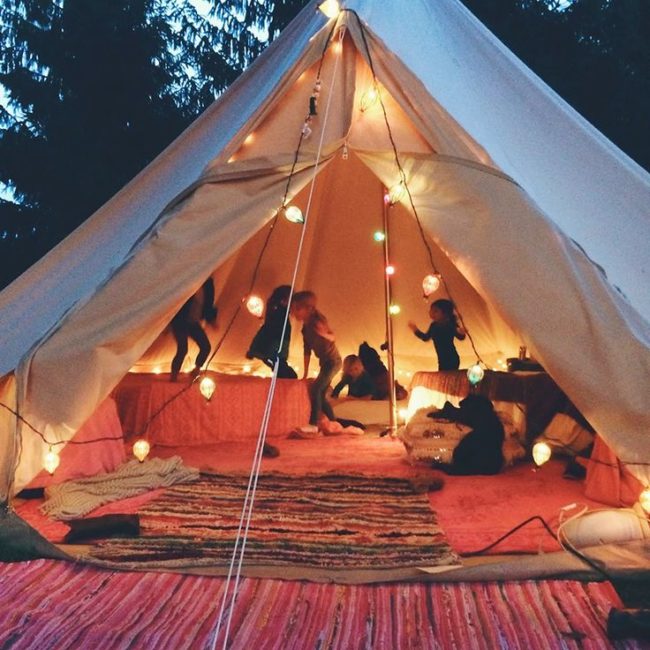 Image source: Pinterest
Make sure to book a powered campsite, and then plan on setting up lights around the site that will bring the glam. A popular choice are fairy lights that you can sting up around your tent and your other belongings that add a touch of special sparkle. The lights will create a soft glow around your campsite for evenings of hanging out and enjoying cocktails and sharing delicious food.
You also could go eco-glam with solar-powered lighting around the campsite, which could still include fairy lights as well as other cool solar-powered lights.
3. Let your inner foodie shine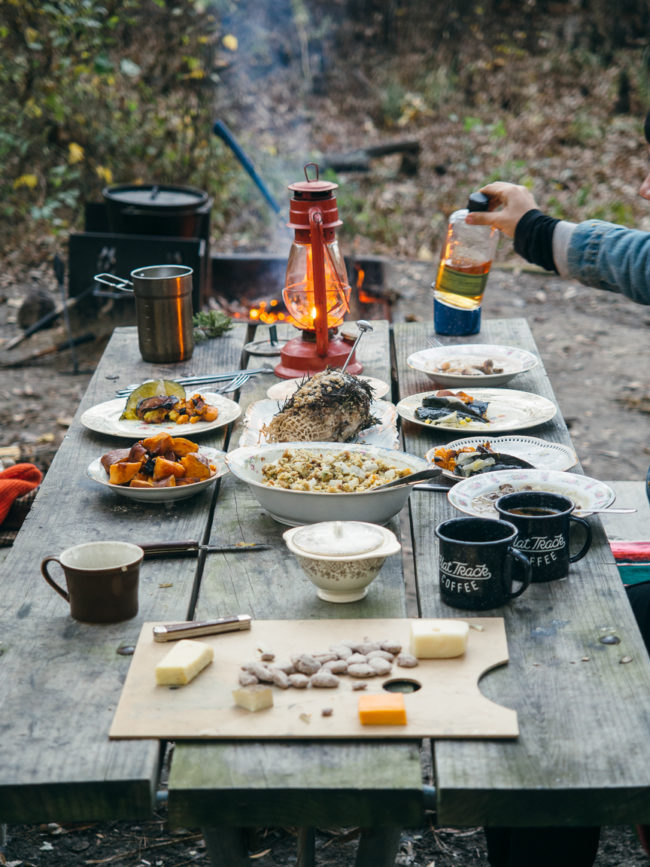 Image source: Pinterest
Don't just bring the basic camp food — forget baked beans and hot dogs. Glamping means you get to pull out the Pinterest-worthy camping recipes and make some really great food. You can still relax on your holiday; there are plenty of recipes that you can start the prep for at home and then add the finishing touches when you are at the campsite. You can also pick out some of the excellent takeaway joints in Byron Bay and bring that food back to camp to enjoy some good glamping.
Another great way to add some lavish touches to your holiday is make special cocktails for you and your group. You'll feel very elegant drinking your special drink as you sit under your fairy lights in comfortable chairs at your campsite.
4. Add all the extra touches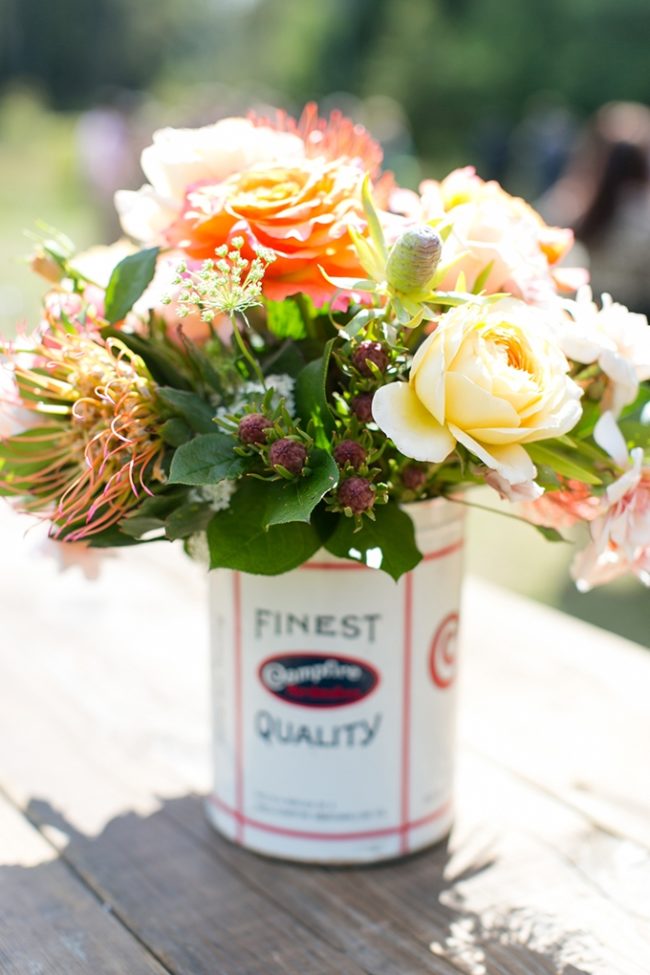 Image source: Glamour and Grace 
Camping also doesn't mean you need to pack just the basics. If you want to really glamp it up, then you should be considering how many extra touches to bring along or pick up while you're in Byron Bay. Maybe you want to have a little bedside table — a place to store your phone and other essentials. What about your dinnerware? You don't have to use paper plates; you can purchase pretty camping utensils, plates and cups that will bring the glam to your dinner table.
Make a trip to the Byron Bay Farmers Markets and not only pick up fresh, local food to kick up the level of your meals, but purchase a bouquet of beautiful flowers to really add a finishing touch to your glamping dinner table.
5. Pack the good toiletries and nice towels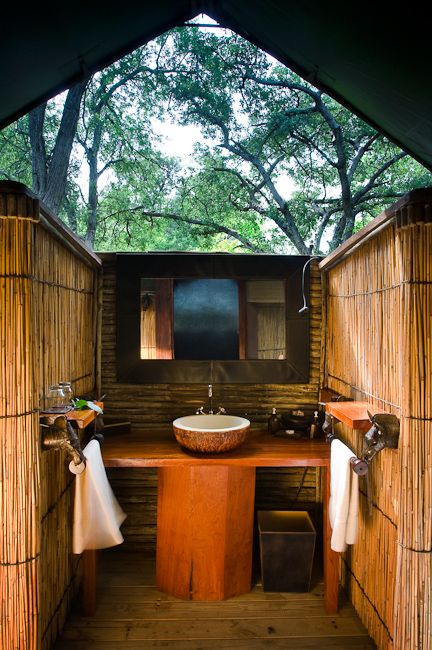 Your camping bathroom isn't this, but you can still be fancy. Image source: Pinterest
No need to stick with just your generic shampoo and bar of soap. Grab smaller sizes or obtain the travel size plastic bottles of your favourite soaps, shampoos, conditioners and more to have on hand while you use the camp facilities. Just because you're sleeping in a tent doesn't mean you can't smell nice.
While you probably won't be able to take a relaxing bath, you should be able to utilise your shower time to use the elaborate cleansing ritual you brought along. Don't forget to pack good lotion! Note: You do have to be somewhat careful about the perfumed soaps and lotions as you don't want to attract pests such as mosquitoes. 
6. Splurge on Top-Notch Entertainment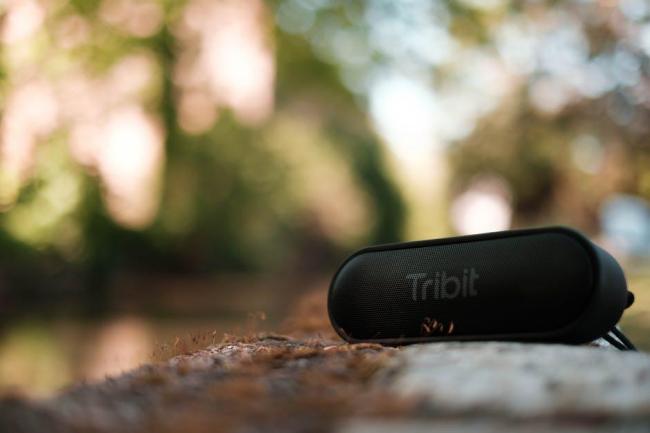 Enjoy your music collection in authentic surround sound as you relax by the beach or at the campsite with your friends. Bluetooth speakers can add that extra touch to your Byron Bay glamping ambience. There's a great selection of speakers to choose from, whether you'd like something small but powerful or a high-end device with all the ports, jacks and WiFi options to sync up your devices.
Come nightfall, match the speakers with a portable projector and screen for the perfect outdoor movie night. After all, this is glamping, and you can certainly bring all your entertainment tech to the outdoors. Keep in mind that while your Bluetooth speakers may be waterproof, your mini projector is not. Pack it safely when it's not in use, and cover it to keep it free of moisture.
7. Make Camping Cocktails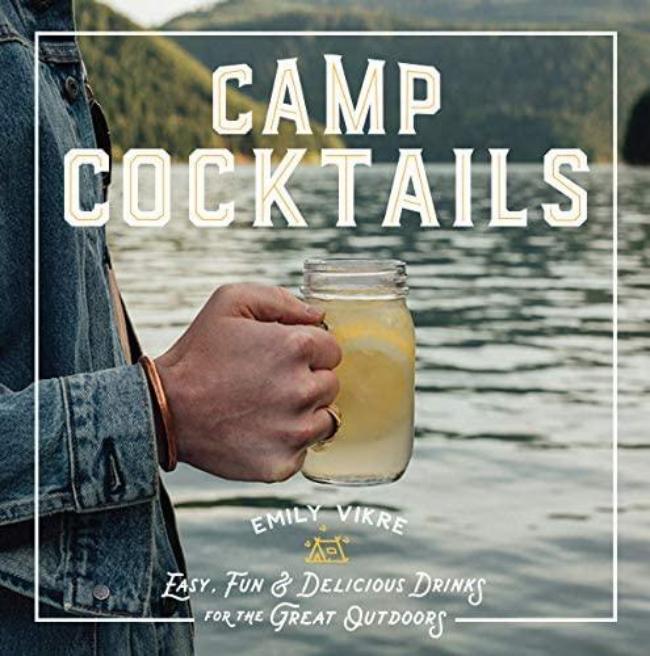 Image source: Amazon
Nothing says glamping like delicious cocktails under the stars. Grab your favourite liqueurs, syrups, bitters and sodas, plus some fresh fruit to garnish, and whip up some delicious drinks at the campsite. Pack your camping cocktail kit and fill your cooler with ice.
Not sure where to start? Check out Camp Cocktails for recipe ideas, from camping sangria to beer-based cocktails. This book comes with all the pro tips and tricks, plus easy-to-follow instructions for measuring, stirring, shaking and straining your cocktails. You definitely don't need to be an expert bartender to whip up delicious cocktails for your Byron Bay glamping weekend.
8. Create Stations for Everything
When you set up a station for each glamping activity or gear, two things happen. First, you design a practical layout at your camping area, which takes the hassle out of your Byron Bay glamping experience. Secondly, you can totally show off your organisation and decor skills. Have a dedicated, clearly labelled station for handwashing and sanitising, drinks and snacks, charging your tech, books or magazines, waste disposal, and so on. Tag each station with a fun, creative name for a good laugh, too.
9. Glam up Your Chillout Area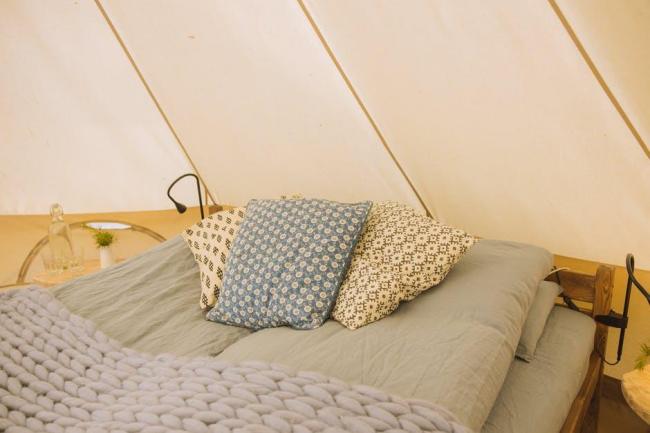 Besides your dining, cooking and sleeping spaces, create an area exclusively for kicking back and unwinding. If you or your girlfriends want to take a nap, do your nails, have a chit-chat, or simply put your feet up and read – dedicate a space just for this.
Choose the best camping furnishings for your chillout zone. Cover your foldable chairs with throws and cushions; add a beanbag chair or two, plus an old, sturdy suitcase to serve as your coffee table-slash storage. Finally, add that fairytale touch with tea lights and lanterns after sunset. Soft furnishings, relaxing music, warm lighting -what's not to love?
10. Add Some Handmade Highlights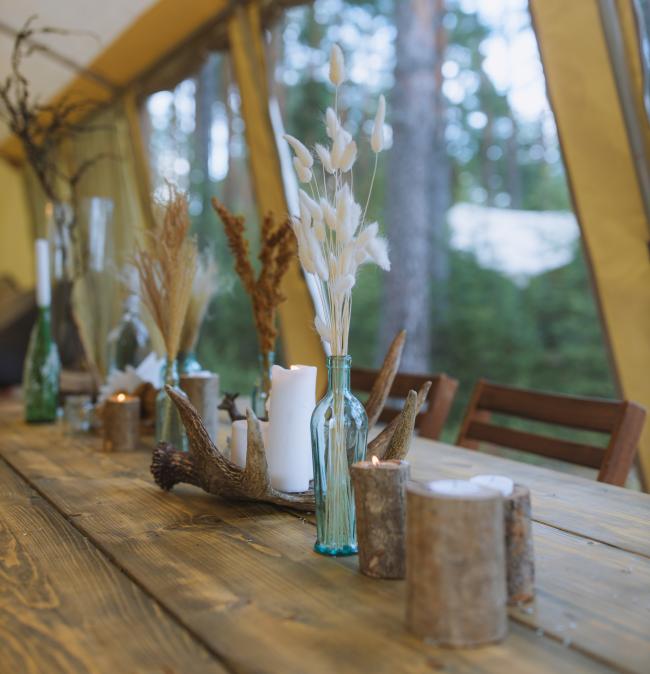 Ask everyone to bring a DIY item to decorate your glamping tent. Think handmade chandeliers, scented candles, flowers from your garden, vintage rugs, quilts and cushions.
Pick a theme to guide your choices, like your favourite films, a catchphrase, or mood.
You can also bring back some handmade items from your girls getaway adventures around Byron Bay. Take a pottery or painting class, hunt for hidden gems at the many Byron Bay markets, and use those items to glam up your tent.
11. Use the Biggest Possible Tent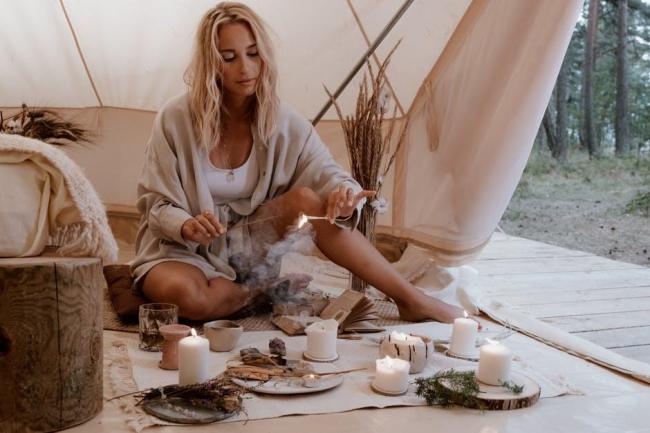 Glamping means a spacious tent where you can stand up straight, plus separate rooms for your privacy. As a general guide, find a tent that is at least 6 feet tall because, let's face it: crouching around your tent is the complete opposite of glamour.
Try an eight-person tent for three or four people for a truly luxurious space. Look for features like a sturdy front door instead of a floppy zippable tent door and windows to open up for a cool breeze or close for privacy.
12. Or Go Tent-Free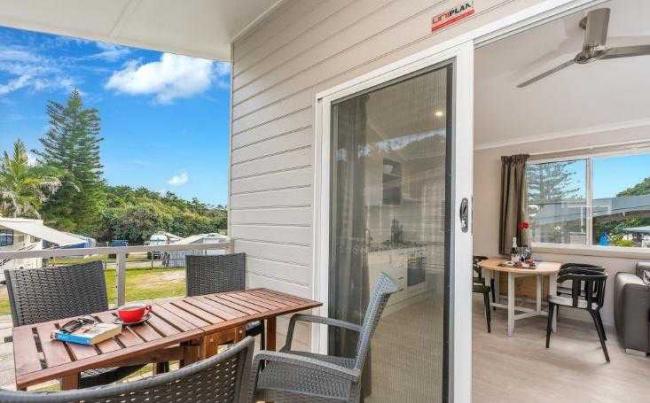 Skip the tents entirely and book a deluxe beach cabin at Broken Head Holiday Park for the ultimate glamping experience. Our deluxe beach cabins can accommodate up to six people, and they come with air conditioning, a fully self-contained kitchen, an ensuite master bedroom, a fridge freezer, and a personal undercover patio. You also get free Wi-Fi, TV and DVD player for your entertainment.
All you need to do is book your deluxe beach cabin, pack your favourite food, drinks and clothes, and show up for your glamping weekend at Broken Head Holiday Park!
Bring all your glamping gear to Broken Head Holiday Park
Broken Head Holiday Park is the perfect place to hold your glamping holiday where you can reserve a powered campsite that is ready for all the fancy touches you'd like to add, or book a deluxe beach cabin. You'll be able to plug in the lights, pump up your awesome air mattress and all the other glamorous details you've brought along to make your holiday extra posh.
Come visit Byron Bay where you can try out excellent restaurants, do cool yoga classes and spend time on the gorgeous beaches — the perfect setting for a memorable glamping experience.