5 Quick & Delicious Camping Recipes

Even if you love cooking at home, when you're on holiday often it's the last thing on your mind. Until everyone starts clamouring for dinner, that is. Luckily there are lots of easy camping meals you can whip together in a jiffy, and that also taste great. 
To save you some time researching we've prepared a list right here so all you have to do is bookmark the page and pull it up on your phone. Easy, right? These camping recipes can all be made on a portable camping stove or BBQ. 
Dinner 
1. Foil Pack Potatoes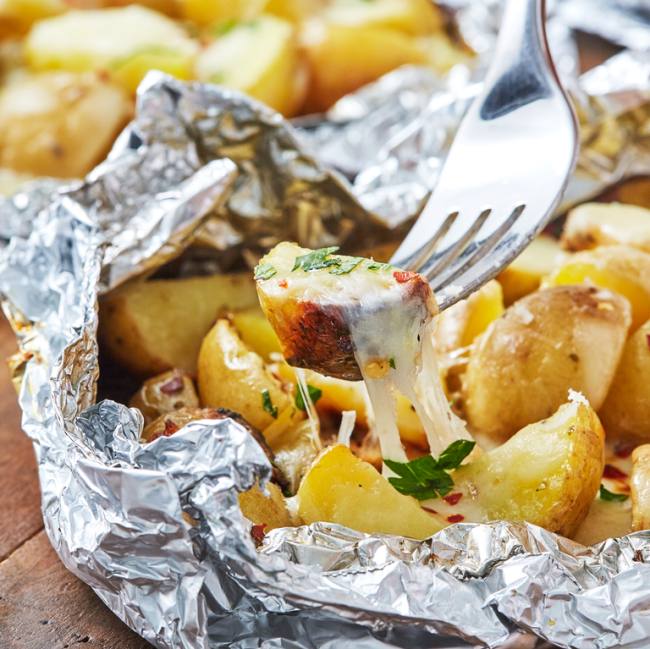 Image source: Delish
This recipe serves 4 but you can increase the quantities if you need to. Foil cooks food quickly, and you can eat these yummy gooey potatoes straight from the pack so there's no clean-up afterwards. What's not to love?
Ingredients:
2 lb. potatoes, quartered

2 tbsp.extra-virgin olive oil

1 tsp. garlic powder

1 tsp. dried oregano

Salt

Freshly ground black pepper

2 cups shredded mozzarella

1 cup freshly grated Parmesan

Chopped fresh parsley, for garnish

Crushed red pepper flakes, for garnish
Instructions:
Pre-heat grill to medium-high, or camping oven to 220º.

Cut 4 large pieces of foil about 30 cm long. 

In a large bowl, toss potatoes with olive oil, garlic powder, and oregano and season with salt and pepper.

Divide potatoes between foil pieces, then fold the foil packets crosswise to completely cover the potatoes. Roll the top and bottom edges to seal them closed.

Place foil packets on the grill or in the oven and cook until just cooked through, 10 to 15 minutes. 

Unwrap the foil packets and sprinkle mozzarella and Parmesan on top of the potatoes. Fold foil back over the potatoes and cook until the cheese is melty, about 3 to 5 minutes.

Top with parsley and red pepper flakes and serve warm.
Recipe source: Delish
2. Grilled Mini Pizzas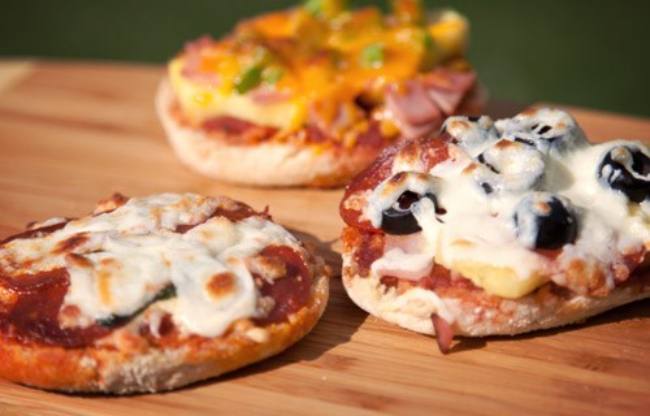 Image source: Koa.com
Kids simply love these grilled mini pizzas, so you won't have any leftovers no matter how hard you try!
Ingredients:
1 package of English muffins

1 jar of tomato pasta or pizza sauce

1 bag of grated cheese

Your favourite pizza toppings
Instructions"
Spread pizza sauce on the English muffin halves. 

Sprinkle cheese on top of each slice. Add toppings as desired. 

Slide onto foil lined tray on BBQ and grill until the cheese is bubbly. Enjoy!
Recipe source: Koa.com
3. Fancy Hot Dogs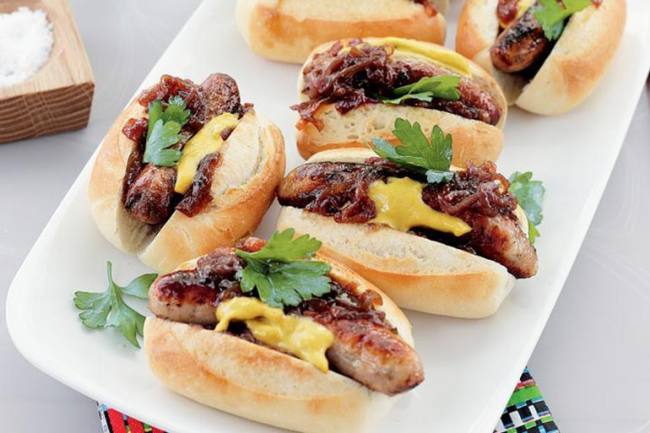 Image source: MumCentral.com.au
When all else fails, you can always rely on sausages for a filling meal, and you can dress them up so they're a little fancier than usual. 
Ingredients:
1 pack of sausages

Onions sliced

Mustard

Hot dog buns
Instructions:
Cook sausages in a frying pan over BBQ, about 10 minutes. 

Fry onions until caramelised.

Butter rolls and add sausages, onions and mustard. Enjoy!
Recipe source: MumCentral.com.au
Dessert
4. Grilled Waffle Treats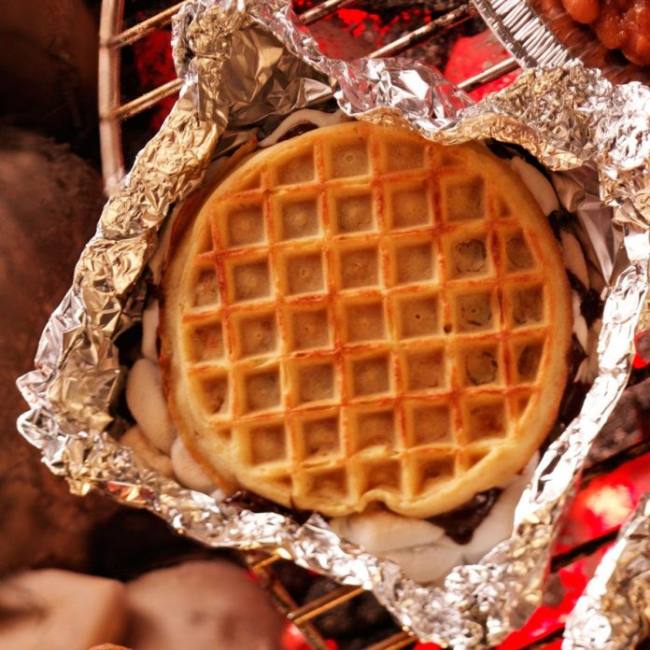 Image source: TasteOfHome 
Grilled waffles with marshmallows and chocolates sound like the perfect way to round off a meal to us!
Ingredients:

8 frozen waffles

1 cup miniature marshmallows

1 cup semisweet chocolate chips
Instructions:
Place one waffle on a greased double thickness of heavy-duty foil (about 30cm square). 

Sprinkle with 1/4 cup each marshmallows and chocolate chips.

Top with another waffle. Fold foil around sandwich and seal tightly. Repeat three times.

Grill, covered, over medium heat for 8-10 minutes or until chocolate is melted, turning once. Open foil carefully to allow steam to escape.

Cut into slices and enjoy!
Recipe source: TasteOfHome 
5. Aussie S'mores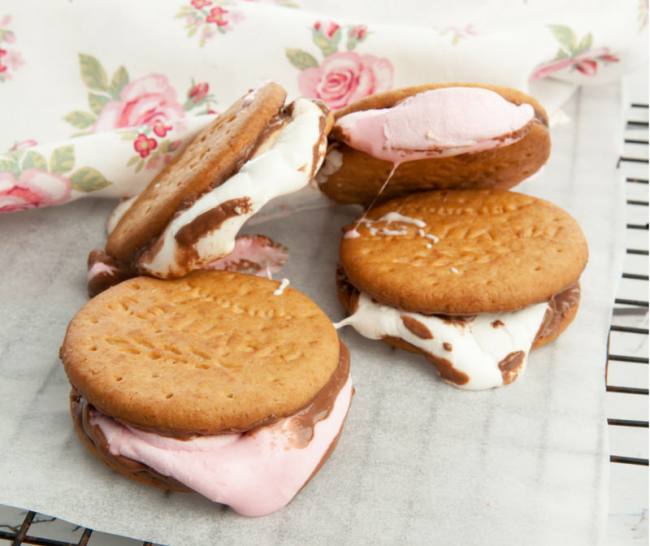 Image source: Meat & Travel
You might find it hard to stop eating these super delicious Aussie s'mores! Ideal if you're feeding a small group, this recipe gives you 9 servings. You can also get creative and add different ingredients such as peanut butter, Rolo chocolates or sliced Mars bars.
Ingredients:
18 chocolate digestive biscuits

18 large marshmallows
Instructions:
Place 9 biscuits chocolate side up on a foil lined BBQ grilling tray.

Top the cookies with two marshmallows each.

Place the tray on the BBQ and close the range hood.

Top each of the cookies with another cookie and squish it together.

Allow to cool slightly and dig in!
Recipe source: Meat & Travel & My Lovely Little Nest
Book a stay at Broken Head Holiday Park
Try out these camping recipes during your stay at Broken Head Holiday Park. We have excellent on-site BBQs, which will be useful with most of these camping recipes. You could also look at investing in a portable BBQ or solar powered stove. With our current special deal kids stay free until 31 August so it's a great time to come camping. We look forward to seeing you soon!