Boho Chic: How to Dress like a Local in Byron Bay

Byron Bay is the perfect place to enjoy the bohemian lifestyle. It's all about near-perfect weather, gorgeous beaches, vibrant people, and the spirit of adventure. You want to look like a true Byron Bay local if you're heading out to Byron Bay for a girls' getaway weekend.
Here's how to achieve that classic Byron Bay boho chic that we know and love.
First, some basics:
Use a generous amount of sunscreen before getting out into the Byron Bay sun
Always pack your swimwear, too. Our beaches are irresistible, and you're bound to take a dip
Don't let the winter stop you from visiting Byron Bay. All you need is to prepare for the occasional rain showers
Now, let's break down the boho-chic look to inspire your wardrobe.
The ultimate Byron Bay boho chic fashion guide
1. Colours
The boho look is generally a warm, super vibrant style, but you can certainly rock a cooler colour palette. Use gold accessories to add a touch of sophistication and match sister colours like navy, turquoise and sky blue. Neon colours are a no-no: opt for naturally rich hues if you want to stand out.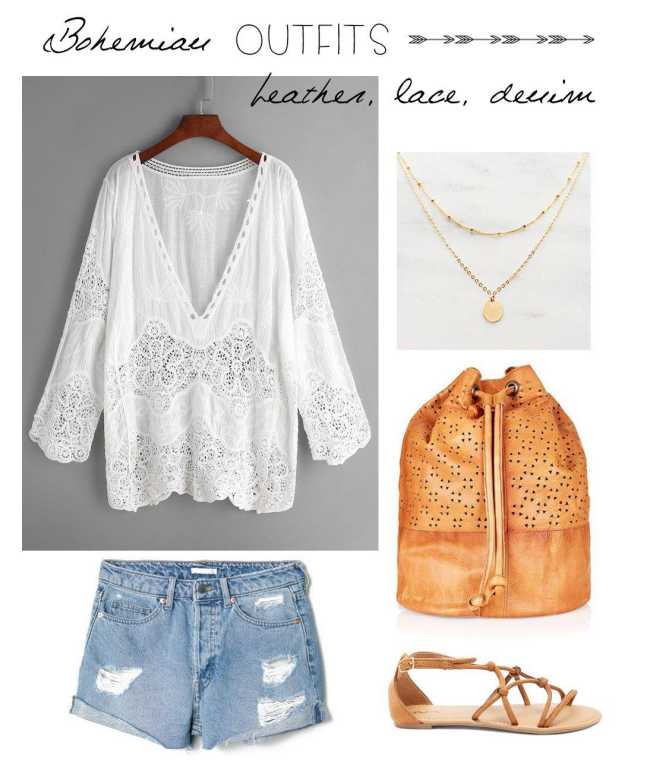 Source
2. Fabrics
Our Byron Bay boho style has plenty of options for materials, patterns, and embellishments. Denim is a definite must-have but opt for distressed jeans for your shorts, trousers, and jackets. Lace is another boho fabric that adds a delicate white or ivory feel to your outfit. Tribal prints, macrame and crochet, are all great ways to add texture to your boho look.
3. Bags
Drawstring bags are a popular choice for boho fashion because of their range of fabrics and patterns. There are plenty more boho bags to choose from, like suede bags, perforated leather bags, beaded clutch bags, and embroidered backpacks. For fun Byron Bay touch, choose a boho bag with interesting trims like pompoms and tassels.
4. Shoes
Byron Bay boho chic is incomplete without a good pair of comfortable, chunky heels. You can also wear cowboy boots in a warm brown or beige colour. Go for wooden heels for an authentic boho touch.
If you're heading out to the beach, though, a pair of gladiator sandals will do the trick. These look great with a loose lace top, denim shorts, and an embroidered tote bag for your beach gear.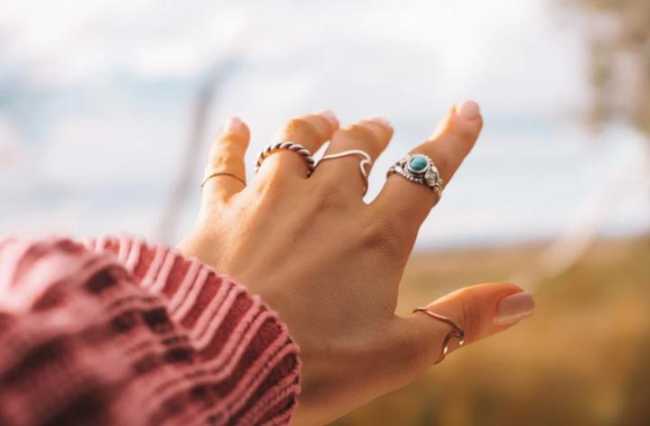 Source
5. Jewellery
Elevate your Byron Bay boho chic outfit with natural jewellery. Anything turquoise goes, but opt for colourful gemstones, pearls and antiqued metals. Beads of all kinds also work well with Byron Bay fashion, as does anything artsy and handmade.
Peacock feathers, large pendants or even tassels can bring your look together too. All these materials apply to boho chic earrings, finger rings, bracelets, necklaces, and anklets.
6. Hairstyle
Nothing says Byron Bay boho-chic like long, wavy hair moving in the ocean breeze. But no matter your hair length or colour, try some boho-chic hair accessories to crown your outfit. Floral headbands and hairpins are quick fixes to tame your mane or tie a cute bandana to show off your cropped haircut. If hats are your thing, go for straw or fedora hats or turbans.
Where to buy Byron Bay boho chic
Byron Bay is chock-full of fashion stores to achieve your boho chic look, from haute couture to thrift shops:
Spell is a popular Byron Bay fashion outlet, known for its super-feminine designs and soft fabrics.
Arnhem is also a great place to find free-spirited, vibrant designs made from sustainable, organic materials.
St. Agni is famous for its hand-woven shoes.
Attik Clothing is the perfect place to find that one-of-a-kind vintage piece for your boho outfit.
Further options include:
Bring your boho charm to Byron Bay
Keep these tips in mind when packing for your Byron Bay weekend. There's a boho look for every occasion, from a beachside picnic to a girls' getaway in Byron Bay. And if there's a missing piece from your Byron Bay boho-chic collection, simply drop by any of our fantastic clothing stores and take your pick.
Can't wait for your Byron Bay getaway? Book your Byron Bay accommodation at Broken Head Holiday Park. We're quite literally on the beach, just 15 minutes away from the best fashion stores and restaurants in Byron Bay. Get in touch with us today.