Why is Winter a Great Time to Visit Byron Bay?
Winter comes to Byron Bay between June and August, which can be quite a change from the often-blistering heat of the summer. Most people would shy away from fun outdoor activities for fear of snow or rain at the thought of winter, but thankfully, Byron Bay remains relatively mild over the winter months.
You can still take your family out for exciting day trips and adventures in nature during the winter school holidays. If you don't believe us, read on to find out why winter is a great time to visit Byron Bay.
Is Byron Bay Cold in Winter?
Compared to the average summer temperature of around 27ºC, Byron Bay winters record an average high of between 19ºC and 22ºC. This is actually quite warm as far as a beach winter day goes, so you can undoubtedly sunbathe and go on walks and hikes. If you'd like to venture into the hinterland, take some warm jumpers with you because it can get frosty.
Byron Bay winter nights can get as low as 11ºC, and while most days will be cool with clear skies, winter rain can dampen your spirits, especially if you have kids who love being outdoors.
Make planning easier by using your favourite weather app to predict the rainy days during the winter months. Here are some great ideas for spending a rainy day in Byron Bay:
Top Rainy Day Activity Options in Byron Bay
Why Is Byron Bay Great in Winter?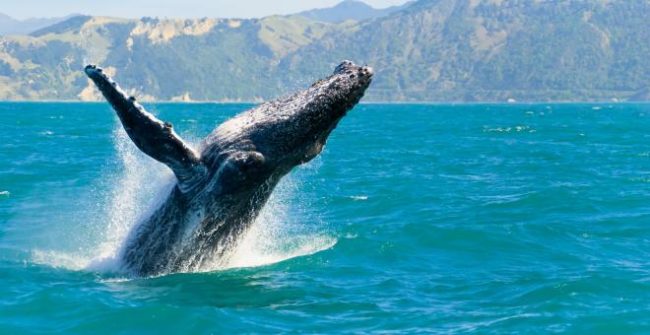 Byron Bay is great all year round, but there are some perks to the winter season that you can't find during the peak summer holiday months. Here are our top reasons why you should spend your winter in Byron Bay.
1. Less crowds
Ask any Byron Bay local, and they will most likely choose the winter months over summer any day. Sure, the summer months are perfect for swimming, surfing and camping, but you can still do all this and more during the winter – without the crowds! Most holidaymakers arrive in Byron Bay for the warm summer weather and often venture elsewhere when the temperatures drop.
If you've been eyeing a particular spot on the beach, a trail through the rainforest or a campsite for a weekend, only to find them too crowded in summer, why not go for it during the winter months? You might just have your favourite places in Byron Bay all to yourself.
2. Whale watching season
Winter in Byron Bay is also the perfect time for whale watching. The magnificent humpback whales give quite a show when they come to feed along the Byron Bay coastline between May and June, all the way through to November. You can find whale watching tours that last two or three hours, which take you to lovely viewing spots like the famous Byron Bay Lighthouse or the Captain Cook Lookout. Find out more in our whale watching guide!
3. Spectacular waterfalls
Venture off the beaches and into Byron's hinterland to discover breathtaking waterfalls hidden in lush rainforests. Minyon Falls and Protesters Falls in Nightcap National Park are a favourite for many winter holidaymakers. Set in walking tracks that weave through forests and creeks, these falls are simply stunning.
Be on the lookout for birds and animals, some of which are endangered species, such as Fleay's barred frog. As a precaution, the weather in rainforest ecosystems is unpredictable throughout the year, so gear up with sturdy shoes, raincoats, and a waterproof camera and binoculars.
4. Seasonal markets
From fresh, seasonal produce to handmade jewellery, thrift clothing to household products, Byron Bay markets are always a treat for the weekends. These markets are a great way to support the local Byron Bay community, enjoy great food and live music, and get the family outdoors on a winter day.
The main Byron Bay market takes place on the first Sunday of every month, while the Bryon Flea Market opens on the second Saturday of every month. Always include a stop by these markets as part of your family day out in Byron Bay, not only to pick up your supplies but to meet the lovely people of Byron Bay.
Can You Swim in Byron Bay in Winter?
You can absolutely go swimming and surfing in Byron Bay in the winter, but we recommend wearing a wetsuit instead of your summer swimsuit. The water certainly will be chilly, but by midday, the sun will be hot enough to warm yourself on the beach.
The most kid-friendly spot would be Clarkes Beach which has shallow tidal pools that are perfect for learning how to swim. Check out Broken Head Beach as well for the protected rock pools that your kids will love.
Of course, there are many temperature-controlled indoor swimming pools and saunas that you can visit as an alternative to the Byron Bay beaches in the winter. Check out Azabu Day Spa for a relaxing treat on a winter day in Byron Bay.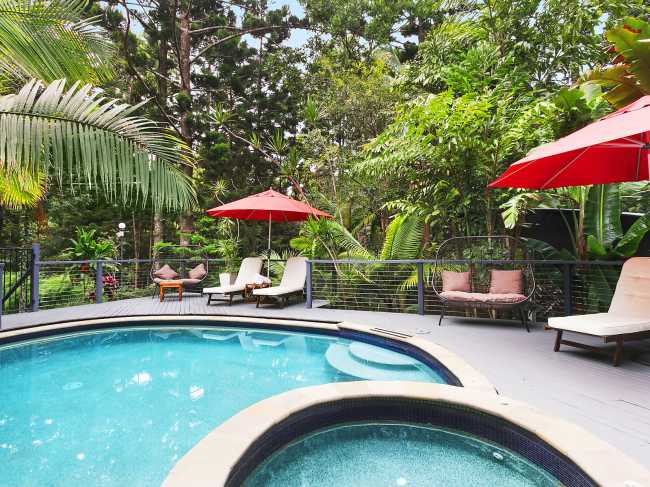 What Is There to Do in Byron Bay in Winter?
Don't let the thought of winter put you off from your Byron Bay holiday. In fact, you may be pretty surprised by just how many activities are you can do in Byron Bay, many of which are outdoors and very family-friendly. We recommend these activities for you and your family during the winter in Byron Bay:
1. Go for nature walks
For an easygoing time outdoors in the winter, there are plenty of nature walks in Byron Bay that weave through the rainforest canopies and end up at the beach. The Cape Byron Lighthouse walk is always a winner throughout the year, and if you can make it at dawn, you will be among the first people in all of Australia to see that sunrise.
The Three Sisters Walking Track is another favourite especially during the whale watching season in the winter. The gentle path opens to unbeatable vantage points to see the migratory whales in action. Minyon Falls and Protesters Falls are also excellent during the winter if you're up for a more challenging outdoor hiking adventure.
2. See Byron Bay from the sky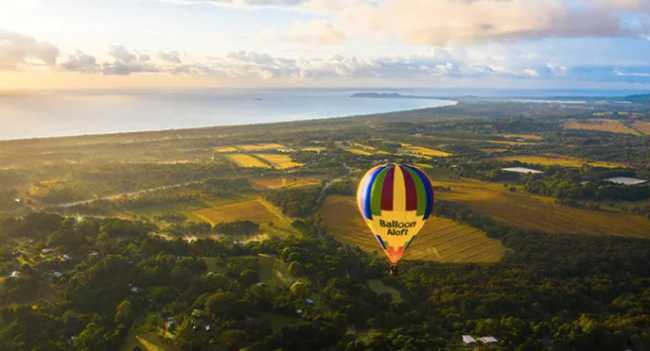 Hot air ballooning at sunrise over Byron Bay is an unforgettable experience. A peaceful balloon ride overlooking the beautiful coastline will undoubtedly make you appreciate the beaches and rainforests all the more. This activity is perfectly safe for kids too, but check with your hot air ballooning company for their specific age restrictions.
The general guideline is that kids over the age of 10, or taller than 4 feet (which is the height of the balloon basket), are okay for hot air balloon rides. Do prepare your kids for the experience, including safety precautions, burner noises, and the duration of your flight.
3. Yoga for young and old
When we think of yoga, we often see it as an adult activity to help us get in shape, relax and calm our minds. But did you know that kids could need yoga as much as grownups? It offers the same health benefits as adults, but kids' yoga is tons of fun.
The Byron Yoga Centre offers kids' yoga classes filled with colour, music, games, stories and funny props to make their practice a joyous affair. At the Byron Yoga Centre, classes divisions are according to your age and health. So, you can introduce yoga to your kids during your winter holidays in Byron Bay.
4. Visit local towns
Small towns like Bangalow, Brunswick Heads and Mullumbimby are just a 10 or 15-minute drive from Broken Head Holiday Park. On a cool winter day, Bangalow presents opportunities to learn about local history, explore the wetlands near the main park, and settle down to a lovely cup of tea and scones at the Heritage Tea Rooms.
If you're in the mood for fishing, head to Brunswick Heads, or if you'd like to explore an interesting little town, go to Mullumbimby in the north. There is always something fun to discover in almost every direction from Byron Bay, so venture out for some family day trips during the winter.
5. Fantastic family restaurants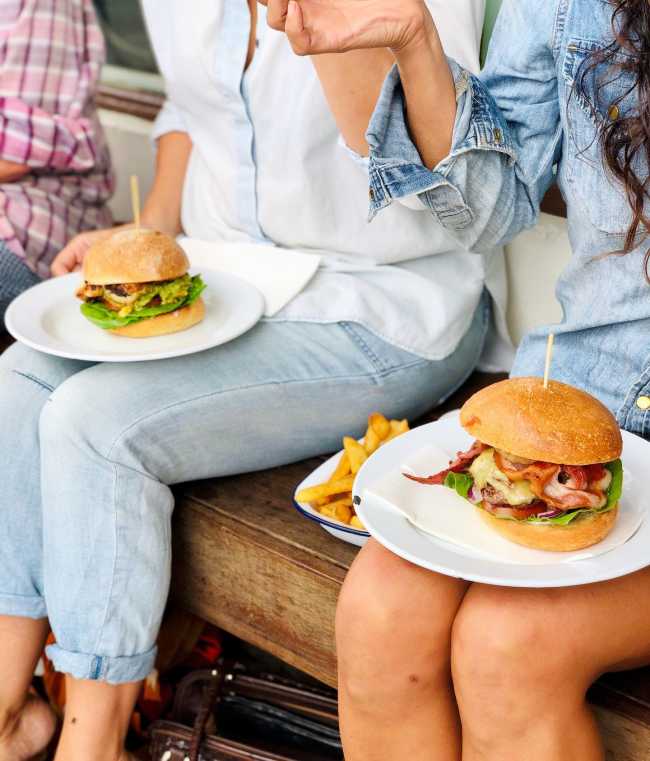 Even a rainy winter day should not keep you away from all the great eating experiences that Byron Bay restaurants can offer. The Farm Byron Bay, for example, is the perfect place for kids to roam and play to their heart's content and tuck into delicious, wholesome food. There's a café, bakery and gelato shop at The Farm, plus lots of opportunities for the kids to meet the farm animals and learn about growing healthy food.
If your kids love to eat with their fingers, Old Maids has excellent gourmet burgers and sides in kid sizes and plenty of napkins to clean up the mess! However, should you prefer to stay indoors, order some authentic Mexican tacos from Chihuahua Taqueria. Better still, head out to the beach, order some great food from the beachfront eateries and enjoy a picnic on the sand.
These are just the top 5 picks for winter activities in Byron Bay, but there are plenty more in the link below:
11 of the Best Byron Bay Winter Activities
What Can My Kids Do for The Winter School Holidays in Byron Bay?
The short answer: LOTS! Byron Bay has so many fun activities for kids all year round that you could plan an activity for every single day of your holiday. Here are our top picks of winter school holiday activities in Byron Bay:
Circus Arts Byron Bay
Circus Arts is a 1,200 square metre indoor facility that features a flying trapeze 10 metres high, indoor rock climbing, a children's play area, and circus programmes for kids of all ages. It is open every day except Sundays, and you can certainly spend an entire winter day enjoying the thrills and entertainments at Circus Arts.
Crystal Castle and Shambala Gardens
The Crystal Castle and Shambhala Gardens are a sanctuary of ancient crystals, giant statues and gorgeous gardens. It is simply a magical place to explore all year round, where you can stand underneath the massive amethyst Crystal Guardians, sit inside the Dragon's Egg, wander around the labyrinth, and watch your kids romp all over the playground in the garden.
Brunswick Fairy Trail
Every year in July, the Brunswick Fairy Trail gives everyone a chance to hunt for winter fairies on the day of Winter Night Fairy Lights. Just dress warmly, bring a torch, and follow the clue sheet available on their website to find all the fairy houses in the village. The fairy houses are all unique sculptures made out of recycled and found objects, each hidden away just so that spotting them is a complete delight.
Belongil Creek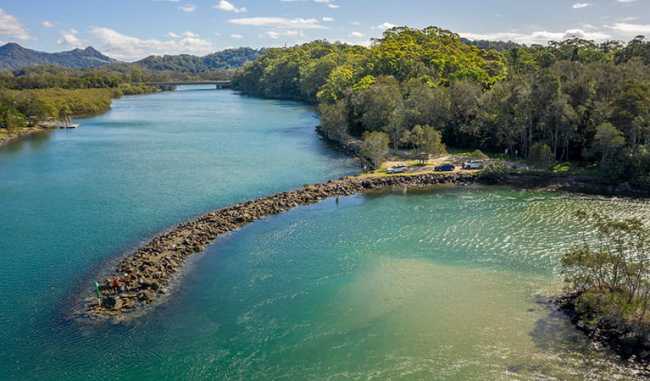 Grab your binoculars and head to Belongil Creek for a day of swimming, birdwatching, and animal spotting. Belongil Creek is an estuary where salty seawater meets freshwater, which makes it rich with biodiversity.
See if you can spot egrets, cormorants, ospreys, terns and bitterns, or relax on the white sand for a picnic. However, fishing is not allowed because estuaries are protected zones that feature some endangered species.
Zephyr Horses Byron Bay
One great way to experience Byron Bay beaches is on horseback. Zephyr Horses Byron Bay is a coastal horse ranch that offers enjoyable horseback tours from the forest to the ocean.
Whether you're an experienced rider or simply love horses, the Zephyr ranch horses are very well cared for and friendly for kids and grownups. If your loved ones have birthdays or special anniversaries coming up, you can book a horseback ride for them to enjoy on the beach too.
Stay at Broken Head Holiday Park this and every winter
There are plenty more winter Byron Bay activities to explore, all you need is to book your spot at Broken Head Holiday Park and bring an open mind. Our excellent facilities are within reach of all these locations, so you can enjoy great prices on your winter accommodation while going out for some incredible Byron Bay adventures during your holidays. Check out our special deals for even more savings. Bring your whole family to Broken Head Holiday Park this winter!