14 Reasons to Go Caravanning With Kids

If you are yearning for a camping trip in nature but a little wary of bringing the children along, caravanning might be the perfect option! There are many pros when it comes to caravanning with children, but overall, it just makes for a fun, flexible, memorable holiday for the entire family.
Whether you're looking to have an adventure with toddlers or teens, here are a few reasons why caravanning with kids is such a great option.
1. It provides flexibility and control over your trip
When you're traveling with children, flexibility is one of the greatest perks you can have! Because your lodging is portable, you're able to have an adventure that's more go-with-the-flow.
Perhaps you had a few hikes on your itinerary one day, but a little one isn't feeling well. Not to worry, they can chill out and have a relaxing day in the caravan. Or maybe the weather is poor, a caravan drop down table makes an excellent sturdy base for a family board game.
2. You can bring more luggage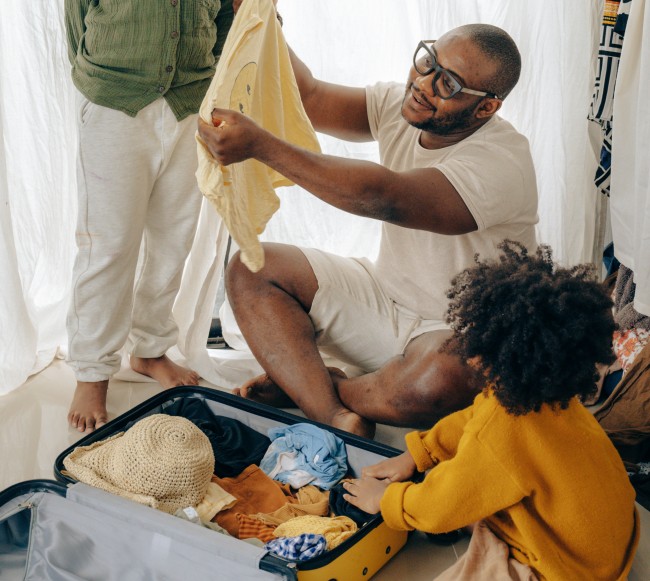 Children, especially small children, often require much more luggage than adults. Between bottles, travel cots, extra clothing, toys, etc. it can be overwhelming to try and keep all their luggage to a minimum.
Caravanning will give you a lot more storage space for your luggage than you'd have in a regular family camping tent. Normally, there's built-in storage inside the cabin of the caravan, as well as a storage drawer outside.
It's also important to note that you won't have to pack and repack every time you want to move locations. All of your items stay with you on the go!
3. Caravans are more comfortable than tents
Even if you've invested in the best-of-the-best when it comes to sleeping equipment for camping, it can still be a bit uncomfortable. Sleeping on the ground in a sleeping bag or on a mat or cot doesn't exactly match the comfort of an actual mattress. And if your child is a light sleeper, this can pose an issue.
Plus, in a tent there are a few things that are out of your control, like the temperature, sounds from surrounding campgrounds, wildlife and insects.
In a caravan, you'll have a little more control over your sleeping environment. Many come with heat and air conditioning, and you'll be able to shut the door of your caravan for a quieter sleeping arrangement. Not to mention, you can wake up to a working coffee maker! Which leads us into our next point.
4. Caravan kitchens make cooking a breeze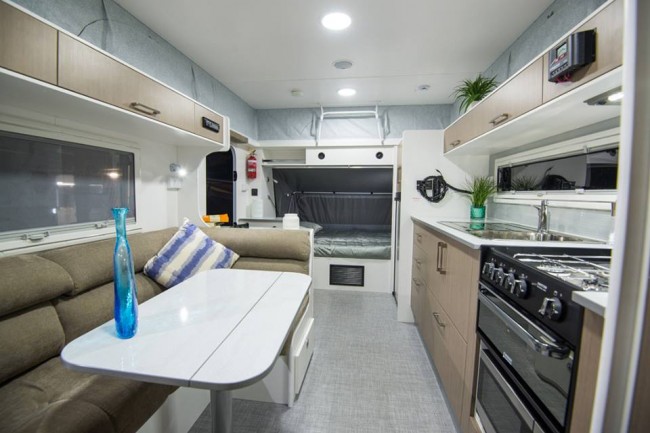 Image Source: Australian Caravan RV
Making delicious food is one of the best parts of camping! And if you have a caravan during your adventure, it can definitely make things easier. Many caravans come with amenities like pots, pans, utensils, microwaves, stoves, and even dishwashers. If you have young children, this can be especially appealing for preparing bottles, etc.
Not only will you save money on going out to eat, but you'll also have meals and snacks on hand for hungry children. After all, a child with a full tummy is ready to take on the world!
5. Caravans are better equipped to meet childrens' needs
Having a full kitchen is a nice perk, of course. But so are the other facilities included with a caravan. Caravans have a dedicated indoor toilet and shower to make bathroom trips a little easier than having to run your child out into the bush or toilet block. And after a day of adventure outside, a nice warm shower feels good for all members of the family.
Many caravans also include a washing machine for clothing, which can be a lifesaver if you are taking babies or toddlers along for the ride. You won't have to pack quite as many clothes or emergency outfits!
6. Everyone will get more sleep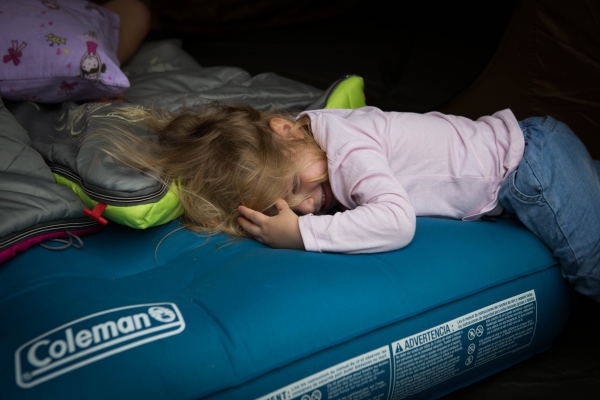 Feeling nervous that your partner's snoring might keep the children up all night if you're camping together in a tent? We know. Nothing can ruin a camping trip quite like being exhausted. However, caravans offer separate private rooms for family members to use for sleeping, and this can help everyone get a better night's rest!
And speaking of everyone getting more sleep in a caravan, that's actually not just limited to your own family as you'll see in our next point!
7. It's more courteous if you have early risers (or night owls!)
It's a common campground courtesy to keep quiet hours between around 10pm and 7am.
But it's not unusual for children to wake up earlier during a tent camping trip. The sun peeks in through the sheer walls, birds begin chirping and the excitement of the day sets in. However, it's a little easier to help everyone sleep in a caravan. You can keep it darker and quieter. And best of all, you won't be stressed out at 5am trying to keep your little camper quiet if they wake up and disturb other campers!
On the flip side, if you have older children who like to stay up later in the night, they will have somewhere to hang out other than just outside a tent, which will help not to disturb any of your campsite neighbours!
8. Caravanning builds confidence and problem-solving skills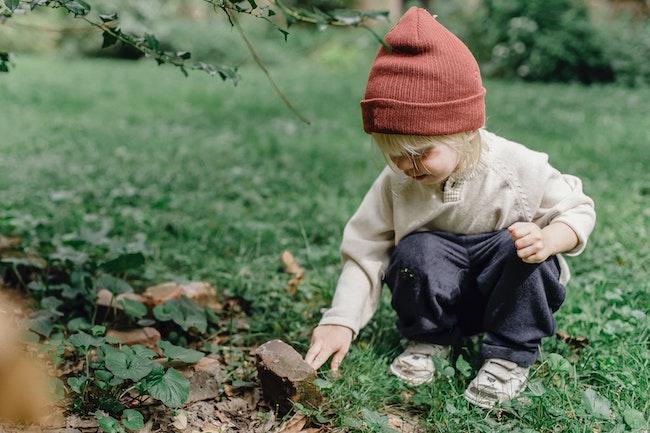 Image Source: Pexels

Being in nature is a wonderful learning opportunity for children. They use skills they wouldn't otherwise need in their daily life. Giving children this freedom to explore nature builds confidence and helps them to be more at ease in new places and with new experiences.
Learning how to be away from all the comforts of home and still have an amazing time is a lesson that will stick with them for a lifetime!
If you're a parent who enjoys hiking, birdwatching, or just generally being outside, caravanning helps you share that passion with your kids in a safe, comfortable way.
9 . You get to spend quality time with each other
While this point is true of both camping and caravanning, it's definitely important to mention! For parents of young children, caravanning gives you an opportunity to truly disconnect, leave worries behind and focus on having fun and building memories with your children.
If you have older children or teens, it can sometimes convince them to spend quality time with you! However, caravanning is a fun activity that everyone can enjoy together. And because you can be out in nature with no internet or distractions, it's a great time for everyone to simply enjoy each other's presence and conversation.
10. Caravanning saves money so you can spend it on other activities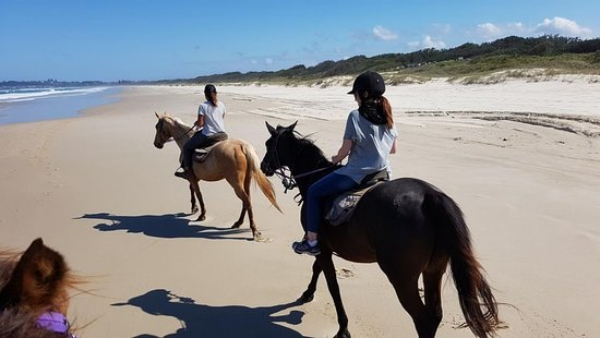 Staying at a hotel can be quite expensive. Between a place to sleep, eating out, and perhaps renting a vehicle, the costs can add up quickly, especially for an entire family.
This is another perk of caravanning! Caravanning gives you lodging, the ability to cook and transportation all-in-one!
Caravanning gives you plenty of extra money to spend on activities at your destinations. You'll need to find a place to park your caravan at night as well, however you can usually find very budget-friendly campsites.
11. Meet other like-minded parents
Parenting takes a village! And meeting other like-minded parents on your caravanning adventures can be quite a treat.
You might share interests like wanting your children to grow up with a love of nature or simply enjoying camping, and your children might meet a playmate or two! Don't be afraid to introduce yourself to campsite neighbours and be courteous to those around you. Who knows? You may make some lifelong new friends!
12. See more of your destination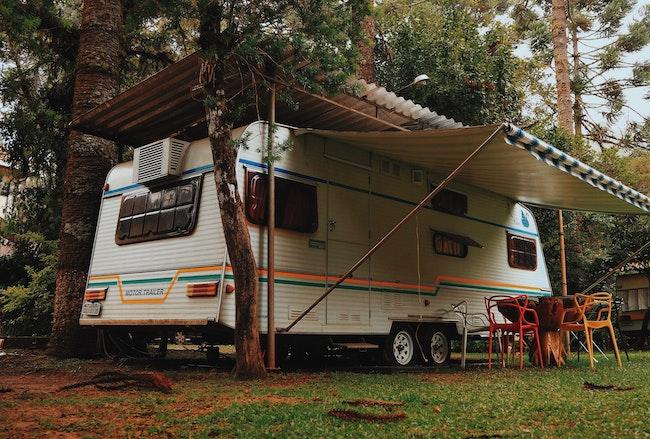 Image Source: Pexels
Having a home on wheels gives you a lot of freedom.
If you would like to explore different areas of the Byron Bay region, caravanning is a perfect option! Part of the holiday will be the travel, as you won't be stuck in a small car going from place to place! With caravanning, you can see much more of a particular destination than you may have been able to see from a single stationary campsite. Plus, you can feed kids snacks and they can take a nap more easily!
13. It's a healthy alternative to other types of holidays
Camping (even caravan camping) promotes a healthy lifestyle. Caravanning promotes being active and being out and about in nature, with the health benefits ranging from getting natural exercise to lowering stress — not just for adults either, for kids as well! It can sure beat a holiday spent lying on the beach and eating at restaurants!
The majority of children today do not get the daily recommended amount of activity. But being outside promotes such activity and can have great physical and mental benefits for the entire family. Not to mention it can give everyone a refreshing break from screen-time.
14. Simply because the entire family will love it!
There is something so fun and freeing about a caravan camping holiday! It's just you and the people you love most, out on the open road, exploring new places and making new memories together. And really, is there anything better than that?
Planning a caravanning trip with kids or extended family? Check out Broken Head Holiday Park!
If you're looking for a place to park your caravan at night where everyone in the family can enjoy a nice evening, it's tough to beat Broken Head Holiday Park near Byron Bay. With stunning beaches within walking distance, incredible hiking just a few minutes away, the area offers activities for every taste and lifestyle. Drive your caravan along our stunning coast and check out the views. Or pull over and do some whale watching!
Our beachfront campsites are tucked away from the hustle and bustle of Byron Bay. Close enough to the action, but far enough away to enjoy some unparalleled serenity. And our campsite facilities are some of the best (complete with ice-creams and confectionary for the kids!)
We offer both powered and unpowered campsites, so give us a call. We will no doubt have an option to suit your group!
So, spend your next caravan camping trip at Broken Head Holiday Park. We hope to see you soon!