20 Easy Camping Recipes To Please Picky Eaters

Don't resort to vegemite sandwiches or soup out of a can when you go camping with the family. Even if you have fussy eaters, these fun and easy camping recipes are sure to please even the pickiest palate! We searched the internet and rounded up 20 camping recipes that are kid tested and approved.
Plus, don't overlook the fact that cooking during a camping holiday can be a great time for your children to learn about cooking and turn meals into fun camping activities for kids.
So, trust us, stock up on the following supplies before you head out on your next camping holiday and enjoy some delicious meals and treats for the whole family.
1. Jaffle Iron Pizza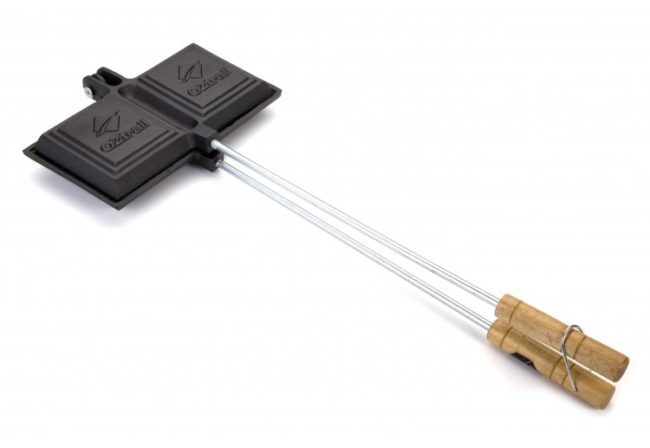 This camping recipe is sure to be a favourite! Plus, it's an easy camping recipe for kids that they will likely request more than once. So stock up and feed your crew!
Equipment:
1 jaffle iron
Method:
1. Heavily butter one side of each piece of bread.
For biscuit dough and pizza crust dough – heavily butter the jaffle iron instead
Biscuit dough: mash and pull the dough until it is flattened out to fit the inside of the jaffle iron – 1 biscuit for each side
Pizza crust: butter the jaffle iron, lay the dough inside one half of the iron, with an equal portion hanging over, then fold the back over the toppings before closing iron
2. Generously spread pizza sauce on one side of bread/biscuit/dough – to suit your taste. Then add shredded cheese and toppings, if used.
3. Spread more pizza sauce on the other piece of bread/biscuit, or flap of pizza crust. Season with oregano and garlic salt, then close jaffle iron. (For pizza crust – fold flap in, over cheese and toppings first.)
4. Trim off any excess ingredients when iron is closed.
5. Cook on the BBQ.
For bread pizza: after three minutes, rotate pie iron and cook for four more minutes
For biscuit and pizza dough: rotate after four minutes, and cook for five more minutes
Approx. times – use judgement – jaffle irons can be closed and re-cooked if you want more them more well-done, but essentially you are just toasting the crust and melting the cheese
6. Open the irons and use a spatula to remove pizza. CAUTION! Jaffle irons will be very hot. AND, the insides of the just-cooked pizza will be very hot! Do not let young kids try to handle them until they have time to cool – which should only be a few minutes.
Note: Olive oil or pan sprays can be used instead of butter/margarine.
From: Campingwithgus.com
2. Australian Damper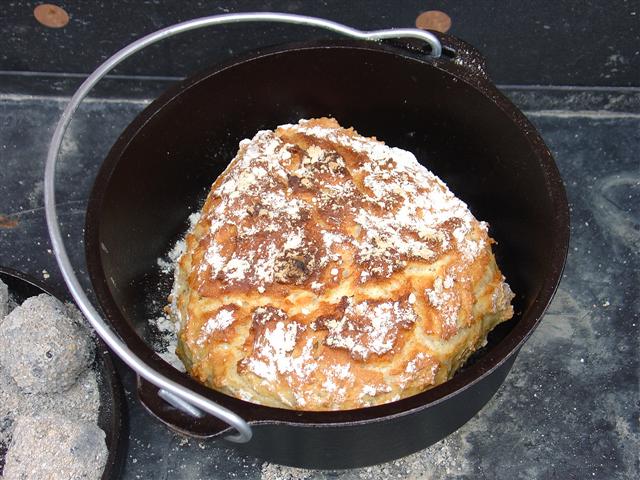 Imagine warm bread with some butter and jam … or perhaps even syrup on it. Perfect for breakfast at the camp or perhaps an evening treat!
You'll need:
450 grams flour, self-raising
¼ teaspoon salt
180 ml milk (if too dry, add a bit more)
1 teaspoon sugar, caster
80 grams butter, chilled
(extra flour, if needed)
Method:
1. Mix the flour, salt and sugar together into a bowl.
2. Rub the butter into the flour with your fingertips until it looks like fine breadcrumbs.
3. Add milk slowly and mix to form a soft dough.
4. Knead lightly on a floured board until smooth. Shape into a round loaf, brush with milk and cut a cross in the top surface of the dough.
5. Grease tin foil and dust with flour. Add bread dough and wrap it.
6. Place in the coals of the BBQ and let it bake for about 30 minutes.
Note: To test if it's done, tap on the loaf and it should sound hollow. Cut into moderately thick slices and serve while still warm. Top with butter, golden syrup or your favourite jam.
Variations: You can add a variety of ingredients to damper for a different flavour. For example, add desiccated coconut, cinnamon, sultanas and extra sugar for a sweeter damper.
From: Alldownunder.com
3. Frankfurters in a Damper
Camping and frankfurts go hand in hand, but this twist on it makes it even better. The kids are sure to enjoy this easy camping recipe!
Equipment:
6 paddle pop sticks
You'll need:
2 cups self-raising flour
30 grams butter, chopped
3/4 cup buttermilk
6 frankfurters
1 egg, lightly beaten
tomato sauce, to serve
Method:
1. Sift flour into a bowl. Using fingertips, rub butter into flour until mixture resembles breadcrumbs. Make a well in the centre. Add buttermilk. Using a flat-bladed knife, stir until mixture forms a soft dough, adding more buttermilk if necessary. Turn out onto a lightly floured surface. Knead gently until smooth (don't over-knead).
2. Divide dough into 6 equal portions. Roll 1 portion out to a 10cm x 16cm rectangle. Push 1 paddle pop stick into the end of each frankfurt. Place frankfurt in the centre of dough. Roll dough up to enclose frankfurt. Repeat with remaining dough, paddle pop sticks and frankfurts.
3. Place a large, greased cast iron pot over high heat until hot. Brush dough with egg. Carefully place in pot. Cover with lid. Reduce heat to low. Cook, turning occasionally for 15 minutes or until golden all over. Carefully remove from pot. Serve with tomato sauce.
From: Taste.com.au
4. Campfire Nachos
Yum! Who doesn't enjoy some good nachos, especially after a long day of swimming or surfing at Byron Bay's excellent beaches?
You'll need:
1 bag corn chips
1 x 400 gram can refried beans
1 x jar black olives
225 grams cheddar cheese, grated
2 tomatoes
1/2 onion, diced
1 x 225 gram jar salsa
1 x 400 gram can sweet corn
1 x 100 gram jar jalapenos (depending on kids tastes might need to leave out!)
Method:

1. Utilising one of the Broken Head BBQs, place a layer of chips in the bottom of the cast iron pan, and top them with half of the: beans, olives, cheese, tomatoes, onion, salsa, corn, and jalapenos.
2. Place a second layer of chips on top of the other ingredients, and then top these chips with the remaining ingredients, finishing with the cheese on top.
3. Cover the top of the pan with a sheet of foil, and carefully place the pan on top of the grate or rocks.
4. Let nachos cook, maintaining the hot coals for 10-15 minutes or until the cheese is melted. Move the pan to a heatproof location and allow nachos to cool for a few minutes.
From: Phoo-d
5. Camp Foil Fries
Liberally coat foil and lightly cover pre-cut potatoes with non-stick spray. Place the food in the center of a large piece of foil, and sprinkle with seasoning of your choice. Close foil then roast the spuds in the BBQ or on a camp stove for 45 minutes.
From: Australian Caravan Co.

6. Eggs in Jail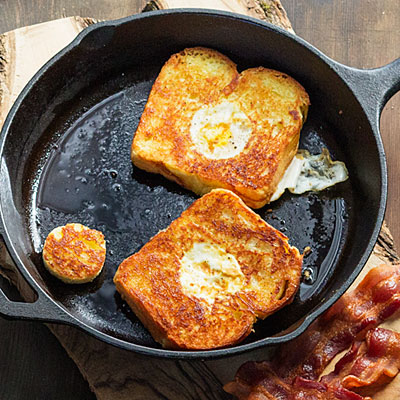 This easy camping recipe not only has a fun name, but also adds some fun to breakfast as kids cut open the bread. You can cook this on a BBQ hot plate.
You'll need: 
thickly sliced bread (brioche bread works well)
eggs
butter
Method:
Butter the bread slices, both sides.
Cut a hole in the middle of the bread that can accommodate a cracked egg, about 10cm.
In a greased frypan, which is already hot and sizzling, place the bread.
Put another knob of butter in the hole in the middle of the bread, and then crack 1 egg into the hole.
Cook, until the bread, is golden on the bottom, and then CAREFULLY, using a wide spatula, flip egg/bread combo and brown the other side of the bread.
Cook your eggs on each depending on how you like them. Season according to your taste.
From: Go Camping Australia Blog
7. Hobo Stew
This super easy camping recipe doesn't create a big mess of pans, but rather you can cook it wrapped up in tin foil. Who doesn't love fewer dishes? This one can be done on the BBQ or if you brought a camp stove, then you can use a skillet and cook these individual dinners in it.
You'll need:
Heavy-duty aluminum foil
Dry soup mix (like Maggie's or Continental) – use one packet per pound of mince meat
Hamburger mince (or diced chicken, or beef cubes)
Diced or sliced potatoes (frozen work great!)
Frozen peas and frozen corn
Butter or margarine
Salt and pepper
Divide all the ingredients into the following per camper:
100 grams hamburger mince
1 cup frozen diced potatoes
1/3 cup frozen peas
1/3 cup frozen corn
1 – 2 tbsp margarine or butter
Salt and pepper to taste
Set each meal wrapped in foil right in the coals on the grill or in the skillet if you are using a camp stove. Cook for approximately 30 minutes. Let them set for 2-3 minutes after taking them off the coals to avoid steam burns.
From: Campingwithgus
8. Bean Soup
If you're looking for camping food that is easy on the budget, check out this meal. It cooks up quickly to feed a hungry family after a busy day of being a tourist in Byron Bay.
You'll need:
A can of three bean mix / white beans / kidney beans
A tin of diced tomatoes
Approx. 2 cups of water / stock
Optional extras:
Onion and garlic
Dried oregano
Couscous / risoni
Leftover mince or sausage
Carrots or other veges, diced
Note: While you're cooking, you can decide to add more or less water depending on how thick you like your soup.
Method:
1. In a large pot, fry onion and garlic in a little olive oil for a minute until soft (if using).
2. Add tomatoes, beans (including liquid) and water/stock.
3. Add oregano, meat and veges (if using).
4. Stir over a medium heat until it reaches the boil. Then, add risoni and extra water if using.
5. Turn heat to low and simmer for about 10-15 minutes.
6. Add couscous if using, and allow to rest for 2 minutes before serving.
From: Trip Around Oz
9. Walking Tacos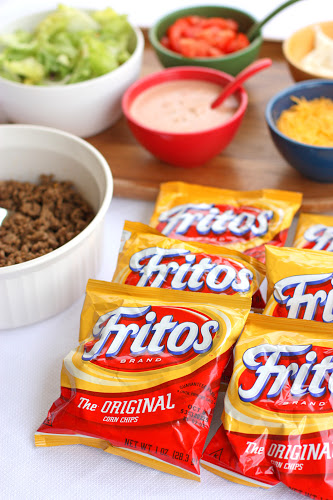 What kid doesn't love tacos? Plus, with this camping recipe for kids, they get to eat it out of a chip bag! You can prep some of this meal at home and bring it with you for an easy meal at the campsite. Or you can cook on the BBQ if that's easier.
You'll need:
500 grms ground beef or chicken
½ cup diced onion
1 (1 ounce) taco seasoning packet
6-8 snack sized bags of Fritos or DoritosSuggested Toppings:
black beans
lettuce
tomato
shredded cheese
sour cream
ranch/salsa mixture (1:1 ratio prepared ranch dressing and your favourite salsa)
Method
Brown beef or turkey and drain the fat.
Add the onion to the meat and sautee a couple of minutes until soft.
Add the taco seasoning along with ½ cup of water and simmer until water is absorbed.
If serving immediately pour in a bowl.
Crush your chips with your hands and open your bag.
Add whatever toppings you desire and eat with a fork as you walk around!
From: Girl Who Ate Everything
10. Orange Cake
This is a fun camping activity kids can help out with and it's also good to eat! A small orange cake cooked to perfection. The flavour of the orange combined with the cake mixture is delicious.
For a super easy chocolate cake mix you'll need:
1 cup self-raising flour, sifted
1/3 cup cocoa, sifted
1 cup  caster sugar
80 grams butter, softened
1/2 cup milk
2 eggs, lightly beaten
Method:
Grab an orange and cut the top off like a jack-o-lantern.
Eat all innards of the orange with a spoon and then place some cake mix inside, up to about half way.
Replace the lid and wrap the orange in foil. Place the package on a bed of coals in the BBQ for about 15 to 20 minutes. Unwrap, and enjoy!
From: Australian Caravan Co.
11. Fried Rice
This easy camping recipe can be changed up based on what you have in your supplies. It also can be doctored up so it can be mild if the kids don't like spice and add in the chili powder or flakes after you pull out their portions. It's always nice to have options for camping food, so you can please the whole family's taste buds.
You'll need:
1-1½ cups cooked rice
Eggs (one or more if you have them) or reconstituted dried eggs
½ tin of corn
Tinned champignons, drained and diced
Dehydrated peas
Fresh tomato, roughly diced OR ½ tin of tomatoes (whole), drained and coarsely chopped
1-2 tbsp soy sauce to taste
Onion and garlic
Dried chili powder or flakes, to taste
Optional extras
Some kind of extra protein, e.g. diced salami, dried shrimp, chicken, or beef
Your last carrot or other veges, diced
Method:
1. Rehydrate peas in a bowl of hot water for a few minutes.
2. In a wok or if the BBQ has a hot plate you can use that, fry egg(s) in a little oil until scrambled and cooked. Set aside.
3. Fry onion and garlic in wok until soft. Add veges and stir well. Add meat if using.
4. Add rice and soy sauce and stir thoroughly.
5. Cook until there is no liquid in wok, then stir through egg.
6. Serve with chili if desired.
12. One-pan Big Breakfast Omelette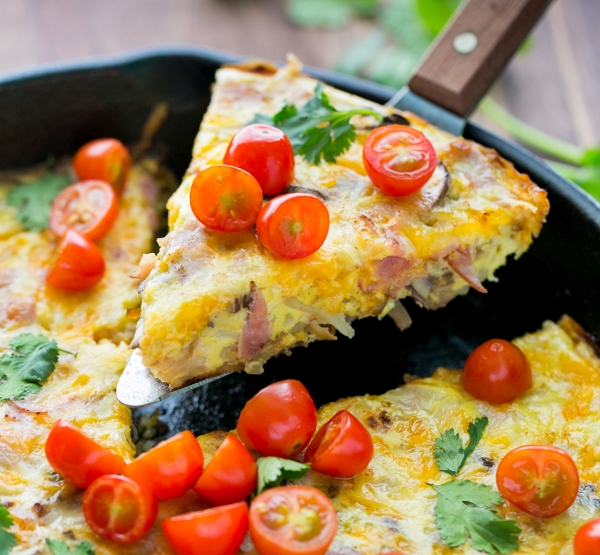 For a good, hearty breakfast that fills up everyone before a fun-filled day of exploring Byron Bay, check out this easy camping recipe for kids. Bonus: You'll love it too!
You'll need:
4 rashers of bacon, roughly chopped
A handful of mushrooms, chopped roughly
6 eggs beaten (salt and pepper to season)
Handful of cherry tomatoes cut in half
Generous handful of spinach
Grated cheese
Butter or oil.
Method:
1. Heat up a medium size fry pan with butter or oil.
2. Add bacon and cook until it begins to crisps (5-6 minutes).
3. Add the mushrooms and stir for a further 5 minutes.
4. Drain the excess liquid from the pan and make sure the mushroom and bacon is evenly spread.
5. Pour the eggs carefully so that they fill in the gaps between the ingredients.
6. Add the tomatoes and spinach.
7. Top with cheese.
8. Cut slices of the Big Breakfast Omelette straight from the pan and enjoy.
From: Turu.com.au
 13. Potato Boat Dinner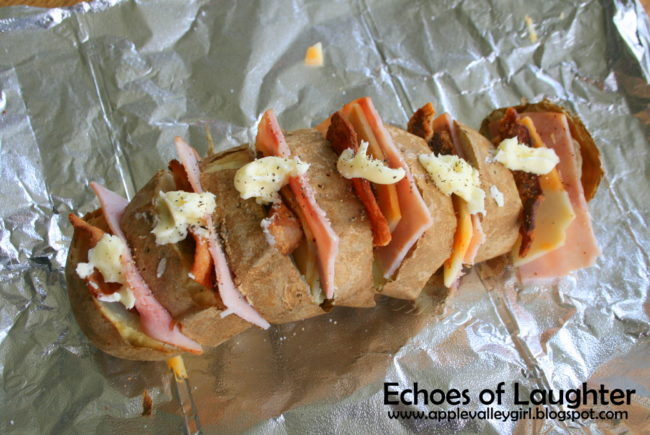 For this one, you might consider baking the potatoes at home before you leave to make your meal time even easier.
You'll need:
large potatoes, baked
sliced ham
cooked bacon slices
cheese slices
sour cream for topping
green onion for topping
Method:
1. Slice baked potatoes.
2. Between the cuts, stuff a slice of cheese, bacon and ham. Add small dabs of butter on top of each of the slices. Salt & pepper to taste.
3. Wrap potato in double layer of tin foil lightly sprayed with cooking spray. Place on a hot BBQ for 20+ minutes…until potato is hot and cheese, ham & bacon have melted together and it looks toasty and good!
4. Top the Potato Boat dinner with sour cream and green onion if you like.
5. The Potato Boat has so many possibilities … you could leave out the ham & bacon and just add cheese and broccoli, or chilli, or cooked taco meat.
14 . Camping Mac and Cheese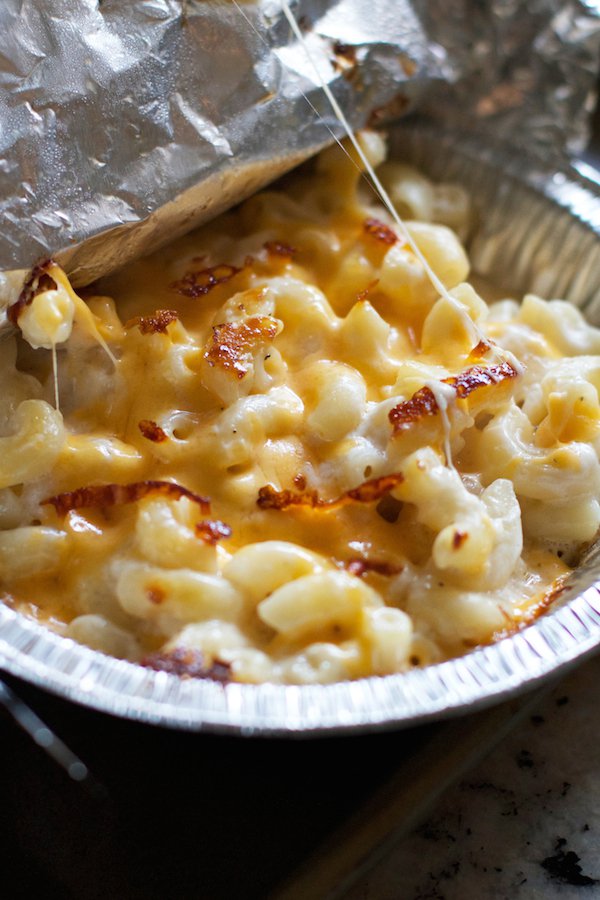 Mac and cheese is a favourite amongst most picky eaters so take it on the road with you for easy camping food during your holiday.
You'll need:
cooked elbow macaroni
store bought alfredo sauce
parmesan cheese
mozzarella cheese
cheddar cheese
half & half
salt & pepper
Cook pasta according to directions.
Once the pasta is done cooking, rinse it with cool water and drain well. Then stir in all of the ingredients and that's basically it.
You want to cool down your pasta so the cheese doesn't melt. The last thing you want is a glob of cheese in the middle of your dish.
Divide the mac and cheese in between mini aluminum pie tins. Top with more cheese. At this point, you can cover with aluminum foil and pack up for the cooler if you're making it ahead of time.
Once ready to cook, head over to the BBQ where you'll want to make sure to place on the grill so the tins aren't directly on your heat source.
Heat up the mac and cheese for 8-10 minutes or until hot and cheesy.
From: Lauren's Latest
15. Banana Boats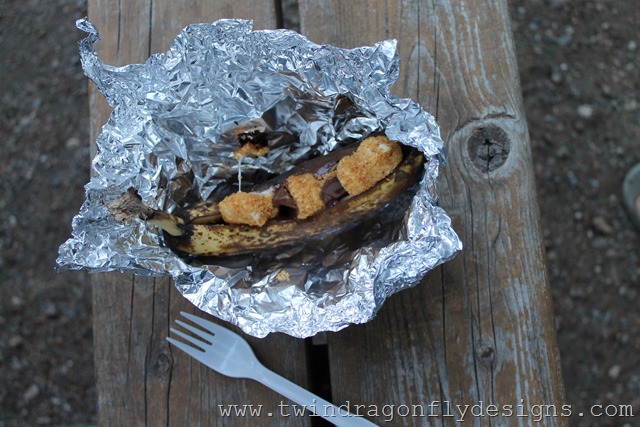 Let the kids join in to create this dessert! This easy camping recipe doubles as a great kids camping activity. Grab some bananas and get cooking.
The directions are literally this: Slice the banana nearly in half lengthwise. Stuff it full of chocolate and marshmallows, wrap it in tinfoil and throw it in the fire. That's it!
16. Grilled Breakfast Skillet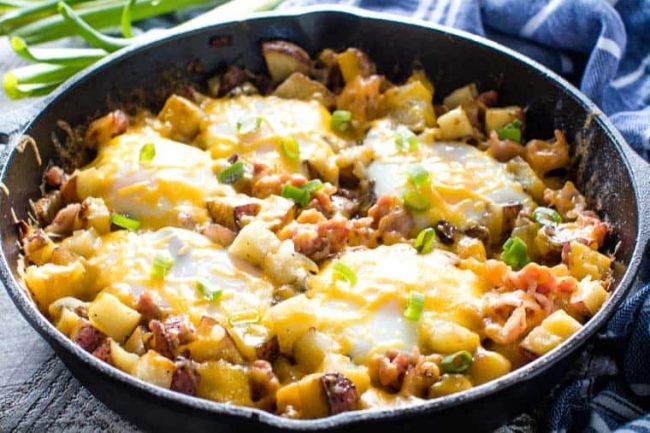 This breakfast classic will have everyone looking forward to waking up. Make it in an iron skillet on the grill for a perfect smoky flavour. 
You'll Need:
100 grms of sausages

1/4 cup of chopped capsicum

1/4 cup of chopped red onion

1/4 cup of chopped golden potatoes

1/4 cup of shredded sharp cheddar cheese

3 fresh eggs

3 tbsp of butter

Handful of chopped chives



Method:
Warm the grill and place your iron skillet on top 

Preheat skillet 2-3 minutes for cooking. Add country sausage to skillet and let brown.

Once sausage is browned, add chopped golden potatoes, onions & 2 tbsp of butter to cook for 8 minutes. Stir occasionally.

Add chopped red onion to the skillet and cook for another 2 minutes. As everything browns and cooks, add the last tbsp of butter and let it sizzle into skillet.

Prep skillet for eggs by flattening ingredients inside. Add eggs to the top of the skillet and let cook for 5 minutes. (Optional): Add a cover to your skillet if you do not like eggs sunny side up!

Top the skillet with cheese & chives and let melt.

Serve & enjoy!
From: GimmeSomeGrilling
17. Camping Cones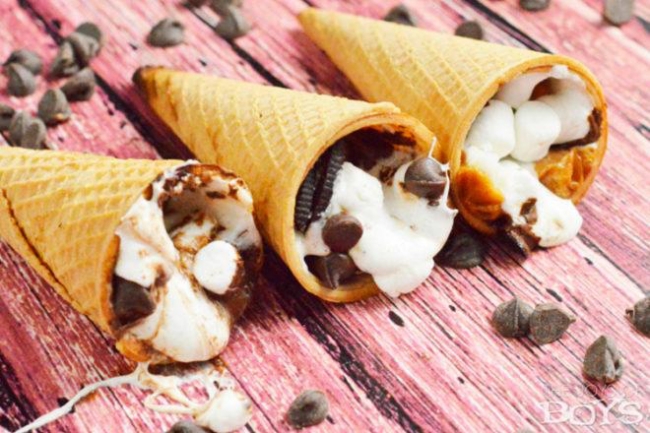 Camping is messy, and these camping cone desserts are no exception. The kids will love building these delicious treats, just be prepared for sticky hands!

You'll Need:
Ice cream cones or waffle cones

Aluminum foil

Marshmallows

Chocolate chips

Peanut butter or Nutella (optional but oh so good!)

Your favourite treats: (We used Oreo cookies, Andy's Mints, Cookie Dough Bites, Caramel Cremes and Wafer Cookies)

Favourite Fruits (Optional but strawberries and bananas are yummy!)
Method:

Begin by dropping a few chocolate chips (or whatever chocolate you have) into the bottom of the sugar cone. You could also spread peanut butter or Nutella around the inside of your cone.

Put a layer of marshmallows on top of the chocolate.

Then start stuffing your favourite treats or fruit in the cone.

Wrap the entire cone in aluminium foil.

Place on a grill for 2-3 minutes 

Rotate your cone half-way through the cooking to make sure the ingredients are all melted evenly. 

When unwrapping the cone, the items such as the marshmallows and the chocolate may have retained their shape. Don't let it fool you, it's probably melted! If not, just put it back on the grill for a few more minutes.

Enjoy all of the sticky goodness!
Adapted from: TheJoysofBoys
18. Dutch Oven Lasagna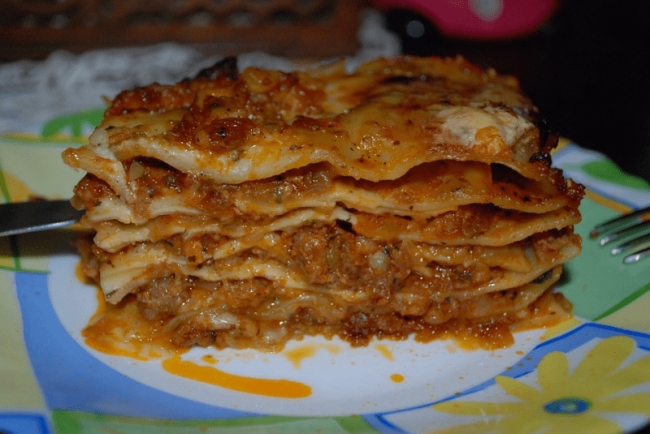 It's hard not to love lasagna, and making it over a grill just adds to the fun! Fill tummies and warm hearts with this simple, delicious recipe. 
You'll Need:
12" camp Dutch oven

Large mixing bowl

Medium mixing bowl

Heavy-duty aluminium foil

1kg lean ground beef

2 tsp. minced garlic

1 large onion, chopped

2 x cans of spaghetti sauce

½ tsp. salt

½ tsp ground black pepper

2 tsp Italian seasoning blend

2 x 400 grm tubs of ricotta cheese

2 eggs

1 box lasagna sheets, uncooked

6 cups mozzarella cheese
Method:
Preheat grill 

Brown beef, garlic and onion in Dutch oven. Then transfer to large bowl. Remove oven from heat.

Add spaghetti sauce, salt, black pepper and Italian seasoning to the beef-and-onion mix and stir well.

Mix ricotta cheese and eggs in medium-sized bowl and set aside.

Optional: Carefully line hot Dutch oven with aluminium foil. Leave about an inch and a half of extra lining protruding from top of oven.

Spread about a third of the beef mixture on the bottom of the oven. Add a layer of lasagna sheets, followed by about a third of the ricotta-egg mixture and a third of the mozzarella cheese.

Repeat this order two more times until all ingredients are layered, ending with a layer of mozzarella cheese.

Cook for about 45 minutes. Lasagna sheets should be thoroughly cooked. 
From: Scouting Magazine
19. Apple Pie Foil Packets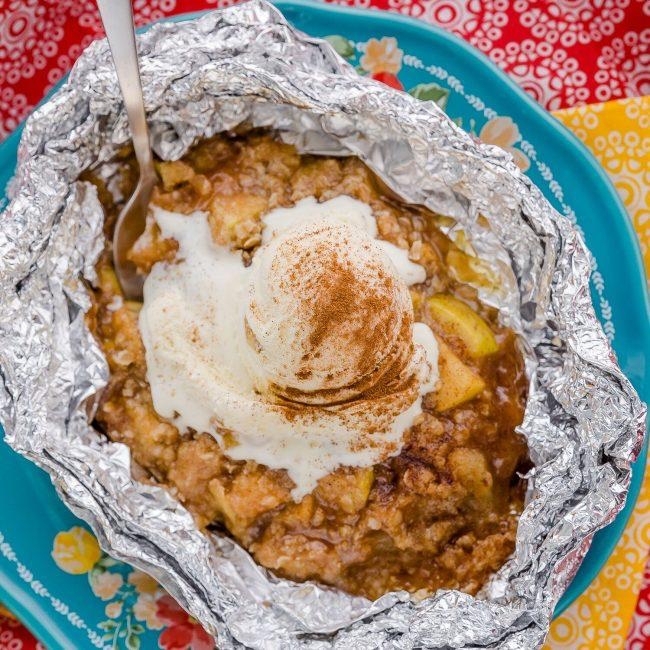 If the kids are looking for a tasty dessert, and you want give them a bit of fruit, this apple pie foil packet is the perfect compromise! 
You'll Need:
1 apple (sliced)

1 tablespoon of butter

1 ½ tablespoons of brown sugar

¼ teaspoon ground cinnamon

1 tablespoon of cranberries

Chopped nuts
Method: 
In a sheet of aluminium foil, place a sliced apple, 1 tablespoon of butter, 1 ½ tablespoons of brown sugar, ¼ teaspoon ground cinnamon, 1 tablespoon of cranberries and a sprinkling of chopped nuts.

Fold the aluminium foil over the ingredients so that all of the ingredients are enclosed in a packet of foil. Place the packet on the grill and let it cook for about 15 minutes, then remove from the flame and enjoy.
From: TheDryt
20. Dessert Pizza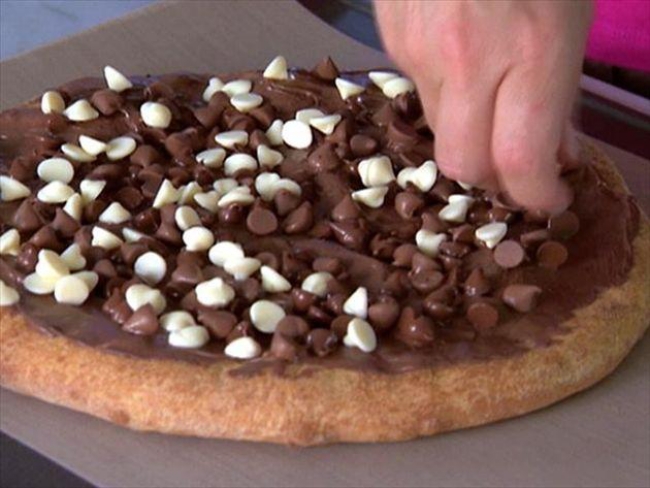 There are few things in life better than pizza, but this dessert pizza really takes the cake. Enjoy it a la mode for an extra special treat.

You'll Need:
1 ball of pizza dough

Nutella

Dessert toppings of your choice
Method:
Take a store-bought pizza dough and slather it in Nutella

Then, sprinkle your favourite sweet treats on top. 

Place your dessert pizza inside of a buttered cast iron skillet and allow it to cook over the grill until the crust is golden brown.
From: TheDryt
Book a Holiday at Broken Head Holiday Park & Try These Camping Recipes!

Take the opportunity to go on a fun camping holiday with the whole family that will keeps costs down and still allow you to partake in the nearby attractions. With close proximity to Bryon Bay and the surrounding shire, Broken Head Holiday Park has a good choice of accommodation options for families on a budget. We hope to see you soon!