10 Home Comforts to Take Camping & 10 to Leave Behind
When it comes to camping, packing light is a must. There are certain large items you simply have to bring— like a tent, chairs, sleeping bags etc. This means you really need to carefully consider what else you're going to bring, or you'll end up with a large heap of items that can make the process a bit unenjoyable!
Of course, there are some 'comfort' items you should include to make your experience as comfortable and enjoyable as possible. But there are also items you really can afford to leave at home.
Let's dive into which home comforts should make the list, and which should be left behind!
10 Home Comforts to Take Camping:
1. Simple toiletries that make you feel your best
While it's true you don't need to bring your entire beauty regimen with you on your camping trip, you should bring just a few items to help you feel your best! Simple makeup, lip balm, a hairbrush, etc. all are good items to bring to leave you feeling a bit fresher and more energised.
2. Your favourite pillow/blanket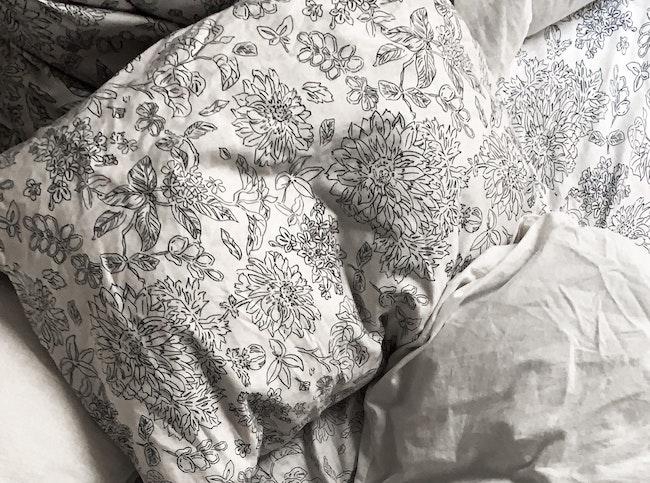 Image Source: Unsplash
When it comes to camping (especially tent camping), sleep can sometimes be hard to come by. Bringing just a few key items to make your slumber more comfortable is acceptable. For example, if you really can't sleep without your favourite pillow or blanket, just bring it along.
3. An emergency cell phone
All of your other electronic items can be forgotten, but we highly suggest bringing a charged cell phone for emergency use. You can always leave it off and stowed away if you want a digital detox.
4. Sunscreen and bug spray
Sunscreen and bug spray are two items you cannot forget to bring on your camping trip if you want to have an enjoyable (and pain-free) experience! If you can find all-natural products, that's great. But if you can't, just bring what you have— you'll likely need it!
5. A few useful utensils for eating and drinking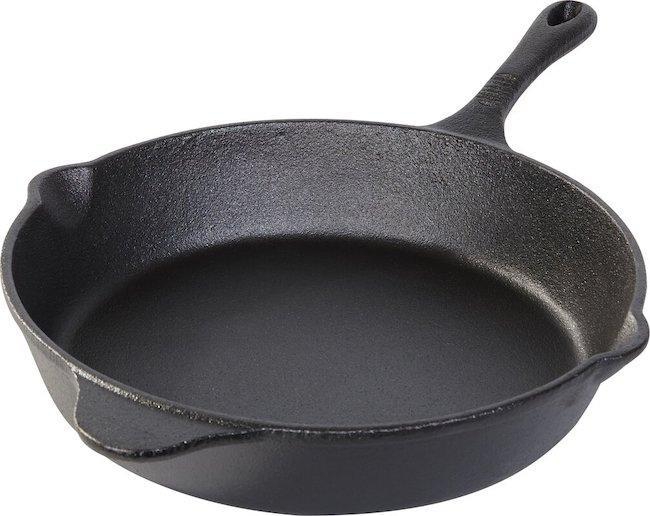 Image Source: Amazon
You'll likely be cooking during your camping trip, so you'll need to bring some essential cooking items. We'd suggest bringing a cast-iron pan or skillet, a few plastic plates and cups and some forks. Avoid bringing paper plates which can result in a lot of extra trash. Instead, bring dish soap to do a quick rinse of your items.
6. Comfy clothing
Camping is meant to be a relaxing experience! Bring outdoor clothing you'll need for your activities, but also comfy clothes you can lounge about in.
7. A cosy sleeping mat
A cosy sleeping mat can take the place of your air mattress. Normally, these are lighter to pack and still make for a comfy sleeping situation!
8. Good quality lighting
If you plan to read at night or want to have some ambiance lighting, bring along some string lights, flashlights or a solar-powered lamp. These things might also help if your kids require a night-light for sleep! Check out this post which has a hack for alternative lighting.
9. Essential spices from the pantry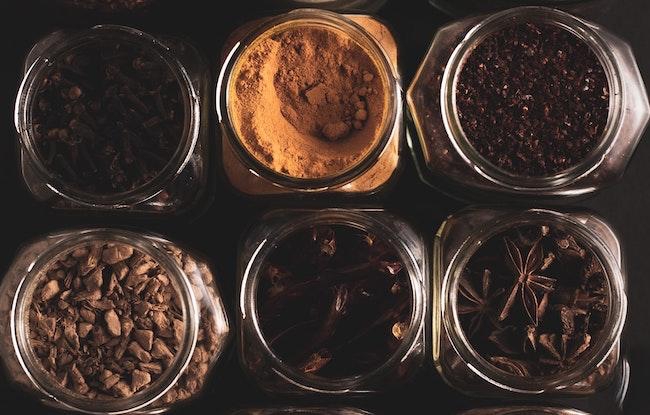 Image Source: Unsplash
Camping meals can be made even more delicious with just a few staple spices from your pantry! Bring along your salt, pepper, sugar, and any other spices you like to cook with often. Camping tip: put all of your spices in sealable containers or bags before you pack them for your trip. This will prevent any spills and keep your spices fresh. 
10. A few simple toys for the kids (if you're bringing them)
We know, we say no toys below. But depending on their age, it may be useful to bring just a couple of carefully selected items. Perhaps a colouring book, some playing cards or a bedtime story. Just keep it simple! 
10 Home Comforts to Leave Behind:
 1. Perfumes and deodorants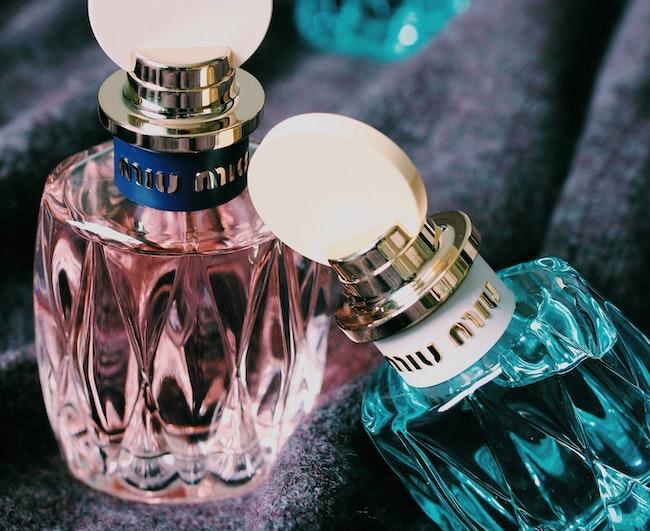 Image Source: Unsplash
If you want to avoid unpleasant smells while you're camping, a quick camping shower or dip in the water with some biodegradable soap can do the trick! However, you should avoid bringing perfumes or deodorants. Often, these intense smells will attract insects. Instead, just embrace that earthy smell, and get back to smelling like florals when you return home!
2. Electronics (computer, TV's, etc.)
This one seems a bit obvious, however, we've seen campers lug televisions and laptops with them on their camping trips!
The goal of camping is to get away from the hustle and bustle and enjoy being in nature. A TV can distract you from that goal. And besides, there are a lot of really fun things to do camping that don't involve watching TV or checking your email!
3. Any glass or ceramic cookware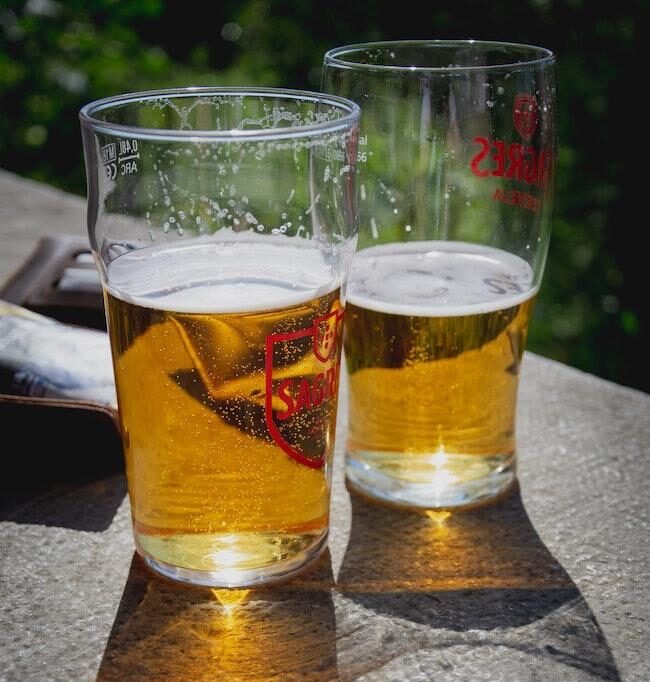 Image Source: Unsplash
You will need to bring some cooking items with you on your camping trip (as we said above) but avoid anything glass or ceramic. Camping in nature can be rough on your equipment, and anything glass or ceramic, unfortunately, has a big chance of getting broken or damaged.
4. A lot of toys and activities for the kids
Kids are extremely creative — especially out in nature! It's very unnecessary to bring a lot of toys or gadgets to keep them occupied. Normally, kids do just fine exploring their surroundings, playing with sticks, leaves and other objects they find around the campsite. Trust us, their imagination is all they really need to bring along!
5. Mirrors
It can be difficult to leave the mirror behind, but camping is a time to just embrace your own naturalness. Let your hair run wild. Try not to worry too much about how you look and focus that energy on enjoying your time! Not to mention, mirrors can break easily.
6. Clothes you don't want to get dirty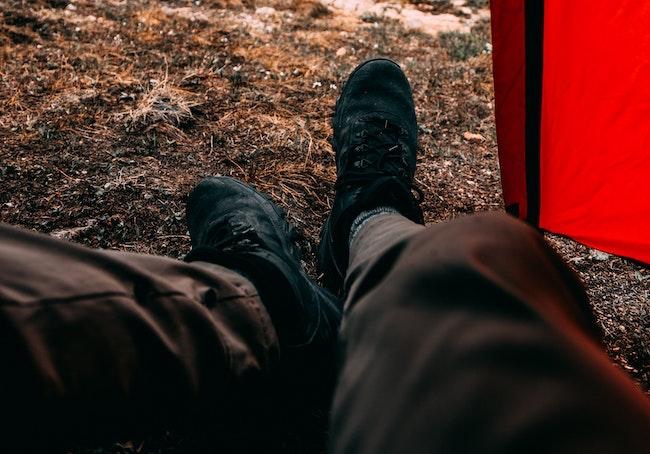 Image Source: Unsplash
No matter how hard you may try, it's nearly impossible to avoid getting dirty while camping. Hiking, playing, going to the beach — all of these things can be hard on your clothes. So, leave anything fancy or expensive behind.
7. The wrong clothes
While we're on the subject of clothes, it's easy to overpack for a camping trip. But you can avoid this by checking the weather, especially the expected highs and lows for morning and evening, and only bring what you think you'll need. For example, you won't need warm hiking boots in the summer. Check our handy guide on what to wear for camping in each season if you're still not sure.
8. Air beds or mattresses
Air beds and/or air mattresses normally require an electrical outlet to plug into in order to blow them up. They're also heavy and can be awkward to pack. There are other ways to stay cozy while you sleep during camping trips, like sleeping mats, so try to resist the urge to pack this item.
9. Toiletries or shampoos with chemicals
Our ability to enjoy nature will only be around so long as we protect it! If you have shampoos, soaps or other toiletries that contain a lot of chemicals, leave them at home. When you bathe in the water systems, these chemicals can contaminate the water and damage the ecosystem.
10. Beauty Appliances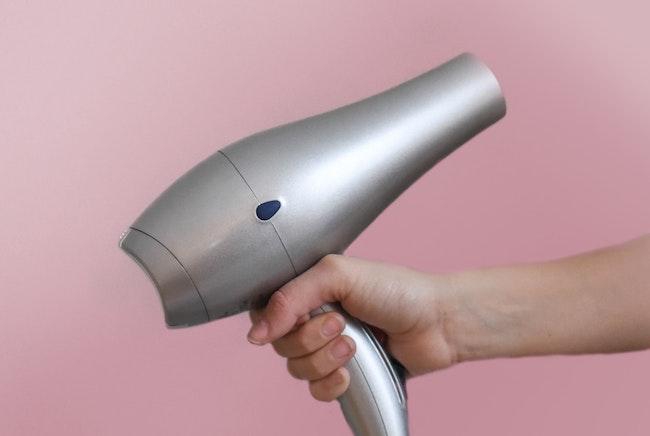 Image Source: Unsplash
Hair dryers, curling irons and the like should definitely be left off your camping packing list. These items require power to work which may not be easily accessible. And anyway, it's likely you'll want to opt for a ponytail to keep your hair up and out of the way while you enjoy all your camping activities!
Looking for the perfect place to hold your camping getaway? Check out Broken Head Holiday Park! We're a beachfront campground that's just a short drive from Byron Bay with accommodation options to suit every preference.