18 Top Byron Bay Activities for Valentines Day

Valentine's Day, February 14th, is almost here! Have you figured out how you will celebrate your relationship this year? If you're planning on being in Byron Bay, we've sourced some of the best options available to guarantee a fun and relaxing time.
Check out which of these 18 Byron Bay Valentine's options suits you and your better half!
1. Catch the sunrise or sunset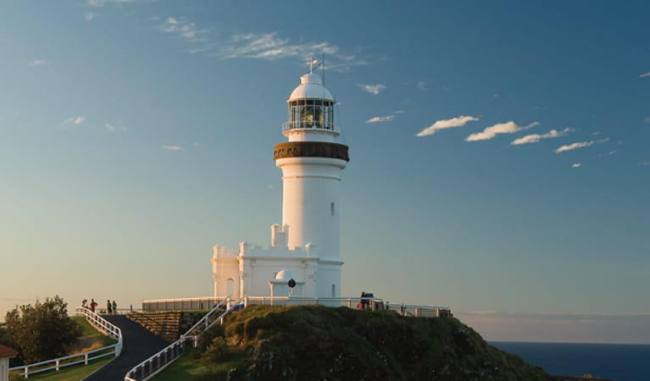 Image source: National Parks NSW
The choice is yours: start your Valentine's Day with a spectacular sunrise, or wind down after a romantic day with a breathtaking sunset. Byron Bay has some incredible spots for this, but our favourite is the Cape Byron Lighthouse.
You can drive or walk up to the lighthouse to catch the first light or visit this spot in the evening and watch the sunset over the ocean. The Cape Byron Lighthouse gives you a 360-degree view of Byron Bay, which provides you with the option to plan either a romantic sunrise or sunset.
Be sure to dress warmly: early mornings and late evenings can get chilly. It's a great excuse to cosy up under a blanket as the night turns to day (and vice-versa).
2. Go for a hike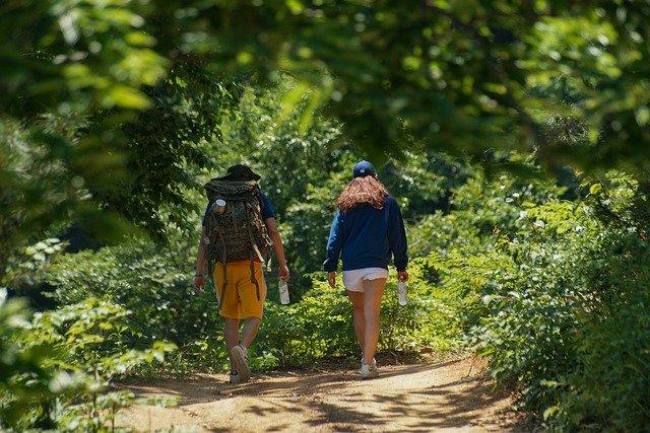 Hiking is a great way to experience an adventure together. Byron Bay is chock-full of hiking trails for all fitness levels, so you're bound to find the right track to match your pace. Try the easy, often quite Boggy Creek Walk for a lovely Valentine's Day stroll, where you can literally stop and smell the flowers. Or push your limits on the Mt. Warning hike in Wollumbin National Park.
Don't forget to bring your water, snacks, binoculars and camera to capture the spectacular views when you reach the summit. Heads-up: once you get a taste of hiking in Byron Bay, you'll be hitting the trails all year round, not just on Valentine's Day!
The weather is great all year round, and you won't want to miss the whale watching season from May to November.
3. Take a kayak tour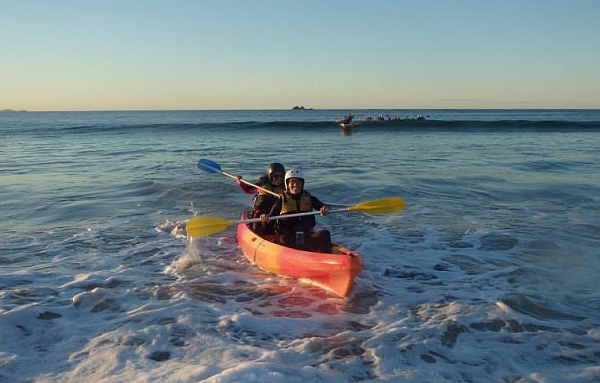 Share a kayak with your partner this Valentine's Day, whether you're a great swimmer or not. Paddle along the Byron Bay coastline or get up close with the dolphins, with an experienced lifeguard as your guide.
Check out the Go Sea Kayak Tours that take you down the Brunswick Heads River. There's a kayaking lesson before you go out onto the water, so you'll only need to bring your swimwear, towel, sunscreen, and a water bottle.
There is no need to worry about tipping over—kayaks are very stable on the water, and you'll find it quite relaxing it is to glide over the waves.
4. Create a romantic playlist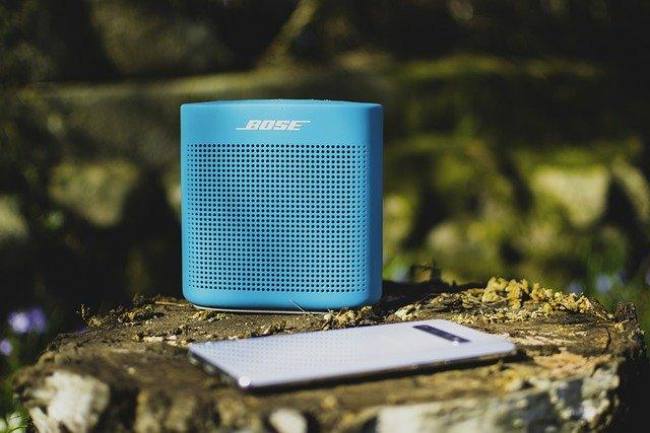 During your romantic camping getaway, you definitely want to serenade your partner to show your love. And no, you don't have to bring out the guitar and crank out your ballads. Take a little time beforehand to create a playlist of sweet, relaxing songs that your partner will love.
Go for variety in pace and genre, and ideally, choose between 30 and 50 pieces. Mix up the selection to include yours and their favourite songs, but make sure that it's all music that captures your intentions.
Bring your portable Bluetooth speaker, press play, and set the mood with music (just be mindful of other campers and don't have the volume too loud.) If you are off the grid during your getaway, download the songs onto your smartphone before you go.
5. Picnic at Belongil Beach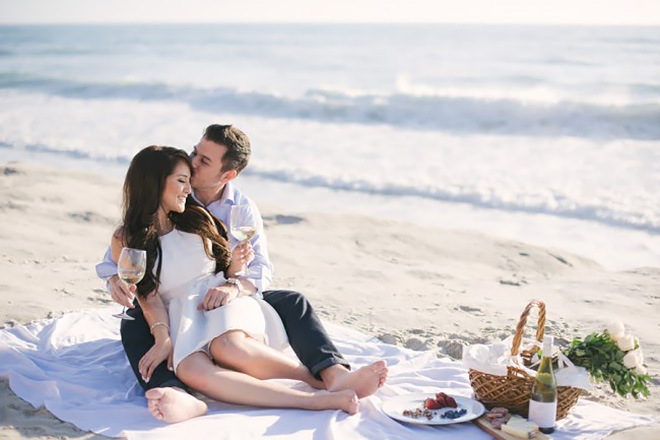 Image Source: Love and Lavender
Belongil Beach is a romantic picnic spot for a private and intimate Byron Bay Valentine's Day picnic. Here you can dig your toes into soft sand, share snacks and a glass of wine, while watching surfers test their limits on the waves. Make sure you have your swimsuits handy (ideally on under your clothes) so you can go for a dip!
6. Ocean Adventure Cruise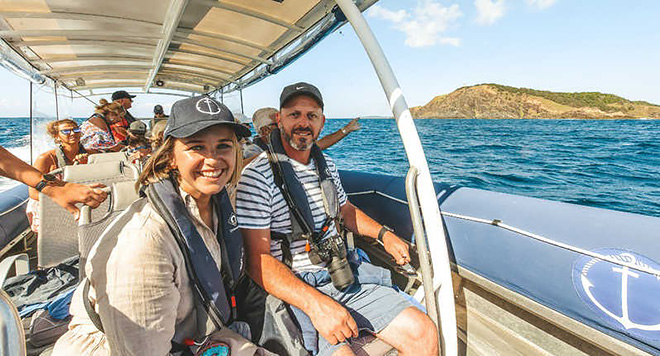 Image Source: Ocean Cruise Byron Bay
Soak up those feel-good Byron Bay vibes on an Ocean Adventure Cruise around Byron Bay. This cruise goes all the way from Byron Bay to Ballina coastline. Keep an eye out for bottlenose dolphins who love to leap and play, and on your way will be many other fish, seabirds, and even endangered species such as grey nurse shark, sea turtles and little terns as the Marine Park is one of the cruise spots.
7. Buddha Gardens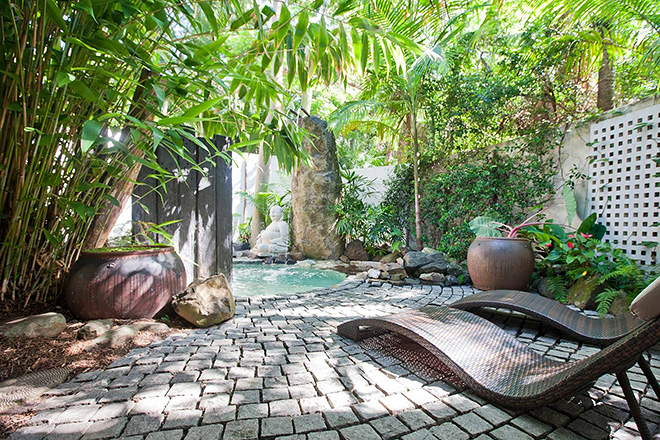 Image Source: Buddha Gardens Byron Bay
Buddha Gardens is one of the town's hidden gems. It will truly revitalise your body and mind and boost your energy for an unforgettable Byron Bay Valentine's Day. Your body will thank you!
Here you can enjoy couple spa treatments in the private Orchid Room that has a bath set in natural rock and an open-air shower.
You can also book multiple treatments such as:
Swedish massage, deep tissue, aromatherapy and hot rock massage
Luxurious facials, body wraps, and body scrubs
Essential spa manicure and pedicure
This Byron Bay spa is a perfect Valentine's Day treat and the ultimate love experience. At your disposal are also a heated plunge pool, garden area, sauna and Byron Bay herbal tea as complimentary service added to any treatment.
8. Osprey Spa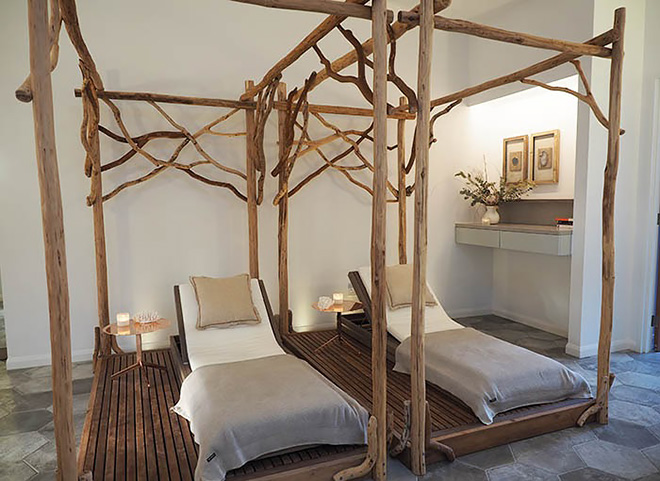 Image Source: Osprey Spa Byron Bay
Rest your body and mind in an amazingly decorated double suite at Osprey Spa. You both deserve a break from your daily lives and a reward while celebrating your special day. If you are down for this kind of Byron Bay Valentine's Day, that this can be a highly relaxing choice.
9. Beach Byron Bay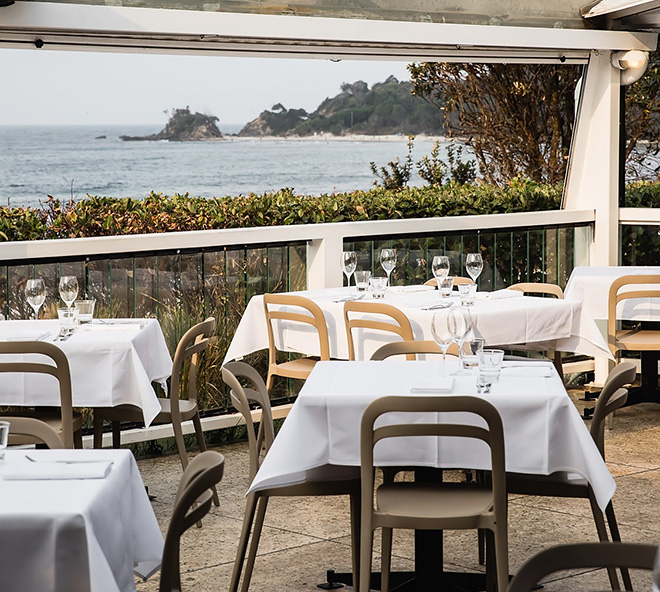 Image Source: Beach Byron Bay
What's more romantic than having a delicious dinner with a panoramic beach view? Beach Byron Bay is a restaurant that offers extraordinary al fresco fine-dining that will take your breath away!
While eating a delicious meal from a unique menu that reflects the coastal landscape and local cuisine, you can share a beautiful moment under the stars!
10. The Rails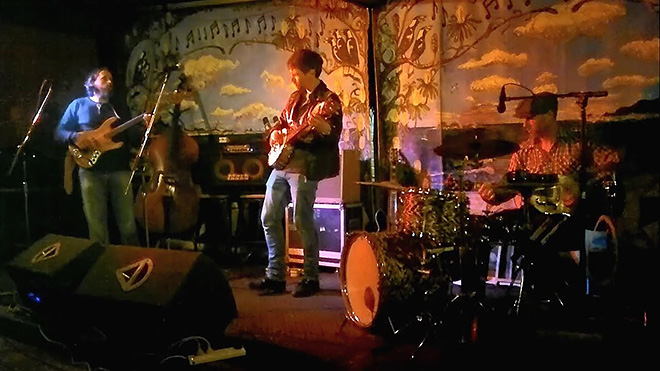 Image Source: The Rails Byron Bay
Are you ready for a fun night of dinner and dancing? The Rails is the friendliest place in town to hang out for Valentine's Day. Located on Byron's main drag, Johnson Street, The Rails has a long history of over 30 years of entertaining both locals and travellers, therefore, you can be sure that you will have a great time.
Eats and drinks are taken care of with The Rails offering a premium collection of craft beers, as well as a menu that includes everything from snacks, to mouth-watering pasta and burgers.
Live music, played by local and touring bands, with smooth reggae, blues, funk and rock sounds will give you a Valentine's night to remember!
11. Cook Your Camping Valentine's Dinner Together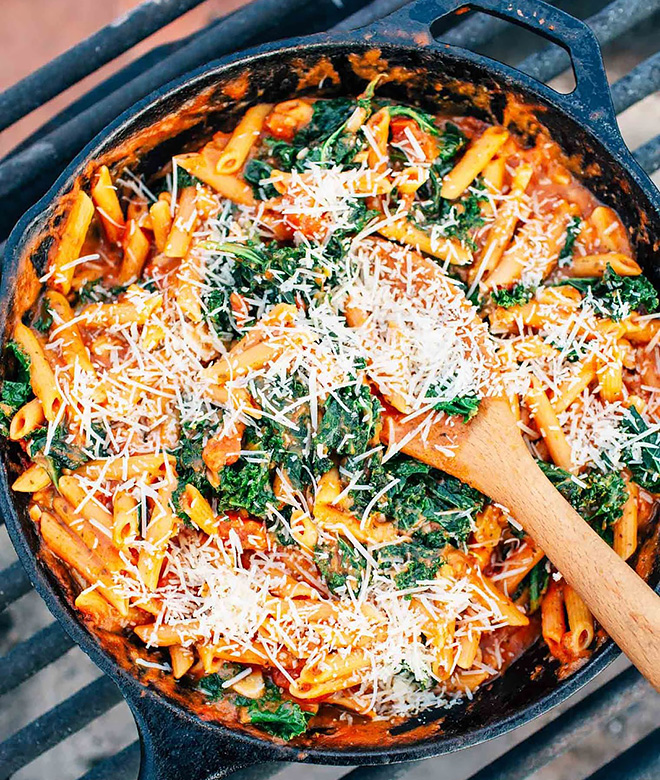 Use your camping stove for more than just your coffee this Valentine's Day. There are lots of romantic camping ideas around food: snuggle up as you stir a double serving of soup, or go all out and make an outdoor-inspired meal for your partner.
Of course, give each other little tastes of the food as you cook, and don't forget to add some aphrodisiacs too: think of melted chocolate, honey, strawberries, figs, cherries… you get the drift. Finish your romantic camping meal with your favourite wine or champagne and cuddle the night away.
12. Watch the Stars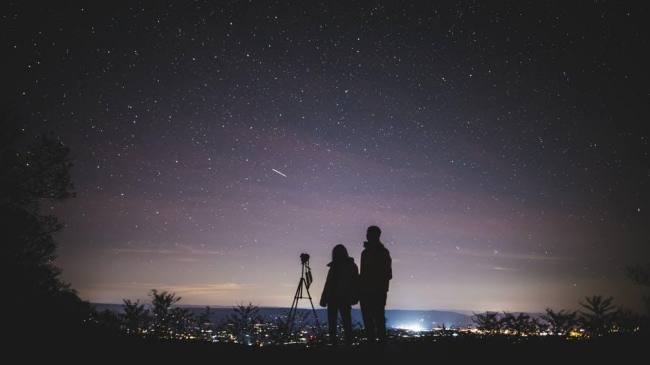 What's more romantic than snuggling up in a double sleeping bag under a clear night sky? As far as romantic camping ideas go, stargazing will require a different type of tent. We recommend investing in a mesh-covered tent.
A two-person mesh tent gives you a full view of the night sky while keeping the bugs out. All you'll need is a great camping spot and a sky map app to see which constellations shine down on you. Even better, bring along a lightweight telescope to get up close with the stars.
13. Four-Course Valentine's Dinner at The Italian Byron Bay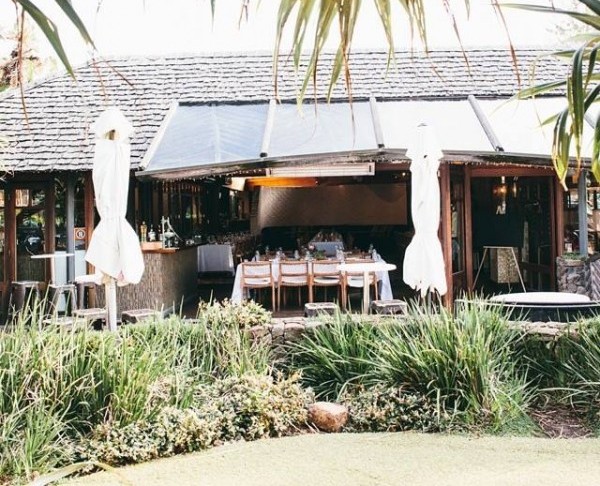 Image source: The Italian Byron Bay
Treat your loved one to an elegant four-course meal at The Italian Byron Bay this Valentine's Day. The dinner is $95 per person and a drink and appetiser upon arrival, a choice of entree, a choice of main course, and a shared dessert for you and your loved one.
Menu highlights include a summer spritz, pork belly, snapper, tiramisu, and other delicious Italian favourites. Make a reservation for you and your valentine today to book your place at one of Byron Bay's most beloved Italian spots.
14. Balcony Bar and Oyster Co.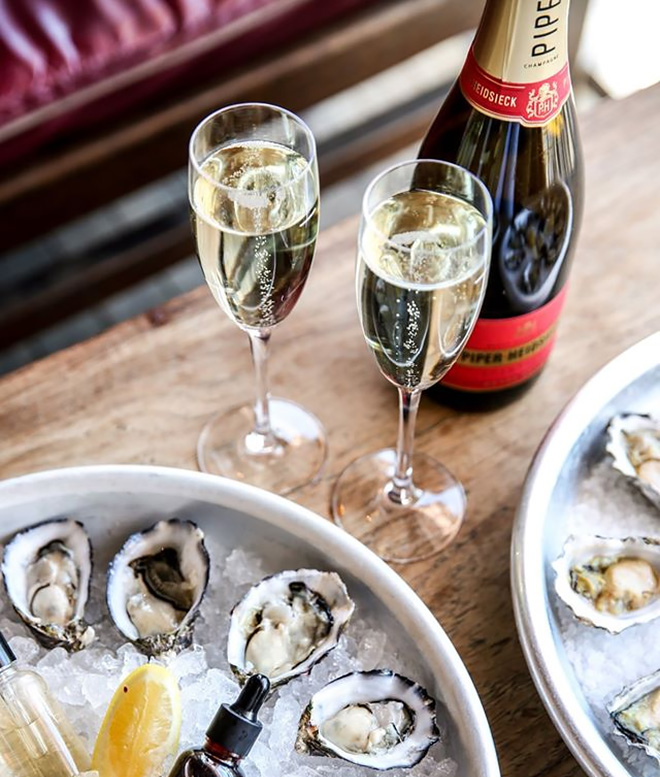 Make a reservation for you and your special someone at one of Byron Bay's most scenic and fun restaurants – Balcony Bar and Oyster Co. The restaurant lives up to his name, and resides on a balcony above the bustling streets of Byron Bay. Just steps away from Main Beach, Balcony Bar & Oyster Co. provides an atmosphere that is true and authentic to the Byron Bay beach culture.
The restaurant's backdrop is a seaside beach shack, meaning that you can enjoy freshly shucked oysters on Valentine's Day while enjoying the true beach experience. Pair your Valentine's Day meal with a refreshing cocktail and enjoy the beautiful atmosphere that this restaurant provides.
15. Watch the sunrise from Mount Warning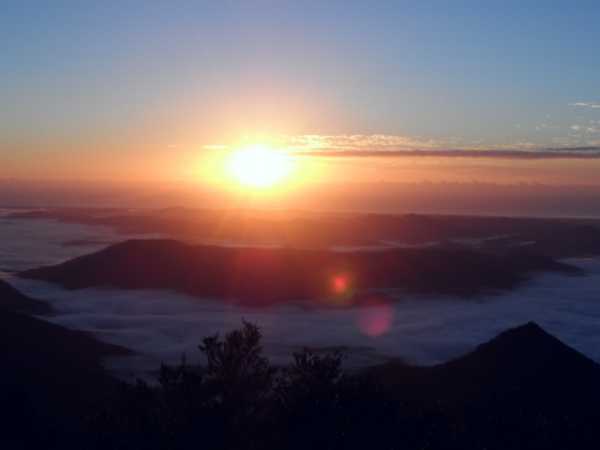 Image source: Weekend Notes
Enjoy a romantic start to Valentine's Day watching the sunset from the best spot in town. Bring your coffee, breakfast, and a blanket. From this spot you can enjoy a gorgeous view with your loved one for a Valentine's Day you won't forget.
Although it requires leaving early in the morning and is somewhat of a challenge, this is a special way for adventurers to begin your romantic day. Check here for the logistics of the climb.
16. Valentine's Day at Crystalbrook Byron
Image source: Crystalbrook Byron
Enjoy an aphrodisiac dinner with your loved one at Crystalbrook Byron. This dinner is designed to awaken the taste buds with specially-crafted cocktails that create a romantic atmosphere. There is also a chakra-opening couple's spa package available. Be sure to make your booking today in order to reserve your spot for this unique, romantic experience.
17. Take a romantic walk through Crystal Castle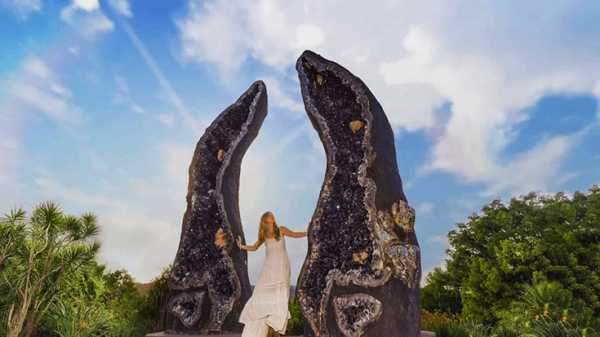 Image Source: Byron Bay Adventure Tours
Crystal Castle is one of the most romantic destinations in the Byron area. Get lost with your loved one as you explore the ancient space of rare crystals, and gorgeous stones taller than you! There's also a beautiful bamboo walk with private garden spaces where you can enjoy some alone time with your special someone. 
18. Enjoy a brew with your special someone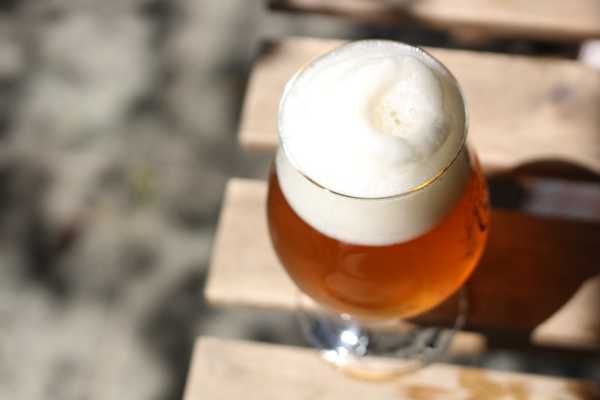 Byron Bay is home to tons of great breweries! Kick back and enjoy the summer weather with your special someone as you sip on some of Byron Bay and nearby area's finest brews. Some notable breweries at Byron Bay to consider visiting with your Valentine are Byron Bay Brewery and Cape Byron Distillery – as well as dozens more!
Book your stay for a Byron Bay Valentine's Day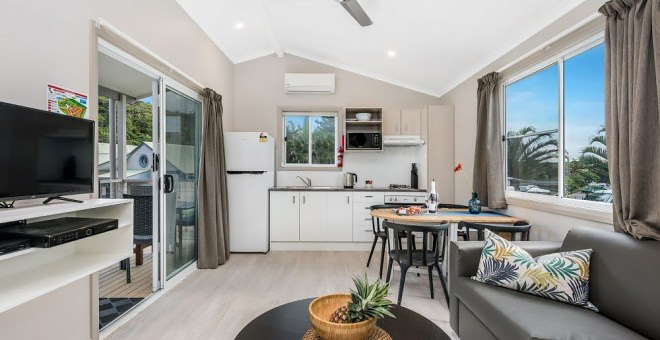 After a great day or evening out and about, resting in comfortable well-equipped accommodation is a must. Broken Head Holiday Park is located in a romantic beachfront spot, so why not book one of our deluxe beach cabins for this special occasion? You deserve it!
Check out this post for more ideas for a secluded getaway in Byron Bay.