48 Hours in Byron Bay? A Guide to Make the Most of Your Time

If you're taking a family road trip along the Pacific Highway from Sydney to Brisbane (or vice versa) and your stopover in Byron Bay includes just a mere 48 hours, our guide gives you a list of excellent ideas on how to make the most of your time.
Of course, we'd be remiss if we didn't remind you that 48 hours to see and do all the amazing things in Byron Bay isn't nearly enough. But we understand holiday planning, and so we know this 48-hour excursion to our beautiful town will just whet your appetite, and when you leave, you'll immediately start thinking of how soon you can return for a longer holiday.
But first, those 48 hours. Get ready! We've worked in quite a few highlights of the Byron Bay Area that will showcase what a jewel this place is.
Friday afternoon and evening
4 pm:
Once you arrive at Broken Head Holiday Park and get your campsite or beach cabin set up, then don't just sit around. Head down the beach and experience why staying at a camping ground in Byron Bay isn't just an economical choice, it's going to give you access to an excellent beach and walking trail to kick off your 48 hours on the right note.
Walk down to the Broken Head Nature Reserve, and then you'll need to decide: do I hang out at the beautiful beach and take in the scenery, or do I spend more time and take a cruise along the walking trail? The trail, which is called Three Sisters, runs about 1.2km one way and will take an adult about 90 minutes to walk round trip—but it's not a hard one, so don't worry, if you have family along! The no. 1 reason to spend the time hiking the trail? The view from the lookout!
7 pm:
You're only here for 48 hours. Treat yourself! Dine at one of the awesome restaurants located in Byron Bay. It'll be so worth it! We've included two options below but there are so many more.
St. Elmo:
Start off the memorable meal by sipping on one of the more than 15 wines available by the glass at St. Elmo. (If you want a bottle, you're spoiled for choice, there's more than 100 bottles on the list!) Then start planning out which tapas you'll want to share with your partner or group, and get ready to be wowed. Or, if you're willing to make a bit of a splurge, check out the set menu where you will be provided a number of shared plates plus dessert.
Belongil Bistro:
While this might be a bit off the beaten path, it's worth your time to head to Belongil Bistro because you can get the excellent Friday Curry Night special for $15 a person while admiring the beautiful space. The location is a hotspot for weddings, and it's easy to see why. About the food: You'll have your choice of two curries, featuring local produce and global spices, that keep people coming back.
Looking for options for your family? Don't worry, we've got you covered there too:
Saturday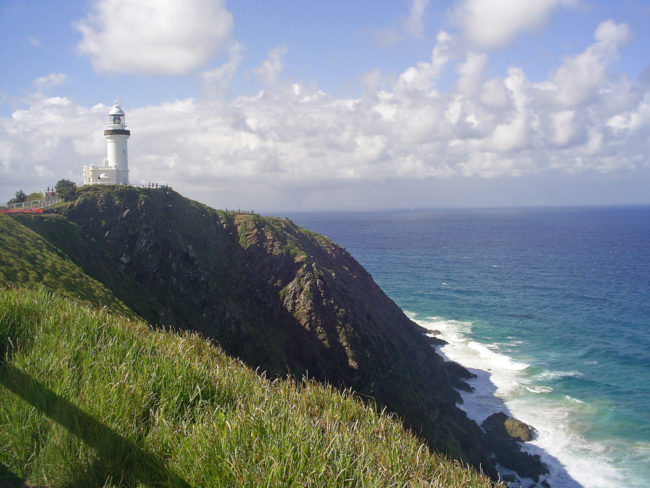 6 am:
Yes, we know you're on holiday. And that's really early to get up on a Saturday, let alone a holiday Saturday. However, we promise it's totally worth the hype.
Pro tip: In order to not have to leave even earlier, plan to drive and park in the free parking near the lighthouse or opt for the paid parking right at the top. 
You and anyone else on this quick visit to Byron Bay must experience watching the sunrise at the Cape Byron Lighthouse, which is the most easterly point of Australia. Everyone must take selfies and say you were among the first people in Australia to see the sun that day.
Then, you should definitely follow the coastal walk around the lighthouse where you can do one of several Byron Bay activities:
Late morning:
At this point, you've worked up an appetite, so it's time to check out some options for brunch. You're in luck because Byron Bay has lots of excellent places to get a delicious brunch that will fuel your activities.
Here's our guide to breakfast hot spots in Byron Bay. Plus lots of cafes offer a great brunch, so check around: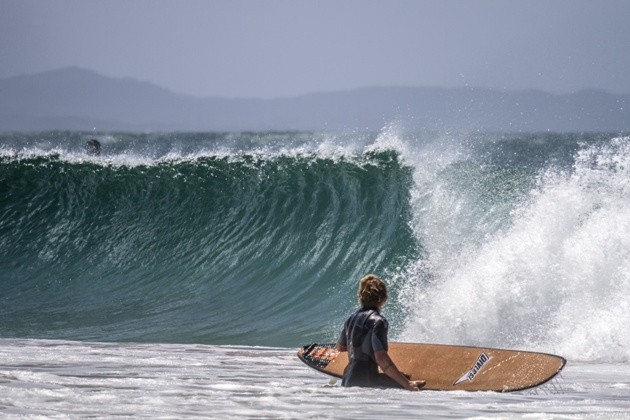 1 pm:
Time to hit the beach! You are in Byron Bay after all. There are so many options for you. If you're following this guide, then you might wait to check out Main Beach until tomorrow morning. (Hint: Yoga with an ocean coming your way). So instead, think about some of Byron Bay's other amazing beaches, such as Cosy Corner/Tallows Beach, Belongil Beach and the Wreck, read more about Byron Bay Beaches.
If you want to surf then check out our posts on the subject:
Late afternoon:
Happy hour time! Enjoy a drink at one of the most iconic bars in Byron Bay: The Railway Friendly Bar. Affectionately called The Rails by the locals for years, this top pub in Byron Bay is named such because it is actually an old railway station, sitting next to the old tracks. If you want to see some good live music, you'll be in luck because this bar has long claimed to be the "only pub in Australia that has featured live music every night of the week for 30 years." Check out our post for more options:
7 pm:
Depending on the type of night you're looking to have, we selected two of our favourite Byron Bay restaurants.
Folk:
Named one of the top 20 destinations in Australia by Good Food Guide, Folk features both indoor and outdoor seating as well as mouth-watering food and great drinks. If you're looking for a place that matches the Byron Bay laid-back style, Folk is where it's at—from vintage kitchenware, to records playing.
Often you'll see people hanging out in the front lawn, sitting on anything they can find, and enjoying the atmosphere. Start thinking about what you'll order by following the restaurant on Instagram.
The Italian at the Pacific:
A top foodie stop, the Italian at the Pacific will provide delicious cuisine by head chef William Ennis that has earned this restaurant accolades—one of the best Italian restaurants in Byron Bay.
Here you'll find such interesting menu items as: lasagne of slow cooked lamb shank; or ravioli with goat's cheese and Appel in a burnt butter and cauliflower sauce. Plus, you'll be so close to the ocean, you can smell it!
Sunday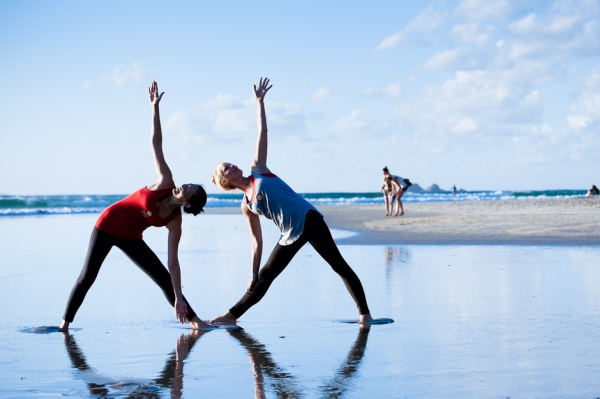 Morning:
OK, we realise it's not ideal to get up early both mornings of your holiday, so perhaps look for a start time that works with your personal clock. But if you're in the Byron Bay Area, which has been called Australia's unofficial yoga capital, then you probably should try out a class, right?
It might be easy to combine a visit to Main Beach—the most famous beach in Byron Bay—with your yoga class activity by attending a class at Sattva Yoga & Massage. No bookings are required, and yoga mats are provided. Drop-in classes are $20.
But if that schedule doesn't work for you, check out the tons of options to try out Byron Bay yoga.
11 am:
If you're lucky enough to time your 48 hours to include the first Sunday of the month, then we vote you spend a hour or two strolling through the Byron Bay Community Market, which takes place at the Butler Street Reserve from 8 am to 3 pm. With everything from jewellery to homewares, the market is sure to be the place to find a treasure to take home and remember your time in Byron Bay.
Lunch:
Do a true Byron Bay lunch, and try out one of the vegetarian or vegan restaurants, such as Heart and Halo, which calls itself the "good food bar." Here you'll be able to have buffet-served breakfast, lunch and dinner every day, and it's affordable too, so don't worry about having another meal out.
2 pm:
We suggest taking in a bit of the hinterland for the last stop on your 48 hour tour. We put together a list of the best hikes in the area, so you could check if any of them work for your group, timing and level of hiking ability.
If hiking isn't your thing or time is an issue, we instead suggest taking a ride on the first solar-powered train, which runs between the Byron Beach Platform to the North Beach Station in Sunrise Beach, three kilometres apart.
Not only will you see Byron Bay from a different vantage point, there's an option for a Ride & Style Lunch and Drink special — $25 per person for return trip on the train, lunch and a Stone & Wood beer at the Sun Bistro across from the North Beach station.
Sleep at Broken Head Holiday Park During Your 48 Hours
Keep within your holiday budget by spending your 48 hours in Byron Bay at Broken Head Holiday Park. You will enjoy excellent facilities and a fantastic location. So whether you're just coming for a quick visit or want to stay for a longer trip, we are certain you'll love Bryon Bay as much as we do!
Get in quick to book your accommodation for the summer holiday season!