15 Best Byron Bay Restaurants, Cafés & Bakeries

There's no doubt that the stunning seascapes and unspoiled natural environment of Byron Bay will remain with you long after you leave Broken Head Holiday Park. But there is another aspect to life in this area which will also leave a lasting impression on your mind – the wonderful culinary creators who have emerged here in recent decades.
Excellent seafood is a given in this coastal community, but you will also find cuisine from around the world created from local produce – so your eating experiences can be as diverse and environmentally friendly as the rest of your holiday. In addition, your dining can be as formal or as informal as you happen to feel on the day – and as wallet-friendly as your mood takes you.
Here are just a handful of the must-visit Byron Bay restaurants, cafés and bakeries which will bring the best fruits of land and sea to your table. Maybe you'll even get a chance to meet some of these wonderful culinary creators around too?
Best Byron Bay restaurants, cafés & bakeries to try on your holiday!
1. Suffolk Park Bakery
Waking up at Broken Head Holiday Park is an even lovelier experience when you know that, just a short drive away in the village centre of Suffolk Park, you can breakfast at the renowned Suffolk Park Bakery.
Open from 6am this bakery creates exquisite pastries and rolls to start your day, and enjoys a reputation for serving some of the best coffee in Byron Bay. The bakery uses fresh local produce to create outstanding gourmet sandwiches renowned for their size and flavour.
The only problem  then is whether you will have space left for the vast array of mouth-watering cakes which give the bakery the allure of a Parisian patisserie. This is also the perfect place to pick up everything you need for a beach picnic.
Location: Clifford Street, Suffolk Park, NSW
2. Pizza Paradiso Restaurant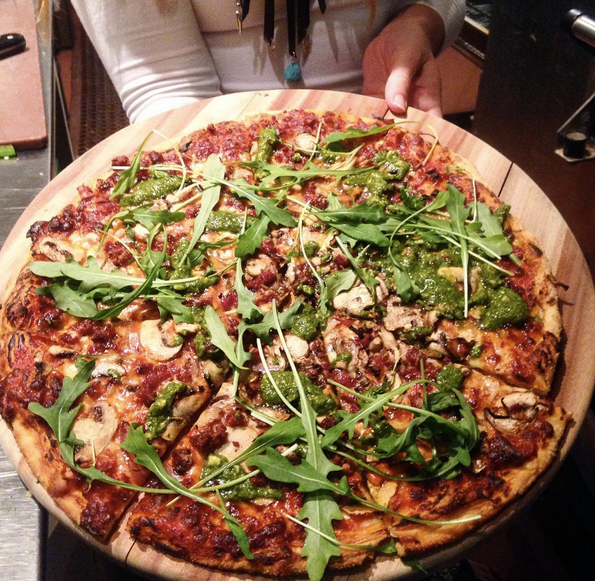 Paradise for pizza lovers is to be found just a short walk from Broken Head Holiday Park at the family run Pizza Paradiso Restaurant which is located in the centre of nearby Suffolk Park Village.
Pizza Paradiso has earned a reputation as one of the best Italian restaurants in Byron Bay by taking traditional favourites to a new level and by offering mouth-wateringly creative new toppings. Plain old cheese and tomato Pizza Margarita is transformed with a topping of fresh cherry tomatoes, snowy bocconcini mozzarella mouthfuls and fresh basil.
For something new try the Pesto Pizza – pesto topped with roasted pumpkin, roasted red peppers, caramelised onion, ricotta and fresh spinach leaves. If seafood is on your wish-list opt for the Scampi Pizza, a combination of pesto, prawns, chilli and rocket leaves. Such imaginative twists on one of the world's favourite foods has made Pizza Paradiso a destination restaurant and its home delivery service is popular with locals.
But it isn't just the kitchen that is happening here. Pizza Paradiso also offers live music on Friday and Saturday evenings and monthly poetry readings by nationally and locally acclaimed poets. Pizza and poetry – perfection!
Location: Clifford Street, Suffolk Park Village Centre, NSW
3. Folk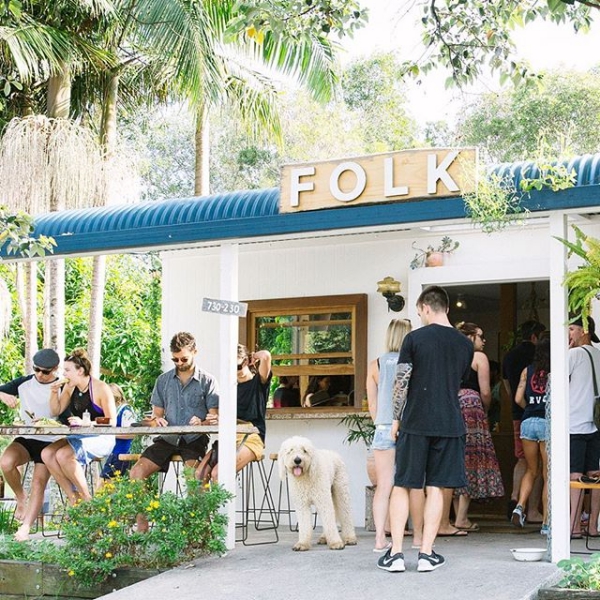 This charming eatery, located a bit off the beaten path, offers both indoor and outdoor seating along with an excellent array of food, coffee and drinks. From the thoughtful style, including wooden bowls and throwback kitchenware, Folk hits the perfect Byron Bay vibe — plenty of hippie culture with a side of excellent food. Plan for a breakfast or brunch here where you can relax and enjoy the good coffee or sip on your cold-pressed juice as you wait for your food. And be sure to listen to the background music, there is usually a great selection of records playing. Don't be surprised if people are just milling around the front yard, siting on anything from benches and milk crates, to the grass. Follow the restaurant on Instagram so you can drool over the delicious concoctions they create.
Location:  399 Ewingsdale Rd., Byron Bay
4. Fishmongers Café
Impressive culinary creators Steve and Spresa Vella have taken the British staple of fish'n'chips and elevated it to an art form at this iconic hole-in-the-wall café, which was the first of Australia's Fishmongers chain. Its chips are hand-cut every day and have been described by the London Times as among the best tasting chips in the world.
Accompany these with classic New Zealand hoki fillet, either in a light tempura batter or grilled. Or eat your chips with fresh Australian prawns, calamari which is crumbed in house, or Sydney Rock oysters which are shucked to order while you wait.
Ring the changes with fragrant rice instead of chips and do try the signature Mongers salad. You can eat in if you wish, but after a laid-back day at Broken Head Holiday Park a take-out from Fishmongers offers the perfect laid-back dinner with which to wander down to the beach and see the sun set over the Pacific.
Location: Bay Lane, Byron Bay, NSW (Behind the Beach Hotel)
5. Italian at the Pacific
Another of Byron Bay's top culinary creators, head chef William Ennis, delivers world class cuisine with an imaginative contemporary Italian restaurant menu, earning the Italian at the Pacific a reputation as another of the best Italian restaurants in Byron Bay.
Ennis counts two European Michelin starred restaurants on his CV –  Martin Wishart in Edinburgh and Patrick Gauilbaud's in Dublin. He was also part of the team that won three prestigious Chef Hats during his time at Sydney's renowned Bilson's Restaurant. In addition he worked for Saudi Royalty on their luxury yacht off Sardinia.
These global experiences have helped Ennis develop his unique take on Italian food. How about:
lasagne with lamb shank; or
ravioli with goats cheese and apple in a burnt butter and cauliflower sauce, or
spaghetti in a fennel, lemon & white wine sauce, laced with diced snapper, broccolini & toasted pine nuts?
Just metres from the Pacific ocean, this is a destination restaurant well worth visiting after a hard day of relaxation at Broken Head Holiday Park.
Location: Bay Street, Byron Bay, NSW
6. The Farm
Located just outside of Byron Bay in Ewingsdale, The Farm encourages visitors to explore the surrounding farm where the owners raise and grow much of what they put on the menu, along with fresh NSW seafood and other locally sourced food. The kid-friendly restaurant is all about the local produce and a hands-on concept from building their own tables, to local produce that is spray free.
The menu changes with the seasons and what the owners/chefs can find locally or on the farm. Another unique part of this concept restaurant is the bar. With 56 taps of Australian craft beers and mostly organic/biodynamic wines, the owners hope to minimise waste with fewer bottles, and maintain freshness. And so far, the concept seems to be working with demand for seating high. So be prepared to wait for a table, but that gives you a chance to explore the farm, visit the florist and check out the store where you can buy fresh organic bread from the Bread Social (next door to the restaurant) and milk when you finish your meal. There's even a kids' playground to entertain the kids after they look at the chickens and pigs.
Breakfast and lunch is available seven days a week from 7 am to 3 pm, and dinner is served from 5 to 9 pm Friday through Sunday.
Location:  11 Ewingsdale Rd, Ewingsdale
7. The Petit Snail
With French owners and French staff to cook and serve its French menu,  The Petit Snail is as French as a restaurant which is not in France can possibly be.
Chef proprieter Igor Persan and his wife, Dominique Chauby, offer traditional and familiar French dishes such as snails in garlic butter and French onion soup. But Igor has never been afraid to offer diners more challenging dishes at his Byron Bay restaurant. Marrow bones with salt, toast and raw garlic are a popular menu standard and, as an occasional special, pigs ears.
It also offers a range of delicious crepes and cheese plates for vegetarians – a better veggie menu than you would find in most Paris restaurants. Prices offer good value and there is a children's menu too. If you like fine wine, this Byron Bay restaurant will not disappoint. Le Petit Snail really is as close to eating in France as you can get in Australia.
Location: Carlyle Street, Byron Bay, NSW
6. Heart and Halo Good Food Bar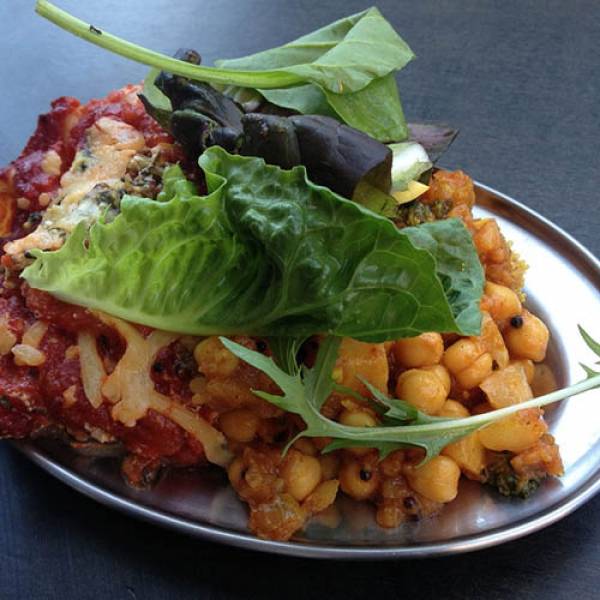 Head chef Tusta, yet another Byron Bay culinary creato, aims to cater for mind, body and soul at the Heart and Halo Good Food Bar. This restaurant serves food with a strong Indian Ayurvedic influence. Although it offers purely vegetarian cuisine, those who have eaten there agree that the imaginative range of foods, drawn from world cuisines, will tempt even the fussiest of meat-lovers.
Local and organic produce is used whenever possible and only healthy oils are used for cooking. Tusta and co-owner Amiya go to the end of the Earth to secure the freshest spices and use Himalayan salt in their cooking – renowned for the health benefits due to the 84 different minerals it contains. If you chose to holiday at Broken Head Holiday Park in order to explore the alternative aspects of the Byron Bay community, don't miss Heart and Halo – it might turn out to be your tummy's soul mate.
Location: Corner of Byron Street and Middleton Street, Byron Bay, NSW
7. Earth'n'Sea Pizza and Pasta
"At Earth'n'Sea we do not make Italian style pizzas. We make Byron Bay style pizzas." So reads the advertising slogan of Earth'n'Sea Pizza and Pasta, a Byron Bay Italian restaurant with a difference – all its pizzas are made using a wholemeal base. This is not just innovative in terms of taste, its owners believe it is a healthy option. The toppings are innovative too.
The Earth'n'Sea Massive Meatlovers Pizza combines bacon, beef, ham and pepperoni with home made BBQ sauce, while the Beethoven is topped with fresh prawns, pineapple and – wait for it – bananas. This family-run, family-friendly Byron Bay restaurant is in the heart of the town and offers a children's menu and gluten free options. Traditional toppings and pastas are also on the menu too, if you prefer to save your spirit of adventure for Byron Bay sports. Booking recommended, but if they are full drop by their takeaway counter next door.
Location: Byron Street, Byron Bay, NSW
8. Belongil Bistro
In the two short years since they created the Belongil Bistro, Christian Poulson and Mindy Halabe have attracted a strong following with their mouth-watering menu which serves meat but also includes a number of gluten free, vegetarian and vegan options.
This eatery  is in the beach-side suburb of Belongil, to the western edge of the Byron Bay community, but if you are staying at Broken Head Holiday Park over the weekend, it is well worth stepping out a little further to sample Belongil Bistro's "Friday Curry Night".
Two curries, made with fresh local produce and featuring world spices, tempt regulars back time and again to this bistro which combines a relaxed atmosphere with excellent standards of food and service. Open seven days a week, the Belongil Bistro alone makes it worth exploring the far side of Byron Bay.
Location: 33 Childe Street, Byron Bay, NSW
9. The Top Shop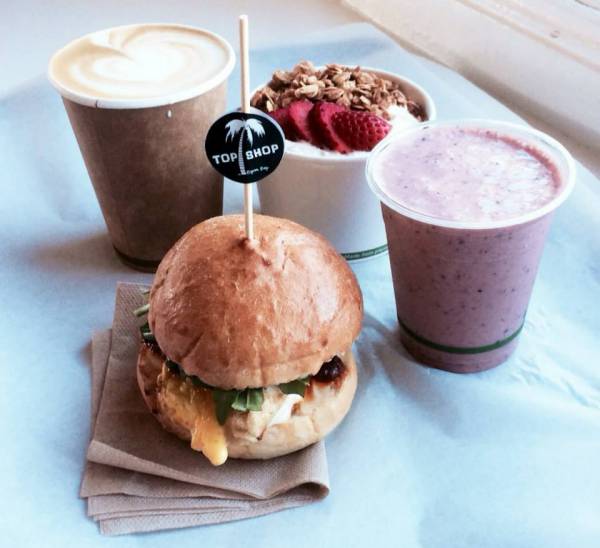 Known both for its excellent burgers and great coffee, The Top Shop is located along the way to the favourite surfing destination, The Pass. This is the perfect place to come for brekkie or lunch while out and about visiting the sites of Byron Bay, especially if you're heading to the beach.
On nice days, you'll normally see quite a few people gathered on the lawn, milling around drinking their coffee (single origin, if you're asking) or eating the delicious food. Almost always busy and a hang out for locals and visitors, this restaurant is voted time and again as part of the best Byron Bay food options.
Location:
65 Carlyle St, Byron Bay
10. 100 Mile Table
Open 7 am to 2 pm for breakfast and lunch Monday to Friday, this modern, industrial café is located in the Arts and Industry Estate. 100 Mile Table's menu changes fairly regularly based on what produce is available locally, but many of the popular standards stay on the menu (such as ham and cheese jaffies or crispy pork belly roll with Asian pickles). The café serves Marvel Street Coffee as well as freshly squeezed juices and other beverages. Watch for one of the café's pop-up dinners where the banquet-style food is served on long tables.
Location:  8 Banksia Dr., Byron Bay
11. Rae's on Watego's
Russell Crowe, Nicole Kidman, Elle Macpherson….the list of celebrities who have stayed at Rae's on Watego's hotel at Byron Bay is endless, which is why no list of eating recommendations for this area is complete without a mention of  Rae's Fish Café.
As you would imagine from the in-house eatery at a hotel which Condé Nast Traveller rates as one of the top 25 hotels in the world, this is as far removed from a café as you can get. Its restaurant facilities include a 60 seat al fresco area  overlooking the Pacific Ocean and its cuisine is as spectacular as the view. The hotel's website simply states that "dining options are unlimited at Rae's Fish Café".
As the name suggests, fresh fish and seafood feature strongly here. It also states that the hotel is "happy to discuss your culinary desires in advance of your visit". With a Hollywood guest list and service, this will not be the cheapest dining experience you ever enjoy, but it does promises to be one of the best. A stellar cast of dining companions is not guaranteed, but this is one of the likeliest places for a bit of star-spotting.
Location: Marine Parade, Byron Bay, NSW
12. Naked Treaties
Come here if you would like your food free from anything. This café only offers raw, vegan and organic food with selections that are gluten, dairy and sugar free. Literally everything in Naked Treaties is good for you. When you walk in, you'll notice the huge menu of juices and smoothies but no need to worry, just ask a friendly staff member for a recommendation. Besides juices and smoothies, there are raw lunches and delicious treats.
Location: 2/3 Marvell St.
13. Targa
Tucked away just minutes from the main drag of Byron Bay, Targa serves up breakfast, lunch and dinner. This Italian-focused restaurant serves a variety of delicious dishes, including dinner favourite: gnocchi, along with a host of beer, wine and cocktails. This little restaurant (room for a total of 55 guests) would be an excellent place for a quiet, romantic dinner during your holiday. Plus, the knowledgeable staff are helpful when pairing food and wine. However, don't discount the other meals Targa serves, quite a few people raved about the breakfast on TripAdvisor.
Location: 11 Marvell St., Byron Bay
14. St. Elmo Dining Room & Bar
Don't miss the amazing tapas at St. Elmo. Plus the restaurant pours more than 15 wines by the glass from a list of over 100 bottles, so sampling the local vintage is a must. Whether you are there with just your partner or a group, you'll find great ambience here. We suggest trying out the set menu where you can get a certain number of shared plates along with dessert (worth the splurge!). Or come on a special night – for example, the restaurant has hosted Slow Cook Tuesday with three courses plus a glass of wine for $38.
Location: 22 Fletcher St., Byron Bay

15. The Roadhouse
Coffeehouse and café by day, whiskey bar by night, Roadhouse serves up some of the best coffee and breakfast in the area. True to the Byron Bay way, patrons at the Roadhouse will find locally sourced and 100% certified organic produce as well as a Paleo-focused menu, which changes continually based on the season. If you find that the cup of coffee with your breakfast isn't enough, there is take away available from the coffee cart.
If you come back in the evening, you can try out any number of whiskeys as there are more than 450 bottles in the collection. If you'd prefer something more in the wine category, you'll find a good amount of by the glass options, including the local Jilly wine. Like earlier in the day, you'll be able to pick from the daily menu.
So, which of the above culinary creators and their Byron Bay restaurants or cafés have you earmarked to visit on your next holiday to Broken Head Holiday Park? We're betting you're going to visit at least a couple…