10 Cultural Byron Bay Activities You'd Be Crazy To Miss

It's easy to come up with a list of cultural Byron Bay activities. The difficulty lies in restricting it to just ten – such is the diverse number of them in this holiday region which for decades now has boasted a legacy of arts and culture. 
From painting to film, music festivals, and cooking classes, the Byron Bay area offers interests and pastimes which are sure to appeal to the majority of our guests.
And who's to say you can't practice your new found skills, back at Broken Head Holiday Park?  With our caravan park facilities you can cook up a storm on the barbeque or get creative with some sand art on the beach.
Our top 10 Byron Bay activities for culture vultures
1. Dance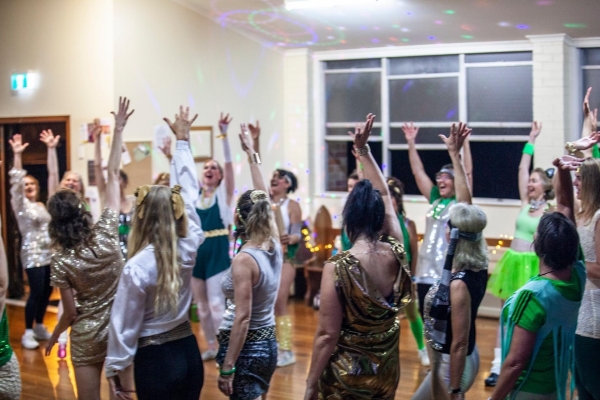 Image source: The Cassettes
If you're feeling a bit stiff because you've been spending too much time at a desk in front of the computer (and, let's face it, who doesn't these days?) then a spot of Classical Ballet, Hip Hop, Funk or Contemporary Music Theatre may be just the job to loosen up those joints.
Dance Dynamics, which has been around for more than 14 years now, offers dance skills for beginners as well as would-be professionals and caters for all ages from three years upwards. It focuses on self-expression as well as moves.
For a bit of fun and exhibitionism, The Cassettes offer 80s-inspired dance classes. If that was your favourite decade you'll love showing off these steps to the music and hits of your youth.
2. Painting
Fancy yourself a bit of a Picasso? Or maybe Renaissance art is more your scene? Whatever your particular art crush Byron Bay School of Art promises to nourish it with short courses and weekend workshops. Techniques include oils, water colours and sketching.
For those who fancy trying their hand at some creative art but don't fancy straightforward painting then there's also photography, collage, ceramics and a mixed media class.
3. Music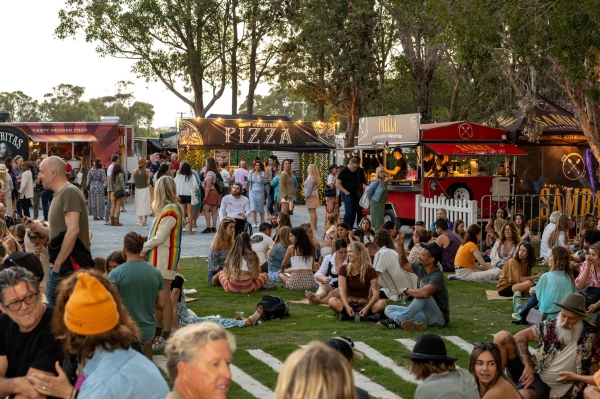 Any self-respecting guide to Byron Bay activities involving culture will always include music amongst the top five. The town's Great Northern Hotel and Beach Hotel regularly host a variety of singers and musicians and often with no admission charge. You'll also find free live gigs at the Railway Friendly Bar most week nights.
Then there is the Byron Bay Blues Fest, of course. This is one of Australia's largest Blues festivals – which pulls in crowds of more than 17,000 – and takes place every Easter without fail over a period of five lovely long days.
It's held on Byron Events Farm (formerly Tyagarah Tea Tree Farm), located just a fifteen minute drive north of the town of Byron Bay. Who has appeared at the Festival in the past? Well, none other than the great Iggy Pop, Ben Harper and Chris Issak.
If your holiday happens to be in the winter months then don't worry – you can still get your fill of the Byron Bay festival music scene with the incredibly popular Splendour in the Grass three day festival at the end of July. More for the younger crowd, this modern day Woodstock comprises a series of stages blasting out tunes from a variety of different genres.
4. Film
Lovers of the celluloid screen and red carpet can look forward to spending ten days immersed in their favourite creative art at the Byron Bay International Film Festival during October.
This fantastic family Byron Bay activities event complete with beach screenings and children's showings brings holiday makers, directors, actors and musicians from around the globe as in previous years. It's inspiring, thought provoking but most of all – fun for all ages.
5. Cookery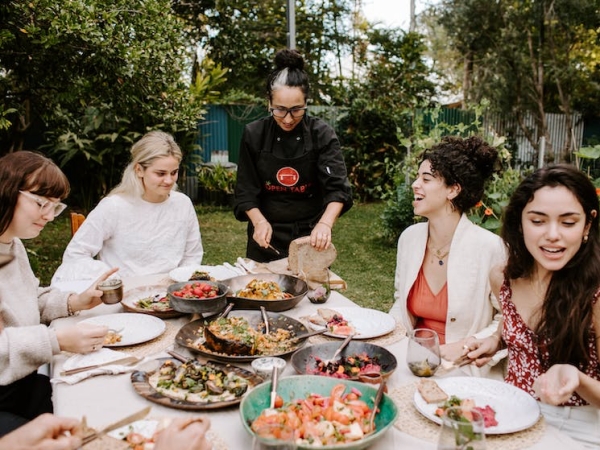 Image source: Open Table Visit NSW
Byron Bay is well known for its seafood of course, but there's much more to food here than just that. While you're camping in Byron Bay take classes at Open Table and you'll learn how to create a selection of dishes for daily use and special occasions.
Taste Byron Bay promises a fun and informative day out with hands-on cooking classes at Figtree Restaurant a ten minute drive from Byron Bay. You'll create dishes using local and in season produce.
6. Aboriginal Tours
Australia has one of the oldest, richest cultural histories in the world, and Byron Bay offers so many opportunities to discover it. Explore Byron Bay offers guided tours of Byron Bay, Broken Head, and Bangalow led by Delta Kay, an Arakwal Bundjalung woman who is passionate about sharing Aboriginal culture.
Kay teaches visitors about the history of the region dating back thousands of years, including the customs, ceremonies, traditions, and stories of her ancestral people, as well as their food, medicine, weapons, and tools. In addition to the rich cultural knowledge, guests can expect to see and learn about local wildlife as well.
All three walking tours last approximately an hour and a half, and guests are encouraged to wear comfortable shoes. For a more intimate experience, Kay also offers private tours and special group tours.
For more Aboriginal culture, visit Planet Corroboree Art Gallery in downtown Byron Bay. The gallery doubles as a retail space where visitors can support local artists as they showcase their work. Here you'll find everything from paintings and pottery to jewellery, clothing, homewares, didgeridoos, boomerangs, and more. 
7. Byron School of Clay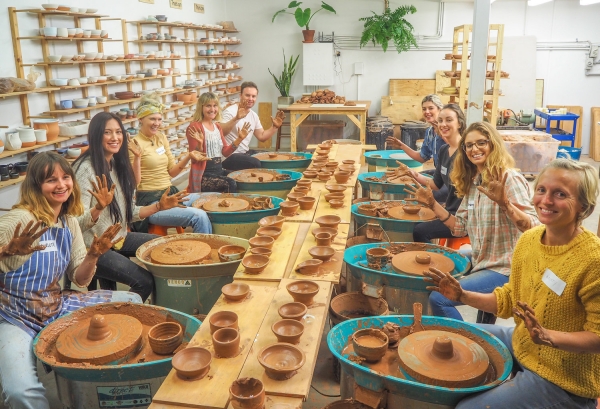 Image source: Byron School of Clay
Your next trip to Byron Bay is the perfect time to learn something new. Byron School of Clay is Byron Bay's leading pottery school. Visitors can enjoy pottery classes and workshops perfect for beginners or experienced ceramicists.
Two- and four-hour workshops take place monthly, and you can also rent the studio space for special group occasions. 
8. Art & Wine Co
Byron Bay's Art and Wine Co. invites you to "slow down, chill out, and relax," at the area's premier art and wine experience. They offer creative art classes and experiences for kids and adults. Adults can bring their favourite bottle of wine or other beverage and settle in for a three-hour guided painting or ceramics session.
The $66 fee includes glasses, bottle opener, ice, and all the art supplies you'll need. Teenagers are welcome to join if accompanied and supervised by an adult. Children can enjoy beginners' art classes, advanced art classes, and 3D virtual reality painting.
9. Palace Cinemas
When the weather is rainy – or too hot! – why not take in a movie? Byron Bay's Palace Cinemas is so much more than a typical movie theatre. Visitors to Palace Cinemas can catch the latest blockbusters as well as international and arthouse films and film festivals.
Enjoy craft beer, cocktails, a glass of wine, or a barista-made coffee along with artisan popcorn, gourmet cheese boards and toasties, as well as traditional movie theatre snacks. And of course, Palace Byron Bay offers comfortable seating and state of the art sound technology for the ultimate movie-going experience.
10. Byron Arts Trail
Composed of more than a dozen art galleries, artisan shops, and art-based businesses, the Byron Shire Arts Trail is a must-see for arts and culture enthusiasts visiting Byron Bay.
If you're someone who prefers to fill your home with unique, one-of-a-kind art pieces created by local artists, or you're just looking for something extra special to commemorate your trip, you're sure to find it at one of the participating studios and galleries on the Byron Arts Trail.
The trail includes a wide variety of artists and vendors, including Heart of the Bay, specialising in a wide array of crystals and gemstones. Out There sculpture garden features striking, colourful mosaic pots and garden decor, nestled among lush exotic plants.
Weave Guitar Co. is not your average music shop; the guitars on display here are true works of art. For something totally different, visit Circus Arts, a 1,200 sqm indoor space where kids and adults can choose their own adventure – including a 10m flying trapeze! 
Image source: Newrybar Merchants Visit NSW
Other local favourites include Matthew Sansom's gallery and Lone Goat Gallery. While you're exploring Byron Bay's cultural scene, also check out Newrybar Merchants, a collective of local artisans and curators set in a charming 1890's homestead in the historic village of Newrybar.
Local merchants and carefully curated brands at Newrybar offer handmade bath and body products, homewares, sustainably made fashion, and all kinds of unexpected treasures you won't find anywhere else. There is also a rotating gallery space showcasing artists from around the region.
Come and stay at our Byron Bay caravan park and get cultured!
As we mentioned at the beginning of this article the above five examples are just a sample of a huge selection of diverse cultural Byron Bay activities to engage in.
If there's a particular event you're keen on attending, such as a music festival, be sure to book tickets well in advance of your Byron holiday so you don't miss out.
It's a good idea to browse our caravan and camping accommodation and book your stay at Broken Head Holiday Park at the same time. We hope to see you soon!