14 Must-Haves For Women When Camping

Ladies, imagine this: you're sat amongst nature's beauty, the tranquil sounds of the Australian bush softly echoing in the distance. A warm breeze carries the scent of eucalyptus as the sun sets over Byron Bay, casting hues of gold and pink across the sky.
This is not a distant dream; it's your upcoming camping trip at Broken Head Holiday Park.
But wait – you're not quite ready to rough it like Bear Grylls, and that's perfectly fine. Who says camping can't be comfortable and glamorous?
This post is for you, the groups of women looking to experience the joys of camping without compromising on comfort.
We're talking about camping, yes, but not as you know it. Think less about roughing it and more about 'glamping' – making the wilderness your own personal sanctuary.
We're about to dive into a list of must-haves for your camping trip, designed to ensure you're as comfortable under the stars as you would be at home.
You'll see that with the right gear, camping can be more than just bearable – it can be a luxurious retreat, an adventure that marries the beauty of nature with the comforts of home.
So, let's get ready to pack your bags for a camping trip you'll never forget.
Content
1. Home Away from Home – Your Tent
Camping in Byron Bay is a dream getaway for many, a chance to escape into the great outdoors and create lifelong memories with dear friends.
At the heart of your adventure is your home away from home, your camping tent. This fundamental piece of camping gear sets the stage for your outdoor retreat, and a well-chosen tent can make your Byron Bay escape even more delightful.
When selecting a tent, consider these key factors:
Size and Comfort:
Weather Resistance:
Ease of Use:
Durability:
Our Top Tent Pick:
OZtrail Tasman 6V Dome Tent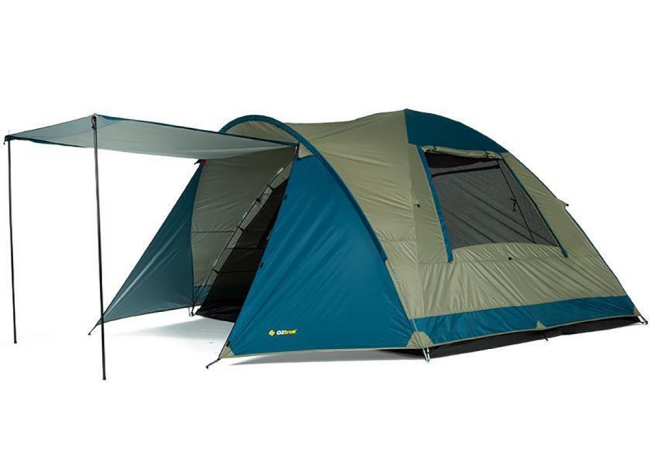 Image Source: Tentworld.com
Reasons to buy:
Can store extra gear in the front vestibule
Mesh windows allow for cooling while maintaining privacy
1 year warranty
Very roomy – comfortably sleeps 4 adults or many more children
Excellent value for money
2. Sleeping in Style – Comfortable Bedding
Camping is a wonderful opportunity to immerse yourself in nature, but that doesn't mean you have to compromise on a good night's sleep. With the right bedding, your Byron Bay camping trip can provide the same cosy comfort as your bed at home.
Here are a few essentials to consider:
Sleeping Bags:
Choose a sleeping bag that is suited to the temperatures you'll be experiencing. Look for features like hoods for added warmth, two-way zippers for easy ventilation, and materials that suit your preference for warmth and weight.
Marmot Women's Angel Fire Sleeping Bag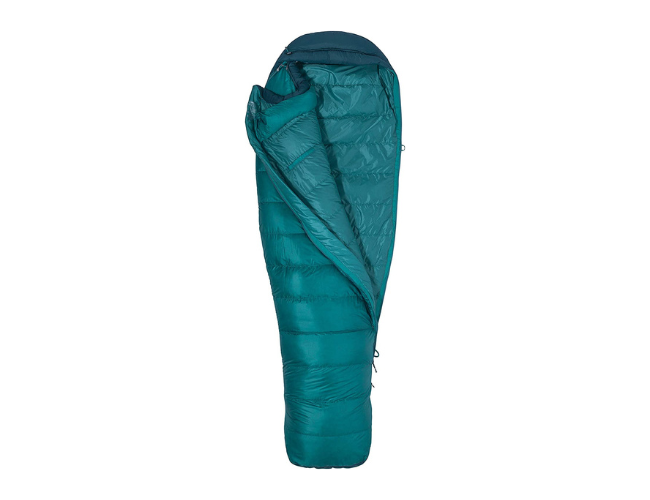 Image Source: Amazon
Reasons to Buy:
Lightweight, warm (650 Duck Down fill)
Anatomically optimised fit for Women's comfort
Three-season versatility (Spring, summer, and autumn)
Extra ventilation (additional zipper)
Durable, weather-resistant (20D nylon ripstop, DWR)
Multi-functional (cover option)
Ideal for outdoor activities
Compact, lightweight (7.2L, 1160g)
Compression/storage bags included
Inflated Sleeping Pads:
An excellent addition to your camping gear, these pads provide a cushioned layer between you and the ground. They not only increase comfort but also provide insulation, which is especially important on colder nights.
TRINORDIC Ultralight Inflatable Sleeping Mattress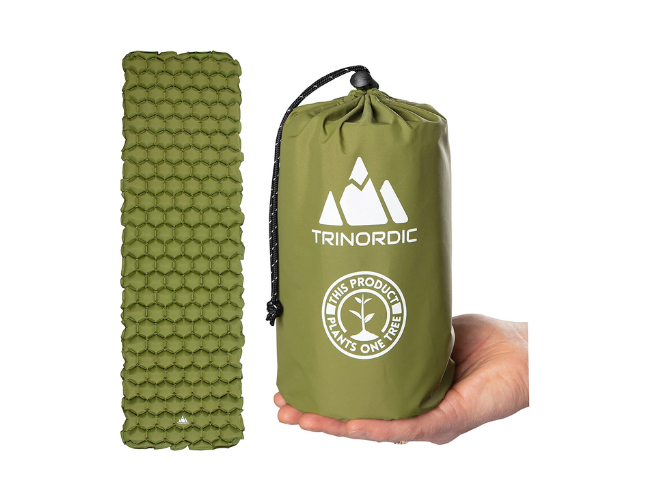 Image Source: Amazon
Reasons to Buy:
Expert-Tested: Sleep confidently
Ultralight & Compact: Easy to pack and carry
Comfortable & Durable: Great sleep, long-lasting
Eco-Friendly: Each mat plants one tree
Top Customer Service: 100% satisfaction guarantee
Camp Blankets:
A versatile item, a camp blanket can add an extra layer of warmth in your sleeping bag, serve as a picnic blanket, or wrap around you while sitting around the campfire. Opt for a durable, easy-to-clean blanket designed for outdoor use.
Nomadic Recycled Sherpa Blanket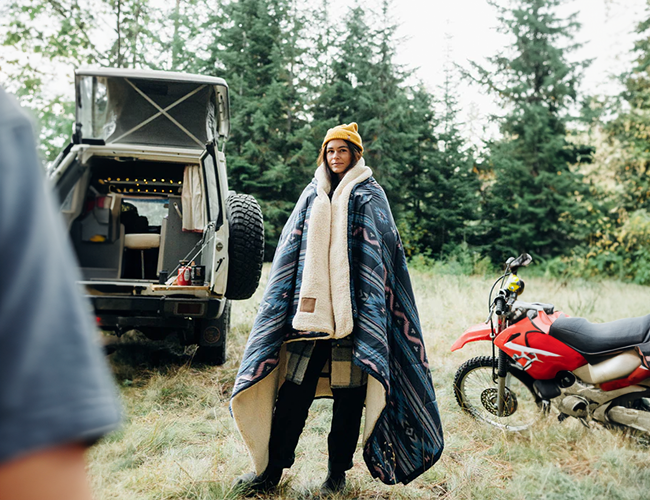 Image Source: Passenger Clothing
Reasons to Buy:
Ideal for road trips
Compact and portable
Transforms into hands-free cape
Connects to other blankets
Doubles as sleeping bag
Storage pouch included
High-quality YKK zips
Machine washable
Vegan-friendly
Hand & Feet Warmers:
These small, portable heat sources can be a real game-changer during chilly nights. Simply shake them to activate, and place them inside your sleeping bag or gloves for instant warmth.
Remember, your camping experience can be as comfortable as you make it. With these essentials, you're sure to enjoy cosy, restful nights under the Byron Bay stars.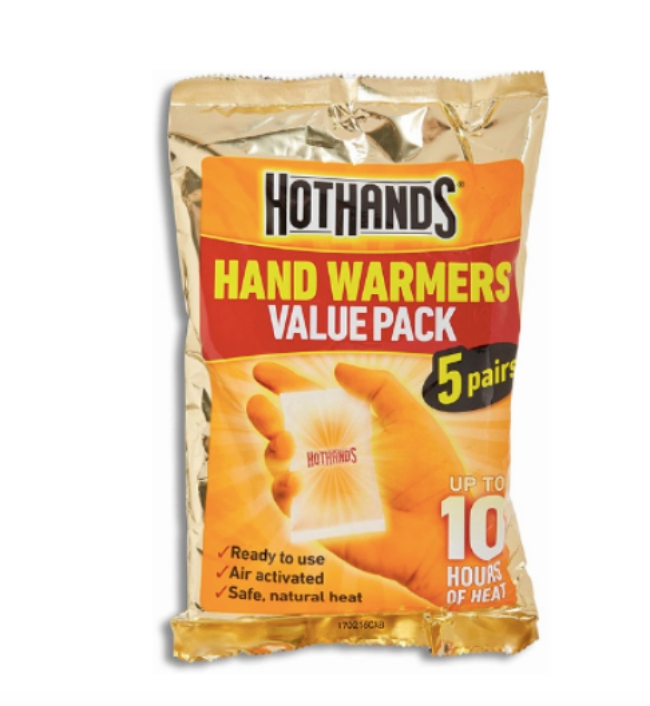 Image Source: Amazon
Reasons to Buy:
Safe and natural heat source
Long-lasting warmth for up to 10 hours
Reaches a maximum temperature of 70℃
Easily fits in hands, pockets, or gloves
Shop on Amazon
3. Fresh and Clean – Hygiene Essentials
Being in the great outdoors doesn't mean you need to compromise on personal hygiene.
With the right gear and a bit of planning, you can maintain your cleanliness and feel fresh throughout your camping trip.
Below we explore a few essential items that can help you stay clean and comfortable while enjoying the beauty of Byron Bay's natural environment.
Women's Urination Devices:
For women, answering nature's call in the outdoors can be a bit tricky.
Women's urination devices, also known as female urination aids or pee funnels, have revolutionised outdoor hygiene for women. 
They allow women to urinate standing up, making it much more comfortable and hygienic to relieve oneself outdoors.
They are easy to use, clean, and transport, making them a great addition to any woman's camping kit.
The Go Girl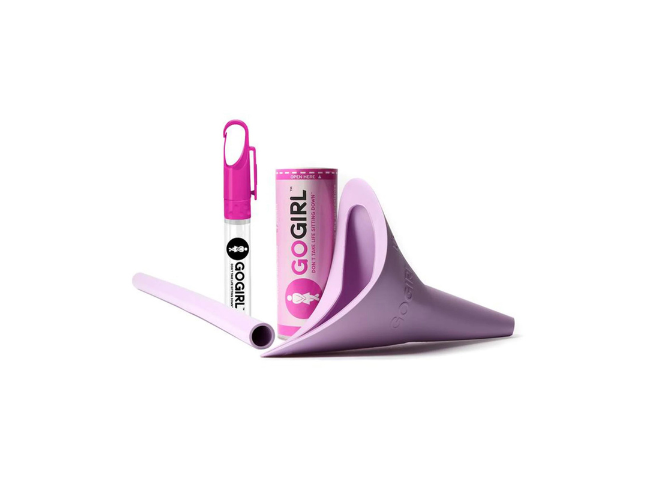 Image Source: The Go Girl
Reasons to Buy:
100% medical grade silicone
Hypoallergenic
Latex free
Hydrophobic/moisture and germ resistant
Reusable/sustainable
Soft/flexible
Shop at The Go Girl
Portable Toilets:
If you're camping in an area without restroom facilities, a portable toilet can be a lifesaver.
These compact, lightweight toilets offer a sanitary and convenient solution for waste disposal.
Look for models that are easy to set up, clean, and pack away.
Some even come with privacy tents for added comfort.
Angel Shield Camping Toilet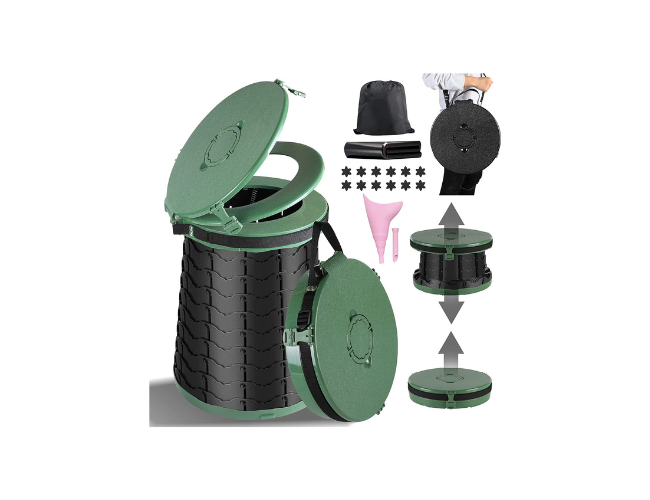 Image Source: Amazon
Reasons to Buy:
Convenience: Toilet access anytime, anywhere
Responsible travel: Self-contained, eco-friendly
All-weather use: Suitable for night and adverse conditions
Variety & affordability: Options for all needs and budgets
Hygiene & comfort: Avoid unclean public toilets, ideal for hesitant campers
Shop on Amazon
Wipes & Towels:
Biodegradable wet wipes are great for freshening up when a shower isn't available.
They can be used to clean hands, face, and body, helping you feel refreshed and clean.
For drying off, microfiber camping towels are an excellent choice.
They are lightweight, highly absorbent, and quick-drying, making them perfect for camping.
Deep Fresh 100% Biodegradable Bamboo Wipes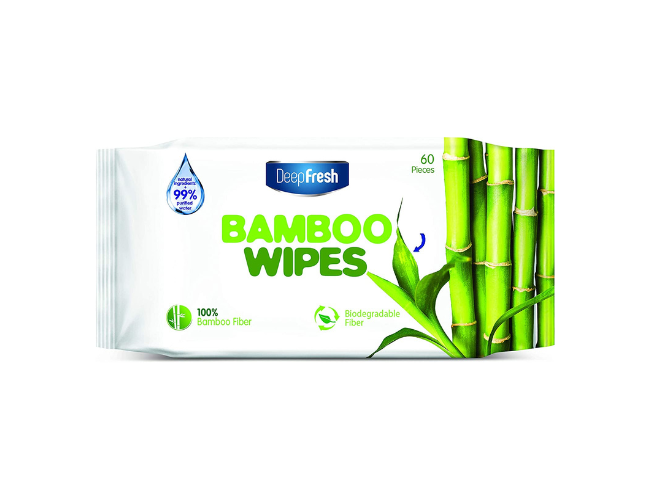 Image Source: Amazon
Reasons to Buy:
Dermatologically tested for sensitive skin
Alcohol-free to prevent irritation
Paraben-free for a safer skincare experience
Allergen-free and perfume-free for delicate skin protection
Phthalate-free and phenoxyethanol-free ensuring a gentle formula
Free from preservative dyes for a more natural product
Made with biodegradable fibre for an eco-friendly choice
Contains 99% purified water for effective cleansing
Enriched with natural moisturiser to nourish the skin
Shop on Amazon
Dry Shampoo & Toothpaste:
Keeping your hair and teeth clean while camping is essential.
Dry shampoo is a quick and waterless way to keep your hair feeling fresh and clean.
It absorbs excess oil and can leave your hair smelling great.
As for oral hygiene, don't forget to pack travel-sized toothpaste and a toothbrush.
You might also consider biodegradable toothpaste options that are safe for the environment.
Final Point on Hygiene Essentials
Remember, maintaining good hygiene is not just about feeling clean and comfortable; it's also about preserving the health and safety of you and your fellow campers.
When we take care of our personal cleanliness, we also reduce the risk of spreading diseases.
With these hygiene essentials, you can enjoy your Byron Bay camping trip knowing that you can keep yourself fresh, clean, and ready for every adventure that comes your way.
The great outdoors is sure to appreciate your efforts to leave no trace, just as much as you appreciate its natural splendour.
4. Ward Off the Elements – Sun and Bug Protection
When it comes to enjoying the great outdoors, ensuring you're adequately protected against the elements is a necessity.
This means safeguarding yourself from the sun and bugs, which can significantly affect your camping experience.
Here's why:
Sunscreen:
Sunscreen is vital for anyone spending prolonged periods outside.
It protects against harmful UV radiation, which can lead to sunburn, long-term skin damage, and even skin cancer.
Choose a broad-spectrum sunscreen that guards against both UVA and UVB rays, with a minimum SPF of 30.
Remember to apply generously and reapply often, particularly after swimming or heavy sweating.
La Roche-Posay Anthelios ULTRA SPF50+ Facial Sunscreen For Dry Skin 50ml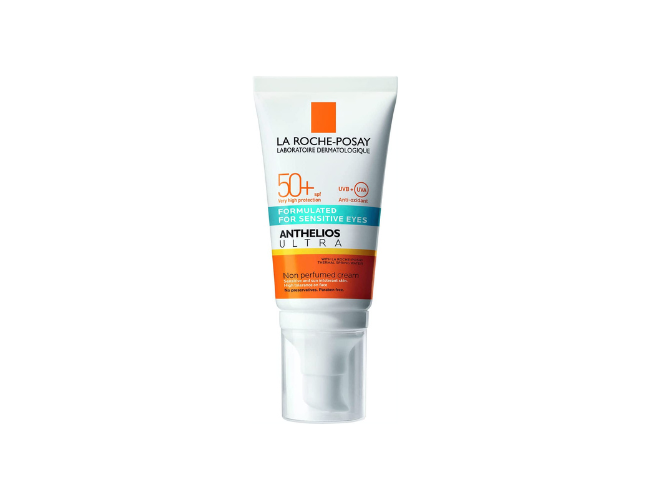 Image Source: Amazon
Reasons to Buy:
Provides superior UVA/UVB broad spectrum protection
Nourishing, non-greasy and ultra-comfortable texture for daily use
Prevents pigmentation and premature ageing signs
Enriched with anti-oxidant Baicalin to combat free radicals on skin surface
Dermatologically tested for sensitive skin and safe around the eye area
Shop on Amazon
Bug Spray:
Bug spray serves as your primary defence against bothersome insects.
Mosquitoes, ticks, and flies can be a nuisance, and in some areas, they can even transmit diseases like Lyme disease or the Zika virus.
Effective bug spray will help keep these pests at bay, allowing you to enjoy your camping trip without the constant annoyance of bites and itches.
Keep in mind that protecting yourself from the elements isn't just about ensuring comfort—it's about promoting health and safety.
With the right sun and bug protection, you can immerse yourself fully in your outdoor adventure without the worry of sunburns or insect bites.
Good Riddance Tropical Insect Repellent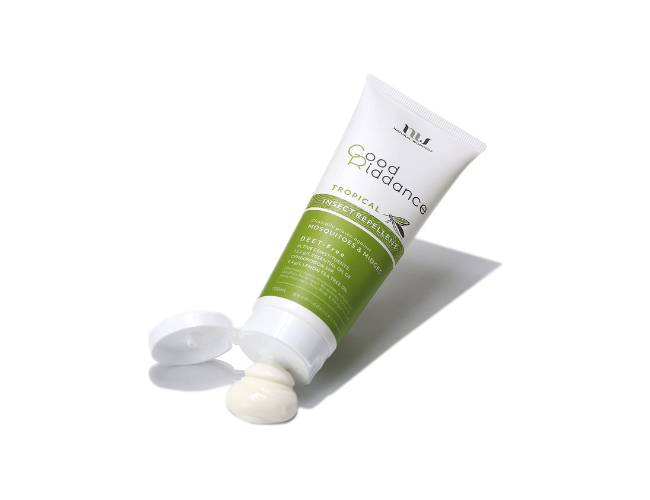 Image Source: Amazon
Reasons to Buy:
Long-lasting, DEET-free protection against mosquitoes, midges & sandflies
Clinically proven, tropical strength formula tested in harsh environments
Pleasant citrus fragrance, moisturising and non-sticky application
Eco-friendly: biodegradable formula and tubes, supports local suppliers
Gives back: 1% of sales donated to Australian Wildlife Conservancy
Shop on Amazon
5. Campsite Living – Practical Essentials
Creating a comfortable and practical campsite is the cornerstone of a relaxing and enjoyable camping experience.
Let's take a look at some essentials that can elevate your campsite living:
Camping Chair and Table:
Bringing along a comfortable camping chair and a sturdy table can make your outdoor living space feel more like home.
They provide a place to sit back and relax, eat meals, play games, or simply soak in the surrounding views.
When choosing your camping chair, look for one with good back support and durability.
As for the table, consider a foldable one for easy transportation and storage.
GCI Outdoor Freestyle Rocker XL Portable Folding Rocking Chair
Image Source: Amazon
Reasons to Buy:
Portable & Easy Storage: Quickly folds flat for transport and storage.
Sturdy & Comfortable: Powder-coated steel frame supports up to 400lbs, padded armrests, mesh backrest.
Smooth Rocking Motion: Patented Spring Action Rocking Technology for various surfaces.
Effortless Setup: EAZY-FOLD technology and carry handle for quick setup and convenience.
Compact Design: Lightweight (14.5lbs); open: 26.4×25.6×34.8 inches, folded: 25×4.9×34.8 inches.
Shop on Amazon
Cooking Equipment:
Cooking outdoors is a highlight of camping, so ensuring you have the right gear is paramount.
A portable stove or camping grill is a must, especially when campfires are not allowed.
Don't forget your pots, pans, utensils, and a kettle for that all-important morning cuppa.
Remember to pack eco-friendly washing up liquid and reusable dishware to maintain sustainability.
Quality Cooler:
A good cooler is crucial for keeping your food fresh and drinks cool.
When choosing a cooler, consider its insulation properties, capacity, and durability.
Some coolers even come with wheels and handles for easy manoeuvrability around your campsite.
Campingaz Stove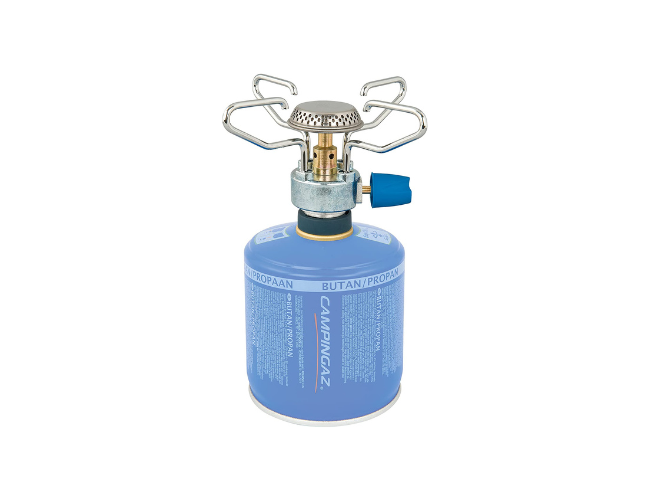 Image Source: Amazon
Reasons to Buy:
Powerful 1,300 W single burner for efficient cooking.
Easy handling with the Campingaz Easyclic system and compatible cartridges.
Compact, lightweight design with foldable arms for easy transportation.
Wide availability of gas cartridges in over 50 countries.
Ideal for outdoor camping
Shop on Amazon
Looking for recipes, check out these great reads:
Lighting:
When the sun goes down, having adequate lighting can make your campsite feel safe and cosy.
Bring along a good quality camping lantern for general lighting, and consider headlamps or torches for more focused light.
Solar-powered or rechargeable options can be both practical and environmentally friendly.
ANZEKE Solar Powered LED Camping Light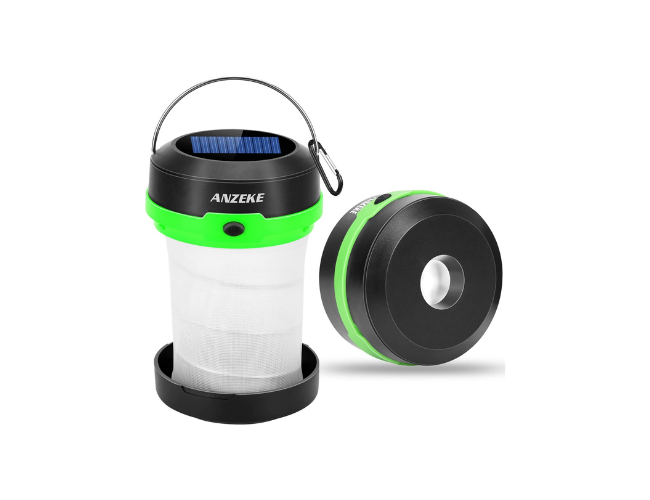 Image Source: Amazon
Reasons to Buy:
Solar & USB rechargeable: Versatile charging options.
Four lighting modes: Adapts to various outdoor needs.
Durable & weather-resistant: Suitable for different conditions.
Built-in charging cable: Powers devices on-the-go.
100% satisfaction guarantee: Worry-free purchase.
Shop on Amazon
First Aid Kit:
Safety should always be a priority when camping.
A well-stocked first aid kit can help manage minor injuries or ailments that might occur.
Essential items include bandages, antiseptic wipes, tweezers, medical tape, painkillers, and any personal medication.
First Aid Kit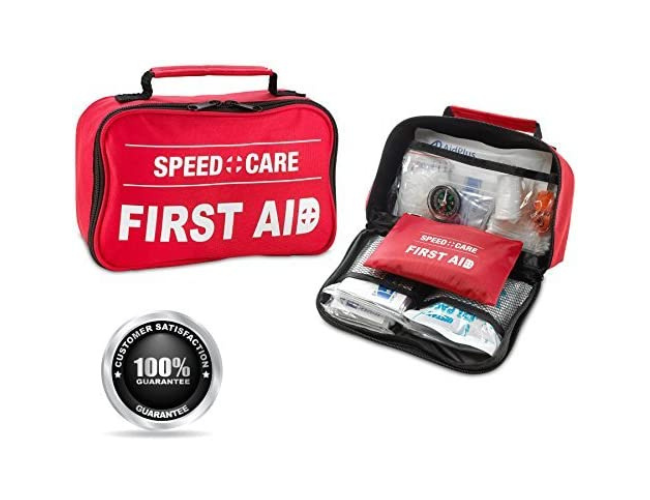 Image Source: Amazon
Reasons to Buy:
Complete 96-piece kit: Covers all minor injury essentials, perfect for simultaneous accidents.
Multi-purpose: Designed for treating cuts, scrapes, and aches – ideal for first aid providers.
High-quality compact case: Durable fabric with zippers and clear pockets for easy access.
Portable and convenient: Suitable for outdoor and camping activities
Shop on Amazon
6. Dress for the Occasion – Clothing and Footwear
The importance of suitable clothing and footwear during camping cannot be overstated.
They not only protect you from various elements but also ensure comfort during various activities.
When it comes to clothing, the key is to layer.
Starting with a moisture-wicking base layer to keep you dry, add an insulating middle layer to retain heat, and finish off with a waterproof, windproof outer layer to protect against the elements.
Always remember that weather conditions can be unpredictable, and it's better to have and not need than need and not have.
Select your clothing material wisely.
Cotton might be comfortable, but it retains moisture and takes a long time to dry, which is not ideal for camping.
Materials like merino wool or synthetic fabrics are preferable as they are quick-drying and offer better temperature regulation.
Now, let's talk about footwear.
It's imperative to have durable, comfortable, and waterproof footwear.
Hiking boots are excellent for trails, but for the campsite, consider lighter footwear like trail runners or comfortable sandals.
Always try your footwear before the trip to avoid blisters and discomfort.
7. Personal Touches – Items for Enjoyment
A camping trip offers a wonderful opportunity to disconnect from the daily hustle and reconnect with yourself and nature.
To make this experience even more enjoyable, consider bringing along some personal items that bring you joy and comfort.
A good book, for instance, can be a great companion for those quiet moments by the campfire or inside your tent.
Whether it's a thrilling novel or a guidebook about local flora and fauna, reading can add an extra dimension of enjoyment to your camping trip.
For those who enjoy introspection, a journal can be a wonderful addition to your camping gear.
Writing about your experiences, thoughts, and feelings while surrounded by nature can be incredibly therapeutic and enlightening.
You could even sketch or watercolour if you're artistically inclined.
These personal touches, though not essential for survival, can significantly enhance your camping experience, making it uniquely yours.
For more information on essential camping items to take with you, as well as items you can safely leave behind check out our blog post on Camping Items: What to Take and What to Leave Behind.
Book Your Stay at Broken Head Holiday Park
With the right gear and preparation, an enjoyable camping experience can be yours.
Camping at Broken Head Holiday Park is more than just a getaway—it's an opportunity to connect with nature, create unforgettable memories, and find tranquillity amidst the beauty of Byron Bay.
So why wait? Start planning your camping adventure today.
Embrace the outdoors and discover the true joy of camping, equipped with the knowledge and gear to make your experience truly special.
Here's to your next adventure under the stars.
Book your accommodation today!