Best Takeaways in Byron Bay

What's better than enjoying a great takeaway at the beach? When you visit Byron Bay, there are plenty of cafés and restaurants to choose from. Unbeatable kebabs, juicy burgers, fresh sandwiches, authentic pizzas, you name it, you'll find it.
Here are our best takeaways in Byron Bay today.
1. Bay Kebabs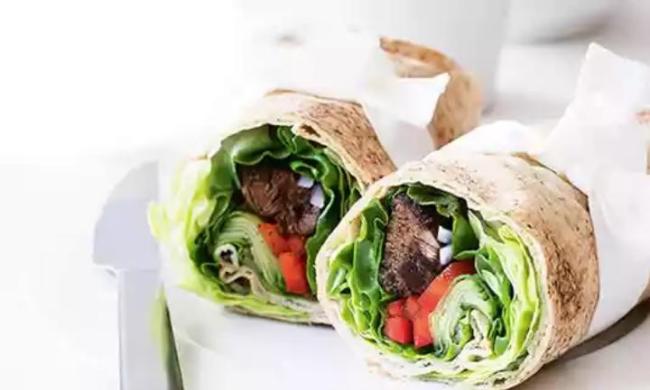 Image source: Bay Keybabs
If you love big flavours, Bay Kebabs is a must-try. Their extensive menu includes classics like lamb and chicken kebabs to mixed meat and the Oz kebab, made with bacon and free-range eggs. Bay Kebabs also features a vegetarian falafel made with chickpea hummus and a fresh salad wrap with avocado, lettuce, carrot and fresh tomato salsa.
The Signature Bay Kebabs menu includes lamb fillet, prawns, chicken breast and short cut bacon. What's more, Bay Kebabs is only 200m away from Main Beach, so you can enjoy your takeaway kebab as you soak up the sun.
2. Beloporto Burger Bar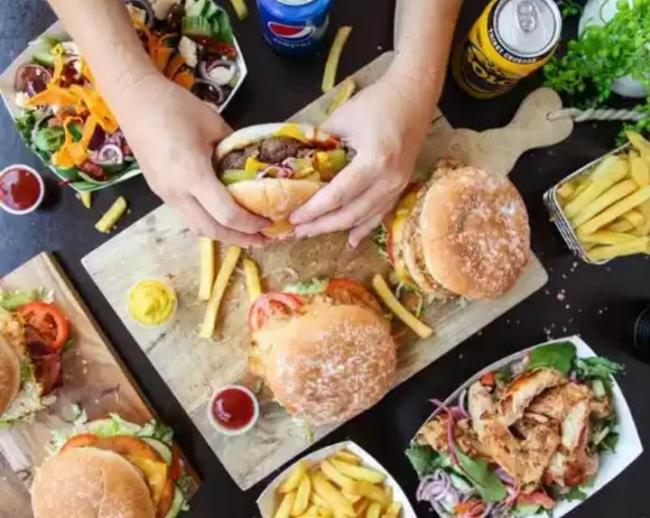 Image source: Beloporto
Of course, burgers are the classic takeaway food, and we love Beloporto Burger Bar. Beloporto burgers are great value for their price and each one consist of all local ingredients. Try the Aussie burger made with premium beef, bacon and egg, or the strip burger made with marinated chicken tenderloins.
For an extra $4, you can add more bacon, egg, pineapple and cheese. Beloporto serves Hawaiian, chicken and veggie wraps on super soft tortillas if you're in the mood for a wrap. Don't forget to sample their famous chilli sauce too.
3. Slice Pizzeria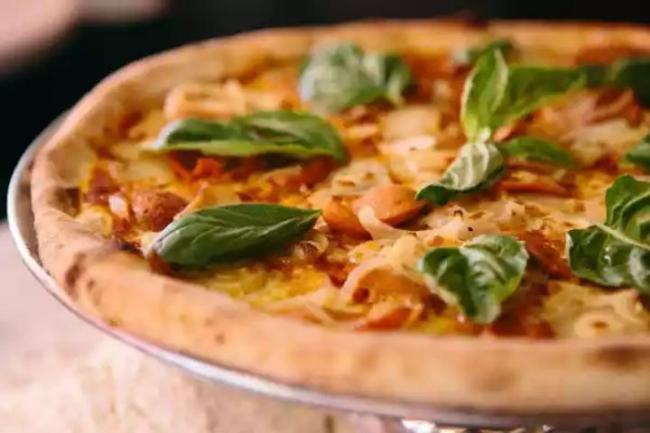 Image source: Slice Pizzeria
When the lightest, crunchiest pizza base meets the best quality toppings, what do you get? A fantastic pizza from Slice! This pizzeria prides itself on its 100% handmade pizza doughs made by their expert Pizzaiolos.
The BBQ pulled pork pizza is one of the best takeaways in Byron Bay.  Try the four cheese pizzas, which combine mozzarella, parmesan, Gorgonzola and Swiss cheese. Slice Pizzeria serves medium, large, giant, and family-sized pizzas, plus many options to add meat, veggies, cheese, and herbs.
4. OzyMex
Authentic Mexican food at the heart of Byron Bay–this is what OzyMex is all about. Tacos, burritos, nachos, quesadillas, and enchiladas are the OzyMex staples, plus salads and extras to complete your meal. The adventure truly begins when it comes to the fillings.
Soft corn tacos with slow-cooked beef, burrito bowls with shredded chicken, brown rice, beans and jalapeños, quesadillas with jackfruit and cheese… you get the idea.
Build your vegetarian options, too, like enchiladas with house cooked beans and guacamole. And if you like your takeaway spicy, OzyMex has a fantastic chilli sauce made by the Byron Bay Chilli Co., from mild house salsa to off-the-scale "Death by OzyMex" sauce.
5. Earth'n'Sea Pizza & Pasta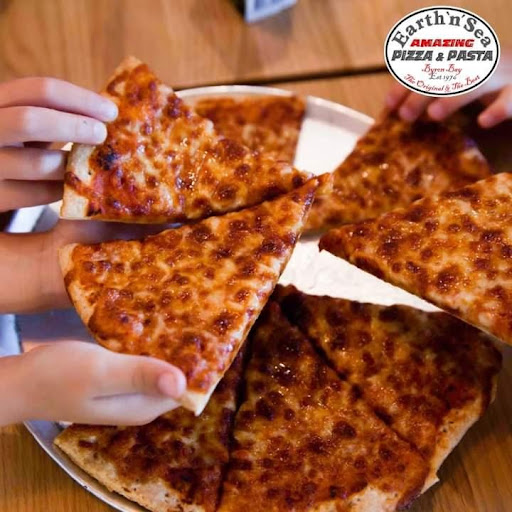 Image source: Facebook
Since 1976, Earth'n'Sea Pizza & Pasta has served excellent pizzas, fresh pasta, and their famous garlic bread in Byron Bay. There are 22 different kinds of pizzas to choose from, plus great combo deals to feed 4 to 6 people.
The freshly baked dough balls made with garlic butter are a fan favourite. All Earth'n'Sea pastas come with parmesan cheese, and you can take your pick of sauces—rich carbonara, creamy basil, spicy prawns in chilli tomato sauce. Their vegetarian and kids options will definitely keep everyone happy.
6. Suffolk Bakery
Why would a bakery feature on the best takeaways in Byron Bay? Suffolk Bakery serves an amazing menu of delicious cakes, pastries and pies, but their up-and-coming sandwiches are worth a taste.
Check out their mega grain roll made with smoked salmon, red onion and avocado. The wholemeal wrap is a great treat, made with roasted chicken, coleslaw and rocket. True to their slogan, Suffolk Bakery is "more than just a bakery".  There's plenty of variety, including coffee, cold drinks, vegetarian, vegan and gluten-free options.
Best of all, it's a five minute drive from Broken Head Holiday Park!
A takeaway for every occasion in Byron Bay
Byron Bay is a foodie's heaven, and bold flavours and hidden gems are yours to enjoy. Bring your appetite with you for your stay at Broken Head Holiday Park in Byron Bay.
We have affordable accommodation options for solo visitors, couples and families at our Byron Bay campground. And we're only minutes away from all these (and more!) takeaways during your beach holiday. Book your getaway, take your pick of takeaways and pub food in Byron Bay, kick back and relax. Get in touch with Broken Head Holiday Park today!