What to Pack for a Surfing Weekend in Byron Bay

For many of us, surfing means travel, which means planning. Sometimes we dream of that epic surfing trip for weeks, even years. Byron Bay, in particular, attracts surfers from around the world with our perfect beaches and laid back vibe.
So it's perfectly normal to get super excited about your Byron Bay trip and forget what to pack. Use our checklist below to pack everything you need to visit Byron Bay.
Surfboards
On average, two to four surfboards are ideal for a surf weekend trip. There are great surfboard hires in Byron Bay to get you started. A variety of boards in your quiver means that you will make the most of the often unpredictable ocean waves. Enjoy any excellent Byron Bay surf spots like Belongil Beach, Main Beach, Tallow Beach, and The Pass.
Sunscreen
Don't leave for your Byron Bay surfing weekend without sunscreen. Even if you surf in a wetsuit, your face will still be exposed to UV rays. Remember, UV exposure increases with the sun's reflection on the ocean surface. Choose a zinc-based sunscreen that sticks to your skin and won't wash off when you dive.
Fins and keys
Surfboard fins are a huge factor in how well you perform in the waves. Bring at least two sets, plus fin keys to switch them up in case the conditions change. Pack a few more if you'll be surfing in a remote beach where there are no fellow surfers with spares to help you out.
Towels
Choose a surfing towel that is lightweight, compact, and quick-drying. A regular beach towel is too bulky and takes forever to dry, so we recommend a microfiber travel towel. Remember to separate your wet items from your jewellery, watches, glasses, and cameras, which you should keep away from the ocean.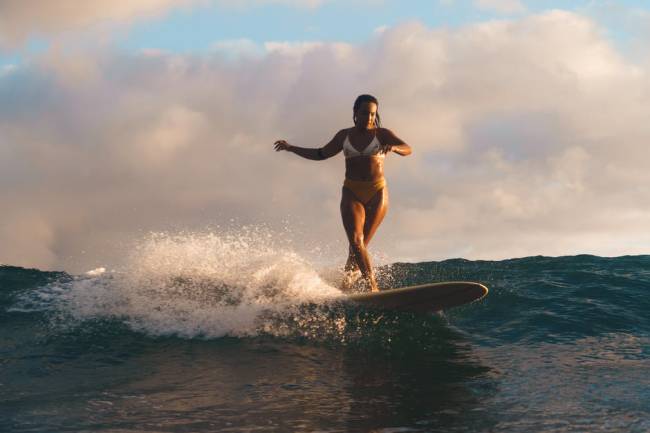 Wax and comb
A good surfboard wax and comb set is essential when you visit Byron Bay for your surfing trip. Soft wax is great for cold water surfing, while harder wax is best for warm water. A wax comb will help you remove the wax and apply a fresh layer before hitting the water.
Leashes
Bring two or three new or slightly used leashes per surfboard when you visit Byron Bay. Why so many? Well, if you lose your board, you'll swim all the way back to the shore. Spare leashes mean that you can get right back in the water with a fresh surfboard. Use a thinner leash for calm waves and a thicker leash for bigger surfs.
Reef booties
Protect your feet with a good pair of reef booties for your surfing weekend. They're great for cold water surfing and keeping you free of sea urchins and nasty reef cuts. Always include them in your camping clothes if you plan to explore the reefs in Byron Bay.
Earplugs
If you anticipate cold conditions during your surfing weekend, carry a good pair of earplugs to use when you're out in the waves. Surfer's Ear is an inflammation related to cold water exposure and waterborne pollution in the ocean. Earplugs are a simple workaround to keep Surfer's Ear at bay.
Surf helmet
A surf helmet is necessary for everyone, from complete beginners to pro surfers tackling heavy waves. It may not look very cool to surf while wearing a helmet, but keep in mind that head injuries can happen at any time when you're out in the ocean. Put your surfing safety above all else—we want you to hit the waves for decades to come!
First aid kit
Always carry a first aid kit for all your outdoor adventures, surf weekends included. Reef cuts, stomach issues and muscle aches are only a few of the challenges you will encounter while surfing. Ensure that your first aid kit has antiseptics, bandages, plasters, pain relievers, ear drops, and anti-inflammatory and indigestion medications.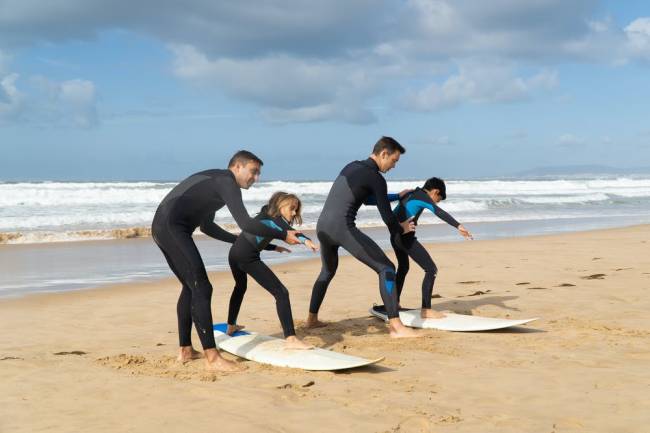 Surf to your heart's content in Byron Bay
All set for your surfing weekend in Byron Bay? Book your spot at Broken Head Holiday Park. We have everything you need to visit Byron Bay. The incredible beaches are right at our doorstep, plus great amenities and affordable accommodation for solo travellers, couples and groups. And you don't have to be a pro surfer to visit Byron Bay – take your pick of surfing lessons and dive right in! Book your camping spot today!