Top Byron Bay Surf Spots – Your Personal Surf Map

Do you love that adrenalin rush you get when you catch a wave on your surfboard? Byron Bay is a world-class surf destination with all types of beaches featuring gentle swells for beginners, to more challenging point breaks for experts. If you want to, you can surf all day long here. Pick your new favourite surf spot from the list below and enjoy the ride!
1. Belongil Beach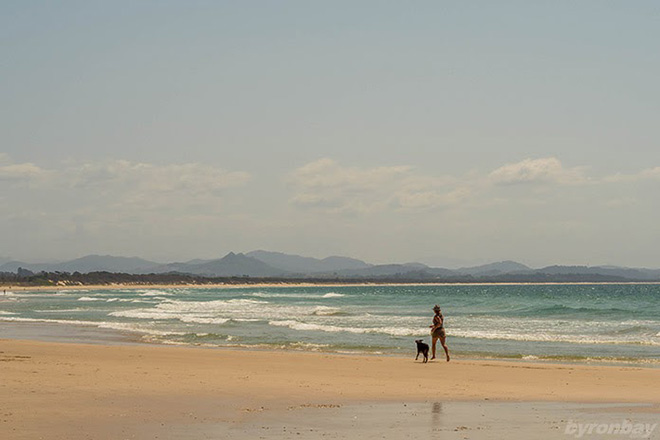 Image Source: Belongil Beach Byron Bay
This beach is well known for its peaceful vibes and gentle wind. It has smaller waves, so it is very suitable for children and beginners when the beach is patrolled. However, it is still a good choice for surfers of different skill levels or anyone who wants a chill surfing afternoon. It is just a few kms north of the city centre, and easily accessible.
The best surfing here is with a southeasterly swell and an off-shore southerly or south-westerly wind. You can also enjoy snorkelling and diving here, as this beach is quiet and beautiful.
Winds: Southerly and southwesterly
Swell: Southeasterly
Tide: All
Bottom: Sand
Crowd: Low
Level: Beginner to expert
2. The Wreck

Image Source: The Wreck Byron Bay
Located at the southern end of Belongil beach, the Wreck is a very popular Byron Bay surf hangout spot amongst local surfers. South-west wind and east-northeast swells are characteristic.
This place is named after the Wollongbar's shipwreck in 1921, a very important industrial link between Byron Bay and Sydney at that time. Sandbars on either side of The Wreck can cause good swells ideal for more adventurous surfers. It can get rough here and sometimes there is no beach patrol, therefore, you need to be more careful.
Winds: Southwest
Swell: East-north east
Tide: All
Bottom: Sand and metal
Crowd: Heavy
Level: Beginner to expert
3. Main Beach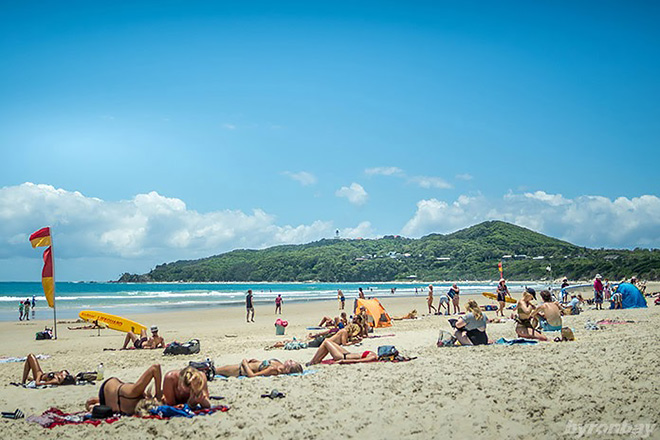 Image Source: The Main Beach Byron Bay
Located in the heart of the city, this beach is very easy to find with a lot of restaurants, bars and cafes nearby which is why it lures many visitors as well as surfers of all levels. But you can spot swimmers and even kayakers, too. You can also visit the Byron Bay Surf Club here which has stories of the Australian surf era.
The best surf time to surf at the Main beach is at high tide due to possible dumping waves at low tide. Avoid surfing when there are rip currents. For beginners and children, it is crucial to surf when the beach is patrolled. But don't worry Main Beach has the most surf lifesavers of any beach in Byron Bay, especially during summer.
Winds: Southwest and light east winds
Swell: North, east and south swells
Tide: All
Bottom: Soft sand
Crowd: Heavy
Level: Beginner to expert
4. The PASS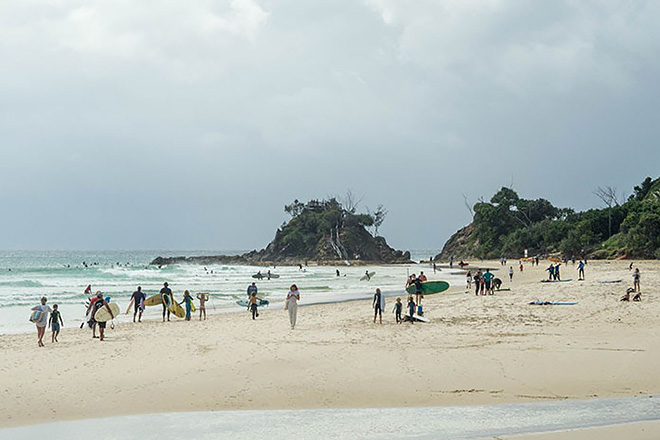 Image Source: The Pass Beach Byron Bay
This Byron Bay surf spot is best known for its surfing potential both internationally and amongst locals. It is just a 10-minute drive south of Main Beach around the headland.
Nestled between Fisherman's Lookout and Clarkes Beach, The Pass can get very crowded in summer and holidays as it is popular for all kinds of watersports. Here you can ride big swells, both long and consistent sets, and smooth right-hand point breaks. You'll find experienced surfers here when there is a low-to-mid tide, south-southwesterly wind and beautiful east-south easterly swell.
Since it's so popular this beach can get busy so watch out for swimmers and diving boats that are going to and from Julian Rocks.
Swell: East-South-East
Winds: Southeast
Tide: All
Bottom: Sand
Crowd: Moderate
Level: Novice to expert
5. Tallow Beach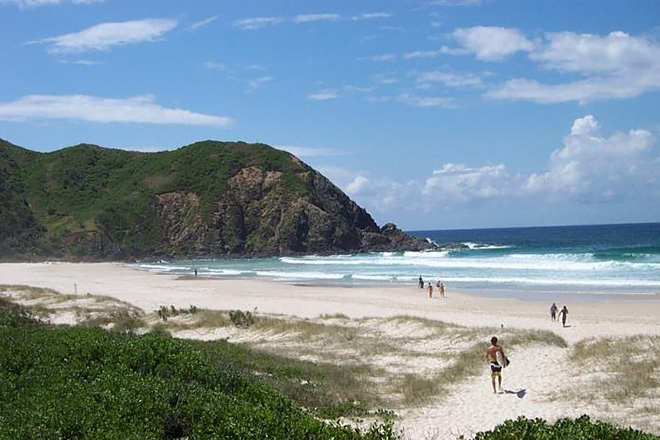 Image Source: Tallow Beach Byron Bay
This Byron Bay surf spot stretches six and half kilometres along the Cape Byron Conservation Area and through Arakwal National Park and is very close to our campsite.
It is popular for swimming, fishing, beach walking and even bird watching. If you are lucky you might see White-bellied Sea Eagles and Osprey. And it is especially popular for surfing, however, there are mostly professionals here as the waves are a bit wilder. The best waves are with the West to North East winds.
Winds: Northeast to northwest
Tide: All types
Swell: Northeast to south
Bottom: Sand
Crowd: Can get busy
Level: Intermediate to professional
6. Broken Head
Image Source: Broken Head Beach Byron Bay
We may be biased but on a good day Broken Head has one of the best right hand point breaks in Byron, with fast, hollow waves. That is why it can be packed with experienced surfers that want to grab that marvellous wave when it appears.
You might even need to wait the whole day when the conditions are good to have your moment to shine. In any case, it will be worth it. Everyone wants a slice of those extraordinary and unique point breaks.
Wind: Southwest
Tide: All types
Swell: East
Bottom: Soft Sand
Crowd: Can get busy
Level: Expert
7. Clarkes Beach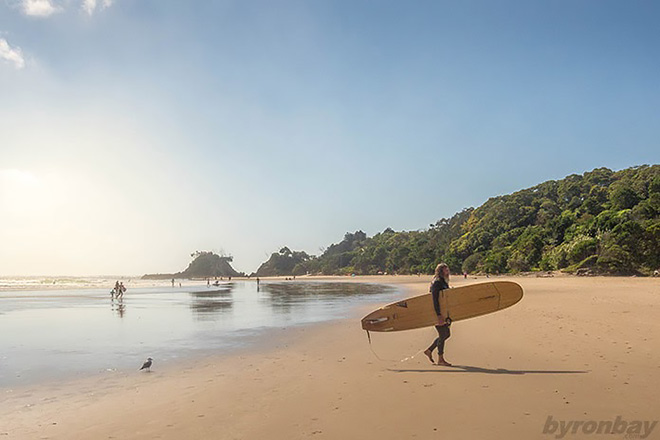 Image Source: Clarkes Beach Byron Bay
Not far from the city centre, you will find the magnificent Clarkes beach, a Byron Bay surf spot that is a perfect choice for beginners and body surfers. If you are having your first surf lessons, you will probably start here. This surf break has waves that are smooth and easy to ride and is great for novices, as well as paddle boarders and long borders. Snorkellers and swimmers also love it here.
Keep in mind that there can be strong rips that develop in the north. At those times, novices should switch to some other beach. However, this is usually the case when it is winter, so then it is not a very great time for surfing anyway.
Winds: North
Swell: Eastern
Tide: All types
Bottom: Sand
Crowd: Can get busy
Level: Novice to Intermediate
8. Wategos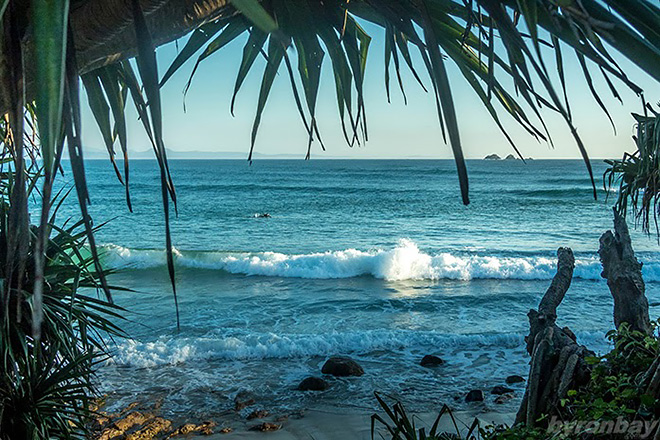 Image Source: Wategos Beach Byron Bay
Wategos is a family surfing paradise. This small beach is named after the family Wategos who lived and grew vegetables and bananas here in 1920s and 1930s. You can surf, have a memorable picnic day, or BBQ with your friends and family members. People usually come here to learn to surf as the waves are very gentle and never break hard.
Winds: South
Swell: East
Tide: All types
Bottom: Sand & Reef
Crowd: Moderate
Level: Learner to Intermediate
Get Your Surf On and Come Camping in Byron Bay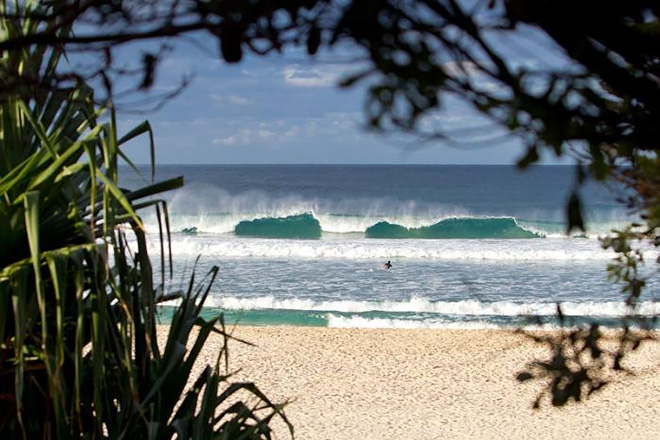 Image Source: Broken Head Holiday Park
Broken Head Holiday Park is located at the southern end of Tallow Beach and just a stone's throw from Broken Head Beach. If you're looking for an affordable, relaxing place to get your surf on in Byron Bay, then our lovely campsite is the perfect place to stay. Check out our affordable campsites if you want to go rustic, or beach shacks or beach cabins that are great for one person or a couple. We also have a 2 bedroom beach house that can accommodate 5 people, ideal for families or small groups.
Book your Byron Bay accommodation and see you soon!