Foodie Guide: A Week of Cheap Eats in Byron Bay

Going on holiday in Byron Bay doesn't need to cost an arm and a leg—finding reasonably priced accommodation (ahem, like Broken Head Holiday Park) is the first step.
But we all know it's fun to eat out, try local food and not cook while on holiday. Of course, that takes money. So here's where we step in and help out. We put together a guide for a week of eating out (not every meal, of course), with every meal price tag coming in under $20.
Be sure to check below for links to posts with ideas for meals that you can cook to eat in, and keep in mind that Broken Head Holiday Park has excellent facilities for cooking up delicious camp food.
Monday
No one wants to immediately dig into food they brought or put together a meal like they're at home on the first night of your holiday. So depending on arrival time, you should plan to have your first Byron Bay meal at one of the oldest venues in the area: Great Northern Hotel.
If you can, plan to head there for the lunch special of $10 burgers and chips, which is featured everyday. Not only will you score a cheap lunch, but you can also enjoy a lovely outdoor seating arrangement in order to soak up surroundings (or more likely, people watch!).
Keep in mind, if you do arrive closer to dinner time, if you stick to pub classics, salads or, better yet, share some starters with your mates and come during cocktail hour, you'll still score a fairly inexpensive meal to start off your Byron Bay holiday.
Location: Jonson Street in the heart of the main drag.
Opening times: 12 pm to 3 pm and 5 pm to 10 pm Sunday to Thursday, and 12 pm to 10 pm Friday and Saturday.
Tuesday
Plan to pack in a bunch of fun activities on your first full day in Byron Bay from taking hike up to the Byron Bay Lighthouse, to surfing one of the legendary spots here. After a long day of being a tourist and eating the snacks you've brought along —to keep things on the cheap—finish off the day with an easy (and inexpensive!) meal out that is just minutes from Broken Head Holiday Park.
Yellow Flower Indian Diner, located in Suffolk Park, features great prices on delicious Indian food everyday. The reason for suggesting this restaurant on Tuesday is simple. They have Cheap Tuesdays which features curries on rice, where you can eat dinner for the low price of $7 for a small plate and $10 for a large, to keep you on budget.
Bonus: If you miss the dinner special, you could try the everyday lunch special, which is lentil dahl or chickpea masala, rice, salad and two pappadams for $9.50.
Location: 11 Clifford Street, Suffolk Park
Opening times: everyday from 10 am to 9 pm.
Wednesday
Who doesn't love a good pizza? It's almost universally enjoyed by everyone, and this one is a Byron Bay staple.
Legend Pizza serves up delicious pizza for a great price. The menu should allow any tastes to be satisfied, from your more traditional fare like Hawaiian and BBQ chicken, to unique combinations such as the spinach and pumpkin or the Mexican. They have gluten free and vegan options available.
With a special of $20 for any medium, you could easily do takeaway for a picnic or make a pit stop for a yummy lunch or dinner in between seeing the sights of Byron Bay. With a convenient location on Jonson Street, it won't be hard to schedule in a cheap meal at this beloved Byron Bay restaurant.
Location: Shop 1, 90-96 Jonson Street
Opening times: everyday from 8 am-11 am
Thursday
Since it's only open Wednesday to Sunday, we suggest you head to Byron Bay Brewery later in the week. But it's worth the wait because any night you come, you can grab the 2-for-1 deal, making it possible for you to add in one of the excellent craft beers made on-site.
This deal is especially perfect if you're on holiday with your partner—get a $20 meal each and only pay $10 for the food, add a drink or two and you'll still be in a good price range.
Plus, the Byron Bay Brewery was completely renovated and reopened in 2016 with more open space, booths and an excellent beer garden.
Location: 1 Skinners Shoot Rd
Opening times: Wednesday to Sunday, 12 pm – 9.30 pm
Friday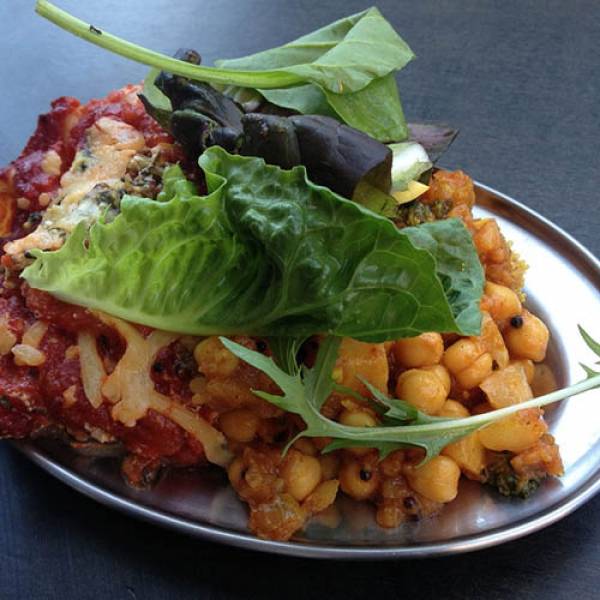 Today, you can take your pick—want a cheap, but delicious breakfast off site? Looking for a lunch out that won't break the bank? Would you rather finish off the day with a good, filling dinner that you can still fit into your holiday budget by the end of the week?
You can do any of those options at Heart & Halo. This vegan and vegetarian restaurant serves up fantastic food in buffet style for breakfast, lunch and dinner everyday. According to the reviews on Zomato, this is one of the best values for vegetarian and vegan meals in Byron Bay—and the food happens to be delicious, too!
Location: Shop 4, 14 Middleton St
Opening times: Monday to Friday, 11.30 am – 7.30 pm
Saturday
Because it's the weekend, we're going to offer up two suggestions.
1. Just want a good burger today? Perhaps something you can grab for takeaway in between surfing or checking out the shops in the main part of town, then head to Beloporto.
This burger bar is popular for a reason—between its location just off Lawson Street, the famous Portuguese burger (actually a chicken burger) and the price, you may find yourself here more than once this week. You'll get in and out of here for just under $11, which gets you a burger, fries and drink.
Besides the Portuguese burger, the simple menu also features a beef burger and even a veggie burger. Open everyday, you can even grab breakfast at this cheap eats restaurant.
Location: 3/73-75 Jonson St
Opening times: everyday, 10 am to 8 pm
2. If you stayed in the town centre today, then it'll be easy for you to head to OzyMex Café on Jonson Street. Dine on some good Mexican food that will keep you from going over budget since everything is under $15.
The Byron Bay Chilli sauces, made with Australian grown chillies, are the key ingredients. Pick your spice level and nosh on Mexican fare including: nachos, burritos and tacos.
Location: 2/8 Jonson St
Opening times: everyday 10 am to 9 pm
Sunday
Finish up the week by trying out a couple of yummy, cheap Asian options.
1. Stop at Red Ginger for a cheap lunch, and when we say, cheap we mean it. Dumplings are only $2 a piece, and steam buns are $2.70! At first when you enter  you might think you stumbled into a grocery store or even a gift store, and you'd be right on both counts. But you'll also find a dumpling and tea house located here as well.
If you happen to be heading to Palace Cinemas, Red Ginger, which has two locations, Byron Bay and Bangalow, is right across the street on Jonson Street so, as a reviewer suggests on TripAdvisor, come early and enjoy some Yum Cha before heading into the movie. Or if you're wandering the shops of Byron Bay's town centre, then stop in for a cheap bite to eat before continuing your tour of the area.
Location: 2/111 Jonson St
Opening times: 9 am to 6 pm Monday to Friday, 9.30 am to 5.30 am Saturday, 10 am to 5 pm Sunday
2. If you like sushi, but feel like you're running low on cash, not to worry. Street Sushi offers up several cheap eats options. For example, you can get three rolls of your choice and a drink for $10, making it an excellent lunch option while you're out visiting the sites of Bryon Bay. You can also either eat in or do takeaway here. The restaurant features juices and smoothies as part of its menu as well.
Location: Cavanbah Arcade Shop, 4/4 Jonson St
Opening times: everyday from 8 am to 4:30 pm
Keep on Budget, Meals On Site
For those really attempting to keep to a strict budget, check out the following recipe posts with ideas to provide easy, but good meals for the times you decide to stay in the campground to eat.
Save on your stay at Broken Head Holiday Park
At Broken Head Holiday Park we offer various accommodation options to suit all budgets, so you can easily afford a Byron Bay holiday.
With all these ideas for where to go out for Byron Bay food on the cheap, along with the knowledge you're staying at a place where you can serve a few meals "at home," you should stop dreaming of a holiday and go ahead and book that reservation now.