Want Easy Camping Meals? Try These 5 Foil Packet Recipes!

One of the benefits of a camping holiday is the ability to save money by making some of your meals at the campsite. But you're still on holiday, so no one wants complicated, time-consuming recipes—easy camping meals is where it's at for holiday cooking. That's why we love foil pack cooking; it's simple, all the ingredients go into the foil and there's hardly any clean up. Plus, it's easy to make healthy meals — even vegetarians or gluten-free diets work with these meals.
To be prepared to make these excellent easy camping meals, you'll need to bring along heavy duty foil. We recommend purchasing this type of aluminum foil as it holds up best in the cooking process, but if you just can't get your hands on it, then you can double or triple up the regular kind of aluminum foil.
There are typically two ways to package up your food for cooking in foil. One way is called the tent package, which is best for steaming the food, and the other is flat, which is usually best for meats. The infographic below has a great description and illustration of how to make these two types of packets for cooking in foil, along with some suggested tin foil recipes.
We've also pulled together some camping dinner ideas, so you'll be able to use this post as a jumping off spot for all your foil pack cooking adventures.
1. Orange-Thyme Grilled Shrimp

Ingredients
1 kg large shrimp, peeled and deveined, tails on
¾ – 1 cup fresh orange juice
1-1/2 tsp. grated orange zest
2 garlic cloves, minced
2 tbsp. olive oil
1 tbsp. chopped fresh thyme + fresh sprigs
½ tsp. salt
¼ tsp. pepper
Method
In a shallow dish or large Ziploc bag, combine shrimp, orange juice, orange zest, garlic, oil, chopped thyme, salt and pepper. Toss to coat. Marinate in the cooler for 30 minutes or up to 8 hours. (Perhaps even make this up before you leave and have it the first night you arrive?) Cut two or three large rectangles of foil. Divide shrimp & marinade and place in center of foil rectangles. Close the foil lengthwise, top to bottom, folding over and pinching to close. Now close each side one at a time rolling up toward the middle. You can make 2-3 of these depending on how big your foil sheets are and how many shrimp are in each packet. Place foil packets onto preheated grill and cook for about 8-10 minutes on high heat. Cooking time all depends on the heat of the grill and amount of shrimp in each packet. Pull foil packets off grill and carefully open. Serve.
2. Italian Sausage and Pepper Foil Packet
Ingredients
1 kg Italian sausage (for an even healthier version, use Italian turkey sausage!)
2 red capsicums
2 yellow capsicums
1 red onion
Salt
Pepper
Method
Cut Italian sausage into slices. Cut vegetables into large wedges. Mix meat and vegetables together and salt and pepper to taste. Wrap in a foil packet and grill for 20 minutes or until sausage is cooked through. Serve.
Source: From Homemade Interest
3. Grilled Pasta Packets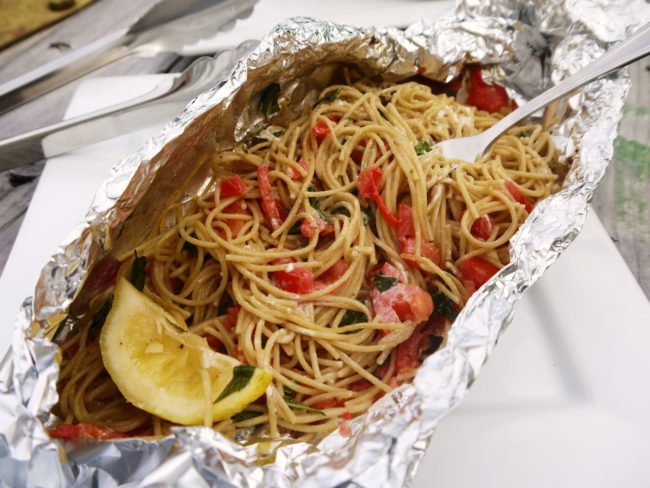 Ingredients
450 grams whole grain spaghetti, cooked slightly less than al dente per package instructions (subtract 1 minute from cooking time)
6 roma tomatoes, seeded and chopped
1 cup fresh basil leaves, chopped coarsely
115 grams fresh goat cheese
1 lemon, cut into 6 wedges
1/2 tsp salt
1/4 tsp fresh ground black pepper
3 cloves garlic, finely minced
3 tbsp olive oil
Method
Preheat grill to medium heat. Cut one dozen 20×30 cm pieces of aluminum foil.  Layer foil so that you are using 2 per packet.  In a bowl, toss together pasta, chopped tomato, basil, salt, pepper, garlic and olive oil.  Spoon one serving of pasta mixture (~1 1/4 cups) into the centre of each packet.  Squeeze lemon wedge over pasta before adding to packet.  Spoon a few teaspoons of goat cheese into packet. Bring long edges of foil together, then roll to secure. Roll edges of packet to form a closed space (do not squeeze out all air). Reduce grill heat to low, then place packets on grill.  Cook for 10-12 minutes, shaking packets halfway through cooking. Remove from grill and serve immediately.
Source: Eighty Twenty
Hamburger and Potatoes Packet (gluten free!)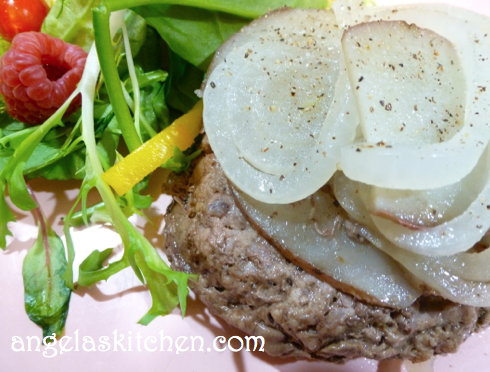 Ingredients
100 grams ground beef per person
1/2 small potato, thinly sliced per person
one slice  of onion per person (cut the onion into rings and use a whole slice that isn't broken apart)
salt and pepper to taste
Method
Shape ground beef into a patty and place in the centre of the foil and season with salt and pepper. Place potatoes on top of the patty (overlapping slightly) then put the onion on top.  Seal packet.  Cook over hot coals for 25-30 minutes.
5. Grilled Barbecue Chicken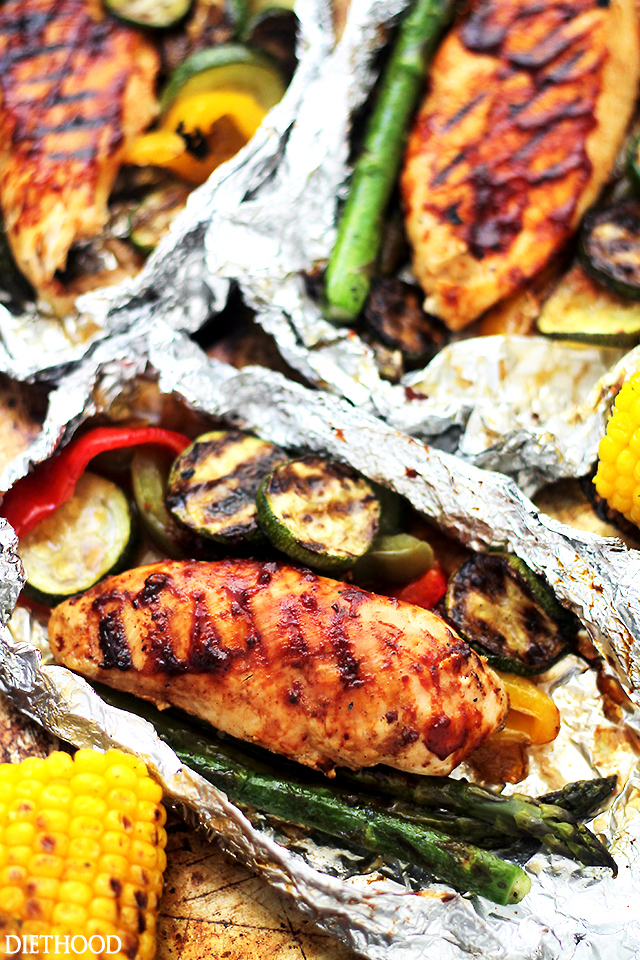 Ingredients
4

(100 grams each) boneless, skinless chicken breasts

1/2-

cup

barbecue sauce

(use your favourite)

1

zucchini

, sliced into thin rounds

1

red

, green or yellow capsicum, cut into thin strips

8

asparagus spears

salt and fresh ground pepper

, to taste

extra virgin olive oil
Preheat the grill to medium-high heat. For each foil pack, prepare two sheets of aluminium foil; place the sheets one on top of the other for durability. Place one chicken breast on each stacked pair of foil sheets; season with salt and fresh ground pepper. Brush each chicken breast with 1 to 2 tablespoons barbecue sauce. Divide equally and arrange vegetables around each chicken breast; season with salt and pepper. Drizzle chicken and vegetables with little olive oil. Fold the sides of the foil over the chicken, covering completely; seal the packets closed. Transfer foil packets to the preheated grill rack and cook for 20 to 25 minutes, or until done, turning once. Allow the chicken to rest for a few minutes.
Source: Diethood
Bring Your Tin Foil Recipes to Broken Head Holiday Park
Book a fun camping holiday to Bryon Bay soon, and you'll be able to try out any of these delicious easy camping meals on our excellent campsite facilities at Broken Head Holiday Park. We have a great camp kitchen and BBQ area so you'll be able to try out these and other camping dinner ideas easily. Use these yummy sounding recipes as a good excuse to pack up your car and head to Bryon Bay soon!