17 Essential Items You Need for Camping

There's a lot of camping gear out there. Depending on your level of camping experience, what campsite you'll be using, and who you're going with, determines much of what you might need.
Below you'll find a list of what we consider the essentials, or the base, for starting the packing for a camping holiday.
For example, someone might say a sleeping pad is an essential, or another person might say a tarp or rope is necessary. Once you start going on camping holidays, you'll develop your own list of "essentials" or must-haves, but we thought we'd get you started with our list.
1. Tent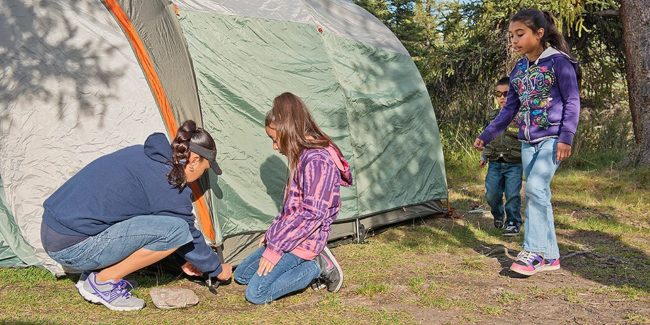 After a long day of hiking, checking out your surroundings (ahem, Byron Bay), you'll want a good, waterproof, comfortable (read: not too small for you and anyone else you're sleeping with) place to sleep. This means a good tent is the top essential item you need for camping. (Unless, of course, you have a RV, then you're set there!).
Take a look at a couple of posts we have on tents and make sure you have the best one for your situation and budget to make your next (or first) camping holiday a good memory.
2. Sleeping bag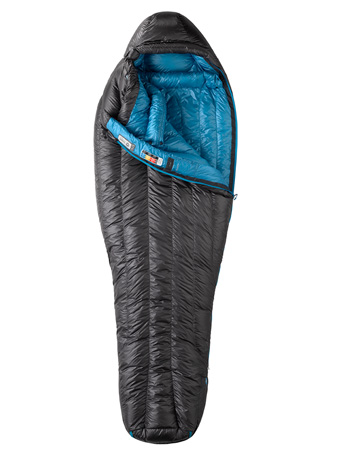 Image source: Go Camping Australia
Next on the top 10 list of essential items is obviously what you actually sleep in—pretty important for getting a good night's rest, right? You want comfort, something that will keep you warm but not overheat and not too heavy or bulky. If you're a veteran camper, you probably have your favourite sleeping bag that has been on loads of camping holidays, but if you're a newbie, we did some research for you. Here is a post to get you started (also see above for Camping Gear for Beginners).
3. Lantern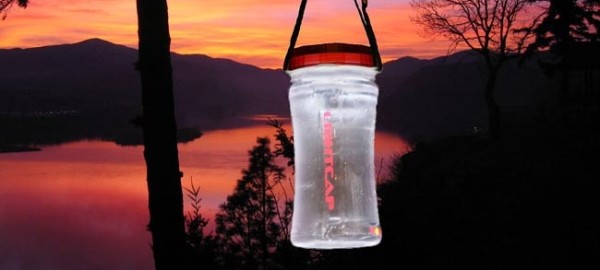 Image source: Sports Vibe
Depending on the time of year you are camping and when you return to camp in the evening, light at your campsite becomes an important part of your camping experience.
There are loads of reasons you need a lantern around your camp, so make sure you pick up the right ones for your camping set up. Say you want to read a book or play a game with your mates, then having a good light is key. If you're having a snack or eating dinner  a little later, then you will also need a good light. Do you have a family and might need more than one in case the kids are doing something different than parents? Or several couples on a group trip? Whatever is your situation, we've got ideas for the lanterns you could use.
4. Camping chair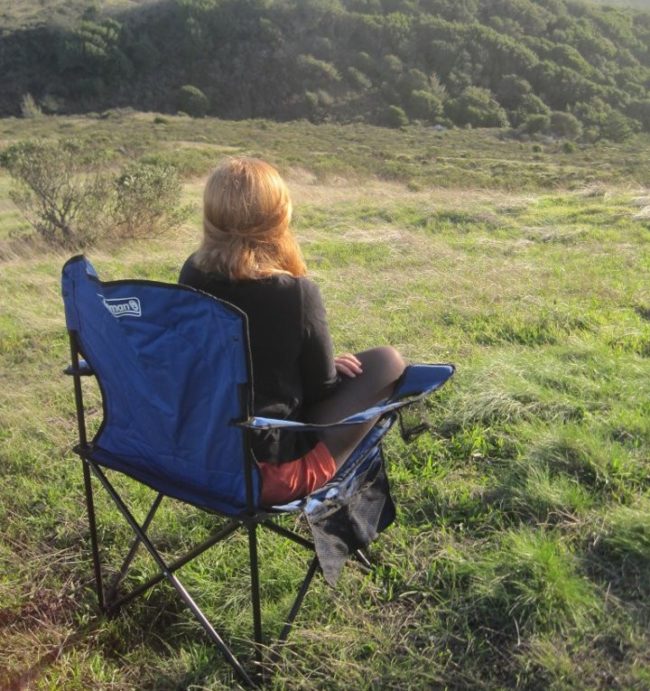 Image source: Outdoor Gear Lab
When you're at your campsite, it's nice to have a place to sit other than in your tent or on the ground. Having a few camping chairs makes it easy to hang out at night at your campsite or gather together with the rest of your group while you drink your morning coffee and plan your day.
We made a few suggestions and put together a post on chairs.
5. Sunscreen

Don't get burned. It's no fun. In case you aren't from Australia, the sun here is pretty darn harsh. And even if you are, you might need to keep in mind that you'll probably be spending far more time outside than you normally do. So lather up and protect that precious skin.
6. First aid supplies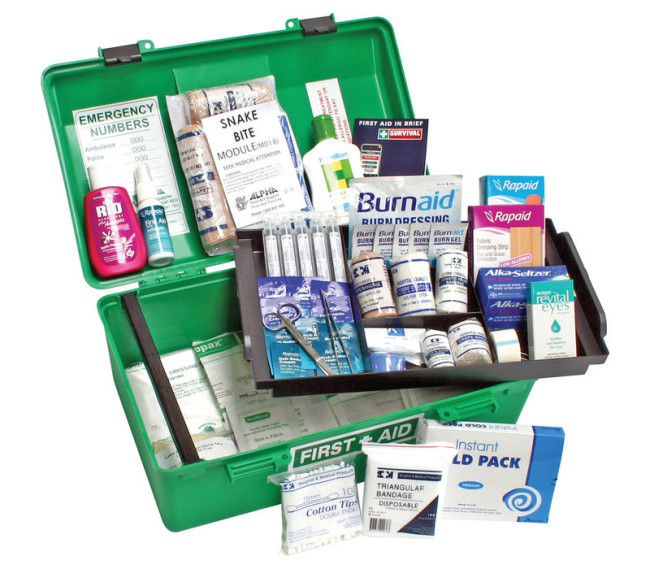 Image source: Optomo
You never know when someone might cut themselves on a branch or trip over a rock and scrape up a knee. And let's not think remind ourselves that there are bugs in nature so probably need to be prepared for some bites. Plus, you can use your kit to bring along things like aspirin and ibuprofen.
Do yourself a favour and read through our tips and then pack up your first aid kit before you head out for another camping holiday.
7.  Repair kit (include pocket knife)

A pocket knife or a Swiss Army knife is an excellent addition to your camping supplies. Included in these tools is a foldout blade, a screwdriver, can opener and a pair of foldout scissors. There are tons of uses for each of these parts including food prep, cutting kindling or a bandage and opening up something (like the back of a lantern to put in batteries).
8. Navigation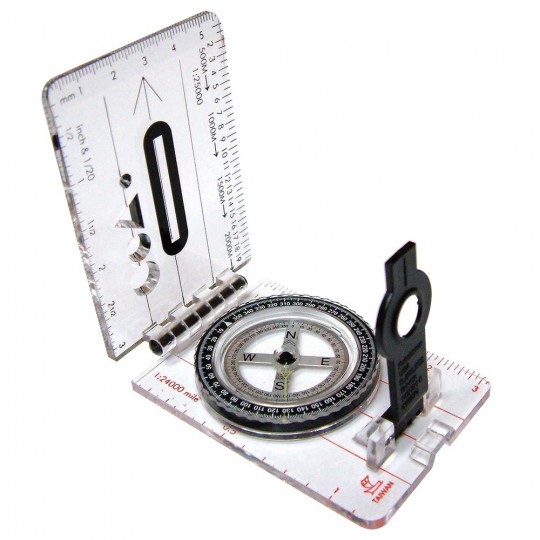 Whether you use your phone, compass or a high-tech navigation/topography system, you will most likely need help finding your way to various places or following hikes during your holiday. A trail map and/or your compass can keep you on the path so you don't get lost during a hike, while your phone might be more useful for navigating you to a location in town.
9. Extra clothes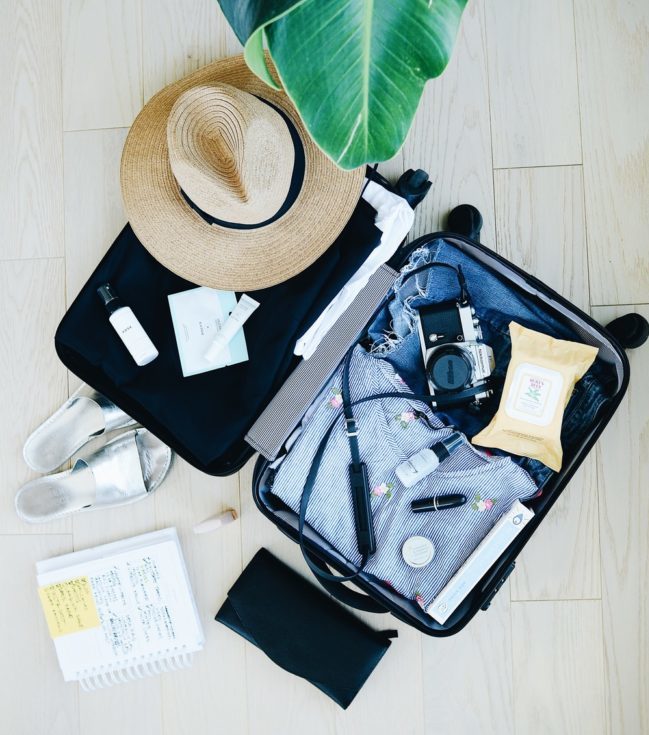 Obviously you'll think to bring clothes for everyday you're away, but what we're saying with this one is pack extra layers for various times of day. You might need a sweater in a restaurant if it's the middle of summer and the A/C is cranked. You might need a jacket for an early morning hike. What about if your clothes get wet, and you're going to head straight to lunch after an activity? Lots of reason to take a decent bag with you each day you're out and about on your Byron Bay holiday.
10. Rain gear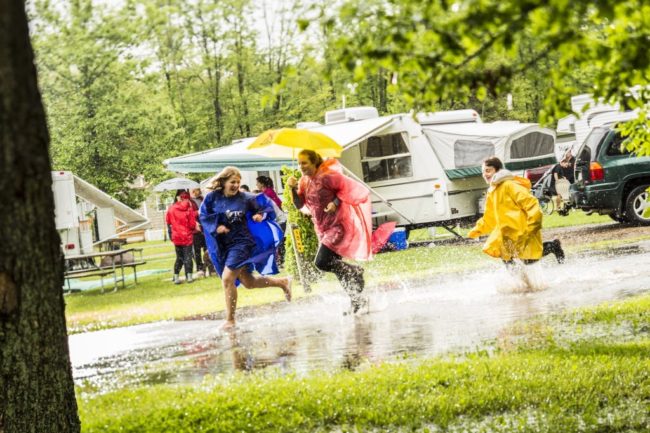 Image source: Koa
While Byron Bay has more than its fair share of beautiful, picture-perfect days (it's no wonder people love coming here), but it does rain. So keep track of the weather in the morning before you head out, and if there's a chance of it, especially if you'll be out hiking, then make sure to pack rain gear. No one likes to get soaked and spend the rest of the day in wet clothes, or be forced to head back to camp and change.
If you're after ideas for rainy day activities, our post below can help you out:
11. Biodegradable Wet Wipes

Image source: Flora and Fauna 
Wet wipes are a lifesaver when you're exploring the outdoors, especially if you're away from the water taps and showers at your campsite. They're suitable for wiping the sweat from your face, cleaning your hands before handling food, and for a quick refresher when you change clothes.
Always use biodegradable wipes that cause less harm to the environment. Try the Bambure Baby Wipes made from organic bamboo fibres. That said, don't leave your wet wipes behind when you're camping. Put them away with your other waste items for proper disposal.
12. Entertainment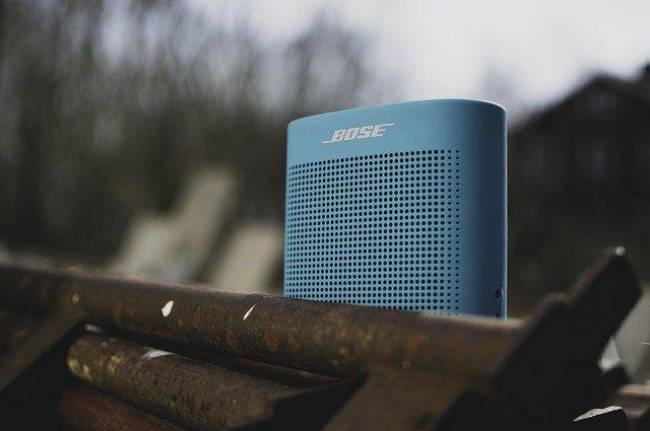 Nothing beats Mother Nature's soundtrack: ocean waves, birdsong, a breeze through the trees, crickets chirping in the night. This is precisely why we get away from our busy lives and rejuvenate in the wild. However, music can still be a part of Byron Bay activities. Enjoy your favourite tracks in the outdoors with a portable Bluetooth speaker.
Stream your favourite playlist straight from your music app and unwind after a day of outdoor excitement. Be mindful of fellow campers who would prefer the silence of nature, so keep your music volume down to an acceptable level or use ear phones.
13. Cleaning Supplies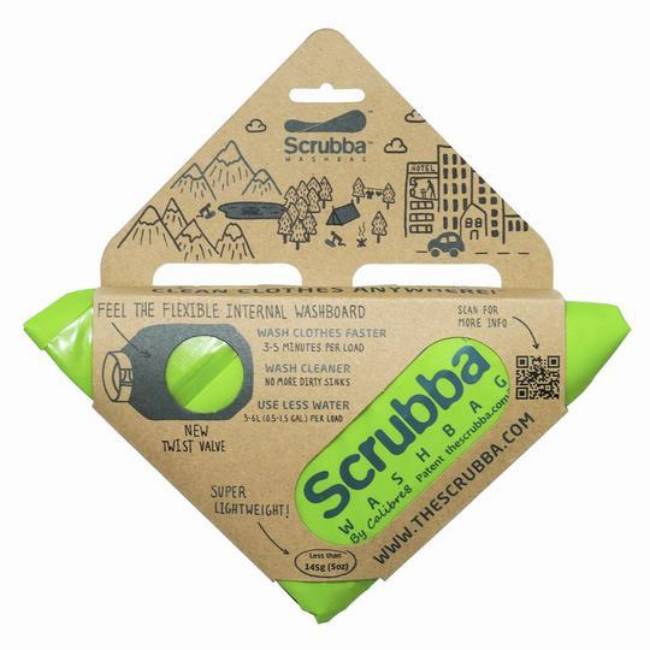 Image source: Adventure Awaits
Cleaning gear is mandatory whether you're spending time at a campsite, pitching a tent in the wild, or travelling in your camper van. Think of how much outdoor cooking, laundry and personal hygiene you'll be doing, and pack accordingly.
A brush and dustpan, paper and cloth towels, and biodegradable soap are some of the cleaning supplies you may need when camping. Use a Scrubba Wash Bag for your laundry. It helps you carry fewer clothes and wash them as you go.
14. Rubbish Bags

Image source: Sea to Summit 
Camping generates lots of rubbish, from used paper towels to food wrappers to fruit peels. Keep your camping environment clean by throwing all your waste in a rubbish bag. Dump your filled rubbish bags at the designated bins around your campsite, or pack them away until you find the proper disposal options.
If you're worried about leaks, spills and odours, grab a Trashsack Garbage Bag. Line it with a garbage bag, seal the sack, and hang it anywhere you'd like to contain your camping trash safely.
15. Insect Repellent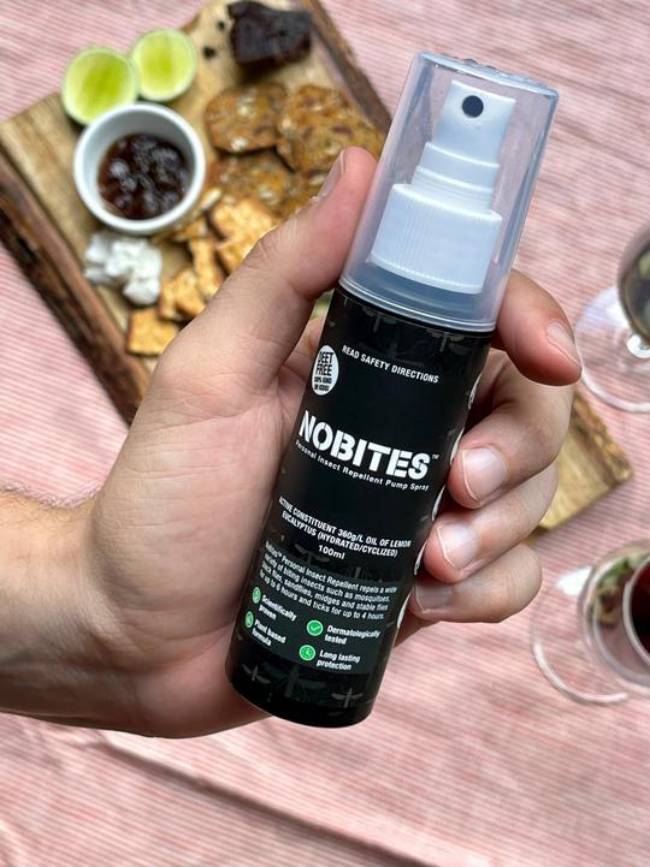 Image source: No Bites
Whether we like it or not, bugs are an inseparable part of nature. You will inevitably come across flies, bees, ants, mosquitoes and spiders, so it is essential to know how to repel them safely. The idea is to keep bugs off, not to kill them.
Find a bug repellent cream or spray that's safe for your skin. If you're heading out for a bushwalk, sprinkle on some NoBites all-natural insect repellent on your skin and clothes before you get dressed. If there are ants around your tent, spray some vinegar or essential oil mixtures around it.
Most homemade essential oil repellents come from thyme, lemongrass, eucalyptus, tea tree, mint or clove, so your tent will smell quite nice too.
16. Toilet Paper and Trowel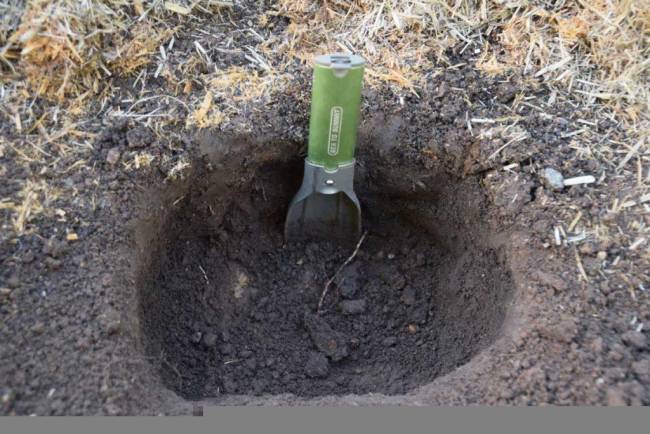 Image source: Australian Hiker
When you're out hiking, rest assured that nature will call. The best way to go in the bush is to keep some plain, white, unscented toilet paper and a small garden trowel with you in your backpack. Simply dig a cat hole about 6-8 inches deep and 4-6 inches wide, do the deed and cover it up.
Make sure that it is as far as possible from the campsite, trails and water sources. Never bury any feminine hygiene products because they don't decompose, and animals might dig them out. Instead, wrap them in scented plastic bags and pack them out with the rest of your camping waste.
17. Cooking Utensils

Camping cookware can make or break your outdoor adventure. Imagine getting ready for a lovely campsite lunch only to find that you left your spoons behind. Keep your campsite cooking checklist handy before you head out.
Always include a sharp knife, a small cutting board, a wooden spoon, nesting pots and pans, sturdy mugs, foldable forks and utensils, and of course, your portable coffee or tea makers.
Add a few canisters of salt and your favourite spices, and you're good to go! Soon enough, outdoor cooking will be one of your favourite Byron Bay activities to do.
Bring your gear and head to Broken Head Holiday Park to set up camp
Bring all your gear (and whatever else you determine is a must-have) and set up camp at Broken Head Holiday Park. With our excellent on-site facilities, we'll make it easy to make sure you have an amazing camping holiday and spend more time having a blast and less time worrying about if you packed the right supplies!