8 Amazing Day Trips from Byron Bay

So you've arrived at your campsite at Broken Head Holiday Park, you've set up your tent and are looking forward to exploring the area. Whether it's your first time in the Byron Bay area or 20th time, most holiday goers love to go on day trips, checking out the towns near Byron Bay.
There are lots of fun places to visit around Byron Bay, so we've listed a few of our favorites with some ideas what to do while you're there all day. So take notes and decide which one (or several) Byron Bay day trips you'd like to make while on your next holiday.
1. Lennox Head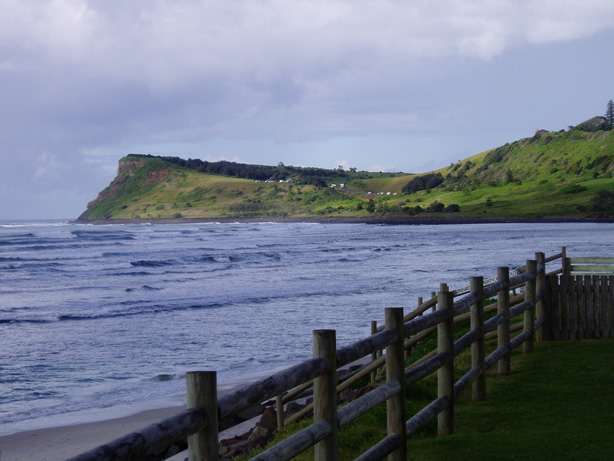 Around 15 minutes drive south of Byron Bay, Lennox Head is a small, coastal town where there's surfing, windsurfing, hang gliding and many more popular activities. Since you're only here for the day, we suggest you check out Lennox Point, especially if you're a surfer, where you'll see people trying out the right-hand break.
The Point also makes a great launching spot for hang gliders, starting off from the top of its 65m cliff. And don't miss the chance to just relax and watch the dolphins play.
Also make sure you stop by Pat Morton Point where you can enjoy amazing views of the village and its spectacular Seven Mile Beach. Opposite Seven Mile Beach (so perhaps after a visit there), you might try grabbing lunch at Blackboard Deli & Café. Soak up the view and nosh on some yummy food.
Later, you really should visit Lake Ainsworth on the north side of the village. This fresh water lake features a tea-tree stain, giving it a unique colour. It is a great place to swim as well as stand-up paddleboard, kayak or canoe.
Finally, if you stay for dinner, we suggest you head to the Quattro, an Italian restaurant that was highlighted in Australian Vogue Travel as the "most stylish beachfront restaurant."
2. Brunswick Heads
Twenty minutes drive north of Byron Bay, you'll find Brunswick Heads, another beautiful coastal village located at the mouth of Brunswick River. The location just begs for you to explore the outdoors, especially water activities from canoeing to fishing.
Start off by watching marine life from the break wall, including dolphins and whales (in season) (or come at the end of your day and catch a beautiful sunset).
Next, you should definitely take one of the popular eco cruises along the river. If you'd like to add in an active element to the tour, then pick one with the kayak portion, kayak and stand-up paddleboard or just the full kayak tour. Check out Byron Bay Cruises for more information and pricing.
You should make time to go swimming at Torakina Beach where the gentle water is perfect for families with small children—or for adults wanting a quieter beach experience. The beach is situated between the river and the rock wall, protecting it from the current and providing smaller waves.
If you happen to be here on the first Saturday of the month, make a point to meander through the stalls at the Brunswick Heads Market, held in Memorial Park right on the riverbank. If you're not here on that particular Saturday, there's still great shopping, such as Fabulous Mrs. Fox where you can find an eclectic assortment of vintage and new items, such as textiles, clothes, books and even toys. Don't forget about eating local favorites!
Head to Starfish if you want to treat yourself to be what is considered to be some of the best calamari you'll ever find. If that's not your thing, the fish burger gets plenty of recommendations as well. Before you head out, check out Brunswick Heads Hotel where you'll often find free live music, a cold brew and good food at this riverfront historic hotel.
Check out this video of an amazing sunrise at Brunswick Head. You'll definitely want to add this to your list after seeing this!
3. Bangalow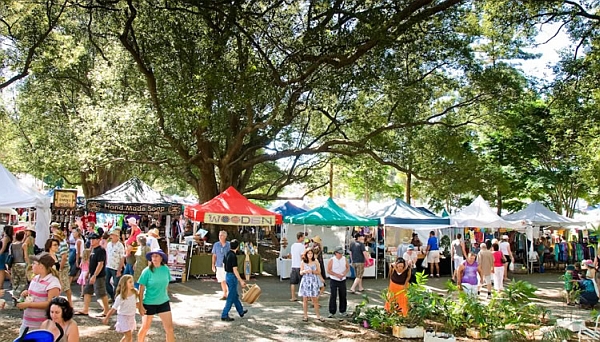 Only a 15 minute drive southwest of Byron Bay, Bangalow is one of the must-stop recommendations for a day trip near Byron Bay. This charming small town offers visitors an opportunity to wander down the historic streetscape, experience some great shopping and so much more.
When you get there, start your day in Bangalow by wandering through (and perhaps making some purchases!) some of the excellent shops in town:
If you are in town on a Saturday, you need to visit the farmers' market on Bangalow's Byron Street, which runs from 8 – 11am every Saturday morning.
If you'd like to take a break from the shopping, then make your way to the walking trail that follows the edge of Byron Creek where you can view native rainforest to the area. Then, relax with a cup of Zentveld's locally produced coffee at the Bangalow Espresso Pizza Bar, located at 3/46 Byron St. Finally, before you make your way back to Byron Bay, stop by the 1940s-built Bangalow Hotel for a drink.
This cool joint offers an enclosed deck as an excellent place to hang during good weather (which here is often!), or test your brain by joining in on the trivia night or play some pool during the weeknights. On Friday and Saturday nights, you can pull up a chair and listen to live music before you complete your day trip from Bryon Bay.
4. Mullumbimby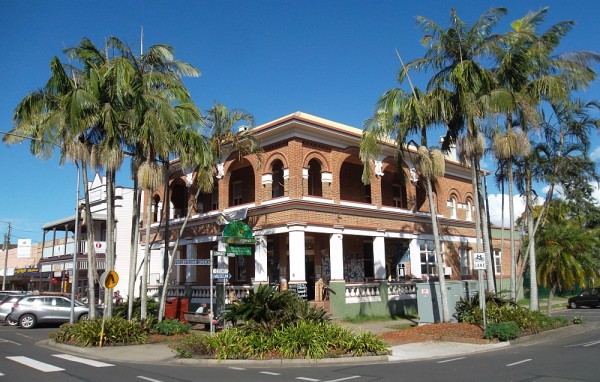 Located just 15 minutes north of Byron Bay, Mullumbimby calls itself the "Biggest Little Town in Australia." Here you'll find great dining options, fun retail shops and even a cool old-fashioned chocolate shop. (We do suggest coming Monday-Saturday as many shops close on Sundays.)
This fabulous little town also is home to one of Australia's best music festivals, the Mullum Music Festival. (See our post about the 2014 one.) But don't worry, any time of year you come you'll find there's so much to do here!
Everyone should stop by Crystal Castle and Shambhala Gardens and complete the famous Buddha Walk as well as the Labyrinth. If you happen to hit in the afternoon, there's a free "Crystal Castle Peace Experience" that is worth your time. Another must-visit on your day trip is the Art Piece Gallery. The gallery presents some of the best works by established and emerging national and international artists.
If you're looking for some time outdoors while here, take a stroll down the walking trail at Brunswick Valley Heritage Park, located at the corner of Tyagarah St and Brunswick Terrace. The area plays host to more than 200 rainforest species.
If you're looking for food recommendations, we highly suggest you grab a slice of pizza at Milk and Honey—it's not only a local favourite but on travel writers' must-do lists. And, yes, you should satisfy your sweet tooth with a stop at the Mullumbimby Chocolate Shop where you'll find tons of lollies and chocolates. The shop has been operating for 24 years, but Karl and Sharon Allen bought it in 2006. Sharon and her mother, Ruth, run the shop daily and love to suggest products to those who stop in for a visit.
Visitors also rave about the "best regional Thai food" from Spice It Up Thai. So if you like Thai, stay for dinner before heading back to Broken Head Holiday Park.
This video offers up a great short description of this town!
5. Nimbin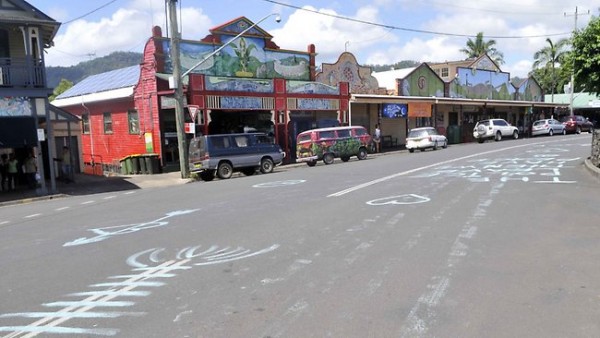 Hop in your car and drive an hour and 45 minutes west to Nimbin, an ideal town to visit for a day trip near Byron Bay. This is a famous alternative lifestyle, quirky destination—yes, there is a place considered even more hippie than Byron Bay! Nimbin features lots of colourful shops and cafes as well as many ways to find your "inner hippie".
Consider starting the day at one of the many funky local cafes where you can relax with your morning coffee and people watch. (Don't worry, there's plenty of time to check out these cafes at other times of day, like lunch or afternoon tea.)
The Nimbin Candle Factory is a great place to visit after your coffee where you can see awesome and super colourful candles they make. In keeping with the culture of the town, all the candles are non-toxic, hand tipped and traditionally made.
A stop on your day trip should be Nimbin Craft Gallery where you can find such art and craft such as pottery, wood pieces, clothing, jewellery, toys, shoes and much more.
Another recommended stop on your day visit is the Djanburg Gardens where you'll view living permaculture systems and beautiful gardens. You can do a self-guided tour (recommended donation of $5) by obtaining a map at the main building. The centre also offers guided tours at 11 am on Saturdays for $20 per person.
By the end of the day, we're certain that you'll enjoy grabbing a meal and a beer at the Nimbin Hotel, where you can relax on the verandah. There are 17 beers on tap, and the Hummingbird Bistro will serve you lunch or dinner any day of the week.
6. Ballina
A coastal town known for great beaches and surfing along with lots of other activities, Ballina makes for another great day trip from Byron Bay. Just 30 minutes south of Byron Bay, Ballina offers visitors access to national parks, lots of water activities and if you like cycling, then there are 25km of pathways for you to explore on your bike.
Start your day off with a visit to Shelly Beach, which especially provides a great place to stop for those with small children. Beyond just being a pretty beach that is patrolled during school holidays, it features a wading pool that was built into the rocks on the southern end. When you need to get out of the sun for a bit, go up to The Belle General, a café at Shelly that offers up breakfast and lunch options as well as coffee and tea drinks and smoothies.
Take some time off the beach to appreciate the wildlife around you by visiting the Australian Seabird Rescue, Research, Rehabilitation and Coastal Education Centre. Your visit will include an hour presentation from one of the trained volunteers and viewing whatever wildlife happens to be in the care of the centre at the time, ranging from pelicans to shore birds to even sea turtles.
You also should take time to tour the Ballina Naval and Maritime Museum, which showcases the area's longtime maritime history. It features the last remains of the Las Balsas Raft, which travelled from Ecuador to Australia; the largest collection of ship models in Australia; and rare shipwreck treasures.
Another suggested activity while in Ballina is walking the Ballina Historic Waterfront Trial, which takes you from the walkway at Fawcett Park in the central business district to the North Wall. Along the way, you'll learn interesting facts about the area from 19 plaques.
7. Lismore
Near Nimbin, and a 45 minute drive southwest of Byron Bay, Lismore is one of the larger towns listed on our day trips near Byron Bay suggestions. It serves as home to many artists and performers; therefore the town reflects that with a number of galleries, theatres and other performing arts spaces.
The World Heritage-listed Nightcap National Park and Minyon Falls are near Lismore making it another reason to head here for the day.
In town, you should take in interesting art exhibitions at the Lismore Regional Gallery that feature local and national artists. Check the website for listings and try to catch NORPA (Northern Rivers Performing Arts) event while in Lismore. The group produces, creates and presents theatre, music and dance from touring shows as well as local original work.
If you're looking for outdoor activities, follow the 3 km trail that runs along the Wilson River bank. It features three interpretive panels creating outdoor art installations as well as a great fishing spot and BBQs.
While here, you should visit Nightcap National Park where you can take in any number of sights, depending on how much time you want to spend there. You can head to the Minyon Falls lookout for amazing views, take a picnic and eat at several locations or hike the Protestor Falls trail, considered an easy walk through the rainforest and great for kids. You might even catch a glimpse of the rare Fleay's barred frog at the base of Protestor Falls.
8. Yamba
Not to be left off this excellent list of suggested day trips from Byron Bay, Yamba is a quaint one-street village with friendly locals who love their town, beaches where you may actually be alone and amazing seafood.
Located at the mouth of Clarence River, Yamba has 11 beaches in its area, featuring dolphins often hanging out near the shore, excellent whale watching in season and so much more. Yamba has been listed as the no. 1 town in Australia by the Australian Traveller magazine and was named as having the best climate in the world by CSIRO (along with Banbury, Australia, and San Diego, California, U.S.).
If you're a surfer, you'll be in heaven here in Yamba. Bring your board along for the day trip and catch a few waves. One of our suggested locations is Angourie Beach. Besides being an excellent surfing location, Angourie is home to the 'Blue Pool' which sits in a bush setting right near the beach and is a deep freshwater swimming hole.
Put this on your list of things to do in Yamba and plan to take a swim and have a picnic lunch. But make sure to check the signs at the entrance to ensure it's safe to swim, since naturally occurring algae can render it unsafe.
Another fun outdoor activity to do while in Yamba is a kayak tour of the Clarence River by Yamba Kayak. One of the recommended Yamba attractions, this company offers up a three-hour tour of the waterways and beaches around the river.
Or if being in the water isn't what you're looking for, then take one of the Yamba Historical Walks where you'll see such sights as the Yamba Lighthouse and Flinders Wall. There are guides to tell you about the sights you will see along the way on both walks, so check them out online or pick up the paper version at the Yamba Museum.
And, of course, while in Yamba, you must eat prawns. Collected daily, one of the other big Yamba attractions is great seafood, particularly the prawns, which are famous for being amazingly good. For example, Sassafras offers up plenty of prawns, including a prawn pizza. Or better yet, head for Yamba Shores Tavern where you can dine on any of the many variety of prawn dishes and enjoy the fabulous waterfront view.
Make home base at Broken Head Holiday Park
Broken Head Holiday Park is the perfect spot to set up camp and then head out on any of these day trips from Byron Bay. If you come in June or July, you'll be able to take advantage of the School Holiday Special—kids stay for free when you book at least three nights at Broken Head Holiday Park! Rates start as low as $39/night. Keep this list of day trips on hand and start planning, so you can experience all that the Byron Bay area has to offer!