Guide to Stand Up Paddleboarding in Byron Bay

If you're looking for a low impact, full-body workout, try stand up paddleboarding. It's a great outdoor activity for all ages, and it's much easier than you think. Byron Bay is a no-brainer for stand-up paddleboarding with plenty of rivers, lakes, and beaches.
Here's everything you need to know about stand up paddleboarding in Byron Bay.
What is stand up paddleboarding?
Simply put, stand up paddleboarding, or SUP, is a water sports activity that uses just that: a paddle and a board. A regular surfboard will do, but there are paddleboards with exceptionally broader and more buoyant designs.
Stand up paddleboarding is nothing new: our river, lake, and ocean-dwelling ancestors worldwide used this method to move along calm waters. However, SUP gained popularity in the 1990s as paddleboard races gained a following in the sporting world. It's a great alternative to surfing, especially for kids and older folk who need to build their core strength and balance.
Who is best suited for stand up paddleboarding?
The short answer: everyone. Solo adventurers, couples, families with kids, and elderly folk are welcome to try to stand up paddleboarding in Byron Bay.
Of course, there are a few guidelines to keep in mind:
Know how to swim. Your fitness level comes after this since you can easily learn to balance on a board if you're a competent swimmer
Life jackets are ideal for beginners and children
Kids over eight years old can learn to paddleboard standing up; any younger children would need to sit at the front of the board with an adult rowing the board
Bring your swimwear, sunscreen, sunglasses, and drinking water. Your paddleboard tour will provide the board, paddle, leg strap, and other equipment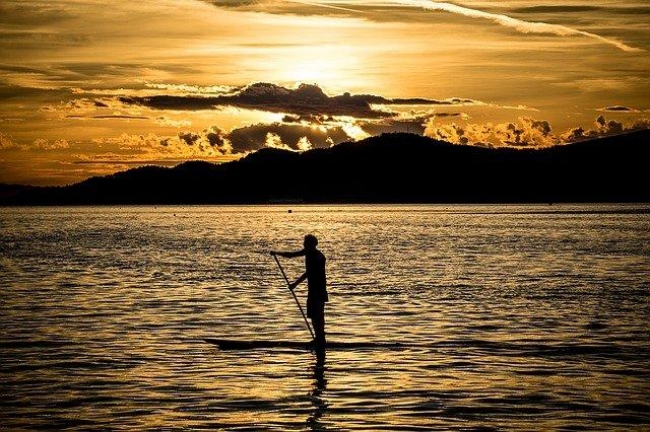 Getting started with stand up paddleboarding in Byron Bay
There are plenty of SUP adventures to consider in Byron Bay, most of which include classes for individuals and groups. It's a great weekend activity during your stay at Broken Head Holiday Park.
Our top picks for stand up paddleboarding classes in Byron Bay are:
For $75, you get a 3-hour paddleboard lesson and tour at the Cape Byron Marine Park. The cost includes transport to and from the location, sunblock, a wetsuit and a rash vest. The SUP School is a 13-minute drive from Broken Head Holiday Park.
Daily and private tours combine with intro lessons on the scenic Brunswick River. A daily tour costs $75 for 2 hours, and private tours cost $300 for couples and $400 for 3 to 5 people. Byron Stand Up Paddle is just under a 30-minute drive from Broken Head Holiday Park.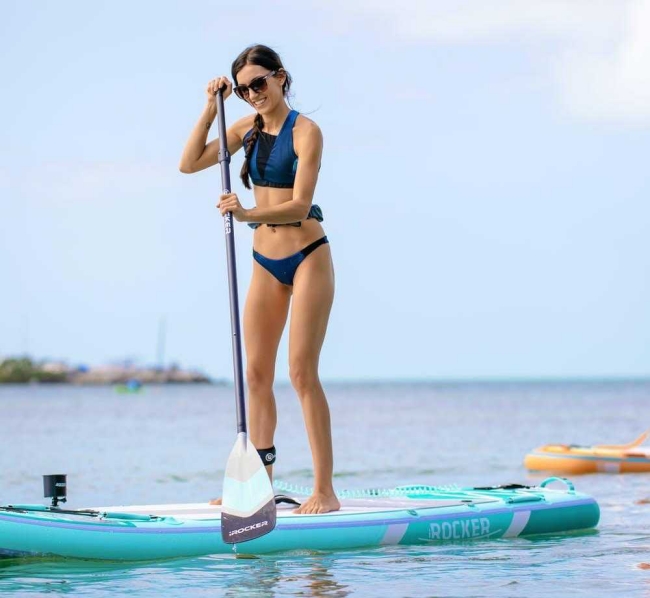 Stand up paddleboarding for experienced adventurers
If you'd like to venture out after your paddleboard lessons, there are plenty of locations in Byron Bay to choose from.
These include:
Stay at Broken Head for your SUP adventures
Surfers and non-surfers, young or old, solo or with friends, everyone should try to stand up paddleboarding in Byron Bay. You'll be a stand-up paddleboarding pro in no time at all!
It's easy: book your stay at Broken Head Holiday Park for affordable accommodation in Byron Bay. Next, sign up for paddleboarding lessons and rent some gear, all within reach of our campground. We hope to see you soon!