Our Ultimate Sleeping Bag Guide

When it comes to camping gear, sleeping bags are a hot topic. Do you really need one, or are there alternatives? Could you sleep just as well with a quilt and blankets?
Well, hikers and backpackers can't spare the space for extra blankets, and the weather is often unpredictable. Nothing beats a sleeping bag to keep you warm and dry in the outdoors.
If you're looking to buy your first sleeping bag or a replacement for your ol' reliable, this guide is a great place to start. Let's jump in!
Types of Sleeping Bags
Sleeping bags classification considers insulation, activity, and shape.
Sleeping Bag Insulation
Your sleeping bag will have either synthetic insulation or down insulation. Synthetic insulation typically comes from polyester fibres.
Down is a product of the softest, lightest goose or duck feathers. Both of these materials have their pros and cons. For example, a down sleeping bag is lighter and lasts longer, but it is more expensive and doesn't do well in wet conditions. A synthetic sleeping bag is more affordable and dries faster, but it is comparatively heavier and doesn't last as long as down.
Note: A sleeping bag's insulation determines its temperature rating. This is the lowest possible temperature at which the bag can keep you comfortably warm.
To make the most of the temperature rating:
Check the lowest overnight temperatures before your hiking or camping trip
Choose a bag with a lower rating than the anticipated temperature: it's smarter to open your sleeping bag to cool down if it gets warm rather than to freeze if the temperatures suddenly drop
Are you a warm sleeper or a cold sleeper? A warm sleeper constantly feels hot at night, so choose a higher temperature rating for your sleeping bag. A hard sleeper constantly feels cold at night and needs extra insulation, so opt for a lower temperature rating on a sleeping bag
Outdoor Activities
How do you plan to use your sleeping bag? Do you need one for the occasional weekend adventure, or are you going for an extended trip to explore the outback? A down sleeping bag is ideal for regular campers because it is easier to carry and lasts longer.
It also handles cold temperatures. So you can enjoy your adventure any time of the year. A synthetic sleeping bag best serves the occasional camper. It may weigh more, but it dries fast. So it won't be problematic during a weekend of fishing, kayaking or surfing.
Sleeping Bag Shape
The mummy-shaped sleeping bag is gaining popularity, with its tapering design and slim cut. It's pretty snug, and you roll over with it rather than rolling over inside it. The barrel-shaped sleeping bag is more like a spacious, modified mummy design.
The simple rectangular or box sleeping bag offers basic comfort while camping. Combine it with extra blankets or pillows and snuggle up with your partner or kids. There are also sleeping bags for adults and kids, men, women and unisex designs. For the best fit, buy your sleeping bag at a store that allows you to try it on.
How to Pack Your Sleeping Bag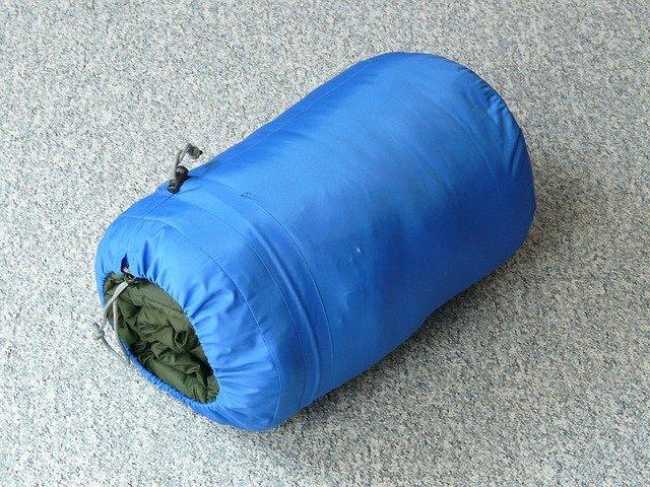 When you buy a sleeping bag, it comes tightly rolled in its compression sack. It can be difficult to roll it back once you've used it, and we certainly wouldn't recommend it. Instead, use the stuffing method for all non-canvas sleeping bags. Follow these steps to pack your sleeping bag.
Note: If you have a down sleeping bag, turn it inside out first before you proceed. This allows the down to breathe better inside the compression sack.
Step 1: Feet first 
Scrunch up the foot end of your sleeping bag. Keep the compression sack open and ready beside you.
Step 2: Stuff it in 
Push the foot end into the compression sack, grab the rest of the bag and stuff it in. A down bag requires a bit more TLC as you pack it down.
Step 3: Twist and punch
Once enough of the sleeping bag is in, stand up, place the compression sack between your feet for support, and twist it little by little as you punch down the sleeping bag. This is quick work, so you should have the whole bag packed in a minute or less.
Step 4: Fist down and cap it  
Pull the drawstrings and push down the sleeping bag using your fist. Next, put the compression sack cap and fasten it. You're good to go.
How to Maintain Your Sleeping Bag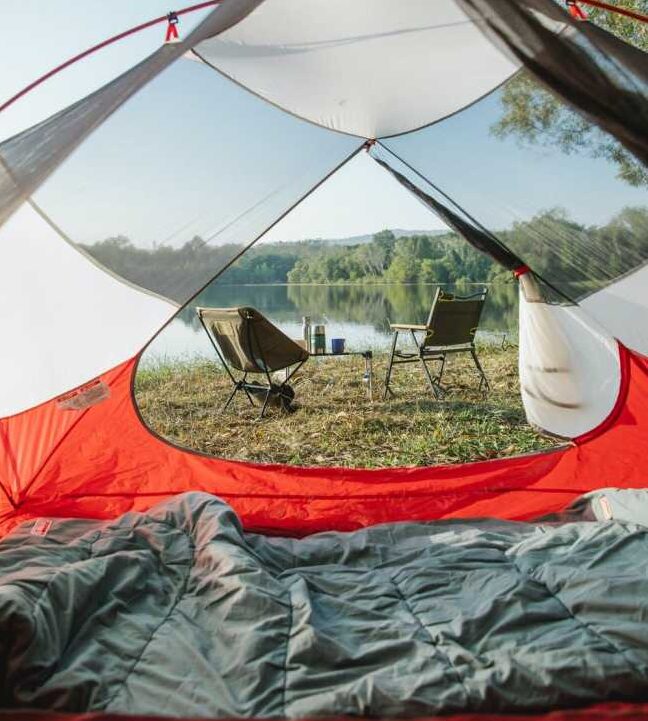 Camping gear is no small investment, so it needs proper care. Any sleeping bag can last many years of regular use, but only if you know how to maintain it. Here are our best tips to keep your sleeping bag in great shape.
1. Change Your Clothes
However tempting, you don't want to get into your sleeping bag with the same clothes you wore while hiking. Sweat, body oils, sunscreen and dirt, will accumulate in your sleeping bag and wear the insulation down. The same principle applies to campsite cooking.
Your clothes will absorb all those wonderful cooking odours, and if you don't change your clothes, your sleeping bag will soak them up too. Before you go to slip into your sleeping bag, cover your hair with a bandana or cap, wipe down your face and body, and wear a fresh, clean t-shirt, socks and underwear.
2. Buy a Sleeping Bag Liner
Sleeping bag liners are a light addition to your camping gear, but they make a huge difference in maintaining your sleeping bag. A liner is a removable, quick-to-clean layer between your skin and the bag, and they boost the insulation of your bag. If your sleeping bag liner gets soiled, simply remove it, wash it by hand or machine, and slip it back into the bag.
3. Don't Place Your Sleeping Bag Directly On the Ground
Whether you sleep inside or outside a tent, place a pad or mat under your sleeping bag. Do this even if your bag has a tough waterproof layer on the bottom to minimise wear and tear.
4. Always Be Gentle with Your Sleeping Bag
Handle your sleeping bag with care, as you do all your other camping gear. If you're cosy in the bag but need to fetch something, get out and walk to it. Don't jump or crawl in your sleeping bag or place any undue pressure on it.
5. Practice Using the Zippers
Learn how your sleeping bag zippers work before you head out for your adventure. This prevents you from yanking it in frustration if it snags. With a bit of extra practice, you can set up your sleeping bag even in the dark.
6. Turn It Inside-Out to Air-Dry
When you wake up from a good night's sleep in the outdoors, air out your sleeping bag to release moisture. Place it in the shade to protect it from UV light, but if the sleeping bag is super wet, leave it in direct sunlight for a couple of hours.
7. Careful When You Lend Your Sleeping Bag
Sharing is caring but set some basic rules when lending your sleeping bag to a friend or relative. Show them how the zippers work, how to clean it, and ask them to use a liner.
Washing Your Sleeping Bag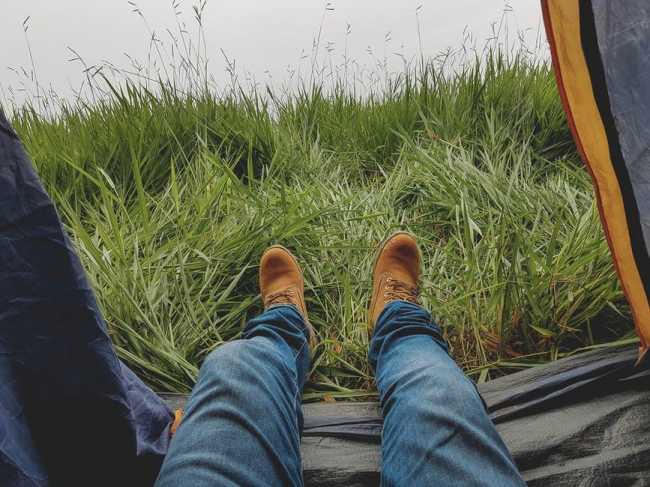 Every once in a while, your sleeping bag needs a thorough cleaning. Give it a good wash at least once a year or at the end of your travels. Here are some top tips for cleaning your sleeping bag:
Avoid dry cleaning: the harsh solvents may degrade the sleeping bag's filling
Unzip your sleeping bag fully before washing to keep the zippers from snagging
Always read the cleaning label on your sleeping bag. Some may recommend handwashing only, while you can wash others in a front-loading washing machine only. If so, use warm water on a gentle cycle, and rinse at least twice
Use soap specifically made for down or synthetic sleeping bags. The standard detergent may build up and clump the filling—Nikwax Tech Wash for synthetic bags, Nikwax Down Wash Direct for down
For handwashing, fill your tub with warm water and mild soap. Gently work the soap into the sleeping bag. If it is heavily soiled, soak the bag for about an hour. Drain the soapy water and rinse the bag thoroughly. Squeeze out as much water as possible before drying
Synthetic bags dry faster than down bags, but either way, you may need to carry the wet bag to a laundromat for drying
Always use a low heat setting for your dryer
Add a couple of clean tennis balls to the dryer to work through your bag
You can also hang the bag up to dry or lay it on a flat surface, but never in direct sunlight. Break up the insulation clumped up in the bag as it dries
Fluff up your sleeping bag once it's completely dry. Leave no empty spaces in the filling
Note: If you notice any stains or soils in your sleeping bag, do a spot cleaning. Apply a little soap to the soiled area, brush it down with a soft-bristled brush, and rinse off the soap with a wet sponge. Give your sleeping bag lots of time to dry after spot cleaning.
Best Sleeping Bags in Australia
There's no one-size-fits-all sleeping bag. Most regular adventurers have one for every season, but summertime campers will have just one that works great for warm weather. Here are our best choices of year-round, all-weather sleeping bags.
Darche Cold Mountain 900

Image source: Darche
Insulation: Synthetic
Temperature rating: -12C
Weight: 2.7kg
Best feature: Great for all seasons
The Darche Cold Mountain 900 sleeping bag is great for campers and hikers who prefer extra room while they sleep. Cold sleepers can unzip it all the way and use it as a doona if it gets too warm.
Marmot Nanowave 35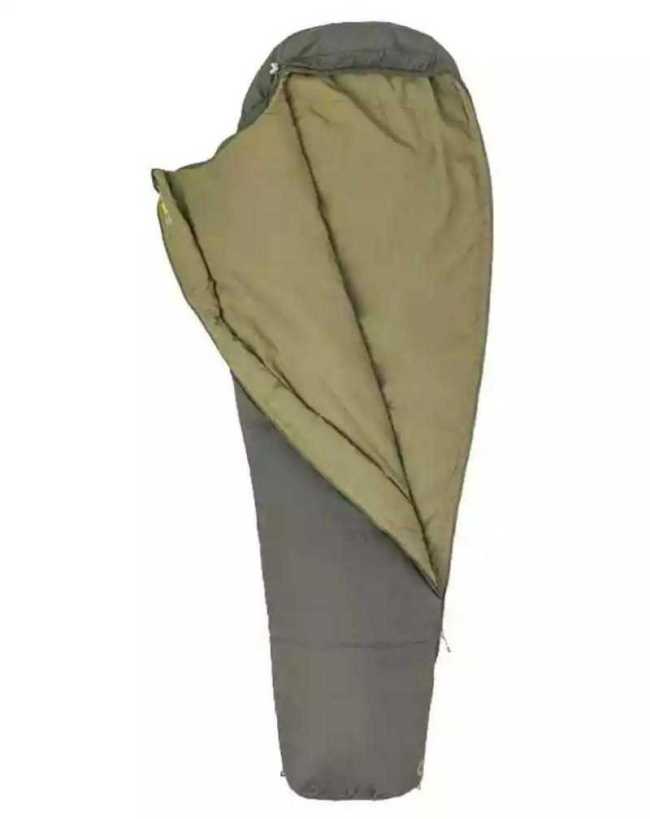 Image source: Wild earth
Insulation: Synthetic
Temperature rating: 7C to -10C
Weight: 1kg
Best feature: Super lightweight
The Marmot Nanowave 32 sleeping bag is perfect for travellers who need the lightest possible camping gear. It is best for warm weather hikes, biking and kayaking adventures.
Blue Kazoo by the North Face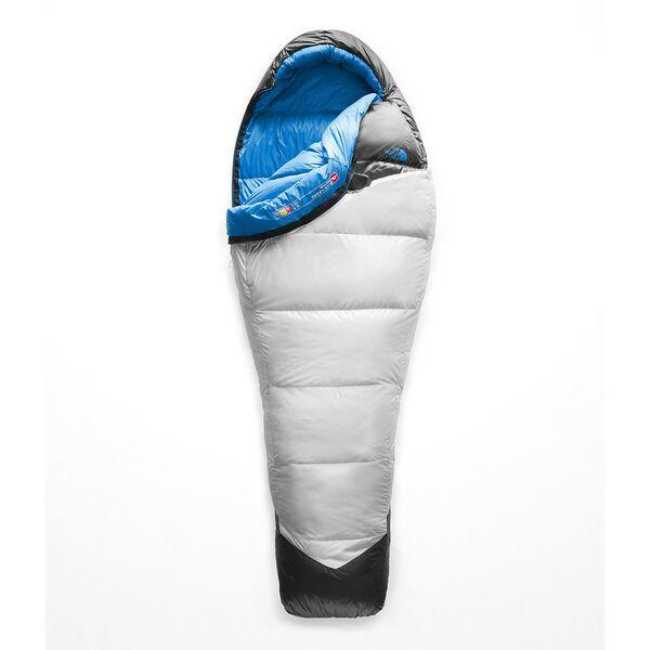 Image source: The North Face
Insulation: Down
Temperature rating: -9C
Weight: 1kg
Best feature: Can handle extreme cold up to -28C
If you're looking to venture into the hinterlands at the heart of winter, the Blue Kazoo is your best bet. It's lightweight, down insulated, and can cope with the iciest conditions that Mother Nature can throw at you.
BlackWolf Hiker 500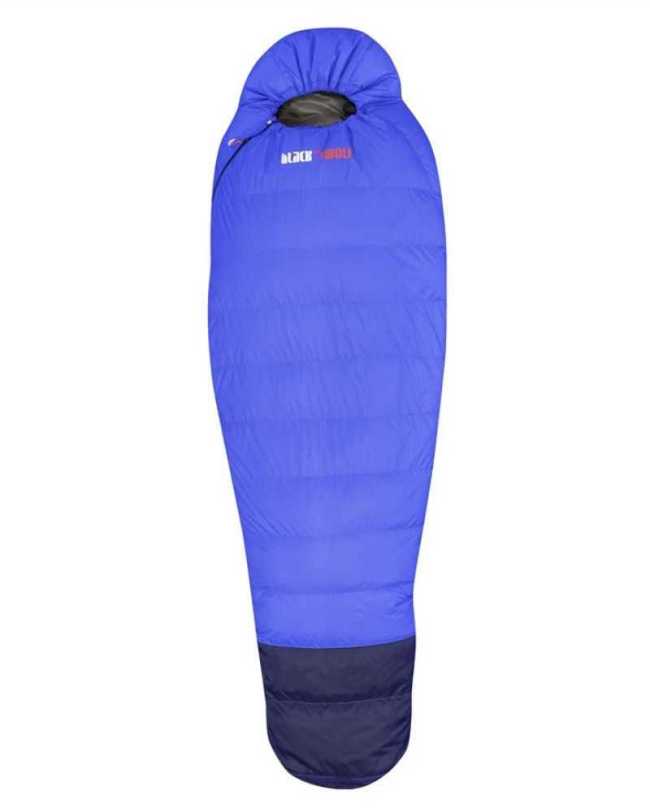 Image source: Black Wolf
Insulation: Down
Temperature rating: -2C to -8C
Weight: 1.2kg
Best feature: Affordable price
For such a high quality down bag, the BlackWolf Hiker 500 sleeping bag is a steal. It will keep you comfortable in single-digit temperatures without breaking your bank for it.
Adventure Kings Premium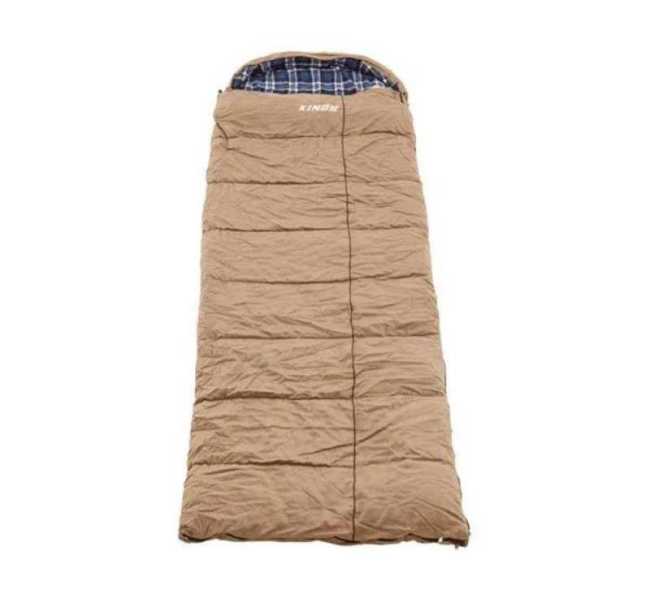 Image Source: AU Adventure Kings
Insulation: Synthetic
Temperature rating: -5C to 5C
Weight: 5.3kg
Best feature: Great for couples
Described as the "Big Daddy of sleeping bags", the Adventure Kings Premium sleeping bag is for outdoorsy couples. It is spacious enough as it is, but zips two of these together, and you will have unbelievable room and comfort.
Camp Out at Broken Head Holiday Park
Now that you know the ins and outs (pun intended) of sleeping bags, what are you waiting for? Grab yourself a new one or spruce up your old one, and head out to Broken Head Holiday Park! Whether you're looking for an epic trekking adventure through the rainforests, a weekend of sun and surf, or simply a break from your busy life, our park is ready for you. Book your spot today!