The Ultimate Byron Bay Fishing Guide

Not only does Byron Bay offer world-class surfing and gorgeous beaches for holiday goers, but it also features some fantastic fishing!
So, on your next Byron Bay holiday, don't forget to pack your rods, reels and tackle box—buy your recreational fishing license online or when you get here—and get ready to enjoy the world-class fishing of Byron Bay.
In this post, we'll discuss how to get your fishing license, where the best spots are to fish in Byron Bay and the surrounding areas, and some options for planning a group fishing trip or hiring a charter.
Let's jump in!
How to Get a Fishing License for Byron Bay
First things first: If you plan to fish while on holiday in Byron Bay, then you'll need to secure a recreational fishing license from the NSW government. It is important to carry proof of receipt at all times. (Local fishers mention on many online message boards not to mess around with this rule—the marine patrol take this very seriously!)
You can purchase your fishing license online (using a Visa or Mastercard) or from a fishing fee agent in the Byron Bay area once you arrive such as:
Byron Service Station, 1 Shirley St.
Byron Camping & Disposals, Shop 16, Byron Plaza, 90 Jonson St.
The fees run from $7 for three days to $85 for three years—so if you want a cheap fishing trip, this is a very reasonable rate to be able to experience some great recreational fishing.
Note: If you are planning to fish with a guide or on a charter boat, you may be covered by the company's exemption license. The owner should have paid an annual fee, which means you may not need your own fishing receipt. So be sure to ask so you don't spend money if you don't have to, and you can make this cheap fishing trip even more economical.
Now, let's take a look at where you can use your new fishing license!
What Kind of Fish Can I Catch in Byron Bay?
In the Byron Bay area, you'll likely see (and maybe even catch) such fish as Spanish mackerel, spotted mackerel, wahoo, samson fish, pearl perch, tusk fish, sand whiting, bream, tailor, jewfish and flathead.
Where Can I Fish in Byron Bay?
While it's true that Byron Bay offers some great fishing, you need to be aware of the various protected areas in Byron Bay, all of which are part of the Cape Byron Marine Park. The park covers 22,000 hectares, from Brunswick Heads to Lennox Head.
There are four types of protected marine zones that make up the area, and the map above and list below explains the different Byron Bay fishing zones, and which allows recreational fishing. (It's important to note that 'recreational fishing' means line fishing, trapping, spearfishing and netting):
Sanctuary Zone (Red): No fishing allowed.
Habitat Protection Zone (Yellow): Recreational fishing only.
General Use Zone (Blue): Both commercial and recreational fishing are permissible in these areas.
Special Purpose Zone (Dark Blue): More for research and management of the marine species — no fishing here.
This means if you want to do some casual recreational fishing, you'll need to visit either the habitat protection zones or take a charter boat out to the general use zone. The general use zones are found further out into the ocean, and we'll look at  some charter options further down in this post.
Byron Bay Fishing Spots
Some of the best Byron Bay fishing spots in the recreational fishing areas include:
Tyagarah Nature Reserve
This nature reserve, north of Byron Bay's main drag, features good shore-based fishing. Keep in mind there is a "clothing optional" beach south and adjacent to the reserve, just in case the kids are along.
Main and Clarkes Beaches
Popular beaches also allowing beach fishing in Byron Bay.
East Cape Byron
This area can be rocky, so beware. But this area does allow spearfishing, one of the few in Byron Bay. Always wear a life jacket, non-slip footwear and never fish alone when rock fishing.
Tallows Beach
A great location for beach fishing in Byron Bay! You might catch a tailor or jewfish when sending out a line here.
Snapper Rock, The Channel and Jews Point
Just south of Broken Head Holiday Park, these locations provide recreational fishers a chance to catch fish like mulloway, bream and tailor.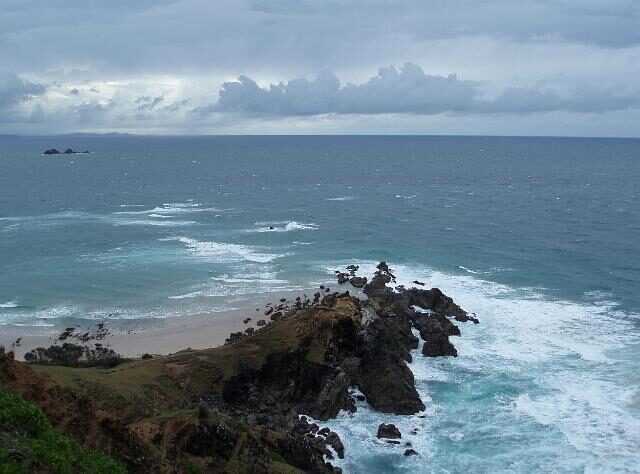 East Cape Byron
Ballina Fishing Spots
You could also take a quick trip down to Ballina, just a half-hours drive from Byron Bay and explore some of their popular recreational fishing areas as well:
The Richmond River
There are 12 square kilometres of recreational fishing along the Richmond River, from Burns Point to the tips of the sea walls. You can fish for a wide range of bream, whiting, flathead, jewfish, trevally, blackfish, mangrove jack and tailor.
Sea Walls
If you're looking for a spot that's easy to access and offers mackerel and tuna fishing when the tropical current reaches the shore, look no further than the North and South Sea Walls!
Wardell
Wardell lies under a highway bridge and is a very  popular spot for school jewfish, live herring, poddy mullet and hard minnows.
Group Fishing Trips
If you're looking to charter a boat or want ideas for a group fishing trip check out the options below:
Ballina Boat Hire

Image source: Ballina Mama 
Drive just 15 minutes out of Byron Bay to Ballina Boat Hire where you and your friends or your family can hire a boat to spend the day fishing on the Richmond River.
If you have four or fewer people, then you'll get a tinnie with a canopy and be able to relax and drive around hunting down the best spots for fishing. However, if you have more than four up to eight, you'll be able to hire a BBQ boat, which includes a canopy, BBQ and an onboard toilet. You could bring along food and go for a picnic and swimming in addition to fishing.
The great thing about this option is that you won't need to obtain a license as Ballina Boat Hire has it covered. Call 0402 028 767 or email Ballina Boat Hire for a booking and prices.
Byron Bay Charters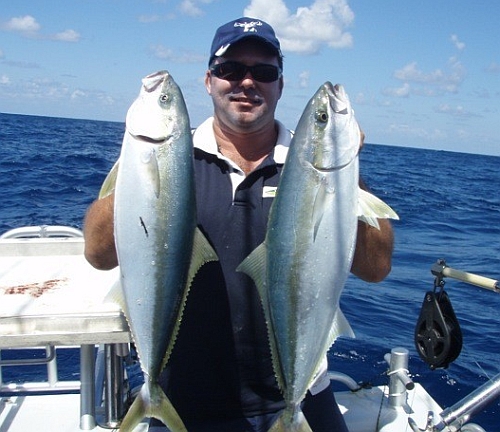 Image source: Byron Bay Charters 
This company is an excellent option for deep sea fishing, and uses a fully equipped fishing boat for charters. It operates out of Brunswick Heads, 15 minutes north of Byron Bay. All fishing gear, bait and tackle is supplied, and there is an experienced skipper and deckhand. Types of fish you can expect to catch (to keep or release) include: marlin, tuna, mackerel, snapper and king fish.
Fishing trips run from 6 am to 2 pm, 7 days a week, weather permitting, and they offer group discounts. Contact Byron Bay Charters for pricing and to book.
Byron Bay Rainforest Fishing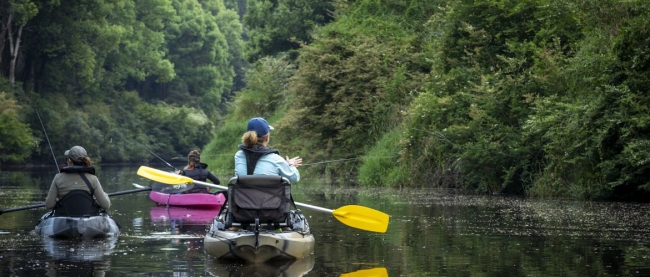 Image source: Byron Bay Rainforest Fishing
If you'd like an experience like no other, try kayaking through the rainforests of the Byron Bay Hinterland while you fish for bass on a guided tour!
This three-hour tour offered by Byron Bay Rainforest Fishing is made for groups of 2-4 people and includes options for vehicle or helicopter transfers from Byron Bay.
At the end of your fishing adventure, you'll also receive an outdoor brunch at Three Paddocks Farm, offering a gourmet selection of locally sourced food & beverage with views over macadamia farms.
The tour begins at $280 per person, and you can learn more or book your trip here.
Want to go fishing in Byron Bay? Book your stay at Broken Head now!
If you're coming to the Byron Bay area for a fishing excursion, consider staying at Broken Head Holiday Park! We're in close proximity to Byron Bay, but offer more peace and quiet to retreat back to. The various types of accommodation we have will work for whatever kind of fishing holiday you're looking for and provide an economical stay.
We look forward to seeing you soon!