10 Cheap (and Free) Activities in Byron Bay For Kids & Adults
Holidays are meant to be a relaxing time for the whole family. But it can be hard to unwind if your holiday activities are leading you to keep a strict eye on your bank account. Luckily, Byron Bay has plenty of inexpensive or free activities for both kids and adults to enjoy (besides just the breathtaking beaches!)
Here are some of our favourite holiday activities in the area that will ensure everyone in the family has an enjoyable time, without going over budget.
1. Take a Swim at Killen Falls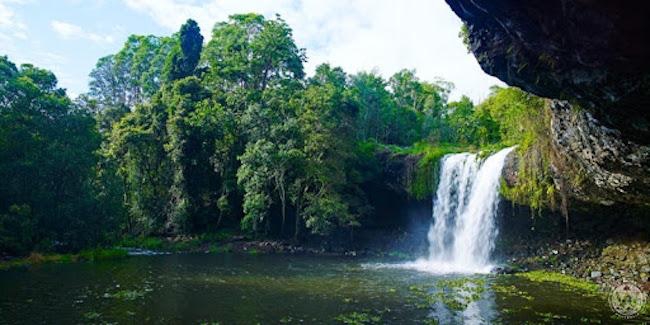 Image source : Wild Swimming Australia
If you're up for a short drive away from Byron Bay, Killen Falls is a must-see. This beautiful waterfall is surrounded by lush rainforest, and complete with a fresh water swimming hole. Just be sure to bring appropriate shoes, as the walking trail to see the falls can often get quite slippery.
2. Art Galleries
Byron Bay is well-known by alternative artists from all over the world, as many come to town to showcase their work in one of the many galleries. Take the kids along for an educational experience and a feast for the eyes. (Note: The Lone Goat Gallery is currently closed due to COVID-19 restrictions, but the popular Jules Hunt Gallery is currently daily from 10am-4pm.)
3. Burn some energy at Railway Park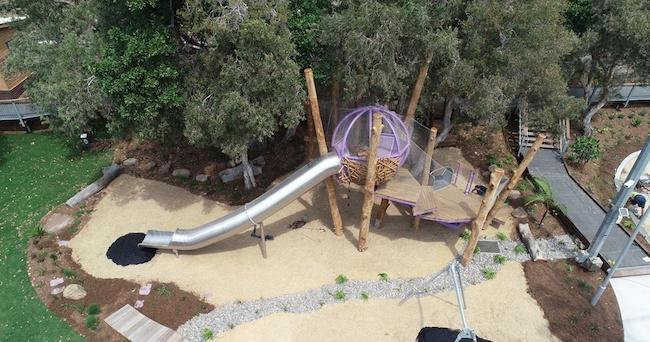 Railway Park is a unique urban playground situated right in the middle of the city. The playground was recently updated and features eleven Indigenous artworks that are sand-blasted into the paths in the park.
4. Take a hike
Byron Bay has an idyllic location for exploring nearby National Parks. Nightcap National Park, Broken Head Nature Reserve and Goonengerry National Park are all within an hour's drive of Byron Bay and feature incredible hikes and activities for all ages.
5. Hire a bike

If you're looking to get off your feet for a while, hiring a bike is a fun activity and a great way to see the Bay. Byron Bay Surf and Bike Hire has bikes for as cheap as $7 a day. You can also hire a tagalong kiddie cart if your children are too small to ride.
6. Grab a cheap lunch or dinner out
If you're looking for cheap eats around Byron Bay, you'll find quite a few wonderful options to please any palate. Check out The Great Northern Hotel for their famous lunch specials, or the Yellow Flower Indian Diner's cheap Tuesday dinner specials. (Check out our cheap eats guide for more recommendations).
7. Whale Spotting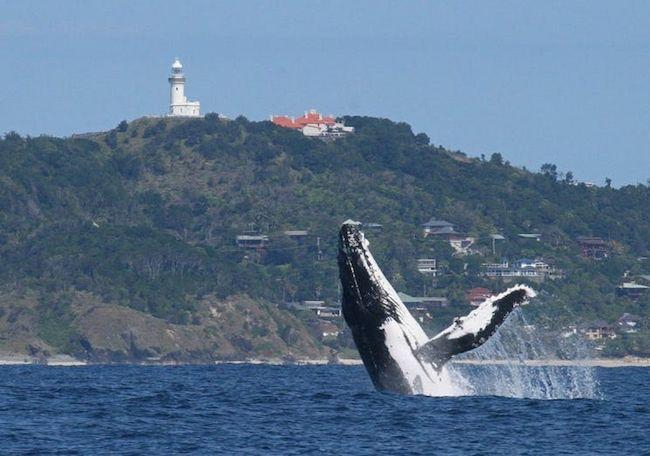 Image source: VisitNSW.com
June to November is prime whale spotting season in Byron Bay, and you may be able to spot some pretty incredible humpback whale pods (even a few baby calves) off the coast. Grab some binoculars and check out this incredible spectacle of nature from one of the coastal lookouts on your way into town, our whale watching guide has more information on the best spots.
8. Fly a Kite
The bay breeze creates perfect conditions for kite flying. If you already have some at home, be sure to bring them along for your trip!
9. Check out the live music scene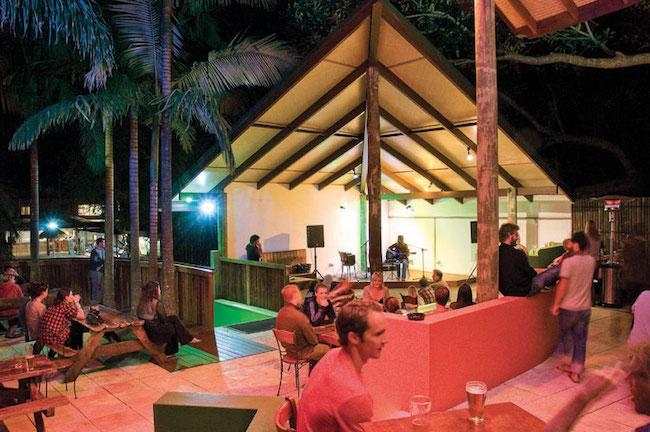 Image source: ByronNaturally
Byron Bay's live-music scene is always hopping. Several of the local pubs and breweries (like Buddah Bar and Byron Bay Brewery) host live music every night outdoors. Several of the hotels (Great Northern Hotel and The Rails Hotel) do as well. If you'd like an ocean-side serenade, the Beach Hotel also regularly features a great musical lineup.
10. Save on your accommodation
Camping near the beach on your holiday is a great way to stay in Byron Bay over choosing expensive hotels. Just remember that you are not able to camp wherever you wish (in fact, doing so could land you with a hefty $1,000 fine!). Instead, choose one of the wonderful campgrounds surrounding the area.
At Broken Head Holiday Park we have a range of beachfront accommodation that's just a stone's throw from the beach, as well as camp facilities, such as BBQ areas, kitchens, an amenities block, laundry and a kiosk to make your stay convenient and comfortable.
We hope to see you soon!