What's the Right Way to Pitch a Tent?

Pitching a traditional tent might look easy, however, if you arrive at the campground at dusk without having practiced putting it up first, the job could take longer than you think. The one thing you don't want is trying to erect a tent by torchlight with tired kids in the car!
If we can offer any advice first off, it would be practice pitching your tent at home first and arrive early at the camping ground. Once the tent's pitched you can go off and have some fun without stressing out.
Here are some more tips on how to pitch a tent easily so you can get ready for your next camping trip!
1. Find the perfect tent spot
Firstly, find an ideal place to pitch your tent and make sure that the ground is free of debris. You don't want to be waking up because something is stabbing you in the back, making sleep uncomfortable and impossible (though a good quality camping bed can help with that). Read more tips on finding the perfect tent spot.
2. Make sure you have a waterproof liner
You certainly don't want to get wet due to heavy rain, but not due to the wet ground either. Therefore, a waterproof tarp or ground sheet is essential. This creates extra protection between your tent's floor and the ground. Make sure that your protection is shorter than your tent's inner. This is so water running off your tent falls onto the ground, rather than on your tarp, and doesn't collect underneath.
3. Lay out your tent
Lay your tent over the waterproof tarp. Find the front door of your tent and rotate it towards the direction you want it to face. Think about which way the sun is facing but also about the neighbours.
4. Get your tent pegs
It's crucial to secure your tent so the wind doesn't blow it away. So take your tent pegs and secure each corner of your tent floor. Make sure the inner is taut diagonally before knocking in the pegs. At this point, just push the pegs down gently. You can knock them in totally with a hammer or mallet when you've finished setting up.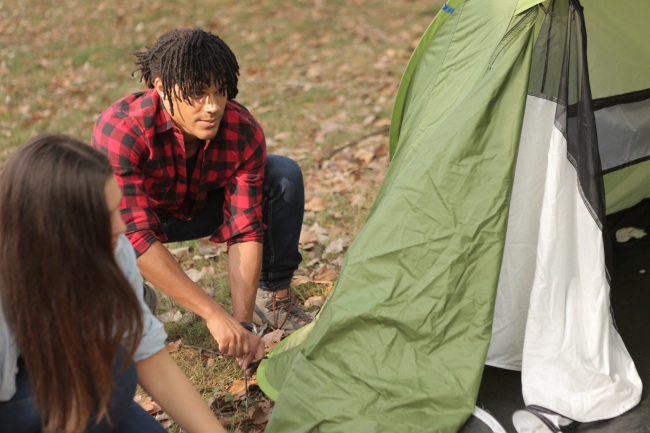 5. Unpack your tent poles
Now you've built the foundation of your tent, it's time to start building the walls. Take the tent poles and start unfolding them, sliding each section into the next one. Repeat the same process until you have a complete set of tent poles ready to be erected.
6. Lay down the poles
This might be the trickiest part. First lay out the poles on your tent aligning them with the seams. Then thread them through the pole sleeves or the loops.
7. Lift it up and secure
Once you've got your poles in the correct position, lift up the structure to form the framework of the tent. Now you can go around and start pegging the rest of the tent down, and with each corner, lift the peg, pull tight and peg again. Tent pegs should be dug in at a 45 degree angle facing away from the tent so they don't pop out if it gets windy. You may have guy ropes you can attach for extra stability if it's windy.
For a quick example tutorial on pitching a tent, have a look at this video:
Broken Head Holiday Park is Open For Business!
So come along and pitch your tent at our beach campsites and enjoy some time in the great outdoors. You can also stay in our beach shacks or beach cabins if you prefer. Don't miss our special offers. From now until the end of July you can pay for 3 nights midweek and get the 4th night free. And for families, kids stay for free until 31 August. We look forward to seeing you!