Want Easy Camping Meals? Try Cooking in Foil!

One of the benefits of a camping holiday is the ability to save money by making some of your meals at the campsite. But you're still on holiday, so no one wants complicated, time-consuming recipes—easy camping meals is where it's at for holiday cooking. That's why we love foil pack cooking; it's simple, all the ingredients go into the foil and there's hardly any clean up. Perfect!
To be prepared to make these excellent easy camping meals, you'll need to bring along heavy duty foil. We recommend purchasing this type of aluminum foil as it holds up best in the cooking process, but if you just can't get your hands on it, then you can double or triple up the regular kind of aluminum foil.
There are typically two ways to package up your food for cooking in foil. One way is called the tent package, which is best for steaming the food, and the other is flat, which is usually best for meats. The infographic below has a great description and illustration of how to make these two types of packets for cooking in foil, along with some suggested tin foil recipes.
We've also pulled together some camping dinner ideas, as well as other meals (and even a dessert!), so you'll be able to use this post as a jumping off spot for all your foil pack cooking adventures.
Breakfast: Hearty Breakfast Packets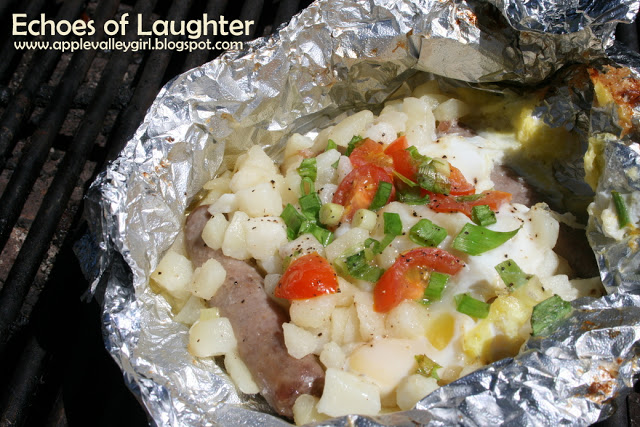 Ingredients:
Sausages or bacon
Frozen hash browns or leftover cooked potatoes, diced
Eggs
Chopped tomatoes and green onions, if you like
Shredded cheese, any kind
Place the sausages or bacon on a double layer of foil (if using heavy duty, might only need one) that you sprayed lightly with cooking spray. Meat should be on the bottom so it receives the direct heat and will cook properly. On top of the sausages, add a handful of frozen hash browns or diced leftover potatoes, an egg or two and diced tomato and green onion if you like. Salt and pepper to taste. You may also add spice if you or your family likes it. Wrap up packet and place on a hot BBQ for 15-20 minutes or until meat is thoroughly cooked. After cooking for 15-20 minutes, it is a good idea to open up the packet, add the cheese and place back on the BBQ for a few minutes to melt the cheese.
Recipe from Echoes of Laughter
Lunch: Grilled Ham and Cheese Pull Apart Sandwich Loaf
(serves 6)
Ingredients:
1 loaf Italian bread (30 cms)
3 tablespoons butter or margarine, softened
1 tablespoon spicy brown or country-style Dijon mustard
6 slices Swiss cheese
300 grams thinly sliced fully cooked ham
Spray a 60×45-cm sheet of heavy-duty foil with cooking spray. Without cutting all the way through, cut loaf of bread into 12 (2 cm) slices, cutting to within 1/2 cm of the bottom. Stir together butter and mustard. Spread every other slice of bread with slightly less than two teaspoons mustard mixture, creating six sandwiches. Fold each slice of cheese in half diagonally; tuck each into sandwich. Divide ham evenly among sandwiches, tucking in to fit. Place loaf on centre of foil. Seal edges, making tight 1 cm fold; fold again, allowing space for heat circulation and expansion. Place foil-wrapped loaf on grill over medium heat. Cover grill; cook 20 to 25 minutes or until cheese is melted and loaf is hot, turning loaf frequently. To serve, open packet carefully to allow steam to escape. Remove foil from loaf; pull apart sandwiches.
Dinner: BBQ Chicken and Potato Foil Packet
(serves 5)
Ingredients:
1 kg of boneless skinless chicken tenderloins
1 small bag of small golden potatoes
Your favorite sweet BBQ sauce
Shredded cheddar cheese
Olive oil
Salt
Pepper
Cut the potatoes into small pieces and place evenly into five foil packets with some olive oil, salt and pepper. The olive oil keeps the potatoes from sticking to the bottom and burning. Fold the packets up, leaving a bit of room at the top for steaming and close the sides tightly. Cook the potatoes for about 15 minutes. Take the foil packets off the grill and open to add 2-3 chicken tenderloins and as much BBQ sauce as you like. Close the packets up again and cook for an addition 15-25 minutes. Take one off the grill and check the chicken periodically. When the packets are done, add a few pinches of shredded cheddar cheese to the top, and serve.
Dinner: Italian Sausage and Pepper Foil Packet
(Serves 4)
Ingredients:
1 kg Italian sausage
2 red capsicums
2 yellow capsicums
1 red onion
Salt
Pepper
Cut Italian sausage into slices. Cut vegetables into large wedges. Mix meat and vegetables together and salt and pepper to taste. Wrap in a foil packet and grill for 20 minutes or until sausage is cooked through. Serve.
Dessert: Apple Crumble
Serves 2-4
Ingredients:
3-4 apples (chopped)
⅓ cup oats
¾ cup brown sugar
½ cup whole wheat flour
1 tsp cinnamon
⅓ cup butter
2-3 tbsp white sugar
In a bowl add oats, brown sugar, whole wheat flour and butter, mixing with a fork until pieces of butter are evenly dispersed throughout the mixture. Add in your chopped apples, cinnamon, and white sugar, mixing together. Take three long pieces of foil (about 30 cm each), fold each side up and pinch the ends together forming a boat-like shape. Place the ingredients in the centre of the foil, folding the sides over and pinching to seal the package. Cook for about 15-20 minutes.
Bring Your Tin Foil Recipes to Broken Head Holiday Park
Book a fun camping holiday to Bryon Bay soon, and you'll be able to try out any of these delicious easy camping meals on our excellent campsite facilities at Broken Head Holiday Park. We have a great camp kitchen and BBQ area so you'll be able to try out these and other camping dinner ideas easily. Use these yummy sounding recipes as a good excuse to pack up your car and head to Bryon Bay soon!