Top 11 Things To Do in Byron Bay

You might have heard about Byron Bay being one of the country's best surf destinations but there's so much more to see and do. For a start, if you're a nature lover, Byron Bay has plenty of local walking and biking trails where you can connect with diverse native flora and fauna.
And just a half an hour's drive from Byron Bay you can find beautiful Australian rainforest regions with bubbling brooks, cascading waterfalls, and acres of rolling hills such as Nimbin and Mullumbimby.
As well as national parks, there are weekly markets, luxury escapes from the daily routine, a myriad of watersports, health retreats, and multiple festivals throughout the whole year. 
Since there are so many things to do in Byron Bay it's not possible to discuss them all, but we'll feature a few of them in more detail here. 
1. Snorkel or scuba dive at Julian Rocks
Julian Rocks is one of the most popular diving destinations in Australia. As it is a home to the gentle Grey Nurse Shark, it has become a protected marine reserve where you can also find more than 500 species of fish and hang out with sea turtles. This is one Byron Bay activity that will definitely help you create memorable experiences. You can pick between a snorkel tour, an intro dive, and a certified dive.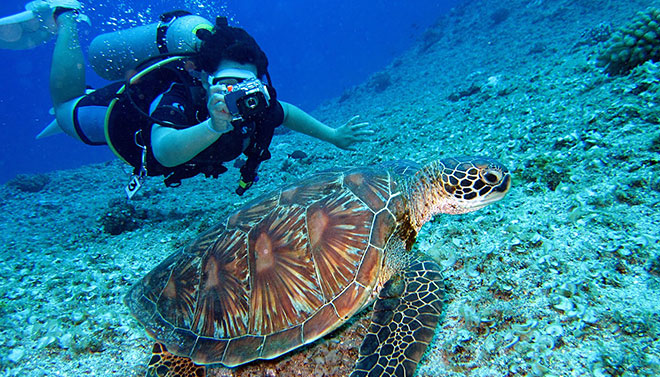 2. Chill out on Byron Bay beaches
Want to have a break from your busy life? You can definitely recharge your batteries at some or all of Byron Bay's breathtaking beaches. The most popular beach is definitely Main Beach but there are plenty more where you can chill out.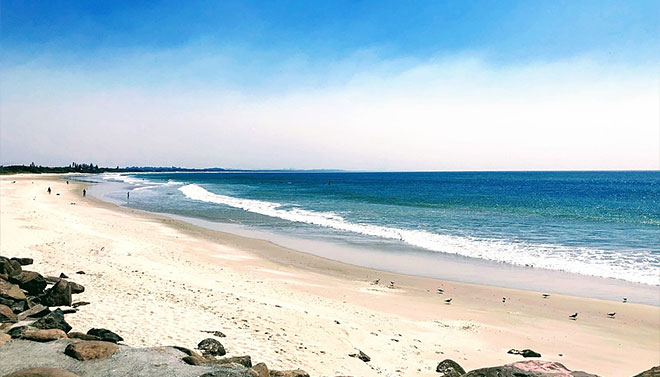 Here are the top beaches from north to south:
Belongii

– A long beach that is not too crowded where you can find your peace and have a relaxed day on the fine soft sand. 

The Wreck

– In 1921 the passenger steamship SS Wollongbar came a cropper and since then this beach has been named The Wreck. Now it is a popular Byron Bay surf spot for the less experienced surfers. Don't be surprised if a couple of dolphins join you. 

Main Beach

– This beach has the best location, which is just a couple of minutes from the town centre. You can easily find a parking spot and enjoy plenty of space to spread out on the soft white sand.

Clarkes

– This is a favourite family beach but due to cluster of rocks near the pass it is not very great choice for surfing. However, it is perfect for snorkelling.  

The Pass

– If you plan to have a picnic with your family or friends this is the right beach for you. Many tourists just like having their meals on the grass while watching how top notch surfers are breaking the waves. And if you are heading out to Julian Rocks for a dive, boats are launched off from here.  
3. Take a surf lesson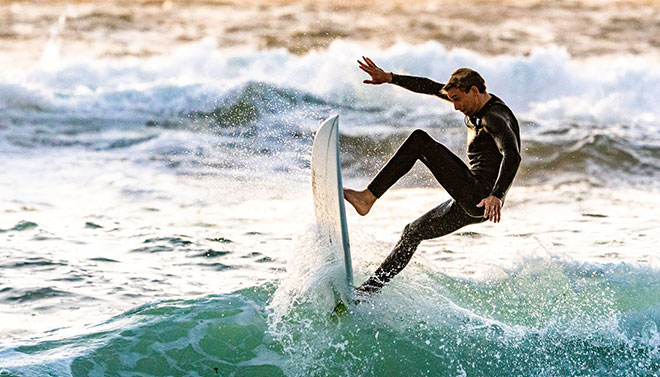 This is one of the must do things in Byron Bay. You haven't made the most of the Byron Bay beaches if you haven't even tried to stand on the surfboard. There are many Byron Bay surf schools for beginners. 
You can start with a 2 hour lesson, to weekend getaways. Or you can even enrol in a half day surf lesson where you will learn everything you need to start surfing the same day. But if you consider yourself a pro, bring your board and have your epic ride on waves right away!
4.  Watch the sunset from the Byron Bay Lighthouse
Sitting on the most easterly point in Australia, the lighthouse offers an opportunity to admire a sunset view and see where the ocean meets the forest coastline. You can even take a 3.7 km long Cape Byron Walking Track (around a 2 hour walk) to admire the view even more and take some stunning photos of this Instagrammable spot.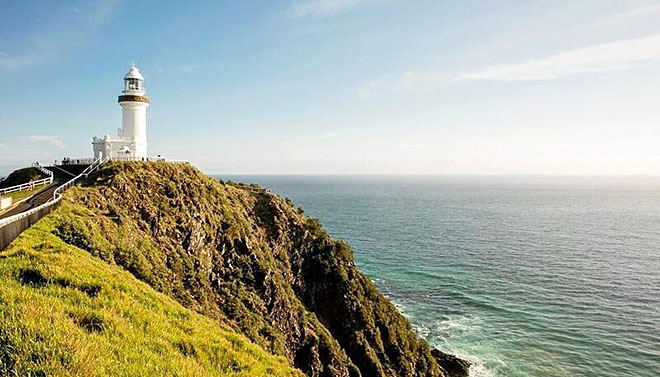 Sitting on the most easterly point in Australia, the lighthouse offers an opportunity to admire a sunset view and see where the ocean meets the forest coastline. You can even take a 3.7 km long Cape Byron Walking Track (around a 2 hour walk) to admire the view even more and take some stunning photos of this Instagrammable spot.
5.  Arakwal National Park and Tallows Beach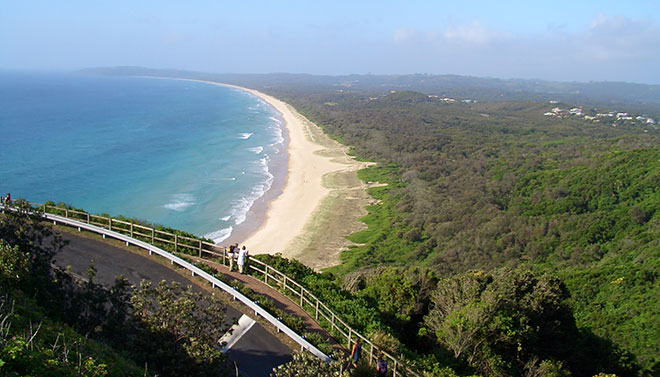 When you finish your Cape Byron Walking Track and head back to the roadside, if you prefer staying on the coast, just turn left down Tallow Beach Road. It might be a few steps more but believe us it will be well worth it. 
Tallow Beach is part of Arakwal National park, managed by the Arakwal Aboriginal Community and NSW State Government. Besides the beach that stretches 3 km south, you can spot sand dunes, forest backdrop and most of all meet indigenous community, migratory seabirds, and  native wildlife. If you are coming by car from the roadside, don't worry there is plenty of parking here! 
6.Take a kayak trip and meet and greet dolphins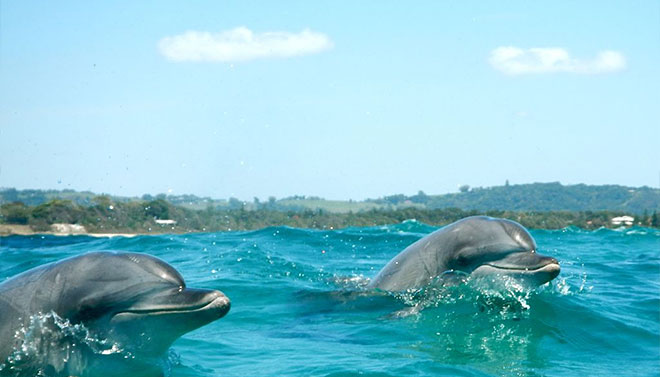 You might get lucky and come across a school of dolphins if you paddle in a kayak from May to October in Byron Bay! With a sea kayak adventure, not only can you meet dolphins in their natural habitat, you can learn about Byron Bay history, marine life, Aboriginal culture all while witnessing unforgettable views of the town and its coastline, especially the Byron Bay Lighthouse. 
There is a 3 hour Byron Bay Kayak Tour that starts at Clarkes Beach. As this is the most calm beach in Byron Bay, you will be able to launch your kayak easily.
7.  Whale watching
Humpback whales have been protected in Byron Bay for almost 40 years, and this is their most easterly stopover point on the long migration trip from Antarctica, to the Great Barrier Reef in Queensland. Byron Bay gives you an amazing opportunity to watch them chill out and take a breather between May and November. There are whale watching cruises during the season but you can also watch them spouting from land. 
8. Check out the local markets
People in Byron Bay are extremely creative, which is why there are so many different markets that have something for everyone. Whether you have a certain hobby or interest, or you're after a unique Australian gift, you will surely find something here. 
Some of the best markets to visit are: 
Byron Bay Markets – open first Sunday of every month, 

Byron Bay Artisan Market – open from October to March, every Saturday night, and 
Byron Bay Farmer's Market – you can visit every Thursday morning.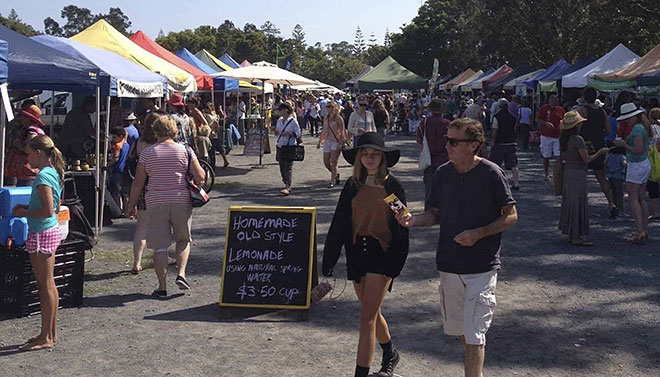 9. Get crystal healing or a massage
There is nothing better than a good massage after a long day, right? And if you are a fan of crystal healing or want to give reiki a try we suggest visiting The Arts Factory for a relaxing day full of massage, crystal healing and reiki music to ensure quality meditation and stress relief. Give yourself a proper treatment. You deserve it!
10. Hire a bike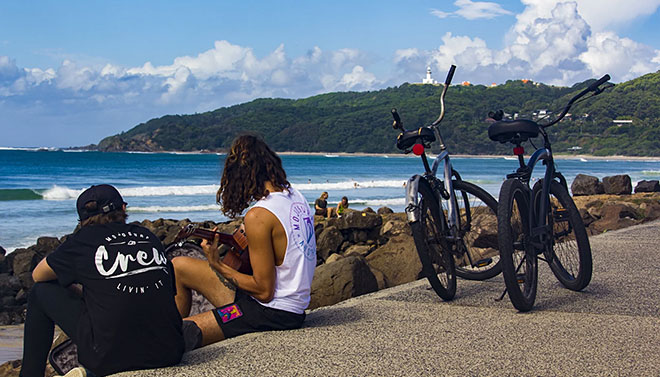 Hiring a bike is definitely a cheap and interesting way to explore Byron Bay! Byron Bay is a very bike-friendly town, with plenty of trails, and you can easily rent a bike for a small fee. And you like the challenge, book one of the coastal and rainforest Mountain Bike Tours that will enrich your travel experience even more.
11. Party the night away in Byron Bay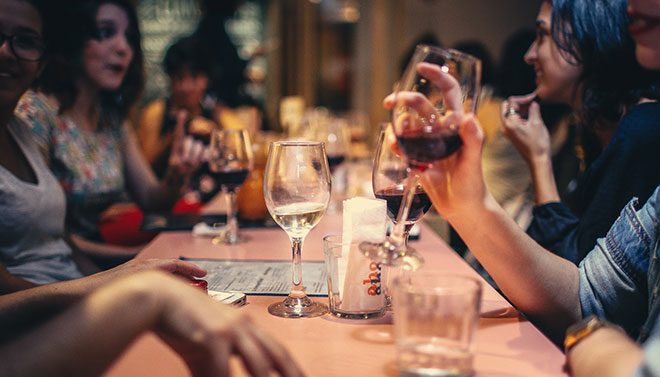 This might seem like a small town, but there are loads of awesome clubs and pubs with live music or theme nights. The great thing is that there is something happening every night, so you can catch some local talent at least one of them. 
There are also many festivals and events taking place at different times throughout the year, such as Splendour in the Grass, Bluesfest, Byron Bay Writers Festival, Byron Bay Malibu Classic, and Byron Bay Triathlon and Ocean Swim. Sounds like a great place to hang out at any time doesn't it? 
Where to stay in Byron Bay
Decided to visit Byron Bay? To ensure that you have a comfortable stay, we offer high quality camping accommodation – beach cabins, beach shacks, a beach house for larger groups and even new deluxe beach cabins if you prefer to stay longer in Byron Bay. Book your stay at Broken Head Holiday Park today!