5 Romantic Things to Do for Valentine's Day in Byron Bay

Even if you're not a huge romantic, use Valentine's Day as an excuse to whisk away your special someone for a long weekend in Byron Bay. There are plenty of activities in Byron Bay that lend themselves to romance; from picnics on the beach, to long walks with gorgeous views.
There are also lots of excellent restaurants in the area to share a special meal, perhaps French or Italian? Or do an amazing foodie tour of off-the-beaten track eateries? Whatever you decide, you certainly will have no trouble finding ways to romance your partner here in Byron Bay.
Here are a few posts to get you started on ideas in general:
10 Romantic Things to Do in Byron Bay
7 Secrets to a Secluded Romantic Getaway in Byron Bay
15 Secluded Spots in Byron Bay to Get One-on-One Time
Now, on to specific suggestions for 2019…
1. Toast the Sun
Start off your Valentine's Day with an intimate experience at one of the most iconic places in Byron Bay — the Cape Byron Lighthouse. The 2 1/2 hour experience starts off with watching the sunrise, thereby being among the first to see the sunrise that day in Australia.
Follow up that amazing experience with a three-course breakfast filled with local produce at the Cape Byron Lighthouse Cafe. The cost is $195 for the first adult and $110 for additional adult.
2. Zephyr Horses Valentine's Day special
Have an unforgettable experience together by riding horses together on Valentine's Day. This two-hour Valentine's Day Special includes a picnic (choice of breakfast, brunch or lunch options) as well as an option to add professional photography packages for $350 extra. The horseback ride goes from a private forest to the beach, then leads to a picnic set up with rug and pillows and a bottle of champagne. The cost is $699 for two people.
There's also a cheaper second option featuring a private forest trail ride including hamper, picnic setup (rug and pillows), and bottle of Champagne. The cost is $499 for 2 people.
3. Valentine's Day Yoga + Feast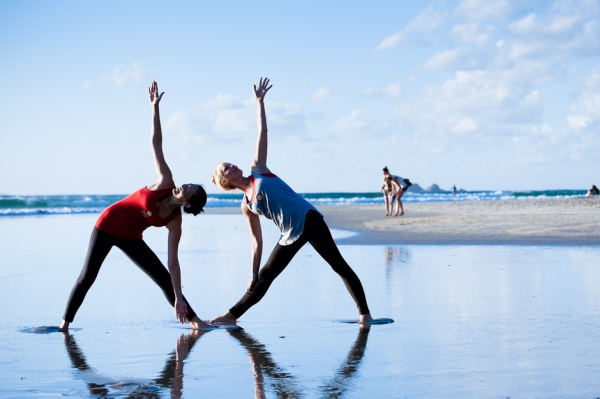 Byron Bay is known for having excellent yoga classes, so why not take a special yoga course with your partner and then enjoy a delicious dinner afterwards.
In nearby Mullumbimby, you can sign up to do partner yoga (with a little of massage and Tantra mixed in) followed by three-course dinner, ending with coffee and chocolate. It begins at 6 pm with dinner served at 7:30 pm. Cost is $160 per couple.
4. Valentine's Day at The Byron at Byron
The Byron at Byron offers up two ways to celebrate Valentine's Day with your loved one: a spa trip or a three-course dinner.
Spa Indulgence: Give your partner the gift of a 60-minute couples massage that will remove any stress and finish it off with a glass of champagne. This gift costs $335 for two.
Valentine's Dinner: This dinner will features three courses planned by The Byron at Byron Executive Chef Minh Lee. Upon arrival, you both will enjoy a glass of Bollinger NV Rose. Bookings are required for both, and the cost is $115 per person.
5. Valentine's Day at Balcony Bar & Oyster Co.
Reserve a space for you and your person on Valentine's Day at Balcony Bar where you'll dine on Alaskan Crab legs, cooked pawns, oysters, diamond clams and half shell scallops. Plus you'll receive two glasses of Piper Heidsieck when you arrive.
In the spirit of the day and the month, Balcony made the cocktail of the month, "Beat with Us," a partnership with Heart Research Australia so that $1 from every cocktail sold will go towards research and support for heart disease. Wear Red Day is celebrated every 14 February, but this special goes on all month.
Plan to romantic getaway stay with Broken Head Holiday Park
Whether you want to camp out under the stars with your favourite person, or you are more of a beach shack kind of a couple, we can't wait to host you here at Broken Head Holiday Park.
We offer excellent facilities—including a BBQ area, where you can make some of your meals to save up for a really special one out. (And don't forget, the romance of making a meal for someone, it can really be fun!)
Plus, our location is right next to one of the most gorgeous beaches in Byron Bay, so it's perfect to take a quiet stroll together and admire the ocean, watch a sunrise or sunset, and pretty much forget about the rest of the world besides the two of you. Check out our accommodation options and book today!