The Secret Beaches of Byron Bay
Picture this: perfect white sand, clear blue waters, the sounds of the ocean, and not another soul for miles around. If that's a dream beach getaway for you, you need to get to Byron Bay asap!
Discover these wonderful hidden gems and secret beaches Byron Bay offers. Bonus: If you visit these spots between March and June after the peak summer season, then you'll have them all to yourself. Let's jump in!
Broken Head Beach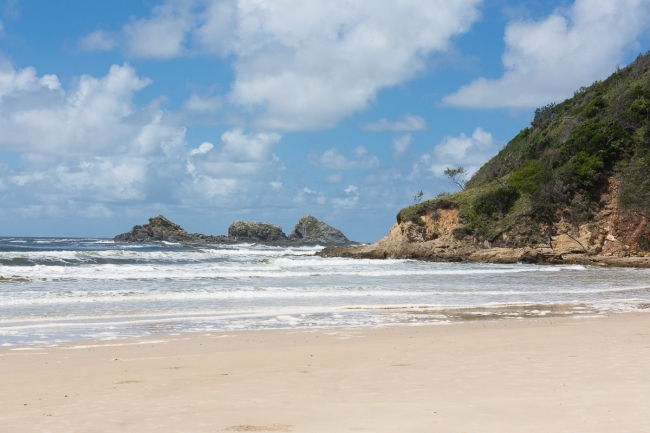 (Source)
Broken Head Beach feels like a world away from the busy Byron Bay life. But it's only a 10-minute drive from the heart of the town and a short walk from our Broken Head Holiday Park.
On your way to this beach, you'll enjoy a secluded nature trail through the rainforest, plus a fantastic view of the Cape Byron Lighthouse. Have a picnic right on the sand or on the nearby grassy knolls, surf the empty waves, or simply sunbathe in peace.
Note: If you'd like to swim at Broken Head Beach, keep to the lifeguard flags, which signal the rip currents.
Location: Broken Head Nature Reserve
Distance from BHHP: 10-minute walk
Kings Beach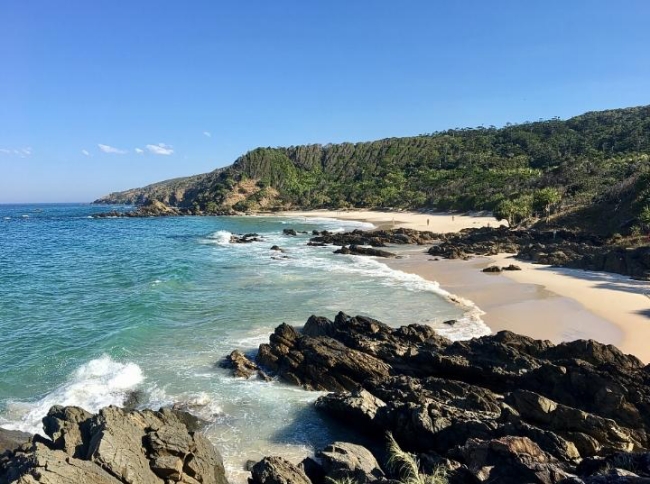 (Source)
Kings Beach is home to the famous Three Sisters Walking Track, which winds through rainforests, rocky coves, and arguably the most dramatic ocean views. The beach is one of the secret beaches of Byron Bay spots that's remote enough for you to sit under the trees, take in the coastal scene, and have a nice, long, uninterrupted think.
Note: Kings Beach is a nudist-friendly area: great if that's your thing, not-so-great if you'd like a family day out.  
Location: Broken Head Nature Reserve
Distance from BHHP: 4-minute drive
Brays Beach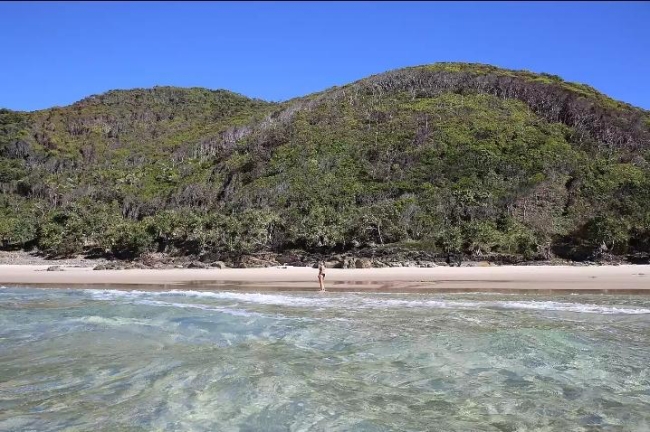 (Source)
If you're willing to hike to reach one of the best secret beaches in Byron Bay, then you'll love Brays Beach. You're almost guaranteed to have the beach to yourself at any time of the year. It's a rocky coast with incredible green cliffs that will take your breath away. Carry everything you need before you go down to Brays Beach–you'll have to park your car quite far from the beach trail.
Location: Broken Head NSW
Distance from BHHP: 9-minute drive
Little Wategos Beach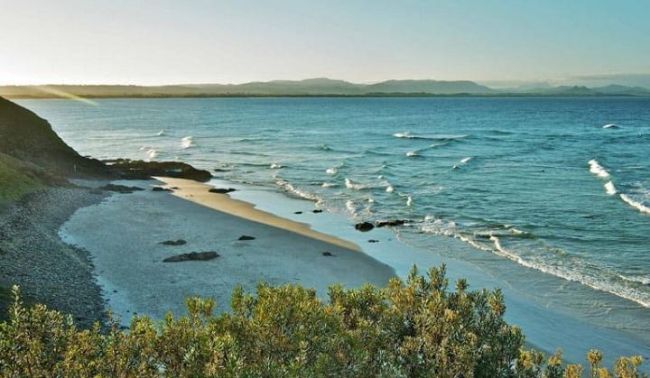 (Source)
Little Wategos Beach is an off the beaten track beach that looks like an amphitheatre. This beach sits between the Cape Byron Lighthouse and Wategos Beach, the more popular spot. Get away from traffic, snorkelling in the turquoise waters, or even try yoga on the beach.
Location: Cape Byron
Distance from BHHP: 17-minute drive
Whites Beach

(Source)
Even at the height of summer, Whites Beach sees relatively low traffic. It's just around the corner from the ever-popular Main Beach. Whites Beach appears hidden on all three sides, so it's a wonderful reveal when you arrive.
The track to Whites Beach takes you through the rainforest trees, so you could head on straight to the perfect white sand or settle down in a shady spot.
Note: Go to Whites Beach at low tide if you'd like to sit on the beach. At high tide, the water comes right up to the cliffs.
Location: Broken Head Nature Reserve
Distance from BHHP: 11-minute drive
Boulder Beach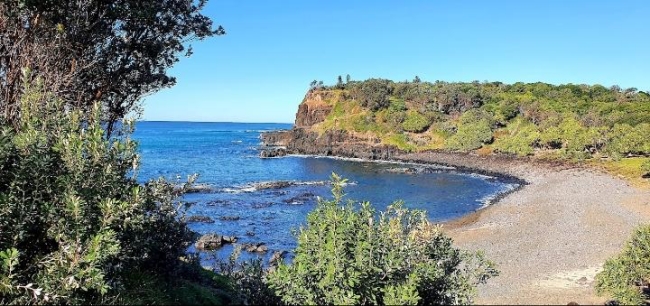 (Source)
Why not explore one of the unique secret beaches in Byron Bay? Yes, Boulder Beach is an unusual hidden beach entirely covered with brown and grey rocks rather than white sands. Get to this beach through the walking paths on either side to swim in the rock pools, surf in the waves, or have a picnic.
Note: The boulders on this beach are pretty smooth, but you'll need some extra cushioning to sit or lie down to sunbathe. Set up some foldable camping furniture, and you're good to go. 
Location: Lennox Head
Distance from BHHP: 15-minute drive
Secret beaches await just beyond Broken Head Holiday Park
Make Byron Bay your haven of solitude with these off the beaten track beaches. Stay with us at Broken Head Holiday Park–you can easily walk or drive out to these secret beaches to unwind and recharge.
We have everything you need to go exploring solo or with your partner for the weekend, and you can also book your stay for your group adventure. Get in touch with us today.