Best Collapsible Camping Gear to Save Space!

Depending on the activity you're doing, collapsible camping gear can be the way to go to save space and weight. Collapsible camping gear serves you in more ways than you can imagine.
Sure, you'll definitely save on space when you're packing your outdoor equipment, but you also save on weight. Hikers can pack as much as possible and travel a lot farther. Caravaners will enjoy better fuel economy with lightweight gear in tow.
What's more, these unique items are unbreakable, and they're super quiet. Folded or nested gear won't rattle around in your car or backpack. Before we jump into our top selection of collapsible camping gear, let's look at a few general buying tips.
How to Choose the Best Collapsible Camping Gear
Collapsible items used for food prep, storage, or eating should have a food-safe label.
Always choose BPA-free collapsible plastic items.
Go for high-quality silicone items which won't tear or weaken with frequent use.
Handles should be foldable or made from strong fabric to shave off size and weight.
Whenever possible, buy collapsible items that you can use at home and outdoors. Double duty means more value for your money.
Top 17 Collapsible Camping Gear
1. Companion Pop up Kettle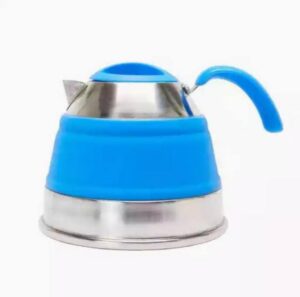 Image source: BCF
This Companion Pop Up Kettle is a great alternative to your regular steel or aluminium camping kettle. It collapses to a height of 5cm and stands at 15cm when open. You can heat 1.5L of water in no time, thanks to the stainless steel base.
Place it on your camping grill, portable stove, or right on the coals and the handle will remain cool enough to touch. This pop-up kettle doesn't whistle, though, so you'll have to keep an eye on it when it boils.
2. Goal Zero Collapsible Solar Lantern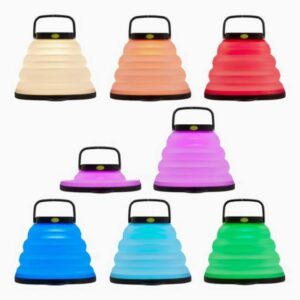 Image source: Snowys
Take a break from your usual white light lantern with the Crush Light Chroma by Goal Zero. This piece of collapsible camping gear does everything you need it to and then some. Apart from three white light settings, you can set it to six different colours, do a multi-colour fade, or even a candle flicker effect.
The Crush Light is solar-powered, plus you can charge it via the supplied USB cable or with a portable solar panel. Camping with kids is much easier with this lantern—just set their favourite colour on low and enjoy peaceful nights in the outdoors.
3. Rolla Collapsible Water Bottle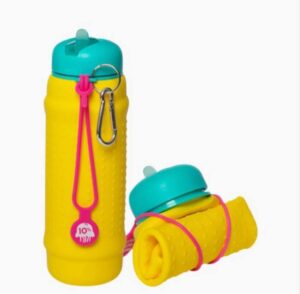 Image source: Rollabottle
If you need a collapsible water bottle for your adventure kit, try the Rolla Bottle. It folds down to about one-sixth of its height, and the food-grade silicone body can handle both hot drinks and ice.
With plenty of colours and designs to choose from, the Rolla is a great gift for your outdoorsy friends and family. If you're big on conservation, you'll be saving the planet when you switch to Rolla bottles: 10% of Rolla profits go to clean ocean initiatives.
4. Stojo Collapsible Pocket Cup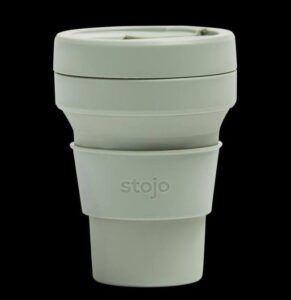 Image source: Stojo
Coffee lovers must try out the Stojo Pocket Cup. This is one of the most sturdy, leak-proof collapsible coffee cups available today. The most popular Stojo is the 12-ounce cup, but the 16-ounce cup comes with a reusable straw. You can definitely have one for your hot coffee and the other for your iced drinks.
The best part is the Stojo's dimensions: the lid is 3.5 inches in diameter, stands at 5 inches, collapses to 2 inches, and weighs only 4 ounces. And once you're back home from your camping adventure, just throw the Stojo in the dishwasher and cleanup.
5. Sea to Summit X-Set 31 Cook and Dinnerware Kit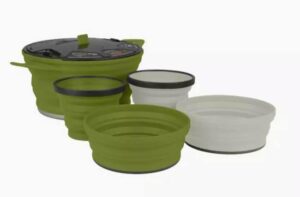 Image source: Sea to Summit
The award-winning X-Set collapsible kit by Sea to Summit is a neat, compact set that will travel with you for years to come. The 2.8L X-pot is versatile with its translucent lid, built-in strainer, and aluminium base that heats up fast.
The set comes with two bowls and two mugs, collapsible to an astonishing 45mm height. The X-Set kit will cook and serve any of your great camping recipes. All you need is your appetite and some collapsible camping utensils.
6. Kathmandu Foldable Cutlery Set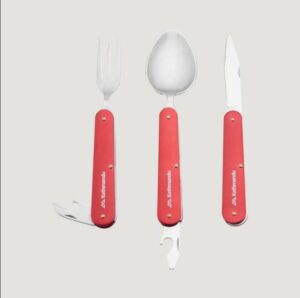 Image source: Kathmandu
This 3-piece foldable cutlery set is more than your average collapsible utensil kit. The fork comes with a can opener, and the spoon has a bottle opener too. It weighs a mere 120 g, but this cutlery set is a build meant to last.
Each piece snaps open and closed for easy use, and it comes with a handy storage pouch. Once you try this collapsible cutlery set, you'll want to replace all your single-use plastic cutlery asap!
7. Caribee Folding Wash Basin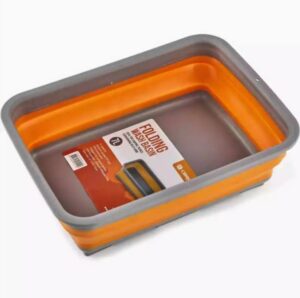 Image source: BigW
Nothing eats up your camping gear space like buckets and basins, but you really can't do without them for your camping hygiene. The Caribee Folding Wash Basin is a great solution. It carries up to 7L of water and handles all your cleanup needs, from dishes to laundry.
It is a product of food-safe polypropylene plastic (PP) and thermoplastic rubber (TPR), which means that it's stronger than your average silicone collapsible basins or buckets. The Caribee opens to a height of 12 cm but folds down to 5 cm, so you can easily fit it in your camping gear.
8. Sea to Summit Collapsible Kitchen Sink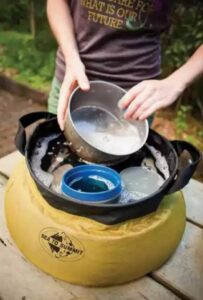 Image source: REI
If you're making a big camping meal and expect lots of cleanups, the Sea to Summit Kitchen Sink is a better option. It carries up to 20L of water, and it's wide enough to fit your largest camping cookware—think saucepans, cutting boards, or food storage containers. The handles on the side are strong enough to transport this sink safely when it's completely full.
That said, the Sea to Summit sink may need a bit of a learning curve to handle it properly. For example, be mindful while washing knives to avoid punctures. You also need to fill this sink to the fullest to keep it upright and don't lean over the edge as the water could tip out.
Finally, if you plan to use hot water with this sink, keep it at a maximum of 60°C to avoid damaging the bowl.
9. MTMTool Collapsible Stainless Steel Shot Glass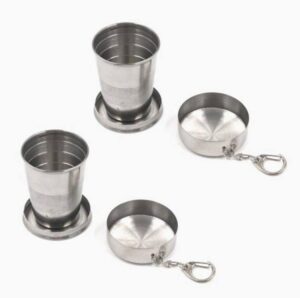 Image source: Amazon
Bring your happy hour drinks with the MTMTool collapsible shot glass at the campsite. It folds down to just under 2 cm but opens to about 2.5 inches, plus the stainless steel means no more disposable plastic cups.
Each glass comes with a keychain clip, so you can attach it to your backpack or belt or just slip it into your pocket. Pair this handy little cup with your favourite hip flask and wind down your adventure-packed day with a drink or two.
10. Platypus PlatyPreserve Portable Wine Bottle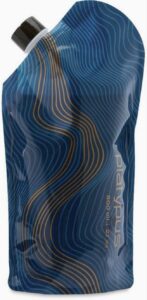 Image source: Snowys
Speaking of happy hour, if you're more of a wine fan, get the Platypus PlatyPreserve wine preserver. You won't have to worry about your glass wine bottles breaking or leaking. Simply pour your wine into this foldable bottle, squeeze all the air out, cap it tightly and throw it into your cooler box or car fridge.
The PlatyPreserve features a 100% taste-free lining and airtight cap, so your wine remains intact. Once you finish, roll the wine preserver tight and fit it snugly into your pocket.
11. Wanderer Foldable Camp Toilet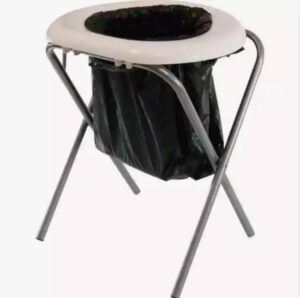 Image source: BCF
As one reviewer put it, the Wanderer Foldable Camping Toilet is "a great stool for stool." It's basically a toilet seat on sturdy, foldable legs. Use this collapsible camping gear with the included plastic waste liners, or set it over a cat hole.
The Wanderer is perfect for camping in remote sites and in your privacy pop-up tent on a public campsite. It can support a 100kg weight capacity, sits at a comfortable height for kids and adults, and easily handles the business.
12. OZtrail Deluxe Double Bunk Bed

Image source: Tentworld
Who knew you could carry a bunk bed in a bag? The OZtrail Deluxe Bunk Bed is a super versatile collapsible camping bed. Set it up with one bed over the other or side by side for a double bed. The top bunk comes with safety rails and can carry a maximum of 100kg, while the bottom can support 120 kilograms.
The OZtrail bunk bed is quick to set up, and it packs away to fit in its carry bag. You can sleep directly on the sturdy polyester fabric or use a sleeping bag or inflatable mattress for that extra luxurious sleep.
13. Zempire Mantis Table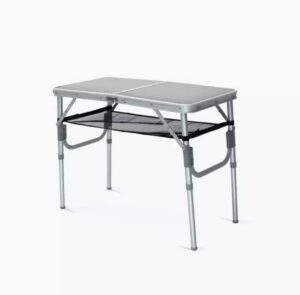 Image source: Tentworld
There are many folding camping tables to choose from today, but our favourite is the Zempire Mantis Table. We love the adjustable legs, so you can set it low in a small tent, high for an outdoor meal or card game, or change up each leg independently if you're on uneven ground.
The waterproof tabletop and rust-proof frame will survive any all-weather, plus the detachable net shelf underneath it serves as extra storage space. The Zempire folds down to a small package and weighs 3.7kg, so you can throw it into your car for your next camping trip.
14. Naturehike Portable Camping Chair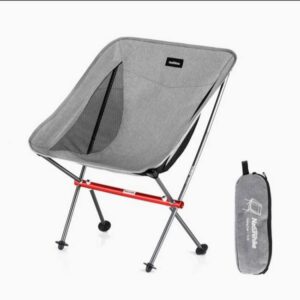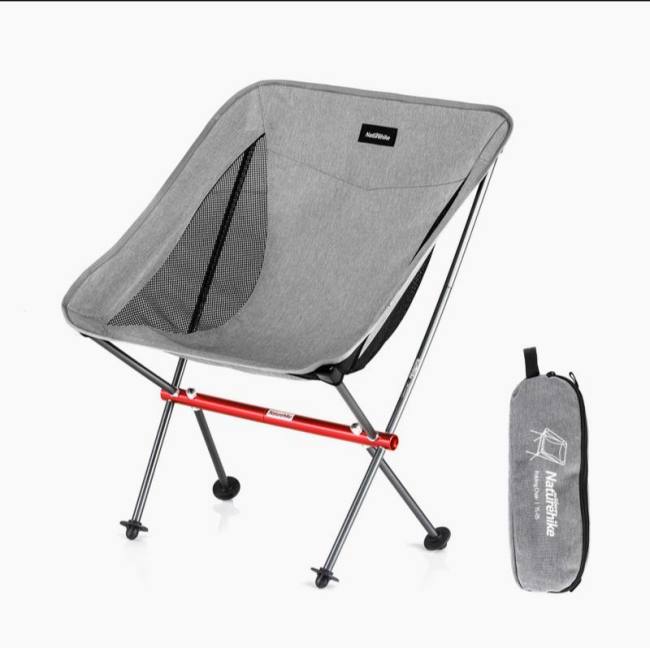 Image source: Amazon
The Naturehike Portable Camping Chair is a super lightweight chair that sits higher than your average scoop chair. The larger version has ample space to rest your head, but it still packs down small enough to fit into your backpack. This foldable chair is made from a rust-proof aluminium alloy that supports up to 150kg.
The design of the Naturehike chair is easy to assemble quickly, durable and dirt resistant. However, be ready for a tricky first setup because the fabric is tight. After a few tries, you'll kick back in this chair in 30 seconds flat.
15. Silky Big Boy Professional Folding Saw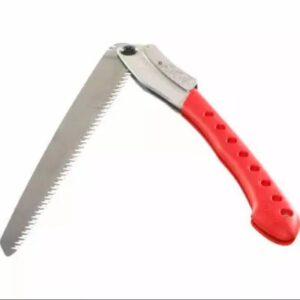 Image source: Elite Outdoor Gear
Hikers will enjoy the Silky Big Boy Professional Folding Saw for its large blade and long stroke. This foldable saw can handle anything from small branches to large tree limbs, making cutting firewood a breeze. It's also great for clearing a space to set up camp in the wild.
The Silky Big Boy is a wonderful tool for construction projects or pruning the garden when you get back home. This saw weighs under 600g and folds down to 40 cm, so you can slip it into your backpack or toolbox. The Big Boy also has different teeth and blade sizes to match your camping needs.
16. 360 Degrees Furno Stove with Igniter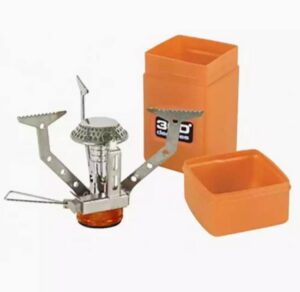 Image source: Tentworld
If you're more of a weekend adventurer, you'll want a super quick way to get a hot meal or drink on the go. The 360 Degrees Furno Stove fits into any standard camping gas canister. Its three arms fold down to a tiny package, but it offers great pot support when opened.
The Furno stove also comes with a built-in igniter, so you don't have to use a lighter or matches to start cooking. You can also adjust the flame from a gentle simmer to a roiling boil with just a touch.
17. Oceans Outdoor Pocket Blanket

Image source: Amazon
A pocket blanket is indispensable if you love going out for picnics in the park or on the beach. We recommend the Ocean Outdoor blanket because it has ground stakes attached to it. Whether hanging out on grass, sand or bare dirt, you can secure this blanket right on your spot.
The Oceans carry bag is an elastic fabric, so the blanket still fits into it without any proper folding pattern. The Oceans is large enough for four seated adults or two lying down for such a compact outdoor blanket. It also comes with a carabiner to clip onto your backpack if your pockets are full.
Bring your collapsible camping gear to Byron Bay
Yes, you can pack everything you want for your Byron Bay adventure, as long as it's collapsible. Use this list to build your camping gear list, and watch how fast you'll pack for your camping trips. Of course, there are plenty of opportunities for you to try out your collapsible camping gear at Broken Head Holiday Park. Our affordable accommodation is  just steps away from the beach, plus we have all the amenities you'll need for a wonderful camping experience. Book your spot today.