Best Outdoor Camping Gear for 2022
"New year, new gear" is the slogan for 2022, and there's no end of options to upgrade your camping gear this year. There's something for everyone, from solo backpackers to family campers, outdoor essentials, to handy gadgets. Let's dive right in!
1. OZtrail Fast Frame Lumos 6 Person Tent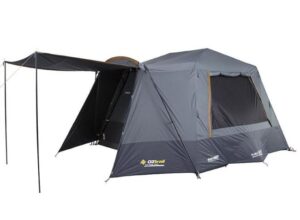 Image source: OzTrail
Anyone planning a family or group camping trip faces one big challenge: how do you comfortably fit everyone in one tent? The Fast Frame Lumos 6 Person tent by OZtrail is the best solution in the market right now.
It's surprisingly easy and quick to set up, and it comes with all the bells and whistles that you didn't think you'd need. Features include a built-in interior lighting, BlockOut coating to blackout 95% of external light, mesh panels to keep insects out, a heavy-duty PVC floor, and zippered ports to add a heater or air conditioner, and so much more.
Everyone will be happy to spend a weekend in this impressive piece of camping gear.
2. Sea to Summit Ascent AcII Down Sleeping Bag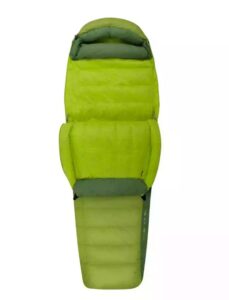 Image source: Sea to Summit
This year, add a down sleeping bag to your essential camping gear. The Ascent Series sleeping bags by Sea to Summit are light, super comfortable and spacious for any camper all year round.
We like the Ascent AcII for its traditional mummy shape but innovative features, like the internal security pocket, separate foot zippers, and zip coupling—you can zip two of these sleeping bags together regardless of their respective sizes.
What's more, it keeps you cosy in below freezing conditions, so you can happily travel with this sleeping bag for your winter adventures.
3. Moka Express Coffee Pot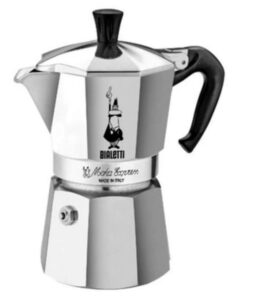 Image source: Myer
What's better than waking up to a fresh cup of coffee when you're camping? Simply bring your favourite coffee grounds, a separate water kettle to boil your brewing water, and the Bialetti Moka Express percolator will get the job done.
This Italian classic needs only a handwash to maintain it, and its sturdy aluminium construction can handle frequent use for many years. It sounds like a dream for camping caffeine junkies, right? Set the Moka on your camping stove or BBQ grill, and enjoy fresh coffee within minutes.
4. Companion 2 Burner Gas Stove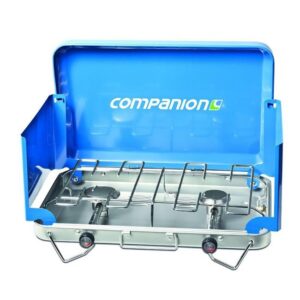 Image source: Tentworld
Think of the delicious possibilities with this Companion 2-burner gas stove. You can easily feed a crowd with these burners, which support two large pots on study foldable legs. Set it down at your campsite, plug the hose to the cylinder, and whip up your camping breakfast, lunch and dinner for your family and friends.
The Companion burner is about 18.3 by 11.2 inches and weighs about 4.5kg when folded up, so make room for it in your camping gear. Heads up: This burner comes with built-in windshields, but they may not be enough on an extra windy day. Choose your setup spot wisely to avoid the breeze while cooking at camp.
5. Goal Zero Lighthouse 600 Lantern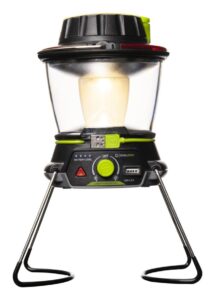 Image source: Goalzero
You need a powerful, reliable light source when you're camping, and the Goal Zero Lighthouse 600 lantern is designed for every scenario.
Charge it via USB or solar power, or crank it by hand in a pinch—you'll get 10 minutes of light for every minute of cranking. Use the Lighthouse to charge your phone, tablet or other small USB devices as well. You can hang this lantern by its handle or unfold its legs if you need a taller light off the ground.
Light one side for the low setting, and you'll have steady light for 48 hours before the Lighthouse needs recharging. Match it with a portable solar panel, and you'll never run out of power during your camping trips. What more could you ask for?
6. Macpac Deluxe Double Sleeping Mat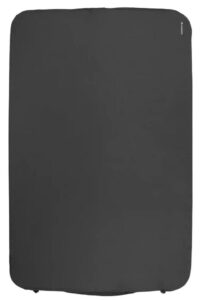 Image source: Macpac
Are you tired of your usual inflatable mattress for your camping weekends? Try the self-inflating Macpac Deluxe Double Sleeping Mat for a super comfy bed with half the effort. Simply open the valves to let the air flow into the mat, and blow in a bit of air if you need it a bit firmer.
It's quite thick and difficult to puncture, so you'll get good use out of it if you're a regular camper. You'll need extra space for it in your camping gear, though—it's larger than you'd expect even when rolled up. And get your partner to give you a hand when packing it down. Otherwise, you'll break a sweat as you wind up your camping trip.
7. Macpac Microlight One Person Hiking Tent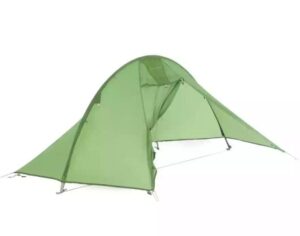 Image source: Macpac
Also from Macpac is the virtually indestructible Microlight 1-person tent. It's perfect for solo campers who love all-weather adventures. Set up this tent in high winds, snow or rain, and you can rest easy under its robust frame.
The Microlight is for the serious hiker who needs the certainty that you'll survive almost anything that Mother Nature throws at you. It fits in your backpack, sets up in minutes, never leaks, and it's quite spacious for yourself and your other camping gear.
You might have to hunker down a little bit inside the Microlight if you're over 6 ft tall—it's a compact tent, after all.
8. MPOWERD Luci Solar String Lights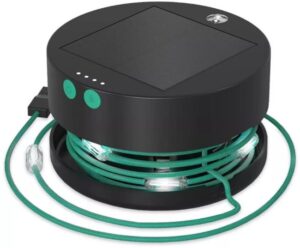 Image source: Snowys
Glampers, here's one camping gear you'll never do without – the Luci Solar String Lights by MPOWERD. Charge up these lights via the built-in solar panel or USB, and then set them up to low, medium or high brightness to set the perfect mood. These lights give a warm glow to your space, rather than a bright white light that might be harsher to the eyes.
The possibilities are endless with a braided nylon cord's 18ft (5.5m). Hang up these lights inside your tent for a lovely warm ambience or outside your tent to mark out your chill zone. The Luci lights kit also has a built-in power bank to charge your USB devices.
Keep in mind that while these lights are pretty powerful, string lights are no substitute for a headlamp or lantern. Use them simply for aesthetics.
9. MSR PocketRocket Deluxe Ultralight Stove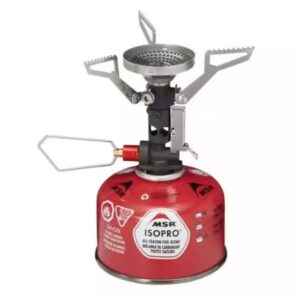 Image source: Wildearth
If you're ready to push your hiking or backpacking limits this year, take the PocketRocket Deluxe Ultralight Stove with you. It weighs just 83g, uses a spark igniter, and regulates your cooking gas like a charm.
For such a small item, the PocketRocket Deluxe has a broad burner that will comfortably fit your camping pots. Whip up a quick meal from wherever you are with this handy stove or boil water for a great cup of tea or coffee as you enjoy the outdoors. You'll love how fast the PocketRocket heats up, even in high winds.
10. Osprey Aether plus Hiking/Mountaineering Backpack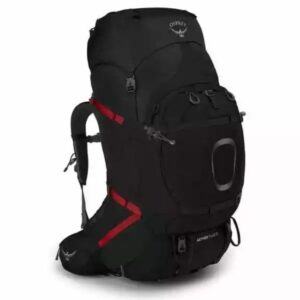 Image source: Packlight
The perfect hiking backpack is a balance between size and fit. We like the Osprey Aether Plus backpack since you can fully customise it to suit your body type. The hip belt, shoulder straps, and torso length are all adjustable for small, medium, large and extra-large Osprey backpacks.
You can lug some serious weight with ease (18 to 32kg of camping gear) or detach the top of the Osprey to use as a day bag for side trips away from the campsite. Did we mention all the pockets and compartments? You'll never leave anything behind again. Just shove your gadgets and gear into every nook and cranny.
You can fit more than you expect in the Osprey and travel farther than you imagined on your adventures this year.
11. The North Face Women's Flight VECTIV Shoes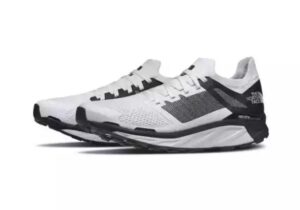 Image source: North Face
The North Face Women's Flight VECTIV shoes deserve a special mention in our 2022 camping gear list. These shoes are designed for trail running, but they do incredibly well for hiking. The rugged sole can easily handle all kinds of terrain, and they're comfortable, breathable, and super responsive to your feet too.
The VECTIV shoes also have reflective parts for visibility after dark, plus an adaptable footbed design to support your feet. High arched or flat-footed, this pair of shoes will give you the energy and balance you need to survive a long trek in the hinterlands.
12. Petzl Actik Core Headlamp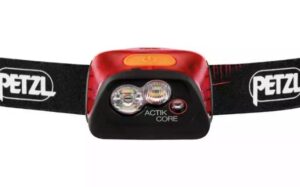 Image source: Snowys
We love all things rechargeable, and that's why you should upgrade your AAA headlamp to the Petzl Actik Core. You'll get 130 hours of lighting and 8m of range on the low setting, which is the best option for general nighttime use while camping. If you need to get up in pitch darkness for a snack or a toilet break, use the red light mode to save your eyes from sudden white light.
The Actik Core headlamp is also quite hardy for its size and construction, so you won't worry about breaking. It is waterproof and comes with a reflective headband, so it's great for mountaineering, running, and backpacking too. Charge it using a power bank or portable solar panel and keep your AAAs batteries as a backup.
13. Thermacell Backpacker Mosquito Repeller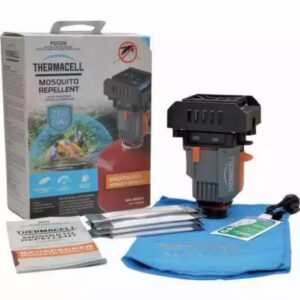 Image source: BCF
The Thermacell Backpacker Mosquito Repeller is the perfect alternative to using bug sprays or repellent creams when you're camping. It uses your regular camping gas canister as fuel, sets up within seconds, and in about 10 minutes, you'll be hard-pressed to find a Mosquito near you for hours. In fact, the Thermacell repeller can keep bugs away for up to 90 hours with a 100g gas canister.
The secret is in the insecticide mats that slot into the gadget's top. The heat from the concealed gas flame activates the repellent and disperses it around a 20 square metre zone. This is more than enough space to set up your tent or clear bugs out of your campsite cooking area. And if you need a larger protection radius, simply set up a second Thermacell repellent.
14. Victorinox Fieldmaster Swiss Army Knife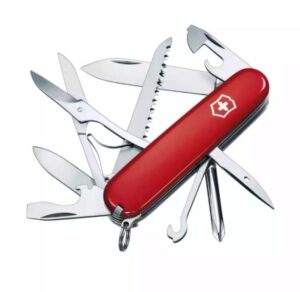 Image source: Tentworld
You never know when you'll need a handy tool while camping, so keeps the Victorinox Fieldmaster with you all the time. This kit is ideal for outdoor beginners who need a simple but sturdy multitool. The Fieldmaster comes with several blades and screwdrivers, a pair of scissors and tweezers, a hook, wire stripper, bottle and can openers, and wood saw.
At just 100g and 9cm long, the Fieldmaster fits into any pocket. Tackle simple camping, fishing and hiking tasks with this multitool: gather dry branches for a fire on the trail, remove fish hooks from your catch, repair your other camping gear like bikes and tent zippers, or crack open a couple of beers with friends on the beach.
15. Klean Kanteen Insulated Stainless Steel Bottle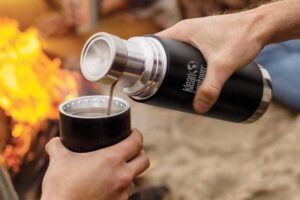 Image source: Downunder Camping
Once you try the Klean Kanteen TKPro stainless steel bottles, you'll want more than one for your adventures. These bottles have no plastic in their design, and you can pour your hot or cold drink from any side of the steel cap. Kleen Kanteen bottles come in 0.5L, 0.75L, or 1L capacities to keep your drinks steaming hot or iced for hours.
These work great for tea, coffee or cocktails while camping or hiking. They're super easy to clean as well, so you can put them down anywhere on your trail or campsite without worrying about chips or stains. Klean Kanteen bottles also make excellent gifts for your outdoor-loving friends and family.
Gear up for 2022 in Byron Bay
With these choices of camping gear, you'll be ready to take on your 2022 adventures, starting, of course, with Byron Bay. Hiking, fishing, surfing, backpacking, glamping, you name it, we've got it right here. Set up camp at Broken Head Holiday Park and enjoy great accommodation rates, full amenities, and the convenience of exploring the rest of Byron Bay, no matter the weather. Contact us today.