Portable Camping Toilets: Do You Need One?

When nature calls in the outdoors, there are many different ways to answer. Lots of options are available, from a simple bucket to top-of-the-range portable, flushable toilets.
You can even skip the entire portable toilet issue by camping at a site with full amenities, like Broken Head Holiday Park.
However, if you want to venture off the grid, or have fussy little kids, here is our guide to portable camping toilets.
What are the pros and cons of camping toilets?
Like any other type of camping gear, camping toilets come at all shapes, sizes and prices. For some, they are unnecessary: a garden trowel is enough to dig a cat hole some distance away from the campsite.
For others, they are absolutely essential: think of a family with little kids planning an outdoor adventure. You certainly don't want to go out with a flashlight to find the nearest loo or bush in the dark.
So before you buy one, consider these factors:
Pros:
Convenience: You can go at any time, even in the middle of the night
Privacy: You don't have to share facilities with others
Hygiene: You decide how clean your camping toilet will be
Freedom: You can camp pretty much anywhere since you don't feel tied to campsite amenities
Familiarity: Go just as you would at home, so you don't have to learn how to dig cat holes or spot the best bushes to hide behind
Easy to use: Even kids can use a portable toilet easily, compared to teaching them how to go in the bush
Cons:
Gross factor: Waste disposal can be pretty unpleasant, mainly if many people use the portable toilet
Space limitations: Some types of portable toilets take up much space in your car, campervan, motorhome or boat
Price: Some portable toilets cost a pretty penny for the conveniences of a home toilet, depending on their features
Chemical use: Some portable toilets need chemicals to break down waste and keep it smelling fresh
Extra accessories: You may need biodegradable doodie bags, cleaning supplies and additives for odour and germ control, all of which add to your camping gear expenses
How to choose a portable camping toilet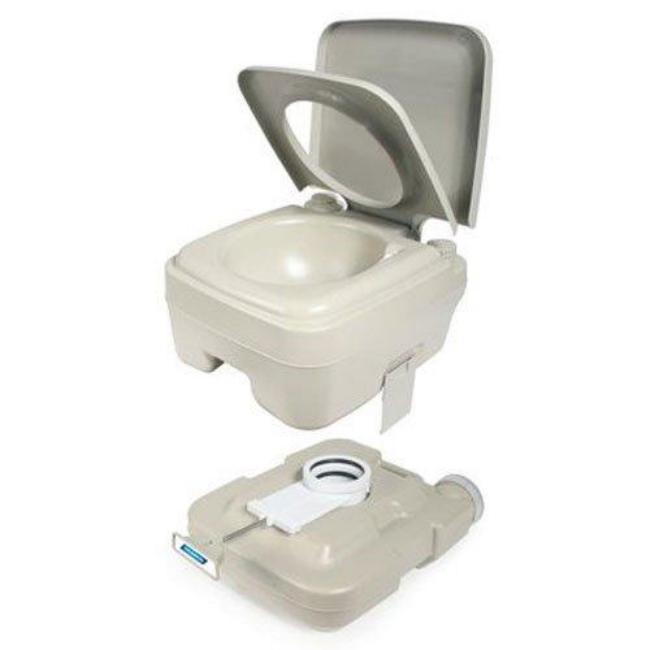 Image source: Amazon
If a portable camping toilet seems like a good idea, you'll find so many options in the market today, from DIY types to bathrooms with all the bells and whistles. The type of portable toilet you choose depends on:
1. Your camping style
Popular campsites or remote locations?
Travelling solo or with family?
Carrying bare essential camping gear or glamping like there's no tomorrow?
The occasional weekend escape or life on the road for weeks or months?
A lightweight bucket-style portable toilet may be great for a solo traveller, but a high-end mobile design may be great for extended trips.
2. Your height
We probably just think about height when choosing a sleeping bag. But it also applies to your choice of a portable loo. Taller campers may have trouble with the more compact mini-toilet designs. Depending on their age, children may not balance well on a regular-sized toilet seat, so find a happy medium.
3. Available space
Remember that you must fit your portable toilet along with all your other camping gear. Collapsible portable loos can save on space but check their features for durability.
4. Number of users
If more people use the portable toilet during your camping trip, this automatically means more frequent emptying and possibly some heavy lifting as the waste accumulates over the day.
5. Your budget
Get the best portable camping toilet within your budget range. No matter how much you can spend, don't skimp on your choice of portable restroom. Otherwise, you stand the risk of leaks or breaks in the equipment, which is a nightmare when you're on your camping trip.
Types of portable camping toilets
There are three main designs of portable camping toilets. The first is the folding frame type, basically a folding toilet seat that stands over a hole or a bucket. You can attach a plastic bag to the frame instead of digging a hole, and then responsibly dispose of the waste.
Next is the bucket style, which is just that, a bucket with a toilet seat on top. Attach the lid after every use, and carry the waste to proper disposal. A bucket toilet takes up more space than a foldable frame, so consider where to keep the bucket on your way to your campsite and how to transport it without spills.
Lastly, there's the portable chemical toilet or porta-potty. It is designed like your regular home toilet but smaller to fit in your car boot. They come with flushing features and waste holding tanks where chemicals break down the waste for easier disposal.
Best portable camping toilets in Australia
Weisshorn 20L Portable Toilet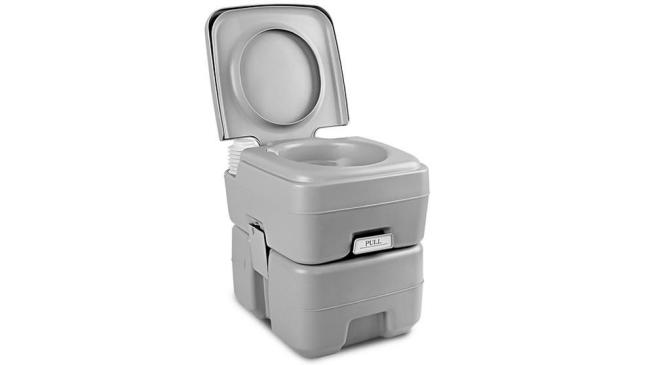 Image source: Harvey Norman
This porta-potty stands out from all other brands for its ease of use. It is sturdy, weighs just over six kg, and is super easy to clean. It is pretty large, so make room for it in your camping gear, but it is definitely worth your while.
Cleanwaste Go Anywhere Portable Toilet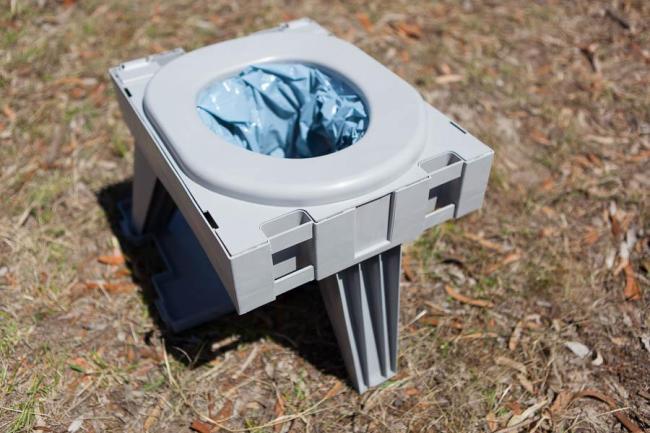 Image source: SEzy Go Now
We love that this portable toilet folds down to the size of a briefcase, complete with a carrying handle. It weighs about 3.7kg, and you can set it up in three seconds. Simply unfold the locking legs, open the cover, add a disposal bag in the mesh holder, and you're ready to go (pun intended).
Elemental Bush Dunny Camping Toilet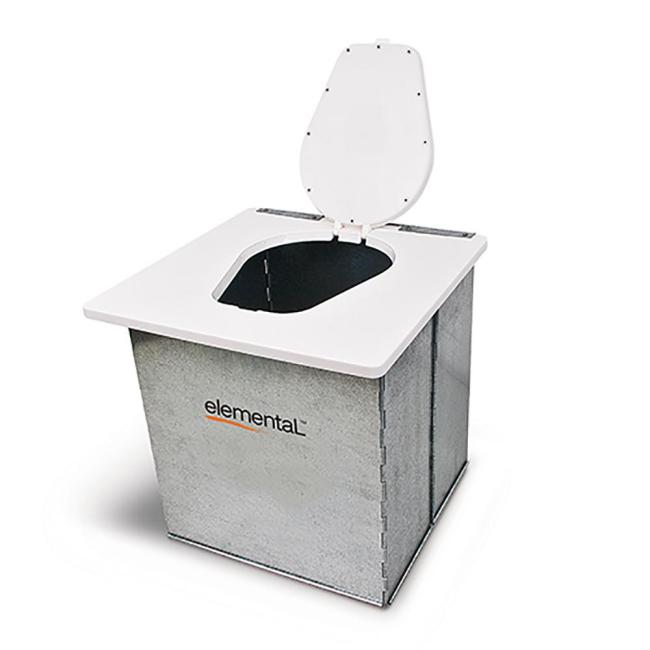 Image source: Tentworld
This portable toilet has a fully hinged, collapsible design that requires zero assemblies. It folds down relatively thin and sits comfortably at 40cm when set up. It's also made from rustproof galvanised steel and weighs a mere 5kg.
Elemental Thunder Down Under Portable Toilet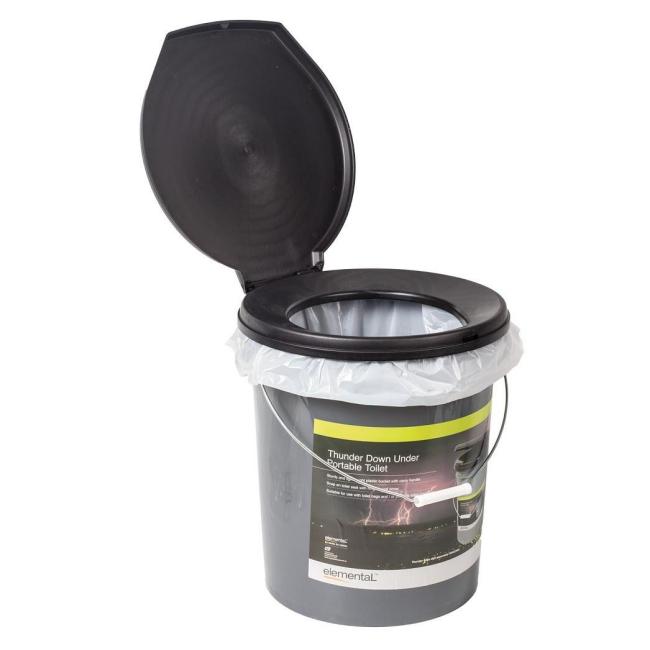 Image source: Tentworld
This is as simple as it gets: a paint bucket with a toilet seat! The Thunder Down Under is a no-frills, high-density plastic bucket with a snap-on hinge. It is surprisingly comfy to use, seals odours in tightly, and it's great for kids too.
Companion Portable Toilet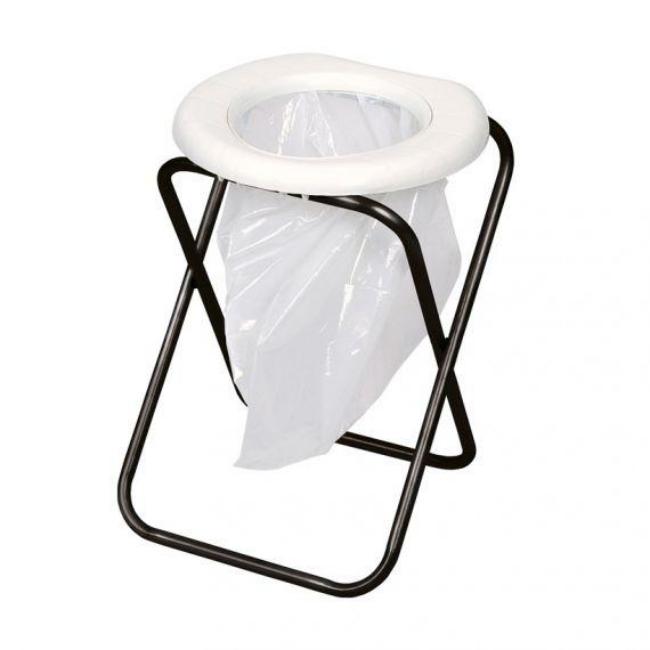 Image source: Aussie Disposals
For even more space and weight-saving, choose the Primus "toilet seat on a stand". Simply add a waste bag to the seat, or set it over a cat hole. Make sure that you place it on an even surface to avoid tipping over.
Bonus: Wanderer Popup Tent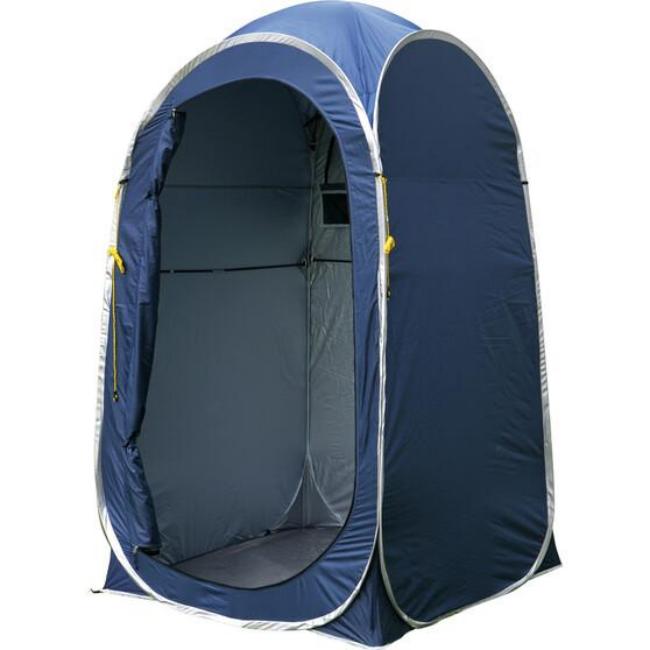 Image source: BCF
The Wanderer single popup tent is a great addition to your camping gear for the sake of privacy. Use it as your toilet tent and set up your portable loo inside it. The Wanderer tent also folds down to a compact size. So it won't take up much more of your precious storage space.
Bring a portable loo on your Byron Bay camping trip
We recommend a portable camping toilet for families with young kids coming to Broken Head Holiday Park. We certainly have all the amenities you need for your camping hygiene, but if you have little ones who need to go at night or whenever the need arises, a portable loo is a perfect solution.
We want your stay at Broken Head Holiday Park to be as comfortable as possible, even if it means adding something extra to your camping gear list. Book your stay with us today. You'll thank us later.