Day Trip to Bangalow: Things to See & Do

Bangalow is the quintessential one-street town surrounded by gentle hills and countryside. It's a beautiful town, and you'll soon discover that a day in Bangalow won't be enough. This lovely town is one of our favourite locations for Byron Bay day trips, and here's why.
How Far Is Bangalow from Byron Bay?
Bangalow is about 13km or a 20-minute drive from Byron Bay. It is part of the Byron Shire in the northeast of New South Wales. The drive from Byron Bay to Bangalow is breathtaking as you travel through the hinterland with its quaint villages and lush vegetation.
How Much Time Should I Spend in Bangalow?
The short answer: as much time as you'd like. If you'd like to have a picnic or barbeque with your loved ones, head to the Bangalow Parklands. It has plenty of parking space, amenities and a playground too. Hang out at the Bangalow Bowling Club, fondly named "The Bowlo", for great food and music, or browse through the eclectic shops at the Abracadabra.
You can also plan your Byron Bay day trip to Bangalow over a weekend to take in a vibrant festival or event. The Bangalow Show takes place every November, and it features everything you would expect from an agricultural show, but with some interesting quirks thrown in. Sure, there are all kinds of farm animals at the Bangalow Show, but you will also find lots of rides and competitions, as well as the spectacular firework display finale.
If you're a fan of classical or orchestral music, the Bangalow Music Festival happens every August (next taking place in 2022). It features both local and international performers showcasing their incredible talent over the course of four days. If racing sounds like a great day trip idea, find your way to the Bangalow Billy Cart Derby every September. Watch the unique, innovative, and sometimes wacky carts to support local charities.
Bangalow Markets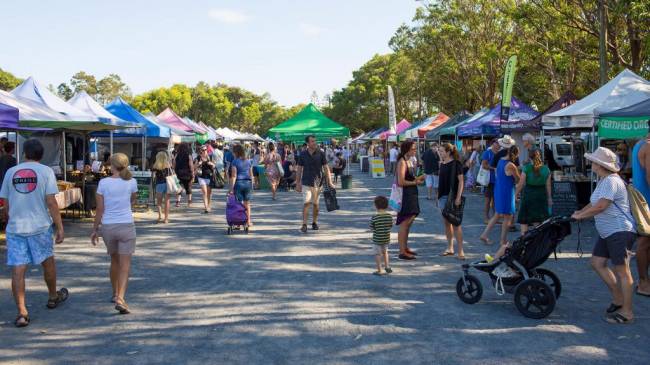 Image source: Byron and Beyond
The Bangalow Markets deserve special mention as a great way to spend a day out. Held every 4th Sunday of every month, the Bangalow Markets host several activities under the shade of camphor laurel and fig trees, showcasing over 300 stalls filled with fresh produce, baked goods, ceramics, jewellery, and live entertainment from local performers.
There is also the Bangalow Farmers Market which is on every Saturday morning from 7:00 am to 11:00 am. You will find some of the best produce at the Bangalow Farmers Market, brought to you by local farmers. From seasonal fruits and vegetables to all types of cheese and pasta, plus organic meats and seafood, the Bangalow Farmers Market has more than enough to fill your pantry.
Bangalow Shopping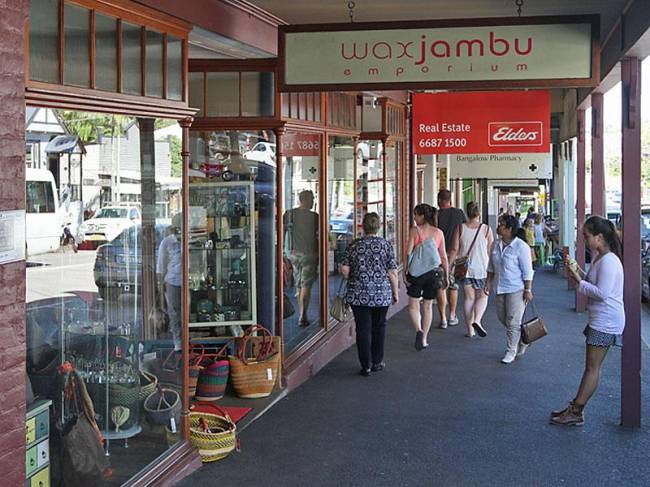 Image source: Aussie Towns
If shopping is your thing then Bangalow won't disappoint with its mix of eclectic shops. Try these for starters:
Wax Jambu Emporium – Known for its eclectic merchandise.
Don't Tell Mama – Eco conscious clothing made from hemp, bamboo, organic cotton and silk, as well as home products.
Island Luxe – Upscale boutique offering clothing, house wares and accessories (like Jewels by Jacqueline).
Best Places to Eat in Bangalow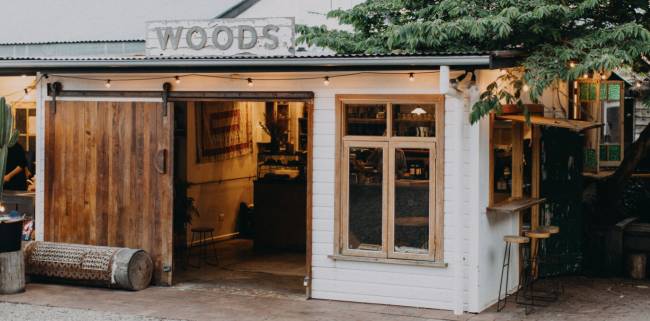 Image source: Woods
Bangalow has more cafés and restaurants than you'd expect for such a small town. Try out the highly revered Butcher Baker Café for its fantastic selection of craft beers, freshly baked bread and pies, and the must-have crispy five-spice chicken wings.
The Bangalow Bowling Club is famous for its pub grub menu. So, you can expect finger-licking chicken schnitzel, hearty burgers, fish and chips, and much more.
If you're in the mood for a lovely Italian lunch or dinner, try the Italian Diner in Bangalow. This trattoria serves authentic Italian dishes made with fresh pasta and high-quality local produce, along with a wine and cocktail menu to match your meal.
If you'd like to start your Byron Bay day trip with a fantastic takeaway coffee and fresh pastries, swing by Sparrow Coffee in Byron Street when you're in Bangalow. Don't underestimate this "hole in the wall" café because it serves incredible brews.
For your vegetarian and vegan options, check out Woods Bangalow. The wholesome Woods menu features salads, desserts, coffee and tea, along with their famous freshly made soba noodles. The warm, rustic atmosphere and friendly service at the Woods are certainly worth the trip too.
Endless day trip ideas in Byron Bay
When you're in Byron Bay for your holiday at Broken Head Holiday Park, plan a trip to Bangalow for an exciting day out just 20 minutes away. Celebrate a loved one's special occasion at a quirky cafe, go shopping or pick up some unique handmade gifts for your family and friends at the Bangalow market. Bangalow is just one of many fantastic day trips from Byron Bay, so book your stay with us at Broken Head Holiday Park and go exploring today.