9 Tasty Camping Sandwiches for Snacks or Meals

When you're camping, a vegemite sandwich might satisfy your hunger but it isn't the most exciting of options. A tasty sandwich is a portable snack or quick and easy camping meal, whether you're heading out for a hike or cycle, or too tired to cook. With a few simple ingredients you can whip up a nutritious lunch, dinner or snack in a flash.
Let's check out some camping sandwiches you and your fellow campers can make!
1. Toasted Deli Melt Sub

Image Source: Sandwiches are more than sandwiches
A fast way to feed a group of friends or family members is to make this camping sandwich that serves 8 people at once. You can easily bring ingredients from home, or buy locally in Byron Bay.
Ingredients:
1 loaf french bread, sliced lengthwise
1 tablespoon chipotle sauce
¾ cup of mayonnaise
8 slices deli turkey breast or ham
8 slices bacon, cooked
8 slices cheese
6 slices tomato
Lettuce
Method:
Put chipotle and mayonnaise into a bowl and mix together.
Cut bread in half lengthwise, place under grill until toasted.
Spread bottom half with chipotle sauce/mayo mix then layers of turkey, bacon and top with cheese.
Grill again lightly until the cheese begins to melt.
Give it a freshness kick with tomatoes and lettuce.
Cut into 8 sandwiches and serve immediately or wrap to takeaway.
Recipe source: Landolakes
2. Cheese Toastie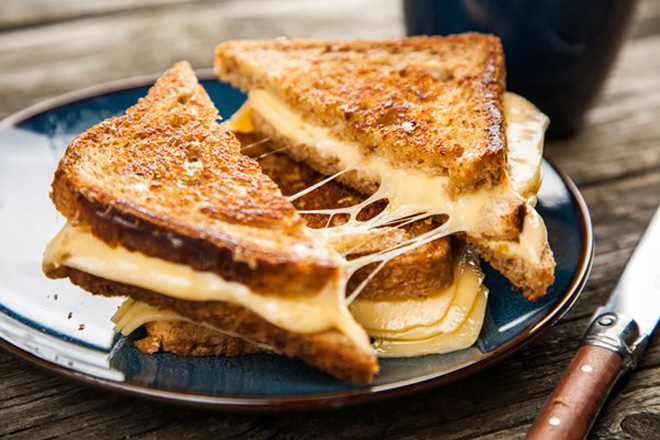 Image Source: Cheese Toasty
Nothing can be simpler than making a "Cheese Toastie." With just a few simple ingredients you can have a yummy melt in your mouth dinner and still have time to enjoy a glass of wine and watch the sunset.
Ingredients:
Sliced bread
Sliced cheese such as tasty cheese
Butter
Optional – add anything you like for extra calories and nutrition – ham, fresh or sundried tomato, grilled capsicum, fried courgettes, etc.
Method:
Butter the pieces of bread and then flip them around so the butter is on the outside.
Place your cheese and any desired fillings on the bread.
After warming up a frying pan, put the sandwich in it and then cook it for 3 to 4 minutes.
Flip it over and cook the other side until both sides are toasted.
Recipe source: Travellers Autobarn
3. Chicken Meatball Sub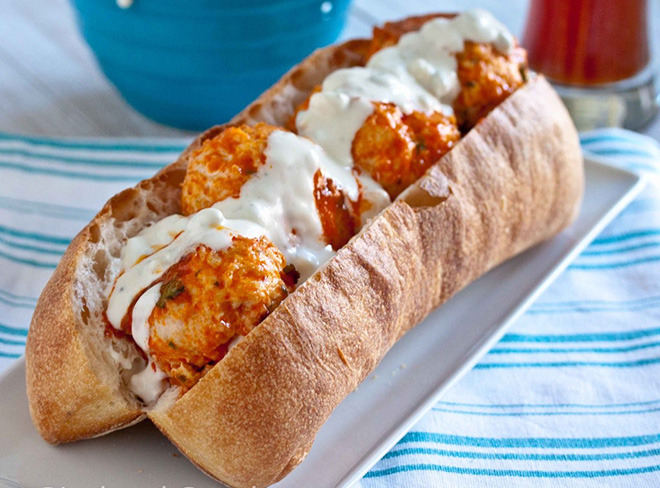 Image Source: Pixelated Crumb
This camping sandwich might require a little bit more effort, but believe us it will be worth it. To save time you could always prepare a big batch of these juicy meatballs at home, freeze them, transport in an Eski and pop them in the freezer at your campground accommodation. Then just wrap up meatballs, hot sauce and cheese and you've got yourself a delectable camping meal!
Ingredients:
1 loaf subway style bread
1 kg of chicken mince
1 small onion, grated
3 cloves garlic, minced
½ cup parsley, chopped
¼ cup blue cheese, chopped
Salt and freshly ground black pepper
Olive oil, for drizzling
Tinfoil
4 tablespoons butter
1 cup hot sauce (sweet chilli sauce/buffalo sauce)
Blue cheese dressing
Method:
Heat oven to 200C.
Combine onion, garlic, parsley, ground chicken and blue cheese in a medium-size bowl. Then season with pepper and salt. Mix well. Form into 15 meatballs.
Add 1 tbsp of olive oil to the pan and warm it up over medium heat. Now place the meatballs one by one.
Cook the meatballs for 3 to 4 minutes while turning them to make each side golden brown.
Arrange meatballs on the foil and bake in the oven for about 20 minutes.
When the meatballs look all the juicy and delicious, add butter to the plan. Next, add the hot sauce and whisk it all together.
Add the meatballs to the hot sauce to coat.
Cut roll down the top and spread blue cheese dressing to the insides.
Add meatballs and extra dressing and hot sauce.
Recipe source: Pixelated Crumb
4. Italian Crazy Bread Sandwich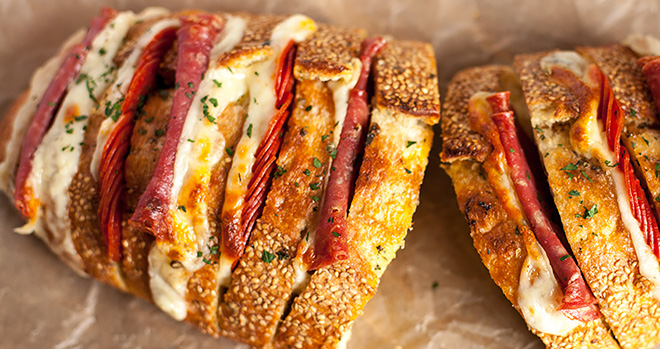 Image Source: Little Things
This camping sandwich ensures there will be no leftovers. However, if you are camping with a number of people, you might consider making one huge Italian sandwich so all of you get fed.
Ingredients:
1 loaf Italian bread
1 cup mayonnaise
½ teaspoon onion powder
1 teaspoon garlic powder
1 teaspoon dried parsley
1 teaspoon basil
1 teaspoon oregano
1 teaspoon thyme
2 packages salami
12 slices cheese
Tinfoil
Method:
Slice the bread and divide into 12. It's important not to slice all the way through to leave something to hold the filling.
Combine garlic powder, parsley, basil, oregano, thyme, mayo, onion powder together in a bowl.
Add a piece of cheese into each bread cut. Stuff salami into each cut.
Wrap in tin foil and bake at 180C for 25 to 30 minutes until the cheese is all melted and the outsides of the sandwich is a bit crispy. Serve hot and enjoy!
Recipe source: Little Things
5. Egg & Mayo Sandwich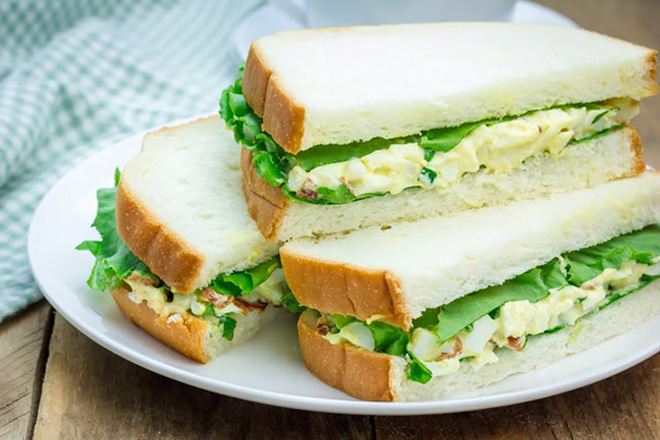 Image Source:Travellers Auto Barn
This camping sandwich list wouldn't be complete without an egg & mayo sammie. These are quick and easy to make and suitable for any camping meal; as well as being kid and vegetarian-friendly. Additionally, eggs are nutritious and a quality energy booster.
Ingredients:
4 eggs, hard-boiled, peeled and finely chopped or mashed
1/4 cup whole egg mayonnaise
Lettuce leaves
Sliced white or whole-grain bread
Butter
Salt and pepper
Method:
In a small bowl mix together mayonnaise and mashed egg.
Spread bread with butter.
Add lettuce leaves, now add the egg mixture on top.
Cover it with a second slice of bread and you are ready to go!
Recipe source: Travellers Autobarn
6. Pizza Pinwheel Sandwiches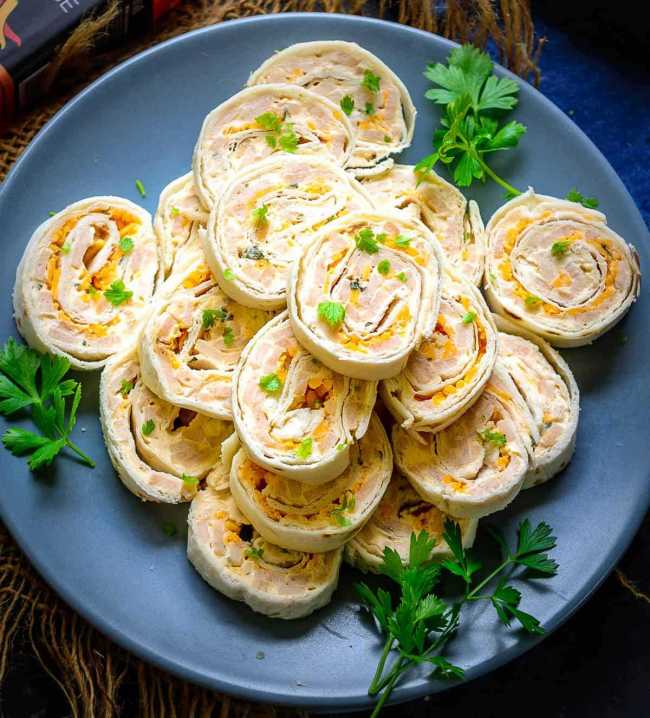 Image source: Whisk Affair 
What's better than a sandwich? A bite-sized pinwheel sandwich, of course! This fun-to-eat camping food uses familiar pizza ingredients to give a great boost of flavour.
Ingredients
8 flour tortillas, around 6 inches each
½ cup sliced deli ham, finely chopped
6 tbsp tomato sauce or pizza sauce
1 cup mozzarella cheese
250 grams cream cheese
Method
Combine the ham, cream cheese, pizza sauce, and mozzarella in a bowl. Mix thoroughly.
Lay the flour tortillas and spoon around 2 tbsp. of the cream cheese mixture on each.
Gently roll the tortillas just tight enough that they can maintain their shape.
Refrigerate for a bit to help firm up the tortilla and cheese mixture.
Chop off the ends of each tortilla, then cut into 2-inch portions. Use a toothpick to secure each pinwheel
7. Ultimate Clubhouse Sandwich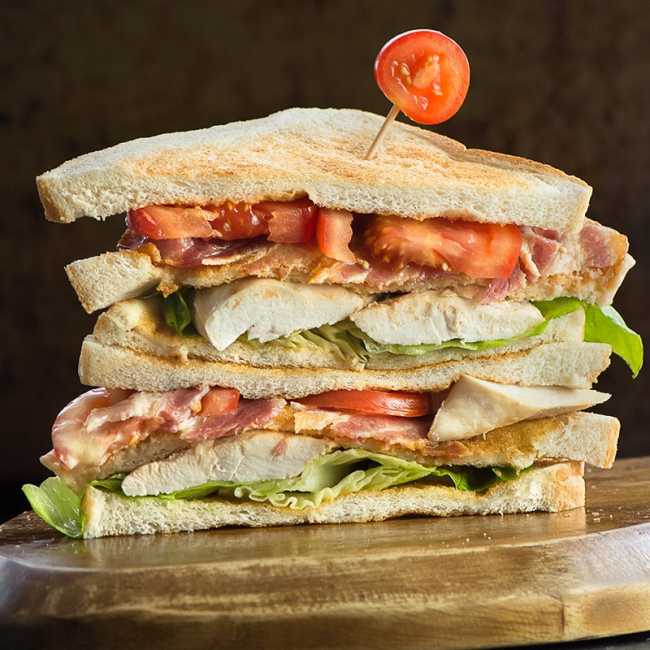 Image source: Charlotte's Lively Kitchen 
This is a loaded sandwich that has everyone's favourite ingredients all in one place. Simple to make but brimming with flavour, it's guaranteed to fill you up after a long day of setting up camp!
Ingredients
3 pieces of sliced white or wheat bread
3 tbsp mayonnaise
1 -2 romaine lettuce leaves
2 slices tomato
2 pieces bacon
1 slice cheddar cheese singles
1 slice turkey breast
1 slice deli ham
2 eggs
Method
Crack two eggs and whisk in a bowl. Add a pinch of salt and pepper to taste.
Heat 1 tsp of olive oil in a skillet. Pour in the egg mixture and cook until it forms a firm omelet. Slice into a square roughly the size of the bread, and set aside.
In the same skillet, fry up the bacon until crispy. Set aside.
Toast the slices of bread.
To assemble: spread mayonnaise on top of the first slice of bread, then place the lettuce, bacon, and tomatoes. Season with salt and pepper to taste.
Spread mayonnaise on both sides of the second slice of bread, and place it on top of the bacon, lettuce, and tomato. Place the cheddar cheese singles, turkey breast, ham, and omelet.
Finally, spread mayo on the last slice of bread and place it mayo-side down on top of the omelet.
Slice the sandwich diagonally into four triangles, and secure each portion with a toothpick.
8. Monte Cristo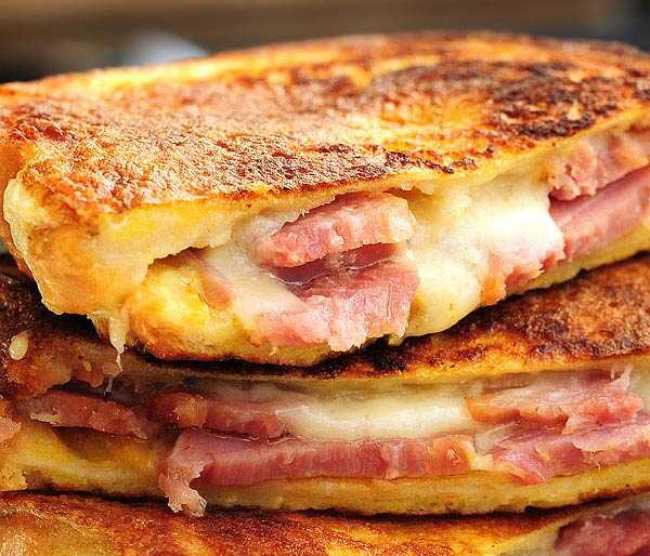 Image source: She Wears Many Hats 
This is a delicious and very satisfying take on the classic ham and cheese. The twist? Dipping the whole thing in egg and pan-frying it to achieve crunchy goodness. The best part is the sandwich tends to hold itself amazingly well.
Ingredients
2 slices of white bread (the thicker, the better)
1 tbsp Dijon mustard
1 tbsp mayonnaise
2 slices of deli ham
7 grams Gruyere or mozzarella cheese, grated
1 egg, beaten
1 tbsp unsalted butter
Method
Spread mayonnaise on one slice of bread, then place deli ham and cheese on top. Season with salt and pepper to taste.
Spread mustard on the other slice of bread and place it mustard-side down on top of the sandwich. Compress the sandwich slightly
Pour the beaten egg, plus a few pinches of salt and pepper, into a shallow bowl. Make sure the sandwich can easily fit into this bowl.
Dip each sandwich into the egg mixture and turn over to thoroughly coat.
Add the butter to a large pan or skillet and allow it to melt over medium heat.
Place the sandwiches on the pan. Cook each side for around 3 minutes, or until the cheese melts and the bread has crisped up.
Place sandwiches on paper towels to absorb any excess oil.
9. Aussie Steak Sandwich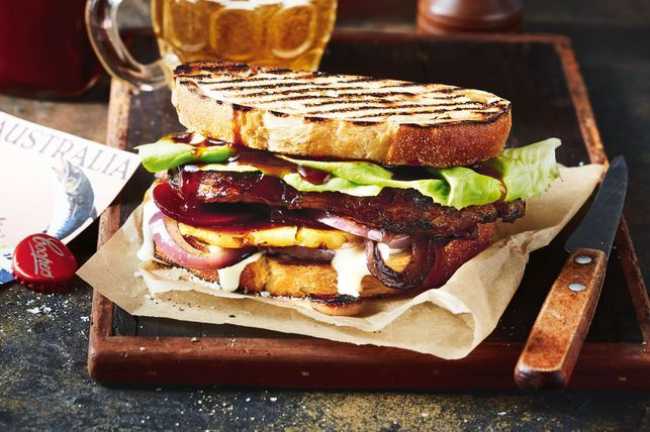 Image source: Taste 
If you have a BBQ or grill, this one of the best camping recipes where you can enjoy a delicious steak. Smoky and meaty, it will quickly become your go-to camp sandwich!
Ingredients
150 grams sirloin, strip, ribeye, or any tender steak cut
2 slices sourdough bread
½ red onion, cut into rings
1 tbsp mayonnaise
½ tbsp barbecue sauce
1 lettuce leaf
1 ring pineapple
1 can beetroot slices
½ tsp Masterfoods bush spice seasoning
½ tsp smoked paprika
½ tbsp extra virgin olive oil
1 garlic clove, minced
1 tsp lemon juice
Method
Mix the paprika, bush spice, half the lemon juice, olive oil, and half a garlic clove. Rub the mixture to the steak and allow to marinade.
Grill the steak according to your desired preference.
Grill the pineapple until it forms a light char.
Grill the bread until toasted.
Heat olive oil in a hotplate and place onion. Cook until slightly softened.
Mix mayonnaise, lemon juice, and half a clove of garlic in a bowl, then spread on each piece of bread.
To assemble, place the steak, onion, pineapple, beetroot and lettuce on top of a slice of bread.
Drizzle with barbecue sauce and top with the other bread slice.
Book Your Camping Accommodation at Broken Head Holiday Park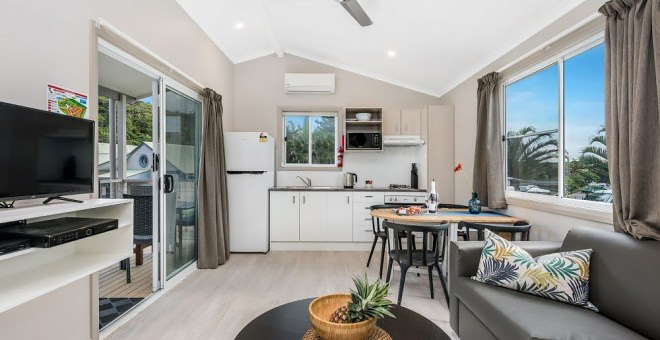 There are some sandwiches in this list that need a bit of the kitchen work, so booking a deluxe beach cabin is a good idea. Alternatively, we have a fully equipped camp kitchen with a fridge/freezer if you want to come camping with a tent or pop up trailer. We look forward to seeing you soon!