Top 5 Camping Food Ideas For Breakfast
When camping you want to make the most of your time, which is why we've sourced some quick and tasty camping food ideas for breakfast. Prepare these easy meals to munch on in the morning so you can start your day full of energy! 
These camping breakfast ideas are:
Fast and simple to make

Don't have many ingredients

Consist of familiar and easy-to-get ingredients

Suitable for advance prep work.
1. Breakfast Burritos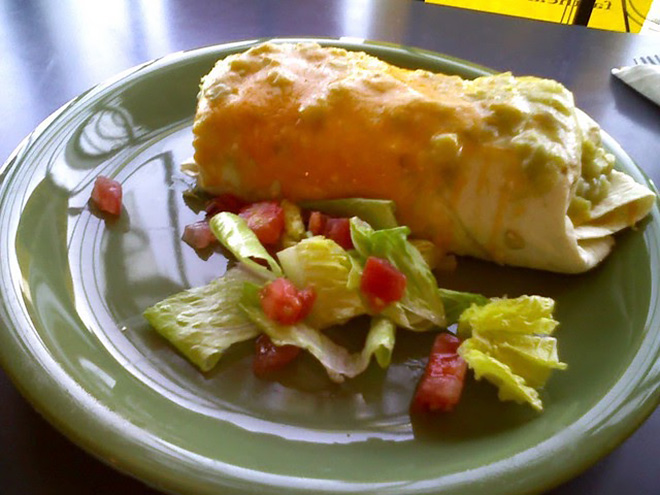 Image source link: Breakfast Burrito 
Whether you prefer eating more vegetables or meat, this tortilla meal is a versatile camping breakfast idea. You only will need a frypan and a BBQ hotplate which you can find at our campsite!
Ingredients (4 persons)
8 slices bacon

1 (16-oz.) package frozen hash browns

8 large eggs

1/3 c. milk

4 tbsp. butter

Salt

Freshly ground black pepper

4 large flour tortillas

1/2 c. shredded cheddar

1 ripe avocado, sliced

Tomato sauce, for serving
Method:
Whisk all the eggs and milk in a bowl and season with salt and pepper.

Dice the bacon then fry it up over medium heat for about 8 minutes. 

When lightly browned, toss in the hash browns. Mix this combination together slowly. 

Now it's time to add the eggs. Stir them slowly so they get scrambled.

Take your burrito filling off the heat.  

Add filling to the centre of a warmed tortilla, wrap it up and eat.

You can add the cheese, avocado, and numerous other ingredients that you like.



Recipe source: Breakfast Burrito
2. French Toast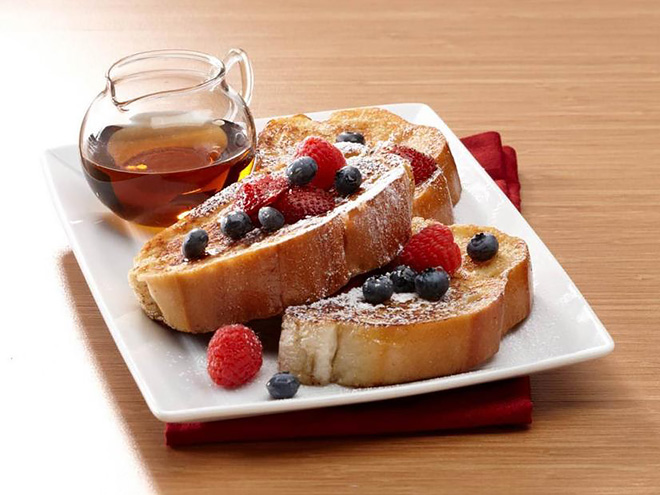 Image Source: Food Network
There are many french toast recipes out there that you can serve as a delicious camping breakfast, but this basic recipe is the easiest to make and extremely delicious.

Ingredients (4 people, 1 slice each):
1 egg

1⁄4 cup milk

1 teaspoon vanilla extract (optional)

1⁄2 teaspoon cinnamon 

4 slices of bread or rolls – can slice into fingers if they are too large.
Method:
Beat the eggs in a shallow bowl. Add vanilla, milk and cinnamon sugar, and stir until frothy.

Lightly soak the bread slices in the egg mixture, both sides. 

Cook the slices on both sides on a preheated frying pan or hotplate until they are golden. It is not a bad idea to add a knob of butter before putting the bread in so it doesn't stick.

Drizzle maple syrup or honey over the toast or sprinkle cinnamon sugar. And bacon on the side always gives it that extra yum. Enjoy!
Recipe source: French Toast
 3. Eggs In Jail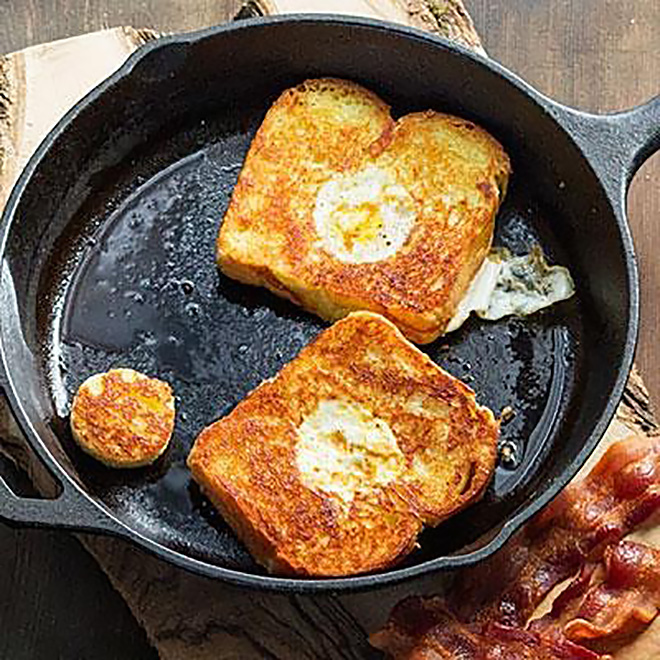 Image source: My Recipes
This is a quick and easy camping breakfast idea, and a very delicious one! 
Ingredients:
Thickly sliced bread (brioche bread would be the best choice)

eggs

butter
Method: 
First butter both sides of the bread slices.

Cut a hole, about 10 cm, in the middle of the slices where you will later put the egg. 

In an already hot frypan, gently place the bread.    

Add one more knob of butter in the bread hole and then crack in an egg.      

Fry the bread until it gets golden on the bottom and then very carefully with a wide spatula flip it so the egg can cook. 

Cook each side of the bread how much you want and season to taste.
Recipe source: Eggs In Jail
4. Omelette in a Bag Camping Breakfast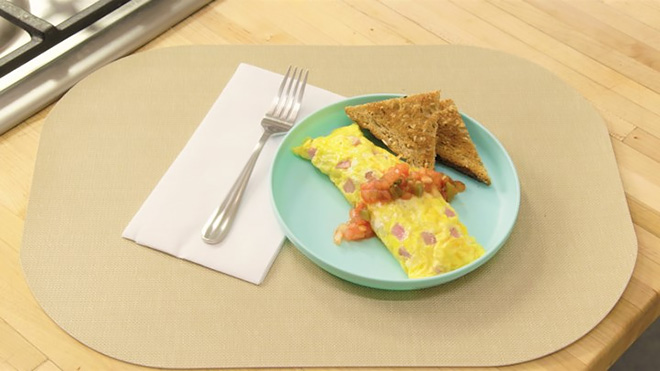 Image source: All Recipes
We love this camping breakfast recipe because it is extremely versatile, it can be scaled up or down and also suits picky eaters. 
Ingredients:
2 eggs

1/2 cup shredded cheddar cheese

1 tablespoon chopped onion 

1 tablespoon chopped green pepper

2 tablespoons chopped fresh tomato 

2 fresh mushrooms, sliced 

1 tablespoon chunky salsa (optional)
Method:
Crack the eggs into a large resealable zip lock bag. Press out most of the air, and seal.

Shake or squeeze to beat the eggs. 

Open the bag, and add the ham, cheese, onion, green pepper, tomato, salsa, and mushrooms (or leave out certain ingredients for your picky eater!). 

Squeeze out as much air as you can, and seal the bag.

Boil a large pot of water. Place up to 8 bags at a time into the boiling water. 

Cook for exactly 13 minutes. 

Open the bag, and let the omelette roll out onto a plate. The omelette should roll out easily.

Season with salt and pepper.
Recipe source: All Recipes
5. Stuffed Croissants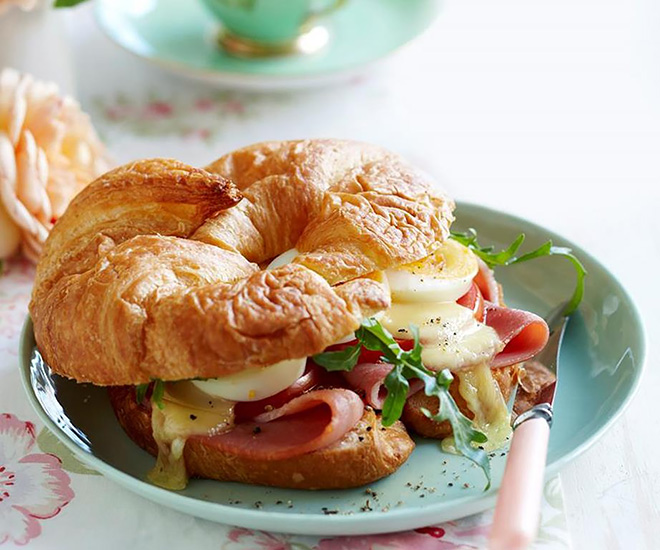 Image source: Women's Weekly Food
There is no easier camping breakfast than a Stuffed Croissant. It's no-fuss and you can add as many ingredients as you like. Suffolk Bakery is just a 5 minute drive from Broken Head Park where you can pick up some freshly baked croissants.
Ingredients
4 fresh croissants

4 slices ham, off the bone

1 tomato, thinly sliced

4 slices cheese

4 hard-boiled eggs, peeled, quartered
Method:
Gently cut croissants through the middle, and add the above-mentioned fillings.

Wrap around them with foil and place on the grill or BBQ for 10 minutes until the cheese is melted.

Unwrap and enjoy.
Recipe source: Women's Weekly Food
Where to enjoy a camping breakfast?
Now you have some camping breakfast ideas, why not try them out at Broken Head Holiday Park? Located close to breathtaking beaches and fabulous surfing spots, we have excellent camping facilities, plus low-cost beach campsites, beach shacks, and cabins suitable for couples, groups or the whole family. Book now to secure your accommodation!